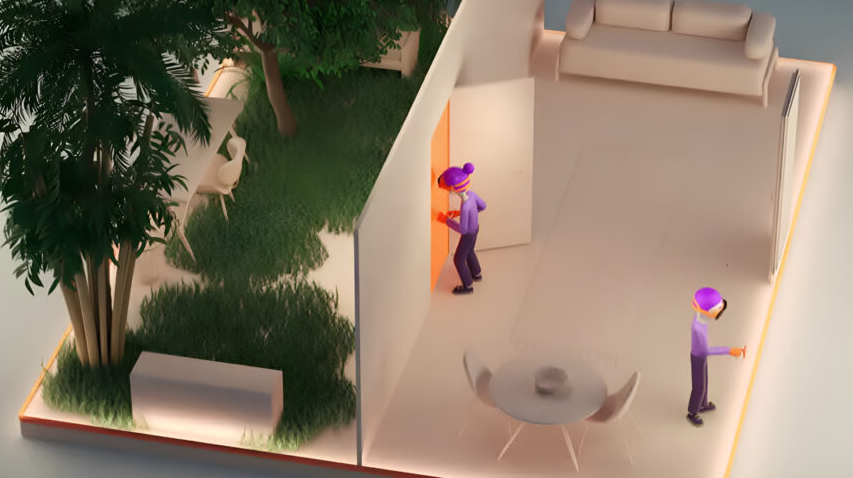 SyncReality Announces a Vision Pro and Meta Quest 3 Design App – Tech Live Trends
XR design tools developer SyncReality has announced a new XR design app for Apple Vision Pro and Meta Quest 3 that lets you transform your living room into an augmented reality jungle.
SyncReality says the "Home Design" app is ready for the two headsets even though they are yet to be released. The AR-powered consumer app enables you to overlay Augmented Reality elements into real-life spaces to create a dream virtual home. The app will give Vision Pro and Meta Quest 3 headset owners useful tools for overlaying RT3D augmented reality items on real-life homes. AR product placement apps are already very common and are being implemented by some of the world's leading retailers, including IKEA.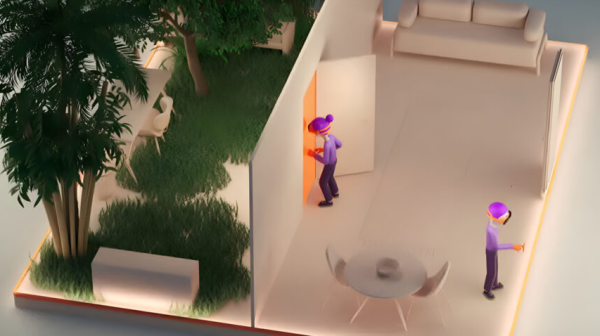 The Home Design app will augment the headset's environment by allowing users to customize it using various creative assets. After the customizations, users can invite their friends to view their home designs by sending them a room scan that other users can place in their personal spaces.
The Home Design XR app will enable users to digitally redesign living rooms for end users. It uses Artificial Intelligence (AI) and volumetric sensing technologies from the Apple Vision Pro and Meta Quest 3 headsets to enable the realistic placement of Augmented Reality elements in the physical space.
You Can Share Your Virtual Home With Friends
After scanning your physical environment with the Quest 3 or Vision Pro headset, the app allows you to personalize it using various digital assets such as a waterfall or virtual plants.
SyncReality has a broader product portfolio representing a collection of XR toolsets tailored for different end-user use cases. By announcing a version of its toolkit for the headsets ahead of its release, SyncReality could be positioning itself ahead of the pack.
The debut of the design tool could also lay the foundation for spatial experiences on these platforms.
SyncReality founder Cyril Tuschi stated that users won't be able to create meaningful spatial experiences on the upcoming Vision Pro headset without its product.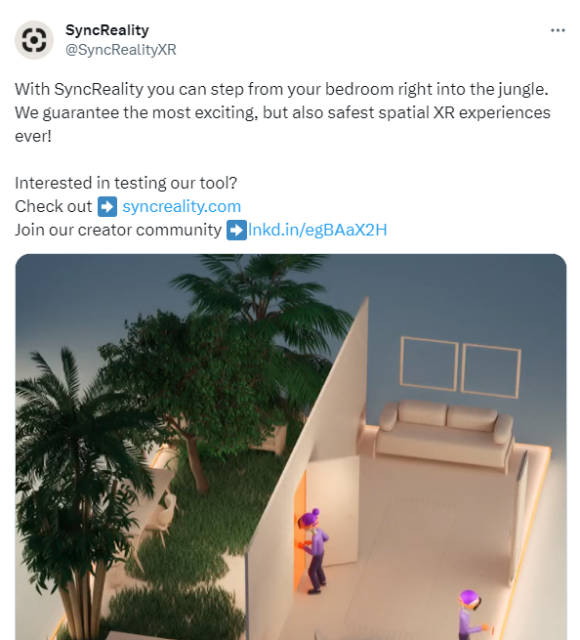 The SyncReality Home Design tool will soon be available on the Apple Vision Pro headset. The tool will be compatible with both iPads and iPhones.
Its accompanying application will enable users to purchase items that they can place inside their augmented SyncReality Home Design spatial environment. The XR software and content developer also noted that users can sell their creations to "participating design companies."
SyncReality is planning to announce additional applications in the future such as LEARN, which is built for educational and training use cases.
The Home Design app will also introduce the SyncReality Software Suite to upcoming devices, thus laying the foundation for additional services. The company has also outlined potential collaborative and creative use cases.
SyncReality
In January this year, SyncReality released its Software Suite Alpha version following an 18-month development cycle. Later, the company debuted a beta version that featured additional Unreal Engine plug-in integration.
SyncReality is pitching this suite as a "responsive" design tool for mixed reality content that will be adaptable to end users' environments. This deep level of personalization is possible in the suite as it transforms 3D assets into much more flexible parametric 3D assets.
The service also provides realistic AR placement by using AI and volumetric capture technology to scan the user's environment.
The service also enables XR content developers to test their creations using a number of simulated spaces before export and deployment.
SyncReality stated that its XR developer suite can be put into various enterprise use cases for B2B and B2C clients. The service is being deployed to end-users for various applications such as eCommerce, gaming, product placements, retail, and advertising.
The SyncReality engine also has the support of a number of AR/VR/MR partners including Qualcomm, Yoona AI, T-Mobile, and Lenovo.
The SyncReality Home Design app will be available on both Meta Quest 3 and Apple Vision Pro headsets when both headsets are released in the coming months. It will also be compatible with both iPads and iPhones. Users will be able to buy virtual items for their Home Design library using a companion app.