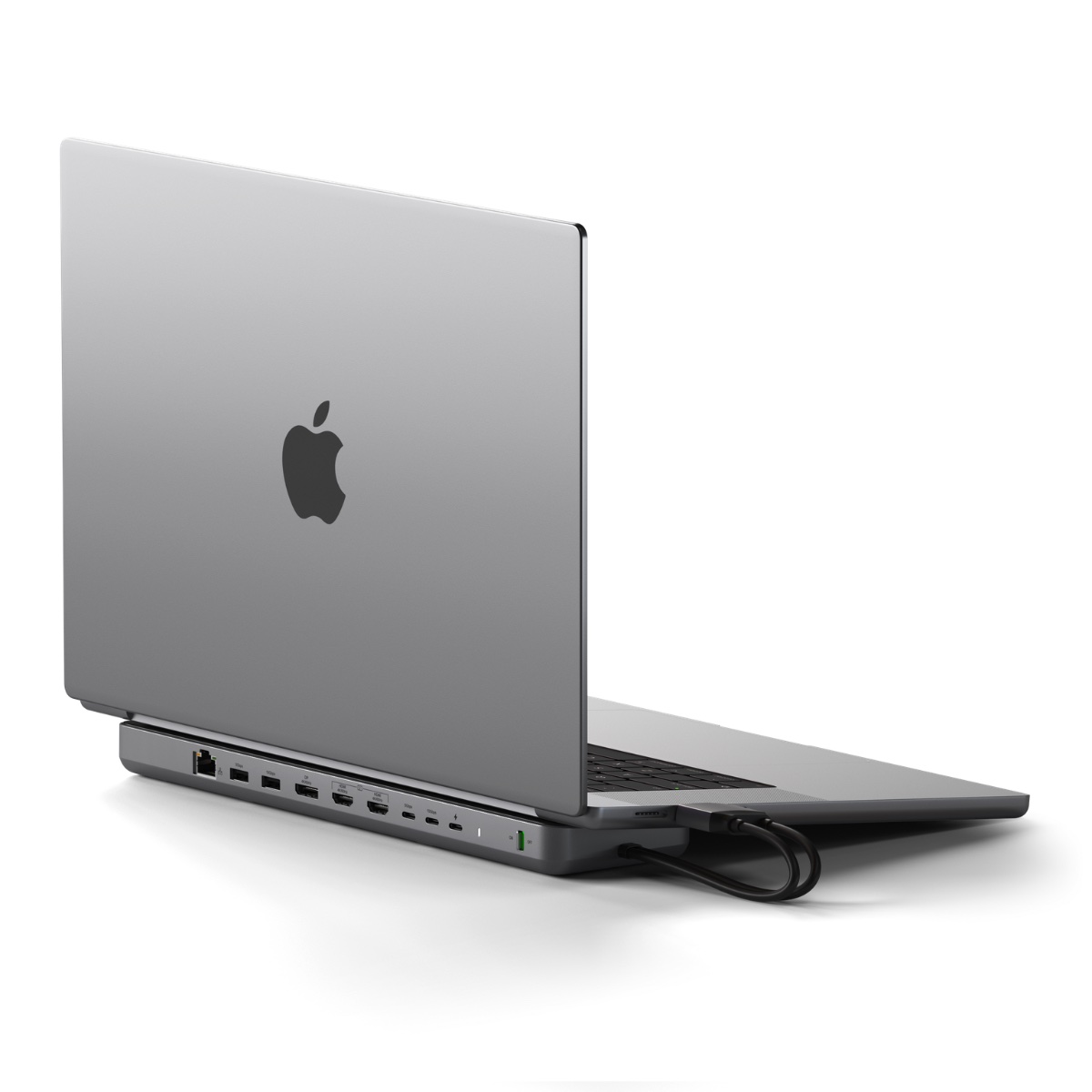 Satechi's Dual Dock Stand is a new docking station with NVMe SSD enclosure – Tech Live Trends
Satechi has launched the Dual Dock Stand, a docking station with a NVMe SSD Enclosure.
Designed for both business and creative professionals, it will transform any Mac or Windows laptop into a hub with a simple connection via the included adjustable dual USB-C connectors. Constructed from \aluminum with a space-gray and black finish, the Dual Dock offers an array of connectivity options including multiple HDMI ports, USB-A ports, and USB-C data ports, along with an Ethernet port, DisplayPort, and USB-C power port to keep devices charged while working. 
The Dual Dock Stand is equipped with two HDMI ports and one DisplayPort so users can enjoy options for expanding screen capacity at 4K/60Hz resolution. With the ability to connect up to two monitors in extended mode (but, alas, limited to one external monitor for Mac M1/M2 systems), users have the option to utilize two HDMI ports or a combination of one DisplayPort and one HDMI connection, allowing for a more personalized setup. 
 While boosting performance, the Dual Dock Stand provides continuous power for Mac laptops with a USB-C power port (input), delivering a strong 75W power delivery to stay charged throughout the workday. This port is designed exclusively for power supply and doesn't support data transfer or video output functionality.
Satechi's Dual Dock Stand incorporates an SSD Enclosure, located at the bottom, which supports both NVMe and SATA SSDs. This compact storage solution allows for rapid data transfers, efficient backups, seamless data recovery, and reliable external storage, all capable of reaching speeds of up to 10Gbps, according to the folks at Satechi. Users can transfer large files and multimedia content in a matter of seconds with easy SSD installation thanks to the included screw and screwdriver, they add.
Users can expand their connectivity options with the Dual Dock's two USB-C data ports, offering connectivity choices of 5Gbps and 10Gbps. What's more, the Dual Stock Stand provides an elevated angle that offers an inclined view of the display. This added elevation is designed to promote efficient heat dissipation through strategically placed vents allowing for better performance, keeping the device cool even during intense usage.
Users can connect the dock via the included dual USB-C connectors. Both connectors must be used simultaneously for the dock to function properly, although they can be separated to expand compatibility to host devices other than Macs. When using a Mac laptopequipped with M1/M2 chips only one external display is supported.
Satechi's Dual Dock Stand is currently available on Satechi.net for $149.99 and is 20% off with code NVME20 until August 24.