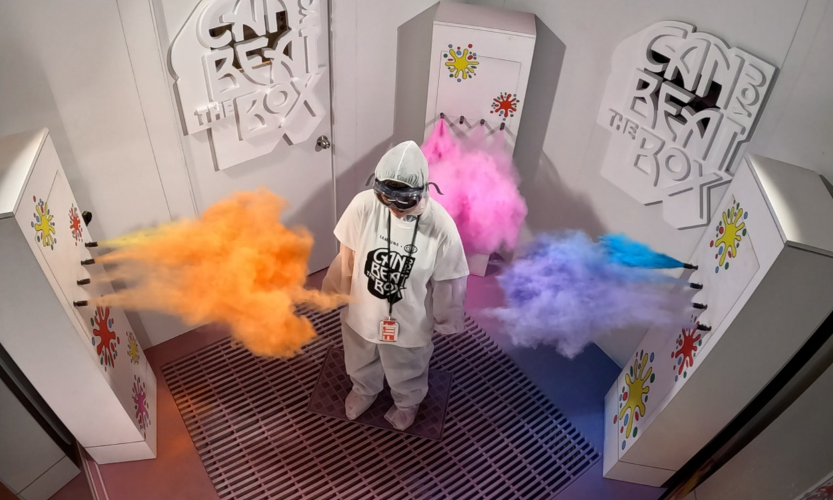 Samsung's New AR Game Shoots Powder If You Lose
The AR-powered pop-up experience "might be impossible" according to the company.
This week Samsung Canada revealed Can You Beat The Box, a new location-based augmented reality (AR) game with very serious consequences. Seriously colorful that is.
Developed in collaboration with CAMP, a US-based family experience company, the uniquely immersive experience tasks you with zapping virtual balloons using a Galaxy Z Flip4 smartphone before they reach the ceiling and pop. But here's the catch: if you lose—which, according to Samsung, you probably will—the game shoots you with a colorful assortment of powders.
Don't worry though. Before entering the box you'll be given a protective suit and goggles to shield you from the inevitable blast. You'll even receive an exclusive t-shirt and slow-motion video of your experience as souvenirs.
"Samsung is always focused on creating one-of-a-kind experiences for our fans and finding new ways for them to experience our products," said Raj Doshi, head of mobile business at Samsung Canada, in an official release. "Can You Beat The Box is an immersive entertainment experience made possible through the power of AR and Galaxy technology. CAMP is an incredible partner to bring this program to life."
"While it's open, Can You Beat The Box will be the most fun thing you can do at CF Toronto Eaton Centre, and we can't wait to see families come to test their mettle against The Box and try to get the High Score," added Kirk Larsen, the chief creative officer of CAMP.
"Our all-ages mix of digital and real play is an irreverent and fast-paced mobile game that has a real-world prize at the end! We're so pleased to make CAMP's debut in Canada with Can You Beat The Box."
Can you Beat The Box is open to the public now until July 13th during select times at the Samsung Experience Store at CF Toronto Eaton Centre. Those interested can acquire tickets here.
For more information about the experience check out Samsung Canada's official announcement.
Feature Image Credit: Samsung Canada