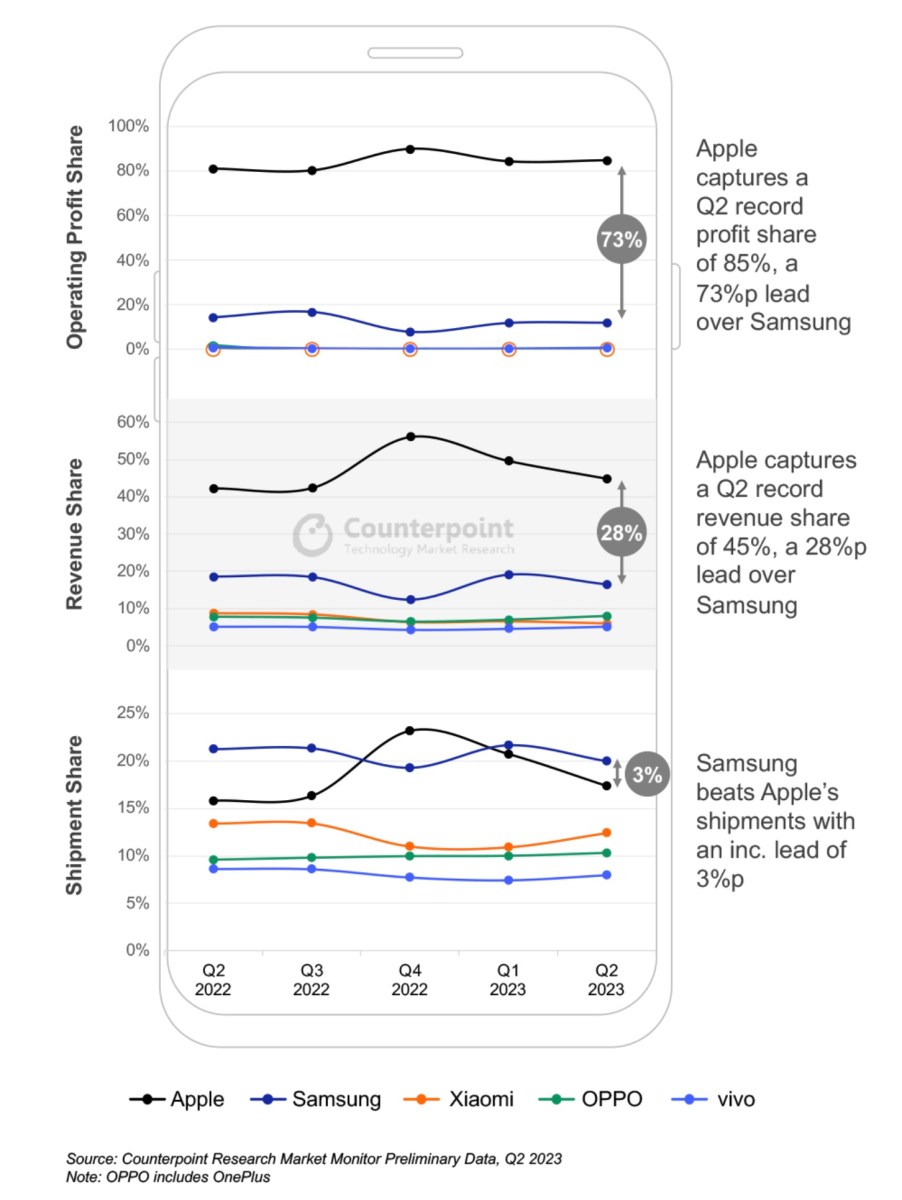 iPhone's share of global operating profits reached 85% in the second quarter  – Tech Live Trends
Global smartphone market revenues declined by 8% year-over-year (YoY) and 15% quarter-over-quarter (QoQ) to under US$90 billion in the second quarter (Q2) of Q2 2023, the lowest Q2 figure since 2020 during the height of the global pandemic-related lockdowns, according to Counterpoint Research. However, it was good news for Apple.
But let's back up. The corresponding operating profit declines in the quarter were 3% and 27% according to research from Counterpoint's Market Monitor Service.
"Apple's shipments declined by 3% YoY while the smartphone market declined by 9% in the same period," says Research Director Jeff Fieldhack. "At the same time, its ASP increased thanks to a growing contribution of the Pro series, declining contribution of the SE series and the replacement of the Mini in iPhone 13 with a Plus in iPhone 14."
As a result, while Apple's iPhone revenue declined by 2% annually, its revenue share grew, reaching a second-quarter record of 45%. This is up by almost 3% since the same quarter of last year. Its share of global operating profits also grew by 4% since Q2 2022, reaching 85%, another second quarter record for Apple.
The revenue decline in the overall market was caused by a shipment decline of 9% YoY combined with an ASP growth of only 1% in the same period.
"The low ASP growth is mainly due to seasonality as, for instance, the second quarter is equidistant from peak iPhone demand and new iPhone launch, and sees neither of Samsung's ultra-premium S or Z-series launches," says Counterpoint Research Director Tarun Pathak. "The annual revenue decline also translated into operating profit losses for the overall market. The sequential operating profit decline suffered additionally from a changing shipment-mix, especially as the shipment share of Apple, the single-biggest contributor to total operating profit, went down by almost 4% QoQ."