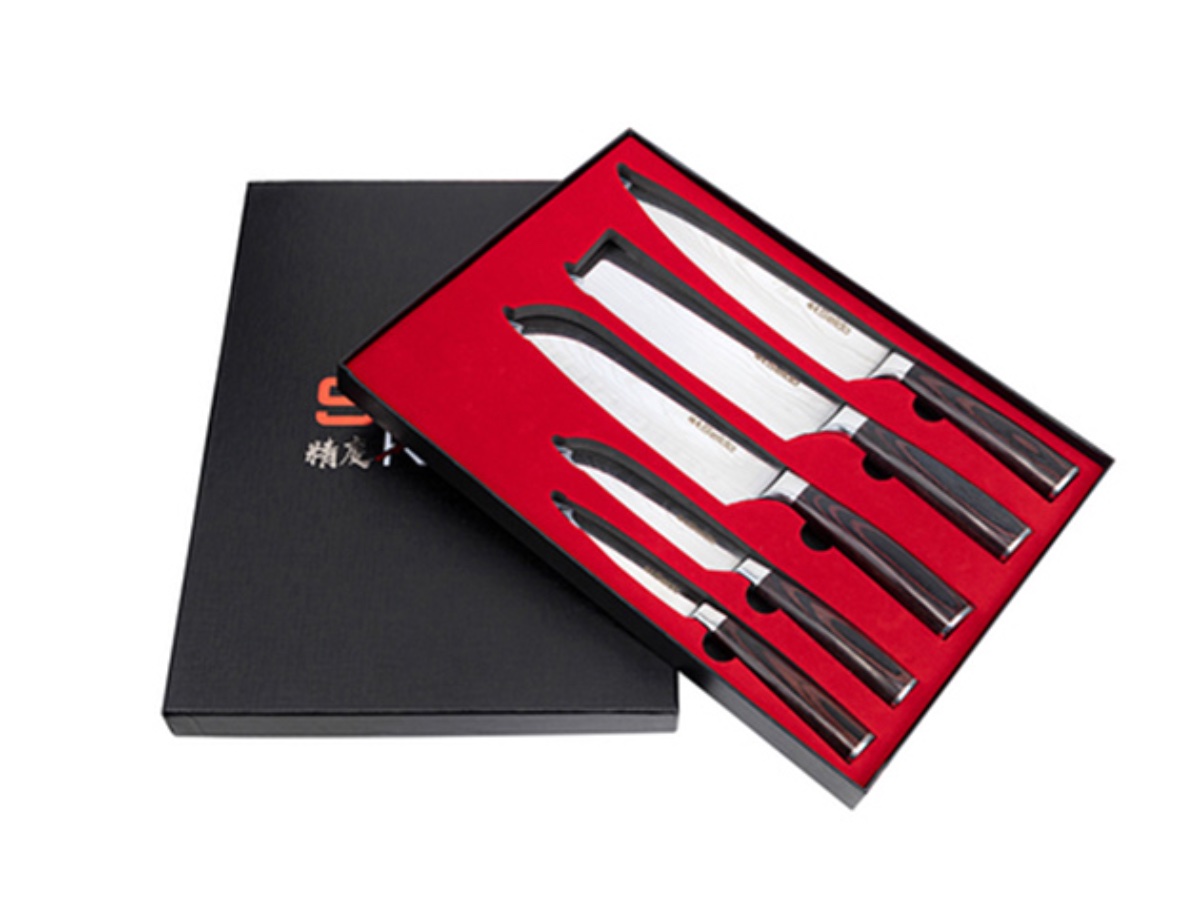 get two Seido Japanese Master Chef's 5-Piece Knife Set for the price of one – Tech Live Trends
Stop overpaying for average chef's knives made by all the other brands. A good quality knife set doesn't need to be expensive. 
Seido designed the absolute best and most affordable high-quality kitchen knives. Thanks to a new Tech Live Trends deal, you can get two Seido Japanese Master Chef's 5-Piece Knife Set for the price of one. The priced is US$99.99. That's 59% off the regular price.
Seiko knives description
Seido knives are made with strong high-carbon stainless steel, offering a great balance between sharp edge retention and durability with a higher carbon content than other so-called "premium" knives. Forged construction incorporates a sloped bolster that travels gradually onto the blade face for better comfort, control, and handles balance. 
While most Western-style knives have edge angles of 25 degrees, Seido Japanese knives have a more acute 15° angle for a noticeably sharper cutting face. Seido Knives are made to empower home cooks and professional chefs with high-grade kitchen tools, to prepare better meals.
The Seido Japanese Master Chef's Knife Set now comes with a gift box for the complete look. Perfect addition to your collection or as a gift!
8″ Chef's Knife
A classic-all rounder everyday knife
Ideal for slicing through tough meat & easy enough to chop through vegetables
7″ Cleaver
Largely used as a butcher knife intended for hacking through bone & tough meat
Broad side can be used for crushing, in food preparation (such as garlic)
7″ Santoku Knife
Forged with a Granton edge to help keep food from sticking when chopping
Has a thinner blade for a finer edge
5" Santoku Knife
Easily chops through vegetables or fruits
Crafted with a hammer-forged finish to prevent food from sticking to the blade as you cut
3.5″ Paring Knife
Multi-function knife with ideal length & balance for precision cutting
Excellent tool for any food that requires attention to detail
Note: Customers must be 18 years old+ to purchase
Materials: 7Cr17 high-carbon steel
Size

Chef's knife: 8″
Cleaver: 7″
Santoku: 7″, 5″
Paring knife: 3.5″

Ruthlessly razor sharp 15° angle blade
Superior hand control
Comfortable grip
Ergonomic Pakka wood handle
Damascus distinctly etched blade
Handmade Japanese craftsmanship
Manufacturer's lifetime warranty
The Deal Includes
2x 8″ Chef's knife
2x 7″ Cleaver
2x 7″ Santoku
5″ Santoku
2x 3.5″ Paring knife
2x Gift Box
Shipping
Ships to Contiguous US
Expected Delivery: Aug. 3-7
Terms of the Deal
Returns accepted within 30 days of shipment for orders within the Contiguous US.