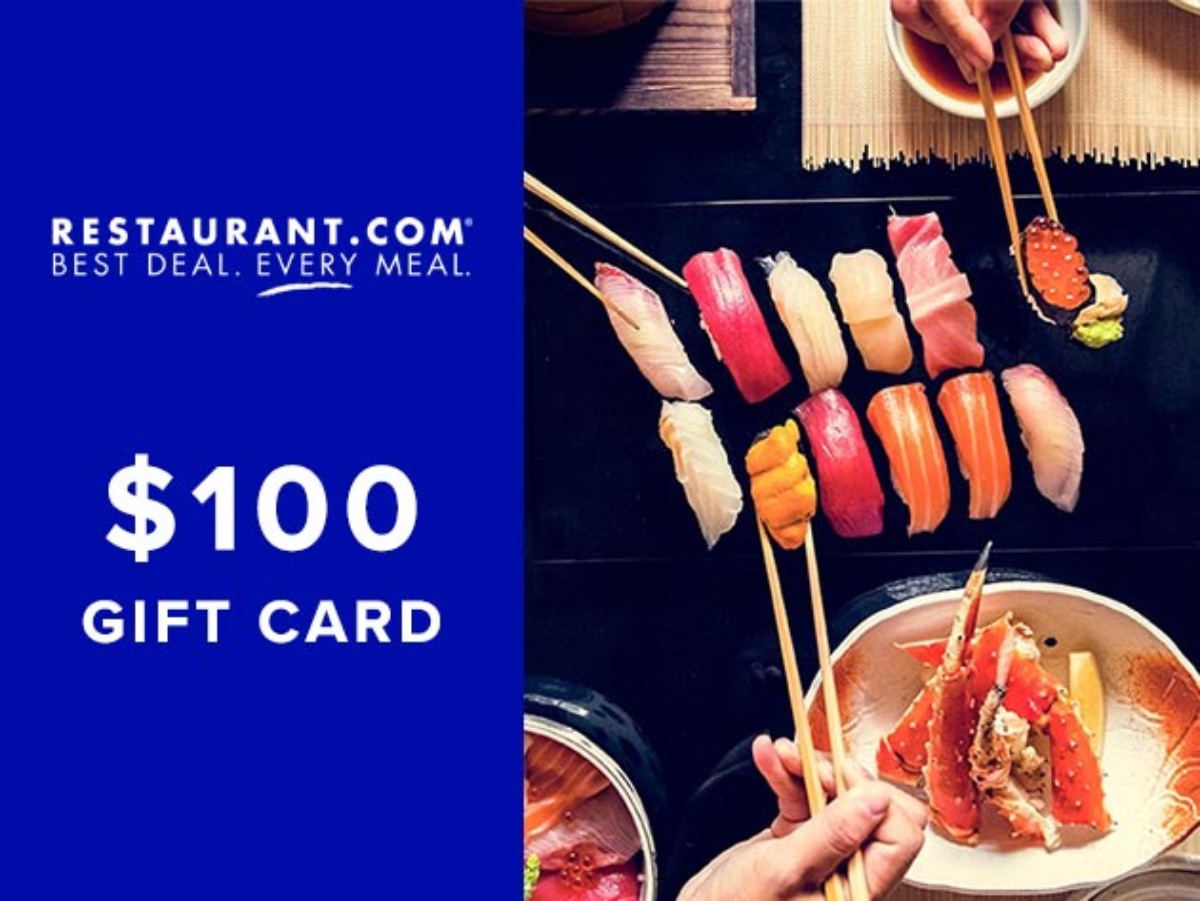 Today's deal: $100 restaurant.com eGift Card for Only $14 : Tech Live Trends
With Restaurant.com, customers can save at thousands of restaurants across the country with just a few clicks. They offer dining deals ranging from $5 to $100 that never expire and cost you a fraction of the face value. 
They give customers the dish and the deal with their Verified Diner Ratings and Reviews program which ensures that only people who have actually dined in a restaurant write a review — no anonymous web users posting fake reviews here! Simply search for a local restaurant, apply your code, and enjoy tasty meals at a lower price. 
Now, thanks to a new Tech Live Trends deal, you can get a $100 Restaurant.com eGift Card for only US$14. That's 86% off the regular price.
$100 Restaurant.com eGift Card for Only $14
More than 500,000 deals available every day
Thousands of new deals added every month
Choose from 62,000+ restaurants across the country
Certificates are good for dine-in, takeout, or delivery
Available in all 50 states in the US only; NOT valid for international countries
Restaurants include:
Dickey's Barbecue Pit
Edible Arrangements
House of Blues
IHOP
Señor Frog's
Subway
And a lot more!
Details of the Deal
Redemption deadline: redeem the voucher code you purchase here on Restaurant.com within 30 days of this purchase
Length of access to Restaurant.com once you redeem your voucher code: lifetime
Once you've redeemed your voucher code, there's a limit of one (1) Restaurant.com certificate per visit to a restaurant (when you dine, you cannot apply more than one Restaurant.com certificate at a time)
Minimum spend requirements, blackout dates, and other restrictions (including on alcohol) for using certificates are determined by each individual restaurant. These may vary and are subject to change.
This promotion does not apply to previously placed orders and cannot be combined with other promotions or offers available on Restaurant.com or at individual restaurant locations.
Available in all 50 states in the U.S. only; NOT valid for international locations
Have questions on how digital purchases work? Learn more here
How it works
Buy your Restaurant.com eGift Card voucher here
Redeem eGift Card on Restaurant.com via desktop only (don't use the app for voucher redemption
Once you've redeemed your voucher, you'll have credit to apply on Restaurant.com for deal certificates for individual restaurants across the country
Search for participating local restaurants via Restaurant.com to see what kind of deals you can get! Each restaurant will offer different certificate amounts and some may have restrictions (like minimum spend at the restaurant to use the certificate).
Once you've chosen a restaurant, select the certificate deal you'd like to apply your Restaurant.com credit to and complete your purchase on Restaurant.com. Depending on how much Restaurant.com credit you purchased at this shop, you may be able to purchase multiple restaurant deal certificates on Restaurant.com—just keep in mind you won't be able to apply more than one certificate at a time when you dine, get takeout or order delivery.
Restaurant.com will provide a dining certificate for each deal you buy. For each certificate, you'll need to either print it out and bring it to the individual restaurant location or present it on your mobile device when you're there. One certificate's dollar amount will be applied to your total bill.
Here's just one example of how this could work:
Spend $10 here and get a voucher code that's worth $100 on Restaurant.com
Redeem your voucher code on Restaurant.com and you'll have $100 of credit in your account to spend on restaurant deal certificates
Your favorite pizza place is offering a deal—score! You can use $15 of your $100 credit to purchase a pizzeria dining certificate that's worth $45 at the restaurant. Not ready to make any other certificate purchases? No worries. The remaining amount from your $100 credit will be there waiting for your next meal.
Make sure you have the certificate either on your phone or printed out and head to the restaurant (after checking the restrictions on the certificate of course)—you've got $45 to spend on pizza!
Present the dining certificate to your server and they'll apply that $45 to your total bill, minus any restrictions (you may not be able to use it toward alcoholic purchases, for example)
Cover any remaining bill amount (don't forget to tip generously!) with your preferred payment method and enjoy the rest of your night

Individual restaurants may have terms attached to the certificate that says you can only apply the certificate to your bill if you spend a minimum amount at the restaurant or dine on certain days of the week. You also may not be able to use the certificate toward any alcoholic beverages on your bill.
Terms of the Deal
Credit not valid at Specials.Restaurant.com and is ONLY good at Restaurant.com.
Unredeemed licenses can be returned for store credit within 30 days of purchase. Once your license is redeemed, all sales are final.