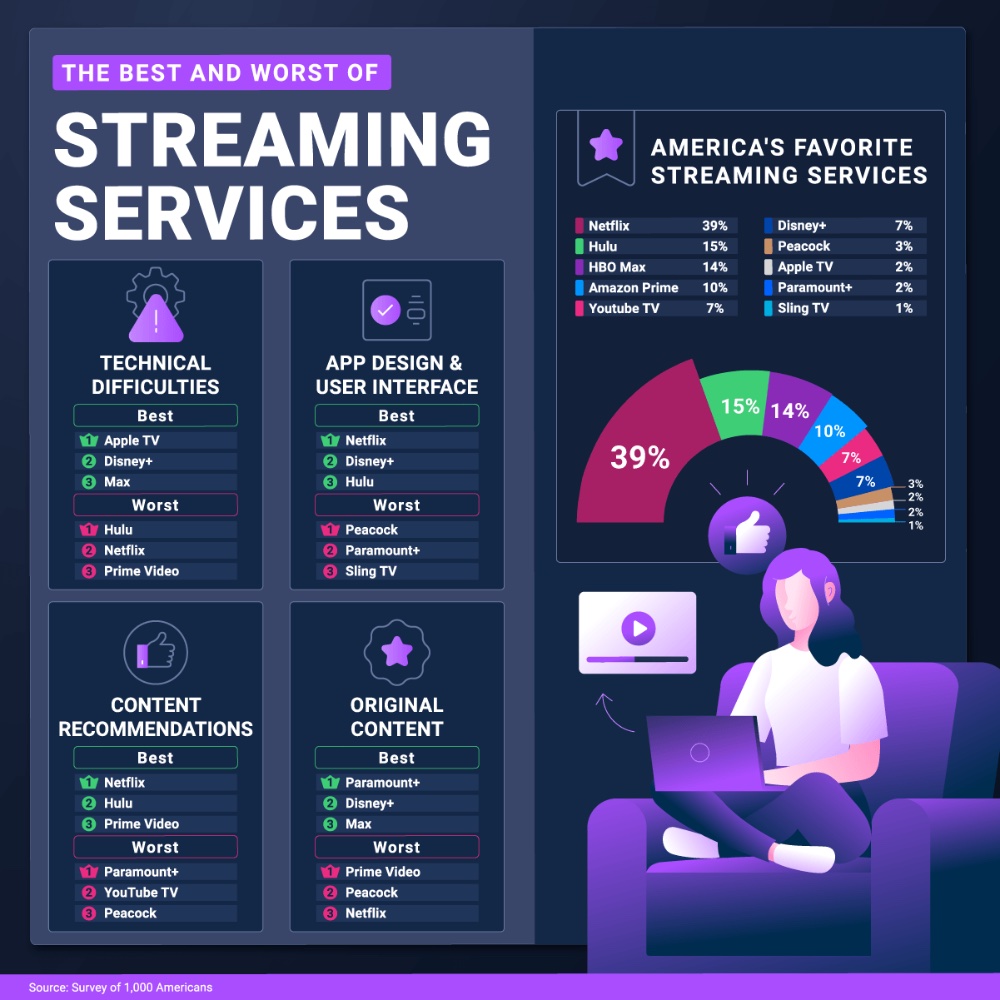 Survey: Apple TV+ has the fewest technical glitches of streaming services : Tech Live Trends
Netflix's recent announcement on how they plan to curb password sharing has ruffled everyone's feathers. Despite this, the team at No Deposit Daily's new study finds 45% of Americans agree Netflix has the best user design and 49% agree it gives the best recommendations. 
A majority of users still vastly prefer streaming services to cable. But that doesn't mean streaming subscriptions don't have their own headaches. To reveal those pain points, No Deposit Daily surveyed 1,000 Americans who subscribe to streaming services.  
Apple TV+ ranked best on the list when it comes to a lack of technical difficulties. However, only 2% of those surveyed said it was their favorite streaming service. That compares to 39% for Netflix, 15% for Hulu, 14% for Max, 10% for Amazon Prime, 7% for Youtube TV, 7% for Disney+, 3% for Peacock, 2% for Paramount+, and 1% for Sling TV.
Here's a bit more about what they found: 
Nearly half (45%) of Americans pay for 2+ streaming services — Likely because 31% agree their main frustration is needing more than 1 service to watch what they want.
Netflix is a fan favorite for UI design, but Sling TV and Paramount+ didn't score highly.
19% report Hulu causes the most technical difficulties while streaming.
Price hikes are the second-highest reported gripe with streaming services.
No Deposit Daily surveyed 1,000 Americans in May 2023 to ask questions about their preferences for streaming services. The average age of our respondents was 37. 51% of the participants were female, 46% were male, and 3% identified as non-binary/other.