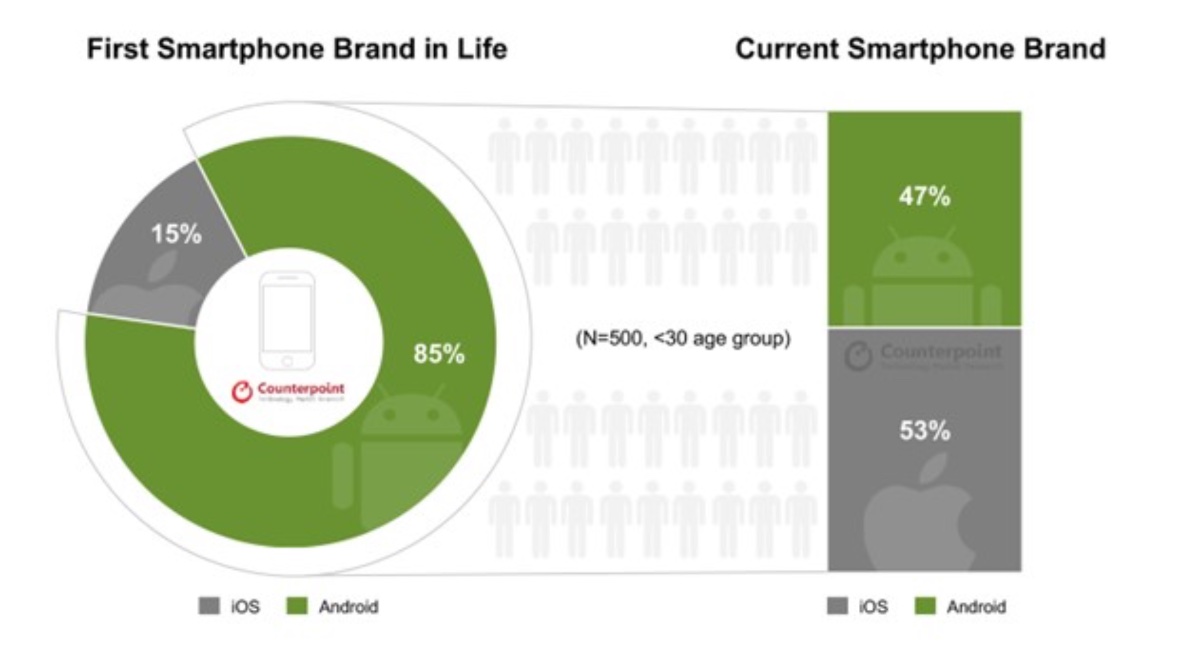 South Korean smartphone users under 30 increasingly choose an iPhone over an Android device – Tech Live Trends
About 85% of South Korean smartphone users aged less than 30 had an Android phone as their first smartphone, but 53% of them now use iPhones, according to Counterpoint Research.
The research group says the reason why Android phones account for a very high proportion of first-time smartphone purchases in South Korea is that most users in that age group, particularly adolescence, give priority to the preference of those with real purchasing power, such as parents, when buying their first smartphone. During Counterpoint's recent survey, the largest number of respondents opted for "Recommendation from family or friends" when asked why they used an Android as their first smartphone.
As for the reason for switching from an Android phone to an iPhone, respondents cited "Performance" (32%) and "Brand image" (31%) as the first and second priorities. In particular, in terms of performance, satisfaction and expectation with the camera had the greatest impact on the purchase decision, according to Counterpoint. 
What's more, Apple recently launched a campaign called 'Shot on iPhone' in the South Korean market. The campaign emphasizes the iPhone's camera performance through collaboration with a music video by Korean girl group NewJeans and a short film by director Park Chan-wook.
According to the survey, in the under-30 age group user base, Apple seems to have succeeded in solidifying the loyalty of existing iPhone users as well as switchers from Android phones. 92% of users who owned an iPhone as their first-ever smartphone said they were still using the brand. What's more, about 76% of them said they were not willing to use Android phones in the future. The respondents cited dissatisfaction with Android phones' "Design" (52%) and "Performance" (29%) as reasons.
When considering all age groups, more than half of the respondents who said they switched from iPhone to Android cited easy-to-use features such as Samsung Pay and UI as the differentiating factors. These answers were similar to those of current iPhone users, who said they were willing to replace their devices with Android smartphones in the future, according to Counterpoint.