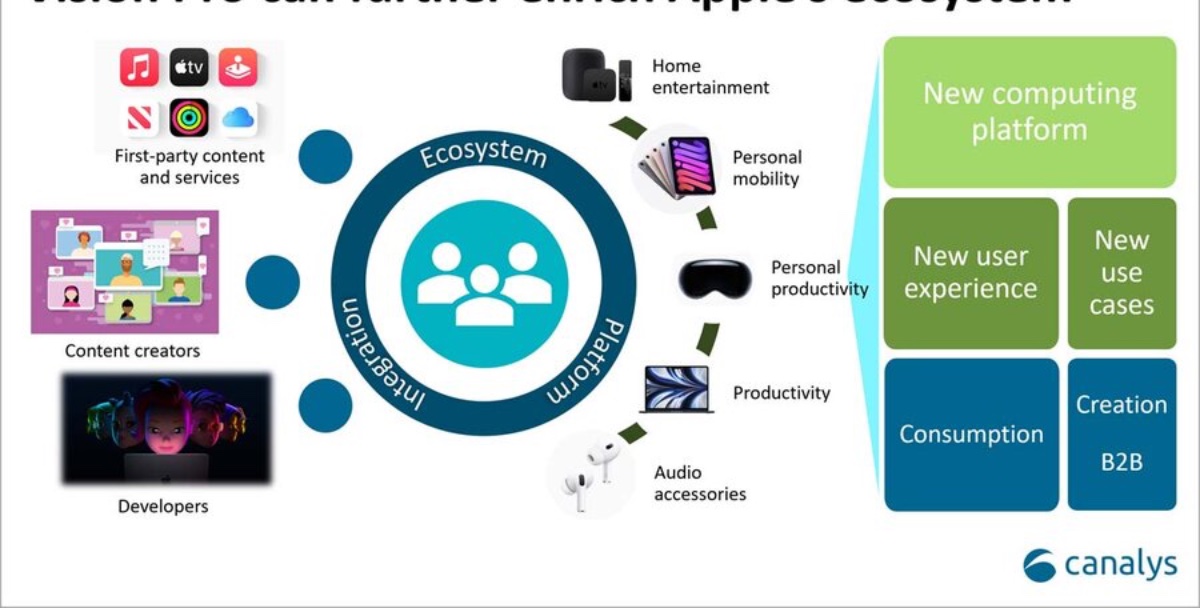 Research group says the Vision Pro can further enrich Apple's ecosystem : Tech Live Trends
Remember when Apple first removed the headphone jack from the iPhone 7 while releasing its AirPods, and users did not go back to wired devices once going wireless?
Canalys says Apple is trying to recreate this impact with the Vision Pro by breaking the boundaries of MacBook displays, offering new ways of interacting with the Apple elements that users are familiar with, and going beyond mouse and touch input. The research group says that the success of the first-generation Vision Pro "is vital for Apple to showcase its ability to innovate and drive high growth."
Apple previewed the US$3,499 (and up) "spatial computing" system at last month's Worldwide Developer Conference. However, it won't be available until early 2024 — and then, apparently, in limited quantities.
Canalys says that getting the Vision Pro basics right is crucial, but Apple wants to over-engineer in this regard to ensure it can stand out and establish what its headset can do that competitors' cannot. Some design decisions point toward the direction of lowering user friction and increasing the consumer appeal of the device. Canalys says these features include:
Excellent and natural pass-through mode, similar to the highly regarded AirPods Pro adaptive transparency mode.
The choice of the level of immersion, which can be controlled intuitively via the Digital Crown.
No messy controllers and accurate and sensitive hand and eye tracking, supported by voice input.
An external display with EyeSight enables better communication between users and people around them.
A thin design in the shape of ski goggles makes it more approachable and could be trendsetting.
"By calling the Vision Pro a spatial computing device, Apple positions the headset as the next computing platform rather than just an accessory related to the mobile or PC ecosystem," says Canalys. "The term 'spatial' is also well in line with Apple's other spatial technologies, namely spatial audio, which it lauded in its AirPods and HomePod devices to showcase the multidimensional qualities of sound produced. Typically, Apple, being late to the market, allowed itself time to observe and avoid the major pitfalls plaguing XR headsets while investing in the right areas, such as designing its unique visionOS and building high-performance tracking systems for a seamless user experience."
If you'd like to help support AWT (and help us reach our goal of eliminating ads),  consider becoming a patron. We offer at least three patron-exclusive posts each week. You can start at only $2 per month (though $5/month gets you the exclusives).