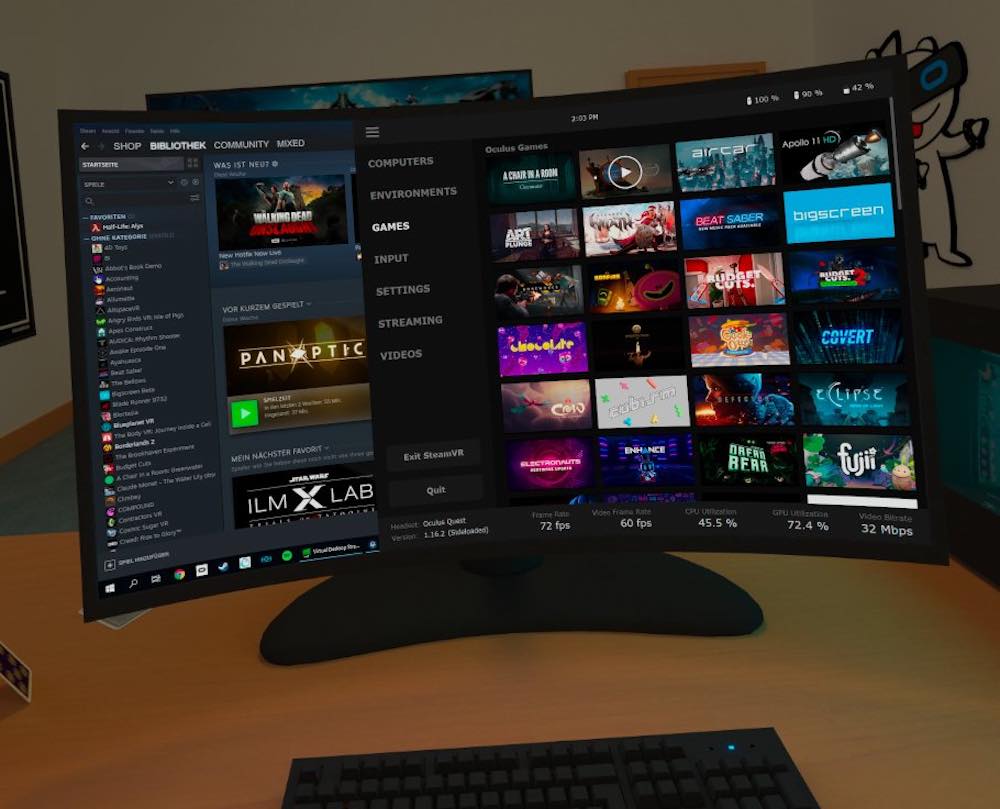 Only 2% of Virtual Desktop Users Are Connecting With a Quest Pro Headset – Tech Live Trends
A Meta email blast to Quest users revealed Virtual Desktop's monthly user numbers.
Some Quest users received an email from Meta revealing the monthly user numbers for a number of virtual reality apps, among them the popular VR app Virtual Desktop.
One of the emails was shared on Twitter by YouTuber and XR hardware analyst Brad Lynch and relates to the Virtual Desktop.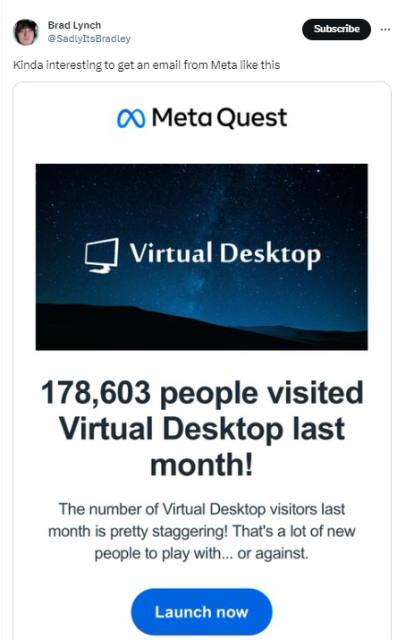 The email states Virtual Desktop was visited by 178,603 people last month. The email describes the number of visitors to the app as "pretty staggering" and presenting "a lot of new people to play with… or against."
The Virtual Desktop app enables users to connect their Meta Quest headset to a PC via Wi-Fi, thereby importing their desktop into virtual reality for tasks such as watching movies in virtual environments or streaming PC VR games.
Meta's email reveal marks the first time that Virtual Desktop user numbers have been released to the public. However, the term "visitors" is not clearly defined in the Meta email. That figure would presumably include all users who launched the virtual reality app at least once over the past month.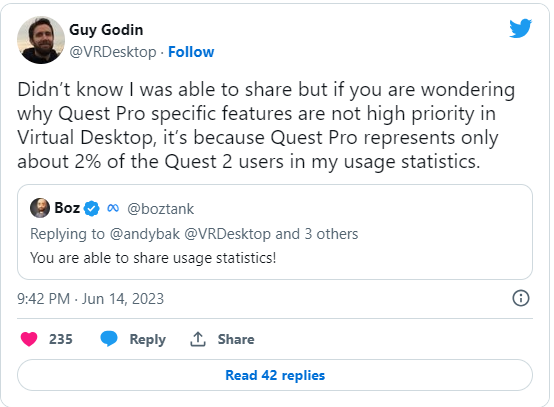 In a tweet, Virtual Desktop developer Guy Godin was seemingly surprised that the usage statistics had been published without his permission. He stated that he had always assumed that he himself was not allowed to release these states. Joining the discussion, Meta CTO Andrew Bosworth clarified that developers are allowed to publish their usage statistics but not their sales and revenue figures. Godin did not confirm or dispute the figures released by Meta.
Meta also sent out an email for the virtual reality hit game Bonelab showing the title registered 361,340 users last month.
The Meta emails on usage stats seem to be automatically generated and appear meant to draw users back to the virtual reality apps that they used in the past. The wording of the emails suggests Meta is trying to promote virtual reality apps and games that have multiplayer functionality although Virtual Desktop does not support this feature.
According to the usage stats in the email, Virtual Desktop has close to 180,000 monthly users, which is still a respectable figure, given that PC VR usage is just a secondary feature in Meta Quest and needs a VR-ready PC.
Leaked documents show that the Meta Quest virtual reality platform had 6.37 million monthly users in October 2022. Taking this number into account, the latest figures suggest that roughly less than 3% of all Quest users used the Virtual Desktop app last month.
Virtual Desktop is ranked among the top 20 premium apps and games in the Meta Quest Store based on the number of user ratings.
It is likely that the number of Meta Quest PC VR users is higher as a large proportion of users are probably using Meta's own PC VR streaming functionality, Quest Link.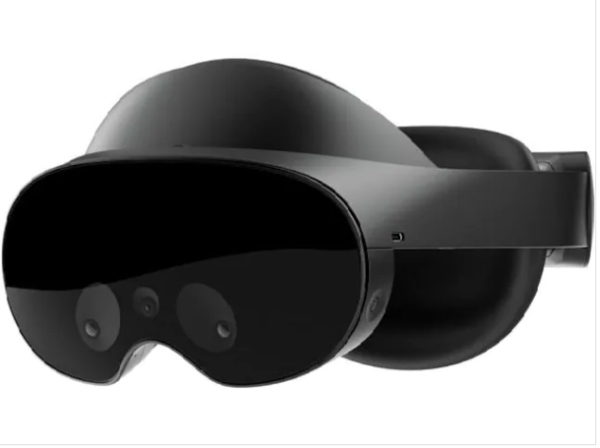 In a tweet, Virtual Desktop developer Guy Godin said that just 2% of the Quest 2 version of the app are accessing with a Quest Pro, suggesting the premium headset is not used widely even among users with access to a gaming PC. Godin revealed that Quest 1 users account for approximately 6% of Virtual Desktop users.
Meta's Quest sales figures do not provide a breakdown by model. In a recent leak, Zuckerberg talked of "tens of millions" of Quest devices sold so far. Such a figure also aligns with a previous bleak in March 2023 which cited close to 20 million Quest headsets sold so far.