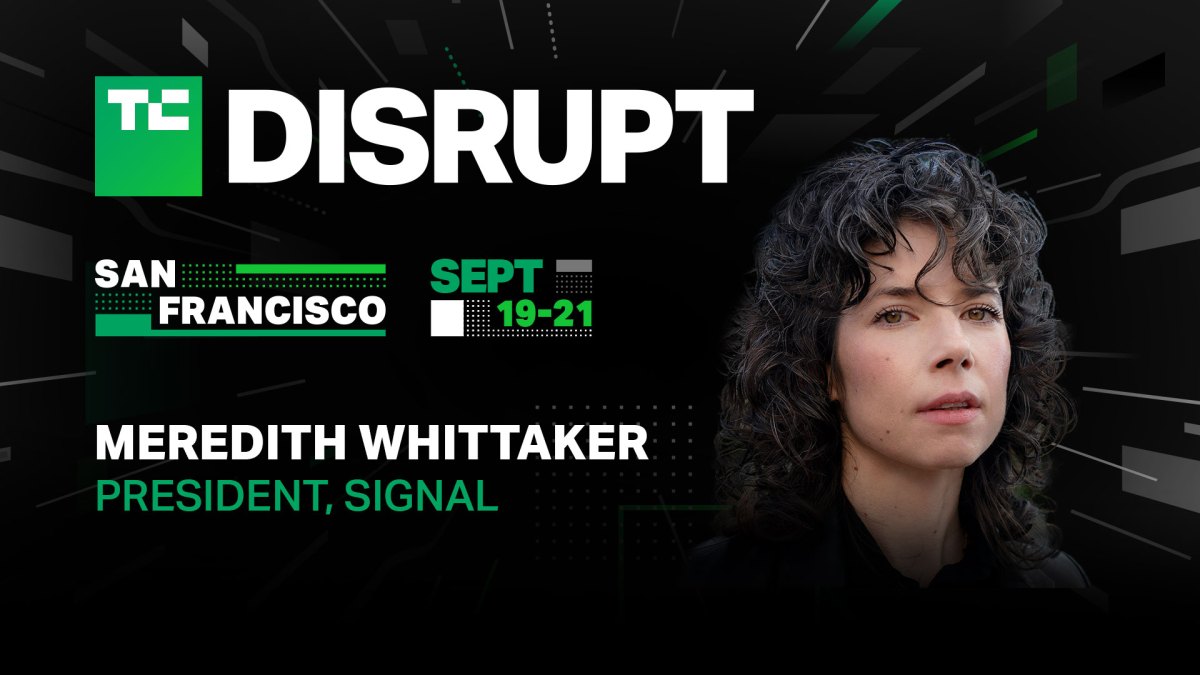 Signal talks privacy, encryption, AI and more at TechCrunch Disrupt 2023's Security Stage
In our tech-driven world, the right to privacy — once the cornerstone of democracy — is disappearing at an alarming rate. But not everyone is keen on having Big Tech companies and nation-states surveilling every digital communication. This may be one reason why Signal, the end-to-end encrypted messaging app, has been downloaded more than 100 million times to date.
Signal Foundation, the app's nonprofit developer, is a staunch defender of privacy and security. Indeed, it said it would leave the United Kingdom rather than weaken its encryption. The organization's principles — based on retaining as little user data as possible — are a real rarity in security.
This is why we're thrilled that Meredith Whittaker, president of the Signal Foundation, will join us for a session called "Signal and the Future of Encrypted Messaging." You'll find it on the Security Stage at TechCrunch Disrupt 2023, which takes place on September 19–21 in San Francisco.
We can't wait to talk with Whittaker about what it takes to run one of the world's most ubiquitous security startups. We'll focus on Signal — both the organization and the product — and how it's become trusted and widely seen as the gold standard of end-to-end encrypted messaging apps.
Can Signal's stellar reputation spur other startups to follow a similar path? If not, how do we protect that data so it can't be stolen or misused? We'll also circle back to how governments justify their attempts to backdoor encryption and why fighting to protect encryption, and thus privacy, is essential.
We'll also discuss Whittaker's take on the harmful social consequences of artificial intelligence. At a recent conference in San Francisco, Whittaker spoke about the way big corporations use AI to wield technological power, and how these huge datasets can be used to surveil populations, calling AI "a surveillance technology."
Join us for what's sure to be a reality check from an acclaimed expert who understands the real-world issues of privacy, security and AI.
Learn more about our speaker — and her extensive qualifications for tackling these challenging topics — below.
Meredith Whittaker: Signal Foundation president
Meredith Whittaker, president of Signal, has more than 17 years of tech experience across industry, academia and government. Before joining Signal, she was the Minderoo Research Professor at NYU and served as the faculty director of the AI Now Institute, which she co-founded.
Whittaker's research and scholarly work helped shape global AI policy and shift the public narrative on AI to better recognize the surveillance business practices and the concentration of industrial resources that modern AI requires. Prior to NYU, she worked at Google for over a decade, where she led product and engineering teams and founded Google's Open Research Group. She also co-founded M-Lab, a globally distributed network measurement platform that now provides the world's largest source of open data on internet performance.
Whittaker was one of the core organizers pushing back against Google's insufficient response to concerns about AI and its dangers, and she was a central organizer of the Google Walkout. Whittaker has advised the White House, the FCC, the city of New York, the European Parliament — and many other governments and civil society organizations — on privacy, security, artificial intelligence, internet policy and measurement. She recently completed a term as senior advisor on AI to the chair of the U.S. Federal Trade Commission.
Join us at the Security Stage
Hear more conversations with leading experts on the Security Stage, which features topics like data protection, privacy regulations, information sharing, risk management and more. It's just one of the six new stages for six breakthrough sectors at Disrupt. Book your pass today!
Is your company interested in sponsoring or exhibiting at TechCrunch Disrupt 2023? Contact our sponsorship sales team by filling out this form.