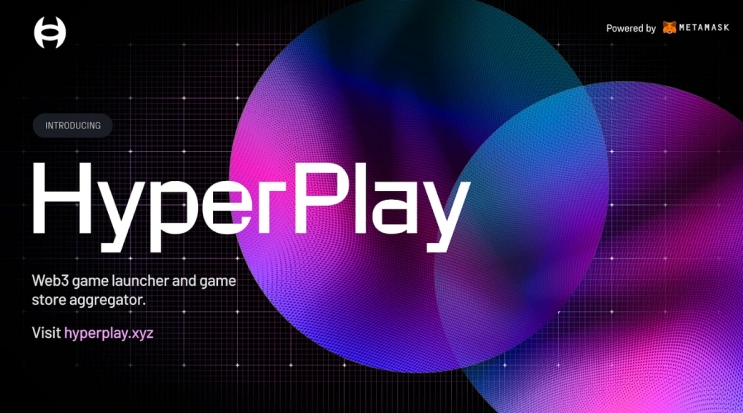 HyperPlay Raises $12 Million for a Web3 Game Launcher and Cross-Chain Aggregator – Tech Live Trends
HyperPlay Gaming, a web3-native game launcher and game store aggregator platform has raised $12 million in a funding round. The funds will go into its Web3 game launcher and cross-chain aggregator of multiple gaming stores.
The Web3 Gaming Platform was launched in November 2022 following a joint collaboration between the self-custody Web3 wallet MetaMask and the decentralized autonomous organization (DAO) Game7. HyperPlay is focused on developing interoperable Web3 gaming infrastructure.

HyperPlay wants to make interoperability a default feature in all Web3 games via a wallet overlay on top of games that will enable players to take their MetaMask wallet directly into native or browser-based games.
HyperPlay's $12 million funding round was co-led by Griffin Gaming Partners and BitKraft Ventures. Also participating in the funding round were Mirana Ventures, Delphi, Ethereal Ventures, Game 7, ConsenSys, and Monoceros Ventures among others.
HyperPlay stated that in spite of the growth in Web3 gaming over the past few years, most of these games have been structured as "walled gardens" with no interoperable use cases that Web3 game developers would be interested in building. Where game developers have tried building Web3 utility into their games, HyperPlay says they have always faced de-platforming, censorship as well as massive taxation from some of the big players in Web2 such as Apple and Steam.
According to HyperPlay, its successful fundraising is an indication of the urgent need for seamless interoperability in the Web3 gaming ecosystem. HyperPlay is planning to use the latest funding to fully enhance its flagship game launcher and to increase its international presence.
BitKraft Ventures lauded HyperPlay's "developer-first approach" which has made the startup "the Web3 game launcher of choice." BitKraft Ventures' Malte Barth added that HyperPlay's platform offers game developers the leeway to deploy on their preferred chains while at the same time enabling players to carry their NFTs, wallet, and tokens along with achievements into every game. Barth says this is a differentiating factor in HyperPlay's offering compared to others in the space. HyperPlay's gaming platform, thus, provides users with unique usability and convenience and could possibly even branch into mobile platforms and Web2 gaming.
HyperPlay says it takes pride in offering its services to both users and developers. The platform also says it charges zero taxes on developers in the in-game economies, unlike Apple and Steam which charge developers taxes of up to 30%. Rather than focus on commissions, HyperPlay monetizes optional features such as token swaps or on-ramping.
On the user end, HyperPlay provides support for all Ethereum Virtual Machine (EVM)-compatible chains thus allowing players to bring their tokens, wallets as well as non-fungible tokens (NFTs) into every browser or native game.
HyperPlay's game launcher offers in-game wallet overlay integration thus removing the need for players to leave the game. It also offers users a separate website for their NFT transactions.
HyperPlay provides support for all games on all the MetaMask-supported chains. However, the Web3 gaming platform has also hinted that some special features will be added to the Ethereum scaling solution Mantle L2 with a focus on gaming applications.
HyperPlay founder JacobC.eth said that the platform will be focusing on leveraging the funds raised to strengthen its product as "the premier Web3 gaming platform" as well as to continue expanding the company's global footprint.
The funding round came in the runup to Game7's 3XP Gaming Expo which aims to bring together the leading publishers, brands as well as thought leaders in the space to develop the future of gaming. There are currently 33 Web3 titles in HyperPlay's game store.