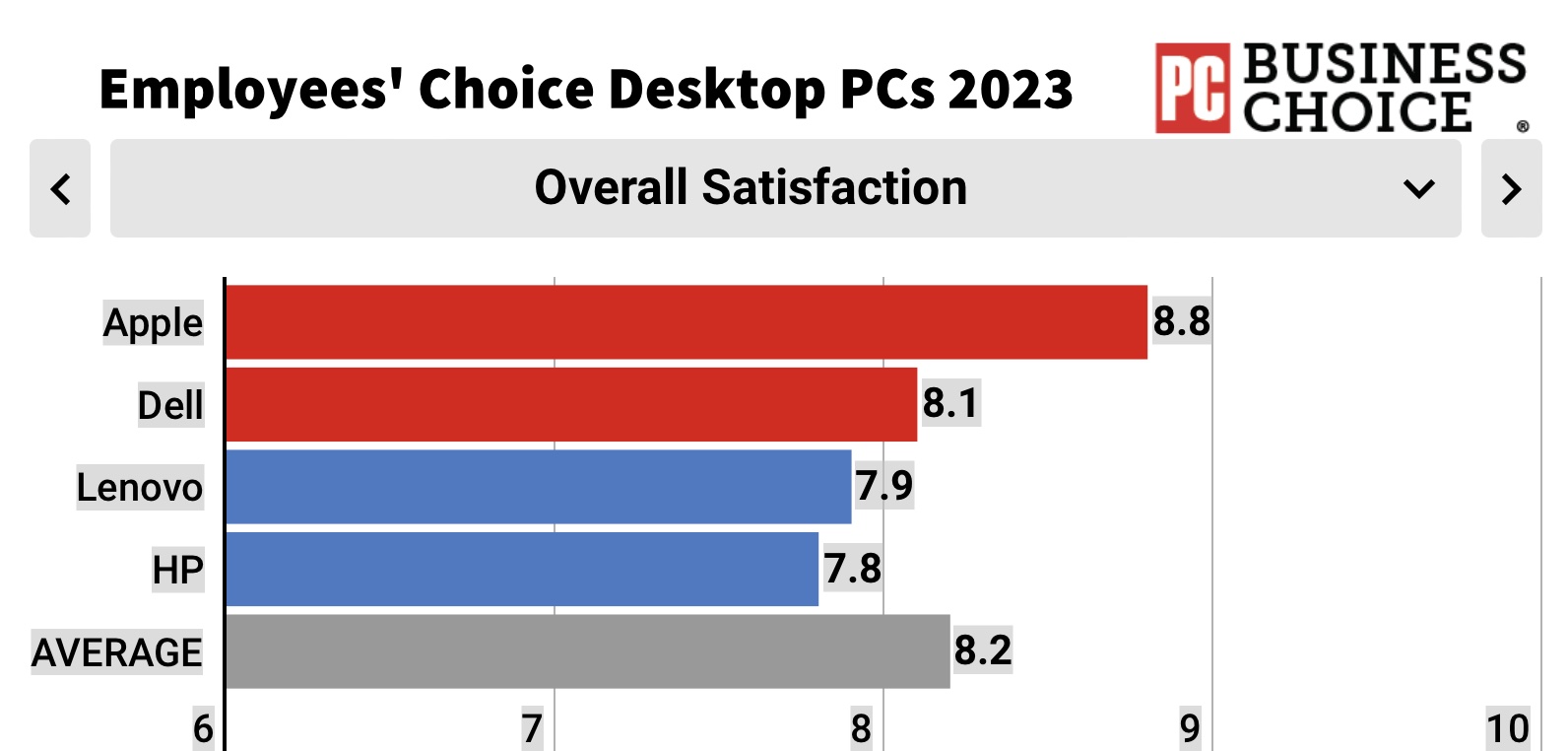 Apple's Mac desktop line earns high scores for ease of use, reliability, tech support and repairs : Tech Live Trends
PC Mag has named its "Top Desktop PC Brands for Work. Apple almost always wins in this category. (The last time Apple didn't win the Business Choice award for work-from-home PCs was in 2020; Dell won that year.) However, this year the overall award went to Asus.
Asus earns an excellent overall satisfaction rating, in a tie with Apple. But Asus stays ahead of Apple in the likelihood-to-recommend score/ "Couple that with Asus' stellar score for cost and value, and the brand is a no-brainer pick for the top desktop PC brand for those who work from home," says PC Mag.
But keep in mind mind that Apple's Mac desktops—from the tiny Mini to the all-in-one iMac—are still beloved. They earn high scores for ease of use and reliability. The Mac is also on top for tech support and repairs, but those are subcategories in which Asus doesn't garner enough responses to get a score. 
Plus, when in-office employees get to pick the brand of PC they work with, they are inclined to go with Apple. The Mac-maker nails the top scores in every category. Prominent scores include setup, reliability, and tech support. (Apple's lowest score is for value since its Macs are pricey compared to some PC alternatives.)
Being responsible for every desktop PC in an office, deploying PCs to new staff, buying replacements, and regularly upgrading, updating, managing, and repairing them is a huge task—one that falls to the IT department. And IT managers prefer two brands, says PC Mag.
The first is Apple, which has always been celebrated for ease of use and simple setup, going back to the first desktop Macs in the 1980s. And those are the categories in PC Mag's survey results in which Apple shines. It shows similarly high numbers for reliability. Apple is on top with IT in every category except repairs.
PC Mag says the top brand for repairs is the number-two pick overall for IT, and it is our secondary Business Choice award winner: Dell. In almost every other category, Dell is a close second to Apple. The biggest gap between the two is Apple's half-a-point-higher score for tech support. The closest the two come is in a tie for likelihood to recommend.
The "PCMag Business Choice survey for Desktop PCs and Components" was in the field from May 15 to June 5, 2023. For more information on how the publication conducts surveys, read the survey methodology.
If you'd like to help support AWT (and help us reach our goal of eliminating ads),  consider becoming a patron. We offer at least three patron-exclusive posts each week. You can start at only $2 per month (though $5/month gets you the exclusives).