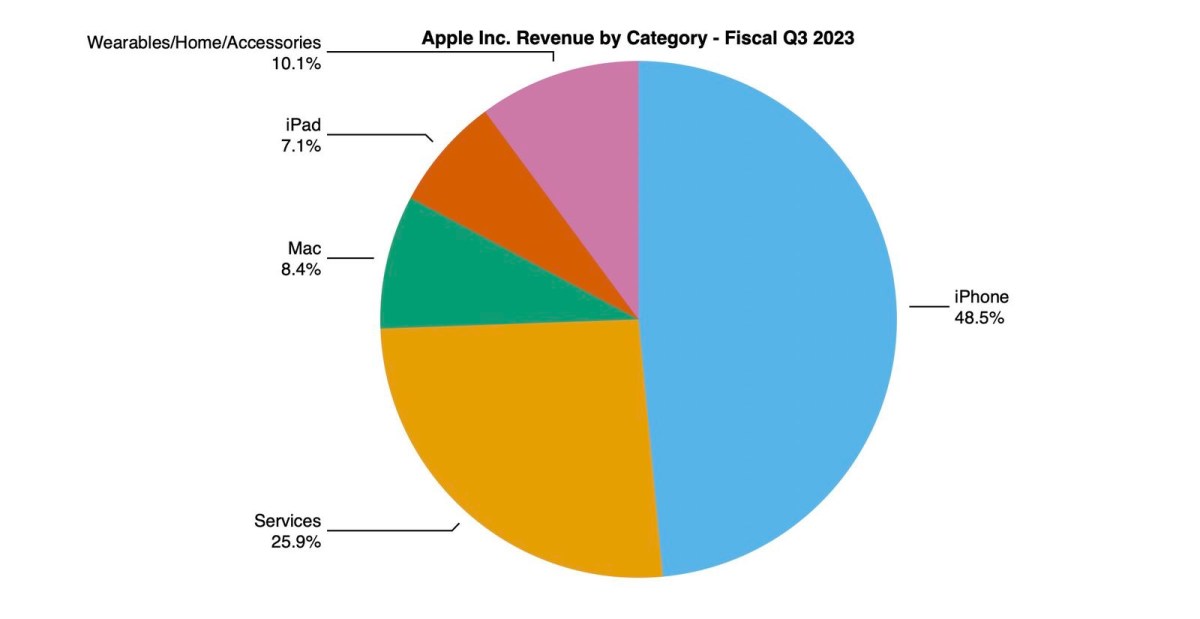 Apple's latest financial results aren't great (but they aren't as bad as many predicted) – Tech Live Trends
Apple has announced financial results for its fiscal 2023 third quarter that ended July 1, 2023. The company posted quarterly revenue of $81.8 billion, down 1% year-over-year, and quarterly earnings per diluted share of $1.26, up 5% year-over-year. 
CEO Tim Cook and Chief Financial Officer Luca Maestri discussed the financial results during a conference fall with the media and analysts. Here are some highlights:
° The company's total sales dropped from almost $83 billion in the June 2022 quarter to just under $82 billion this year.
° However, Apple's profit increased from $19.4 billion to $19.9 billion thanks to an increase in the Services division, whose performance helped  offset the drop in hardware sales. Services grew 8% year-over-year.
° Speaking of Services, ads, app stores and Apple Music Apple set June quarter records. Apple has hit a milestone of one billion paid subscriptions across its Services and App Store segments.
° iPhone revenue was $39.7 billion, down 2% year-over-year. The active installed based grew to an all-time high.
° Mac sales were down 7% year-over-year. Still, the computer made $6.9 billion in revenue. That's actually an improvement, as Mac revenue dropped 31% in the March quarter.
° Fifty-percent of those buying Macs are new to the platform (I have to point out that Apple says this EVERY time new financials are announced).
° iPad venue in the April-to-June period was $5.8 billion, down 20% year-over-year.
° For September, Apple expects Mac and iPad sales to see double-digit dips from the same period in 2022, but thinks iPhone revenue will improve. Why the dip in computer and tablet sales? There was "an unusual amount of activity a year ago."
° The Wearables segment was up 2% year over year. Two-thirds of those buying an Apple Watch were new users of the product.
° Apple saw sales growth in its European and Greater China geographic segments. Conversely, sales growth in the Americas, Japan, and AsiaPac slipped slightly.
° Apple now has an installed base of two billion (and growing) active devices.
Apple's board of directors has declared a cash dividend of $0.24 per share of the Company's common stock. The dividend is payable on August 17 to shareholders of record as of the close of business on August 14.
If you'd like to help support AWT (and help us reach our goal of eliminating ads),  consider becoming a patron. We offer at least three patron-exclusive posts each week. You can start at only $2 per month (though $5/month gets you the exclusives).