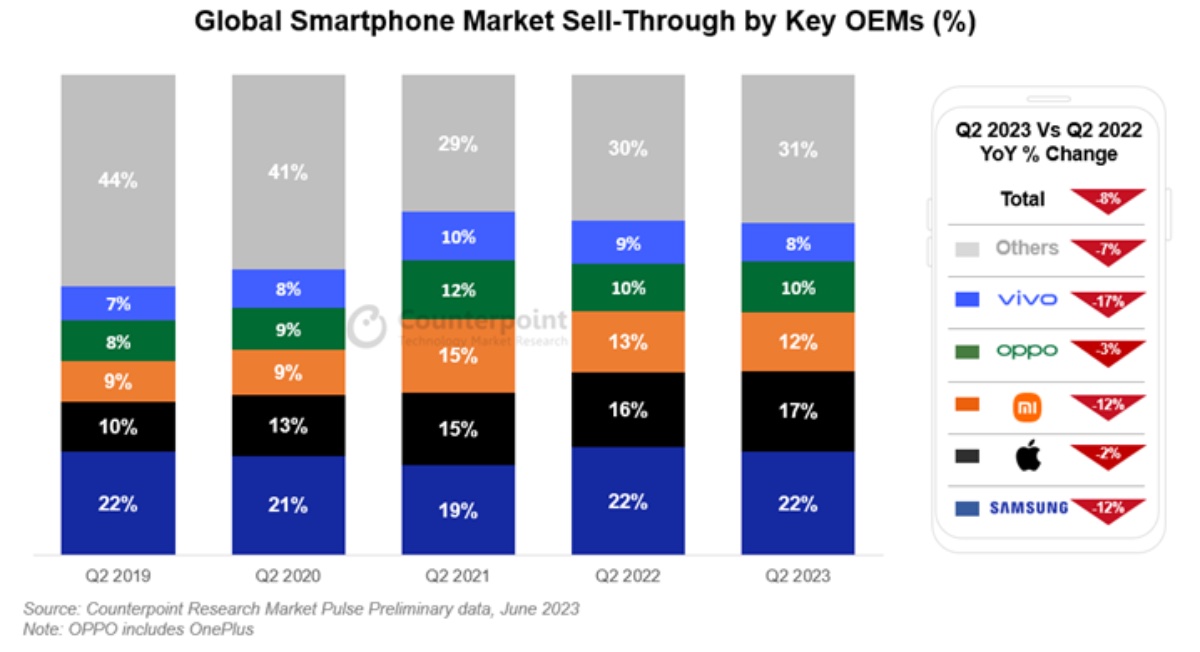 Apple's iPhone is riding a 'premiumization' wave when it comes to global smartphone sales : Tech Live Trends
The global smartphone market's sell-through declined 8% year-over-year and 5% quarter-over-quarter in the second quarter of 2023, according to the latest research from Counterpoint's Market Pulse service. This was the eighth consecutive quarter to see a year-over-year decline, notes the research group.
Samsung led the market with a 22% market share, benefitting from the strong performance of its Galaxy A-series globally. Apple came in second while recording its highest-ever quarter two market share.
Counterpoint says the premium segment ($600+ wholesale price), continues to grow immune to broader constraints, "as the mature consumer is opting for a superior experience, supported by the easy availability of finance options across key geographies." The premium segment was the only segment that grew during the quarter, reaching its highest-ever second quarter contribution to the overall market. More than one out of five smartphones sold during the quarter belonged to the premium segment.
Counterpoint says Apple is riding this "premiumization" wave, reaching record shares in multiple new markets which are typically not considered its core markets. A prime example is India, where it grew 50% year-over-year in quarter two 2023. The continued strong performance of the premium segment has made sure that revenues don't suffer as much as sales volumes, which is why brands are investing in market expansion and innovation in newer technologies, adds the research group.
If you'd like to help support AWT (and help us reach our goal of eliminating ads),  consider becoming a patron. We offer at least three patron-exclusive posts each week. You can start at only $2 per month (though $5/month gets you the exclusives).