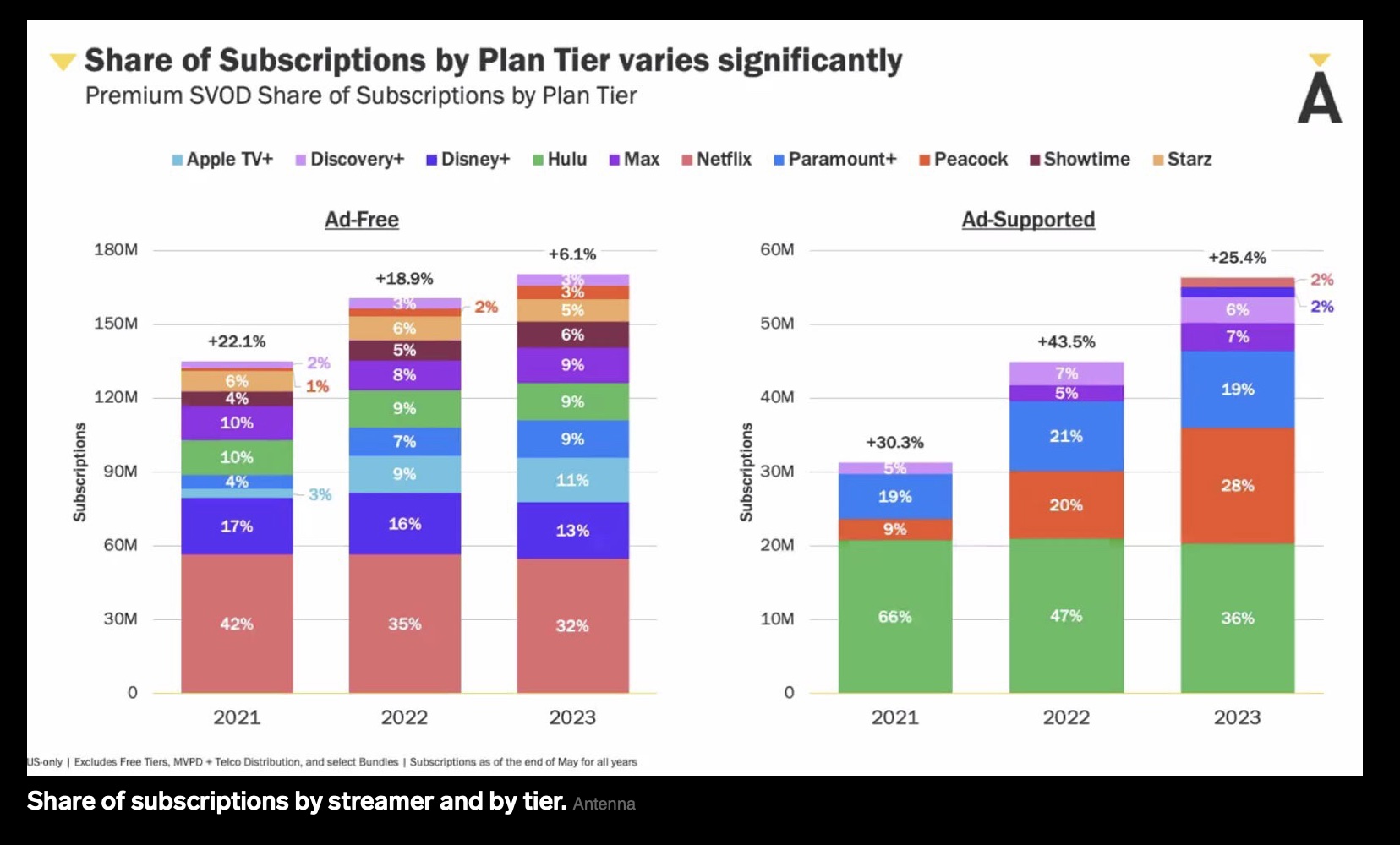 Apple TV+ more than triples its share of ad-free subscribers in the past two years : Tech Live Trends
Apple TV+ has more than tripled its share of ad-free subscribers in the past two years, jumping ahead of Paramount+, Disney's Hulu, and Warner Bros. Discovery's Max in share, according to new data disclosed June 28 by subscription measurement company Antenna. 
Apple TV+ has 11% of share of ad-free streaming in May, up from 3% in 2021, putting it in third place after Netflix (32%) and Disney+ (13%). Despite the growth, the company is at least considering video ads.
In February, Apple hired Lauren Fry, a long-time ad sales executive, to "help build a video advertising business" for Apple TV+, according to The Information. This could mean, as the article hints, that Apple is considering an ad-supported tier for Apple TV+. In January Business Insider reported that is looking to hire an ad sales exec to focus on live sports and ad-supported TV+ plans.
With streaming services such as Netflix and Disney + launching ad-supported versions at lower cost, Apple may be considering the same. Business Insider says Apple is looking at candidates similar to Paramount Global's chief digital advertising officer and Netflix ad sales Vice President Peter Naylor.
Apple TV+ saw its monthly price go from $4.99 to $5.99. Apple may be considering an even less expensive option with ads. Or perhaps the tech giant needs more income to pay for the billions it's spending on original programming for the streaming service. 
About Apple TV+
Apple TV+ is available on the Apple TV app in over 100 countries and regions, on over 1 billion screens, including iPhone, iPad, Apple TV, Mac, popular smart TVs from Samsung, LG, Sony, VIZIO, TCL and others, Roku and Amazon Fire TV devices, Chromecast with Google TV, PlayStation and Xbox gaming consoles, and at tv.apple.com, for $4.99 per month with a seven-day free trial. 
For a limited time, customers who purchase and activate a new iPhone, iPad, Apple TV, Mac or iPod touch can enjoy three months of Apple TV+ for free. For more information, visit apple.com/tvpr and see the full list of supported devices.