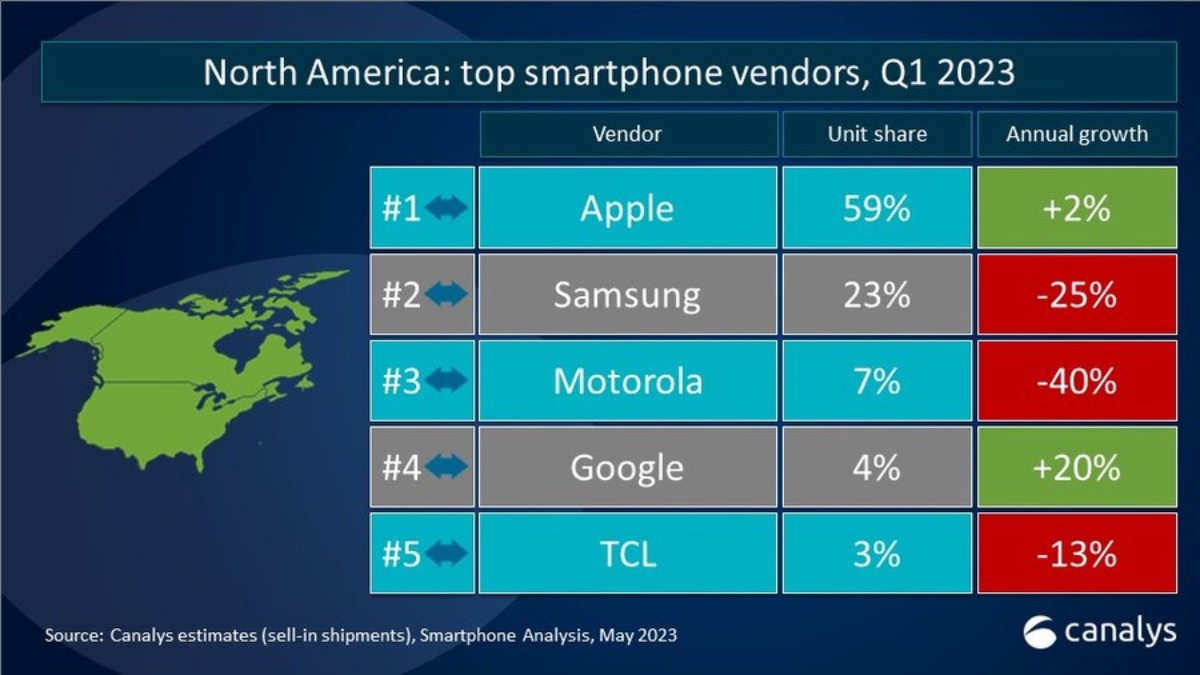 Apple, Samsung drive record-high ASPs in the North American smartphone market : Tech Live Trends
North America's smartphone market experienced its fourth quarter of shipment decline, dropping 11.2% year-on-year to 34.6 million units in quarter one (Q1) of 2023, according to Canalys. 
The research group says challenging economic conditions and inflation in the US market drove lower consumer demand, particularly in the low-end mass market (below US$200). Despite robust growth in the premium segment (US$800) failing to save the market from decline, the average selling price (ASP) of the North American smartphone market reached its historic Q1 record high of US$790 this year, up from US$671 in Q1 2022.  
Apple claimed the top spot in North America in Q1 2023 with a 59% market share, its best Q1 record, up 8% from Q1 2022. Samsung, on the other hand, reported the worst Q1 decline in its top market, with its shipments dropping 25% compared to Q1 2022 when the vendor recovered from supply shortage with strong sell-in. 
"Apple strengthened its position even further with its premium Pro series, thanks to normalized supply and relatively intact high-end spending in the region. Seven iPhone models entered the market's top 10 where the iPhone Pro and Pro Max contributed to 45% of shipments," says Canalys Analyst Lindsey Upton. "Driven by Apple and Samsung, the US$800 and above market segment grew by 32.9% year-on-year, a sharp contrast to the otherwise gloomy market."
As of Q1 2023, Apple has 59% of the North American smartphone market based on sales of 20.3 million iPhones. That compares to sales of 19.9. million and 51% market share in Q1 of 2022 for 2% annual growth.