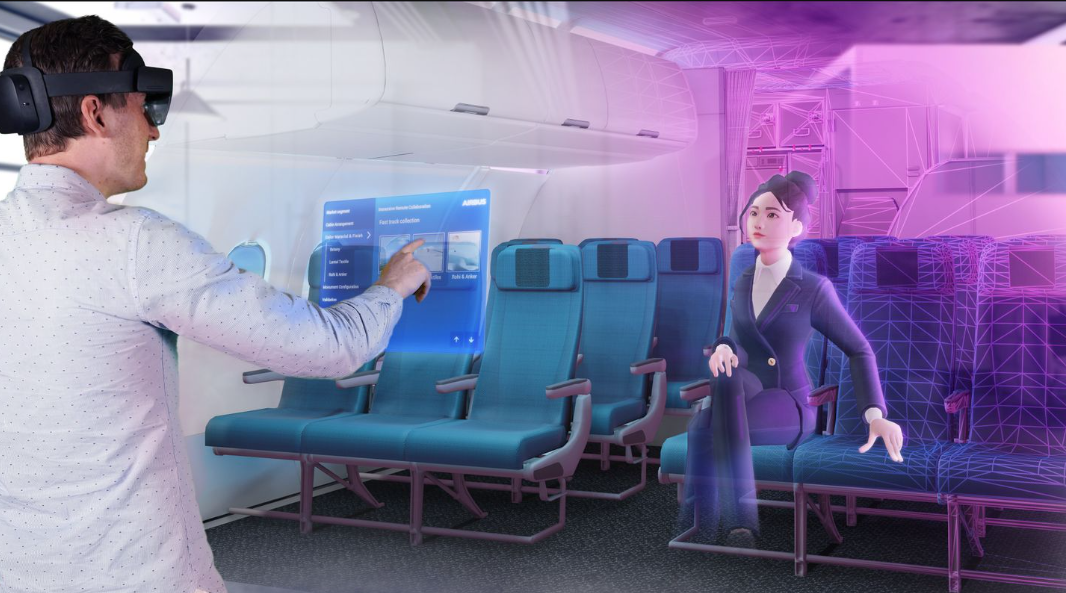 Airbus to Use XR in Tackling Industry Challenges
Aircraft manufacturer Airbus is leveraging extended reality solutions to help future-proof its operations.
Airbus is now embracing mixed reality (MR) to design passenger cabins for its upcoming commercial aircraft.
Airbus will be using immersive headsets and technology to improve the aircraft's design safety, security as well as quality according to a press statement. The statement said that Airbus' engineers can now "get things right (the) first time" as a result of reduced lead times.
The use of mixed reality headsets and augmented reality glasses will also offer engineers critical data and other information in their field of view (FoV). Key equipment like a hardhat-mounted immersive kit along with goggles can provide engineers, lead technicians, and other staff with such critical information.
Extended reality (XR) tools also considerably reduce production times and boost safety at the workplace for workers.
Airbus has long experimented with immersive technologies. That dalliance goes as far back as the 2000s when it employed technology in designing critical aircraft parts using computer-aided design (CAD).
In the statement, Airbus stated that it embarked on a phase of digital transformation over the past few years, spanning its operations and services. Skilled technicians at Airbus built data continuity along with common digital environments for the company's manufacturing pipelines.
These enhancements deliver seamless interactions between the company's in-house skill sets and its partners.
Airbus has been adopting various key technologies in its immersive quest. The company has been using Unity Technologies in the development of its in-house industrial metaverse tools. Airbus also adopted technologies that have unlocked use cases along with proofs spanning design, manufacturing, maintenance, and operations.
Coming fresh from the Paris Air Show 2023, Airbus formulated plans for integrating virtual reality and augmented reality tools for developing future conceptualized A320 cabins.
Airbus Helicopter teams based in Brisbane have been leveraging XR tools in the design of the Super Puma. Additional augmented reality collaborations resulted in the creation of A350 cabin mockups at the aircraft manufacturer's engineering teams based in Hamberg, Germany as well as tooling integration tests in Mirabel in Canada.
Airbus is using immersive technologies in its manufacturing workflow s in which operators are leveraging its Augmented Reality smart glasses to perform hands-free remote guidance and tasks. Airbus derives advantages from the display of key information in the handling of large aircraft machinery and parts.
This happens at Airbus' Getafe facility where the A330 aircraft is converted into a multi-Role Tanker Transport (MRTTs). Airbus says it has been using MR tools since 1999 to fulfill 70% of its work orders for electrical and hydraulic installations.
Moving forward, Airbus wants to future-proof its operations with extended reality technologies. The company is planning to expand MR manufacturing to its A400M and C295 projects. It is also planning to integrate the technology into its information systems.
Other XR projects Airbus is involved in include the use of Microsoft HoloLens 2 headsets for overlaying holograms in physical spaces for use in tasks and record activities.
Airbus has also launched a number of industrial-grade apps for use in drilling and fitting brackets at its French facility along with complete quality control protocols at the Hamberg site.
In the future, Airbus may also use mixed reality to check cabin cable hardness and install maintenance labels on aircraft wings among other applications.
Airbus is now embracing mixed reality (MR) to design passenger cabins for its upcoming commercial aircraft.