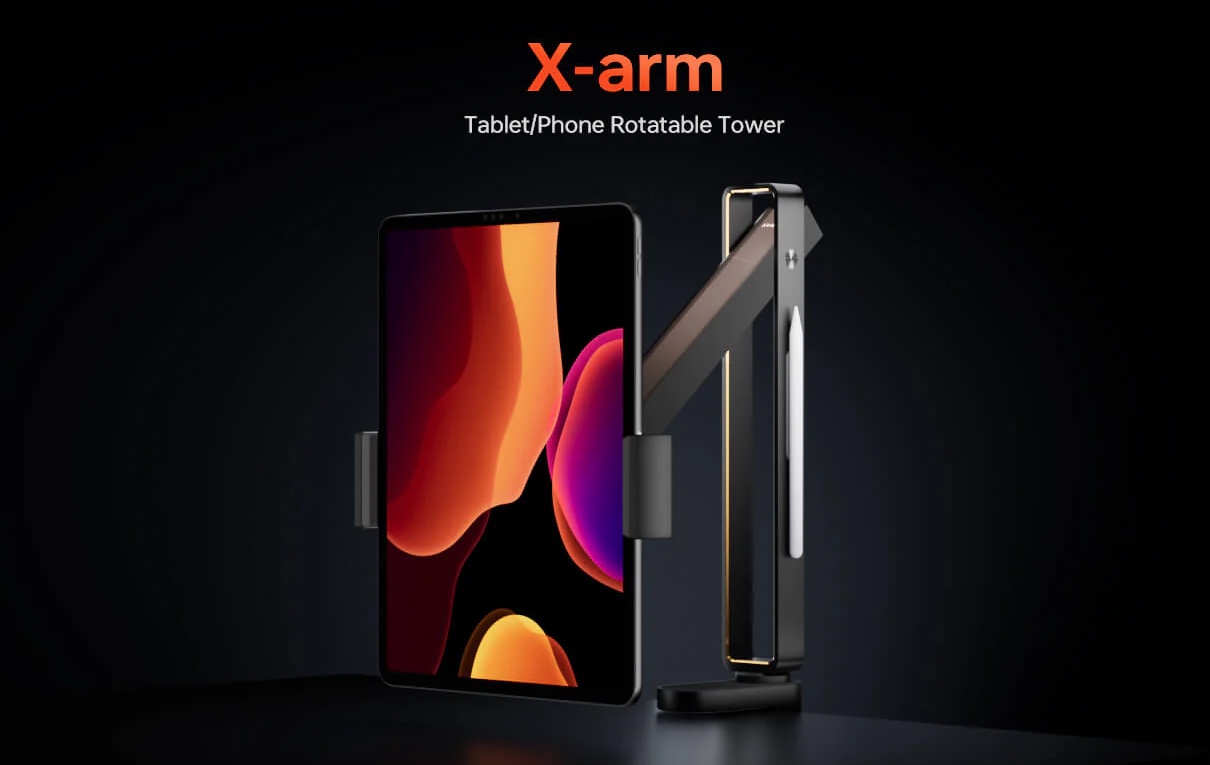 X-Arm iPad Mount Holder: A Great Stand For Your Desk Setup
iPad has become an essential part of many people's workflows. The user-friendly device excels at certain tasks and does them better than even personal computers. In fact, the iPad has become so powerful that it has become a viable laptop replacement for many casual PC users and students, who find it better than many tasks compared to a laptop.
Many of us use our iPads at our desks. And thanks to iPadOS's support of external displays this number is only going to increase. When you are using an iPad on your desk a good iPad desk stand can elevate your experience and help you in getting the most out of your device. There are many good stands that allow users to mount their iPads on their desks, but few are as good as X-Arm iPad Mount holder in terms of looks and functionality.
This stand is designed with convenience in mind and to make the lives of iPad users easier. The main arm of the stand is made up of metal, which lets you magnetically stick your Apple Pencil 2 to the side of the stand for safe storage. This is a feature that is missing from many of the iPad stands out there, and we are glad that it is available on the X-Arm iPad Mount holder.
This iPad desk stand is great for those who want to mount their iPad on a desk. It features a clamp-on base, which allows users to attach the stand to any tablet. The clamp-on base is adjustable, so you can attach it to a desk that is 5.5cm or 2.17 inches. You can easily attach or remove the stand from your desk by placing it with the desk table top in between and tightening the bolt from below.
X-Arm iPad stand's unique clamp-on base design allows you to store your iPad on your desk without giving up precious desk space to the stand. You can bring your iPad close to you whenever you want to use it and put it away when you want to focus on your computer.
Perhaps the best thing about the X-Arm iPad Mount Holder is its rotatable design. Almost every part of this iPad desk stand is rotatable, which gives you complete flexibility on how you use your iPad.
Thanks to the adjustable and rotatable design of this iPad desk stand you can turn the stand 360 degrees from the base in any direction you want. You can also adjust the height of the iPad by moving the stand 145 degrees in an up-and-down motion.
Lastly, this stand offers an angle adjustment of 270 degrees, which lets you adjust the angle of the iPad to a position that is most convenient for you. As you move the main arm, the stand makes a satisfying ticking sound, which adds a nice and unique touch to your desk setup.
The X-Arm iPad Mount Holder supports 5.5-inch to 12.9-inch tablets. This makes the stand suitable for iPad as well as your iPhone. So no matter if you have an iPad mini or a 12.9-inch iPad Pro, you can use this iPad stand and take advantage of its features to the full extent.
The frame of the stand is made up of a reoxidation process, which gives a nice touch of color to the stand. This not only looks great but also compliments your overall desk setup.
The adjustable design of the X-Arm iPad Mouse Holder makes it great for all kinds of iPad users. No matter if you're an illustrator who draws on his or her iPad with Apple Pencil, a student who takes notes on the iPad, someone who uses the iPad for FaceTime video calls, etc., this iPad stand is perfect for your needs.
Overall this is a high-quality multi-purpose stand that is suitable for any iPad user who is looking for a solution to store and use iPad on a desk.
Highlights of the X-Arm iPad Mount Holder:
Adjustable design that gives users full control
The ability for users to adjust height and angle for comfortable use of the iPad
Sturdy metallic design
Ability to magnetically attach Apple Pencil 2 for storage
Tick sound when rotating gear
So who should get the X-Arm iPad Mount Holder? Well if you are someone who spends a lot fo time at your home or office desk and you use your iPad at the desk a lot, then getting this iPad stand is a no-brainer. With this stand, you can free up space on your desk and safely store your iPad at the side of your desk when you are not using it. And when you want to use the iPad, you can easily pull it towards you and use it.
The adjustable angles of this stand make it ideal for illustrators, gamers, writers, and other iPad users who want to take full advantage of their iPads at their desks.
You can buy the X-Arm iPad Mount Holder at a price of $79 from the official product website. This iPad stand is available in Black and Silver color options.
Image credits: @jaga_farm and @okinalog