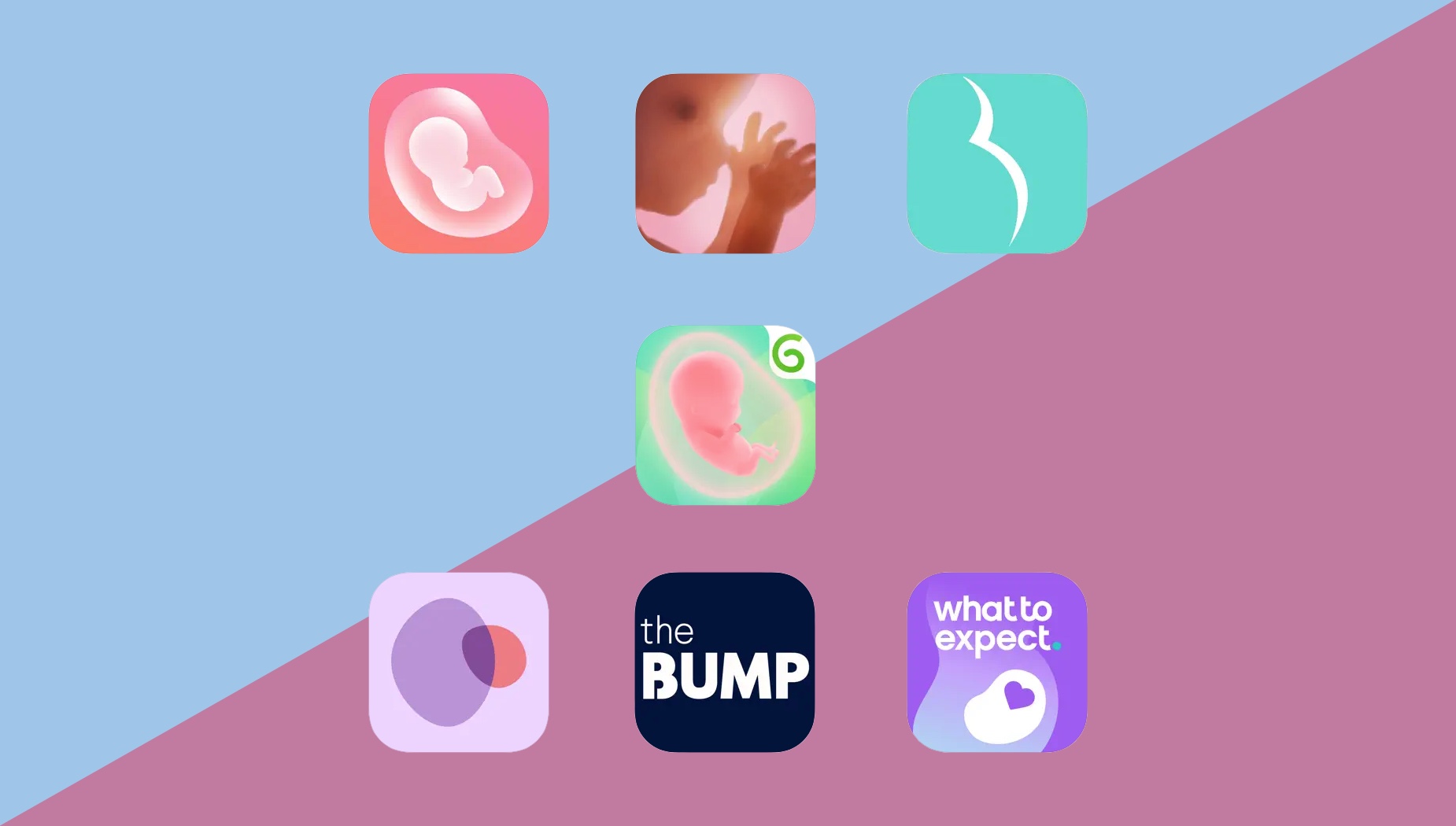 Best Pregnancy Tracker Apps For iPhone
In this blog, we'll introduce you to the best pregnancy tracker apps that will keep you informed, and help you track your baby's growth.
Pregnancy is a time filled with wonder, anticipation, and, let's face it, a touch of anxiety. But here's the thing: you're not alone. Millions of moms-to-be are navigating this exciting path right alongside you. 
So, how can you make this journey even more amazing and less stressful? 
Well, that's where the best pregnancy tracker apps for iPhones come into play.
Bundles of Joy Await: Explore the Best Pregnancy Apps Free of Cost
Are you wondering if those sudden kicks are normal? Or maybe you're curious about how your baby is growing this week. Perhaps you're just eager to track every precious moment of this extraordinary experience.
Use any of these best free pregnancy apps and get the answers to all your questions.
1. Pregnancy +
One of the best pregnancy apps, Pregnancy + is like your digital pregnancy journal, tracking your baby's growth week by week. It's loaded with informative articles, 3D images, and a kick counter. Plus, it has a lovely community for sharing experiences.
What makes it one of the best pregnancy tracker apps is its interactive 3D models that provide a unique visual representation of your baby's development, guiding you through the stages from blastocyst to fetus to baby. You can explore the intricate details, zoom in or out, and even watch guided week-by-week walk-throughs.
The app's Pregnancy Week-by-Week Guides offer insightful explanations of what to expect at each stage of your pregnancy. This is complemented by the Baby Size Guide, which helps you visualize your baby's size using relatable references like fruits, animals, and sweets.
Moreover, you can benefit from additional features like the Pregnancy Due Date Calculator, Kick Counter,  Pregnancy Weight Log, Contraction Timer, and more.
Download Pregnancy + now.
2. Keleya: Pregnancy App + Yoga
Pregnancy is not just about tracking; it's also about staying healthy. Keleya combines pregnancy tracking with yoga exercises tailored to your trimester. It's like having a personal yoga instructor in your pocket, ensuring a fit and relaxed pregnancy.
Unlike most apps to track pregnancy apps, the Keleya app is developed with the insights of midwives and gynecologists. Thus making it your personalized guide to a healthier, happier pregnancy recommended by experts and health insurance companies.
It takes you on a 40-week adventure, showing you how your baby is developing along the way. With a vast array of pregnancy workouts, yoga sessions, pilates, and meditations, it keeps you fit and strong for the big day.
One of the best pregnancy tracker apps, it offers pregnancy exercises, weekly updates, baby's development tracking, meditations & breathing exercises, symptom & pregnancy tracker, and more.
Download Keleya: Pregnancy App + Yoga now.
3. Glow Nurture
Glow Nurture is more than just a pregnancy essential app. It offers personalized health insights based on your inputs and helps you understand your body better during pregnancy. Plus, it's known for its supportive community and expert advice, making it one of the best pregnancy tracker apps.
It keeps a meticulous record of your pregnancy week by week, giving you a holistic view of your pregnancy journey. You can easily monitor your baby's growth and development as well as your own symptoms, moods, and weight gain.
More importantly, it's backed by a team of experts, delivering articles, videos, and podcasts on a wide range of topics. From nutrition to labor and delivery, and from breastfeeding to baby care, you'll find a wealth of knowledge right at your fingertips.
Lastly, Glow Nurture offers a baby registry feature, making it a breeze to create a list of items you need for your baby.
Download Glow Nurture now.
4. Ovia Pregnancy & Baby Tracker
Ovia pregnancy app is free for all, acting as your pocket-sized pregnancy assistant. It offers daily updates on your baby's development and provides a comprehensive health tracker. The app also includes a food and medication safety lookup feature, which is super helpful, making it one of the best pregnancy tracker apps.
The app brings you features like "My Baby Name" and  "In the Womb," that help you decide your newborn's name while providing realistic illustrations of your baby's development each week. You can zoom in for a closer look and marvel at every intricate detail.
Ovia Pregnancy & Baby Tracker goes above and beyond. It tracks the size of your baby's hands and feet, showing you how they measure up at any given time. In addition, it keeps you well-informed throughout your pregnancy journey with over 2,000 articles, tips, and tools. 
You can also organize your pregnancy-related tasks with the built-in calendar, from tracking your baby bump's progress to scheduling doctor appointments.
Download Ovia Pregnancy & Baby Tracker now.
5. Baby Tracker & Pregnancy App
If you're looking for a simple yet the best free pregnancy app, Baby Tracker & Pregnancy is a great choice. It allows you to record your daily experiences and milestones easily. It's like a digital diary that grows with your baby, thus why it's considered one of the best pregnancy tracker apps.
The app creatively compares your baby's growth to beautifully illustrated produce, making each week a delightful surprise. Plus, it provides comprehensive updates on the changes happening to both your baby and your body during pregnancy, ensuring you're well-prepared. Moreover, with 3D interactive visualization, track your baby's week-by-week growth. 
The Bump's suite of "Tools" includes a pregnancy countdown tool, baby growth tracker, due date calculator, kick counter, pregnancy weight gain tracker, and contraction counter. 
Download Baby Tracker & Pregnancy App now.
6. What to Expect
If you've read the famous book "What to Expect When You're Expecting," you'll love the app. It's like an extension of the book, offering personalized daily content and updates based on your due date. It's like having a friend who's been there before.
The best pregnancy app, it provides a Due Date Calculator that reveals your due date based on various factors, including your last period, IVF transfer, conception, and ultrasound. 
Daily tips tailored to your pregnancy stage provide valuable insights, and there's even a Chinese Gender Predictor to add a dash of fun to your journey. One of the best pregnancy tracker apps, it's there for you post-baby's arrival too. 
The Baby Tracker lets you record feedings, pump sessions, diaper changes, and tummy time, making those early days a bit more manageable. As your baby grows, the app offers a month-by-month experience and milestone tracker, ensuring you never miss a precious moment. 
Download What to Expect now.
7. Pregnancy Tracker: Baby Bump
Pregnancy Tracker: Baby Bump is a visually appealing app to track pregnancy. It offers 3D and AR images of your baby's growth, making it a fun way to track your pregnancy. It also has a weight tracker to help you monitor your health.
What makes it one of the best pregnancy tracker apps is the detailed week-by-week information it provides. From your baby's first kick to finding out their gender, it keeps you informed about the exciting developments happening within your body and your little one's world.
To ensure a healthy pregnancy, it offers practical tips on staying healthy, from diet and activities to getting enough sleep. The app also satisfies your curiosity with detailed fetal development images and videos. You can see what your baby looks like each week, fostering a deeper connection with your little bundle of joy.
Download Pregnancy Tracker: Baby Bump now.
Pregnancy's Best Friend
How do you want to remember your pregnancy? Do you want to cherish every milestone and moment? Do you want to stay informed and reassured throughout this incredible journey?
The answer, we hope, is a resounding "Yes!" And that's precisely why the best pregnancy tracker apps exist. They're here to make your life easier, your pregnancy more exciting, and your experience more memorable.
With these pregnancy essential apps in your pocket, you have a pregnancy companion, a personal guide, and a supportive community—all right at your fingertips. You can track your baby's growth, receive daily insights, and connect with other moms who understand the joys and challenges of this phase.