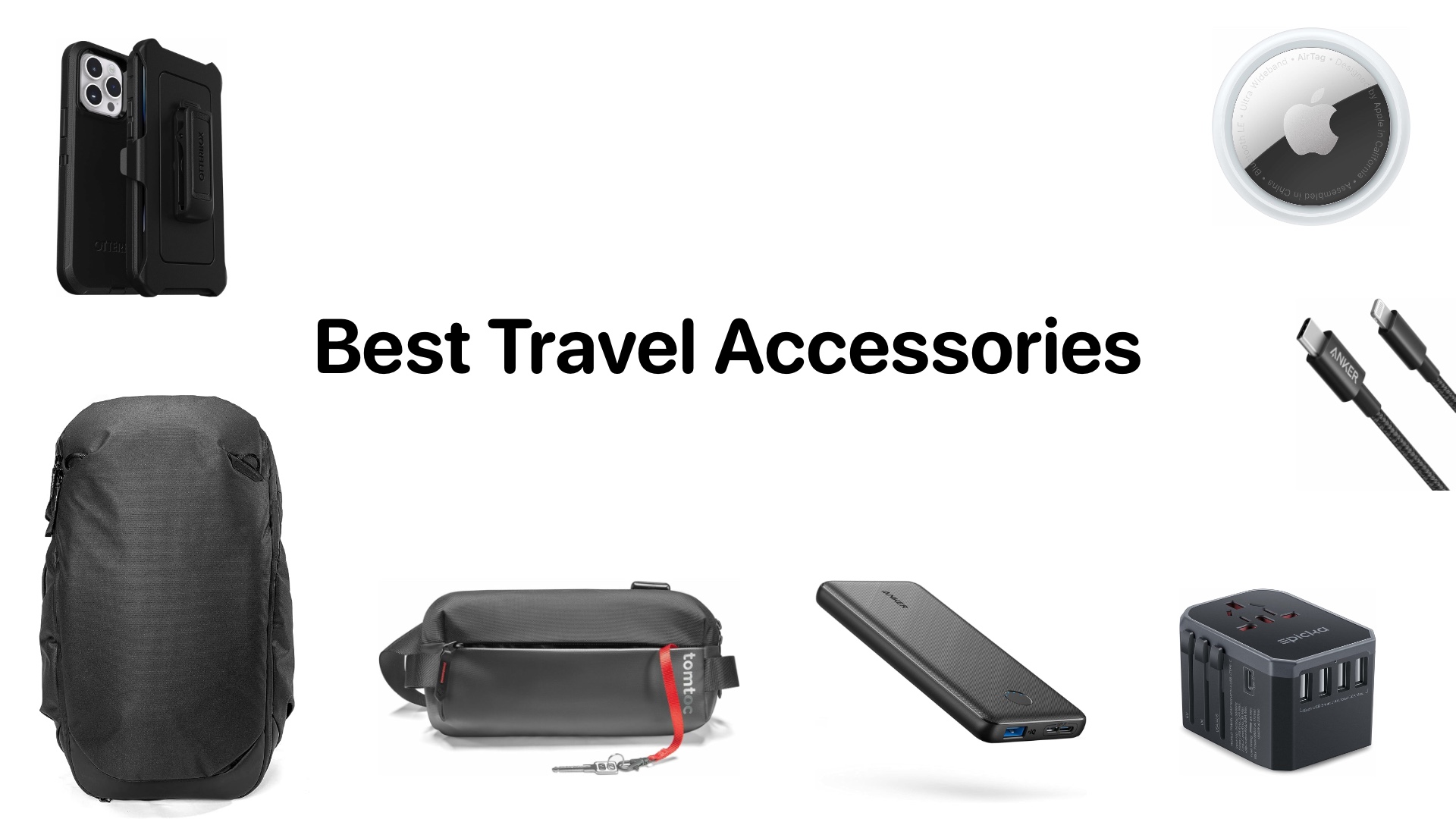 Best Travel Accessories Every iPhone Users Should Own
In this buying guide, we have featured some of the best iPhone travel accessories you need to buy before heading out on the journey of your lifetime.
Are you an iPhone enthusiast with a case of wanderlust? Whether you're a globetrotter or simply enjoy the occasional weekend getaway, your trusty iPhone can be your ultimate travel companion. But to unlock its full potential and make your adventures even more enjoyable, you'll want to deck it out with the best travel tech accessories tailored for iPhone users.
Best travel accessories for iPhone users
In this article, we'll explore the best travel gadgets for long flights that every iPhone user should consider adding to their packing list. So, if you're ready to take your travel game to the next level, read on and discover the perfect travel gadgets for Europe to enhance your iPhone-powered adventures.
1. Rugged Case: OtterBox iPhone 14 Pro Max
Looking for top-tier protection for your phone? Look no further than the Defender Series phone case. This rugged case is built to withstand serious drops, dirt, scrapes, and bumps, so your device stays safe and sound while traveling.
Not only does it provide legendary protection, but it also keeps up with modern technology. You can wirelessly charge your device with Qi charging, and it's MagSafe compatible, without any magnets in the case itself.
What's more, the included holster is a versatile addition. You can use it as a belt clip for easy carrying or flip it out to become a hands-free kickstand for your phone.
With the ability to endure four times as many drops as the military standard (MIL-STD-810G 516.6) and features like port covers to block dust and dirt, the Defender Series is the ultimate choice for those who want their phone to be ready for anything. So, it works hard and plays harder with its rugged and refined design.
Buy OtterBox iPhone 14 Pro Max for $39.95 here.
2. Power Bank: Anker Portable Charger, 313 Power Bank 
Experience adventure-ready performance and top-tier durability with the PowerCore Slim 10000, a premium portable charger that's built to impress both inside and out.
This sleek powerhouse isn't just one of the slimmest and lightest 10,000mAh portable chargers available – it's also designed to keep your devices running longer. With the PowerCore Slim 10000, you can expect 2.25 charges for your iPhone 12, 1.6 charges for your Galaxy S20, and 1.2 charges for your iPad mini 5.
While you can't use both input ports simultaneously, the USB-C input port is solely dedicated to charging and doesn't have an output function. This thoughtful design ensures that you can get the most efficient charge for your device literally anywhere in the world.
Anker's cutting-edge technology, including PowerIQ and VoltageBoost, team up to provide a customized charge of up to 12W. Whether you're powering up your smartphone or tablet, this charger delivers the right amount of juice for optimal performance. Plus, its trickle-charging mode is perfect for those low-power devices that need a little extra care.
Buy Anker Portable Charger, 313 Power Bank for $21.99 here.
3. USB-C Cables: Anker iPhone Fast Charging Cable 
This cable packs a punch with a maximum output of 60W, making it perfect for those who want to charge their iPhones and iPads at lightning speed. When you pair it up with an 18W Power Delivery charger, you can get your iPhone charged up to 50% in just half an hour. That's pretty impressive, right?
But it's not just about speed; this cable is built to last. It's made with tough, two-shade braided nylon that not only adds durability but also looks sleek and stylish. Say goodbye to those flimsy, easily tangled cables.
And here's the cherry on top: it's MFi certified, so you can trust that it's fully compatible with your Lightning devices, ensuring a perfect charge every time. No more worrying about compatibility issues or error messages popping up on your screen.
Buy Anker iPhone Fast Charging Cable for $11.99 here.
4. Travel Plug: EPICKA Universal Travel Adapter 
This versatile all-in-one adapter is yet another one of the best travel accessories for flying. It is exclusively designed to make your travels a breeze! This handy adapter covers a whopping 150+ countries with its 4 different plugs, so you can bid farewell to the hassle of carrying multiple adapters.
With this adapter in tow, you can charge up to six devices simultaneously, and at high speed too. It boasts 4 USB-A ports with a 2.4A output each, a USB-C port delivering 3A, and even an AC socket for your convenience. Whether it's your iPhone, laptop, tablet, power bank, camera, headset, or any other gadget, this adapter has got you covered.
Since safety should be the top priority, this travel adapter comes equipped with a built-in 8A fuse, safety shutters, and a plug lock system. Plus, it's certified by RoHS, CE, and FCC, ensuring it meets the highest safety and reliability standards.
Buy EPICKA Universal Travel Adapter for $22.99 here.
5. Item Tracker: Apple AirTag
Easily keep tabs on your belongings with the Find My app, and even share your tracking with friends and sync up with your other devices while traveling. Setting up your AirTag is a breeze with a simple one-tap connection to your iPhone or iPad. Need to locate something in a hurry? Just trigger a sound on the built-in speaker, or simply ask Siri for a helping hand.
If you're using one of those fancy select iPhone models, you can experience Precision Finding, thanks to the magic of Ultra Wideband technology. It'll lead you straight to your nearby AirTag. But even if you're further away, you're not alone in your quest. The Find My network, which boasts hundreds of millions of Apple devices, can help you locate your items. And if your AirTag goes missing, put it in Lost Mode, and you'll get automatic notifications when it's detected within the Find My network.
All these amazing features make Apple AirTag one of the best travel gadgets!
Buy Apple AirTag for $28.99 here.
6. Noise Canceling Headphones: Apple AirPods Pro (2nd Generation) Wireless Earbuds
The new H2 chip from Apple takes your audio experience to a whole new level. It's like having a concert hall in your ears. With smarter noise cancellation and richer sound quality, you'll be immersed in your music like never before. The custom-built driver ensures crystal-clear high notes and deep, thumping bass that will make your favorite tunes come alive.
And when it comes to blocking out the world, these AirPods Pro are champs. They offer up to 2 times more Active Noise Cancellation than the previous model, making your daily commute or focused work sessions blissfully quiet. Plus, the Adaptive Transparency feature keeps you aware of your surroundings, automatically adjusting for sudden loud noises like sirens or construction.
Battery life has also received a boost. You get up to 6 hours of listening time with Active Noise Cancellation enabled, which is a 33% improvement over the previous AirPods Pro. With the charging case, you'll have a total of 30 hours of listening time with Active Noise Cancellation enabled, making them the perfect companion for long trips or busy days.
Buy Apple AirPods Pro (2nd Generation) Wireless Earbuds for $199.99 here.
7. Sling bag: tomtoc Compact EDC Sling Bag
This sleek sling bag isn't just a fashion statement – it's your ultimate companion for navigating the city or jet-setting around the globe. Crafted from Cordura Ballistic Nylon, it's a true workhorse, boasting incredible durability, featherlight weight, and a water-resistant exterior that can handle whatever the weather throws your way.
This bag isn't just about good looks and durability. It's got functionality to boot. Featuring three compartments, you'll find a quick-access front pocket that's perfect for stashing your AirPods Pro and credit cards.
Designed with minimalists in mind, this bag lets you stroll around town with your essentials in tow, no sweat required. With 4 liters of storage space and dimensions measuring 12.20″ x 5.90″ x 2.95″, it's the ideal sidekick for city day trips, leisurely walks, or sightseeing adventures.
Buy tomtoc Compact EDC Sling Bag for $42.99 here.
8. Bagpack: Peak Design Travel Line Backpack
Ready for international adventures? You're covered with this carry-on. No worries about your stuff – the zipper pulls deter thieves. Plus, your luggage tag stays safe and sound. Need to hitch it to your roller bag? No problem, it's got a luggage pass-through.
Worried about your shoulder straps when you check your bag? They tuck away neatly under magnetic flaps. And guess what? There's a massive rear zipper (#10 UltraZip) for easy access. You can expand it or compress your load with special zippers.
Want to carry extra stuff? There are external straps hidden under magnetic flaps. You'll love the expandable side pockets – perfect for water bottles, tripods, and more. There's a big soft-lined top pocket with spots for keys, glasses, passport, you name it.
Inside, you've got zippered mesh pockets, and a padded spot for your laptop and tablet, all snug and secure.
Buy Peak Design Travel Line Backpack for $229.95 here.
To Conclude
These essential tech travel accessories for iPhone users can truly enhance your travel experience. From portable chargers to versatile mounts, these gadgets not only keep your iPhone powered and accessible but also add convenience and functionality to your journeys. Investing in these accessories ensures you're always connected, capturing memories, and navigating with ease while exploring the world.
So, before your next adventure, make sure to equip yourself with these must-have travel accessories to make the most of your iPhone on the go.