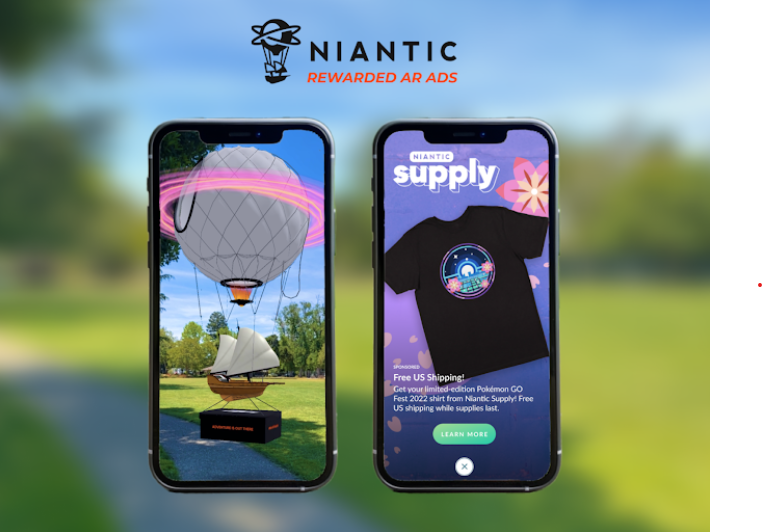 Niantic Launches In-Game Rewarded AR Ads – Tech Live Trends
Pokémon GO creator Niantic has launched a new Rewarded AR ads format at The Cannes Lions International Festival of Creativity. Through this format, Niantic aims to encourage users to make better purchasing decisions using real-world ad formats.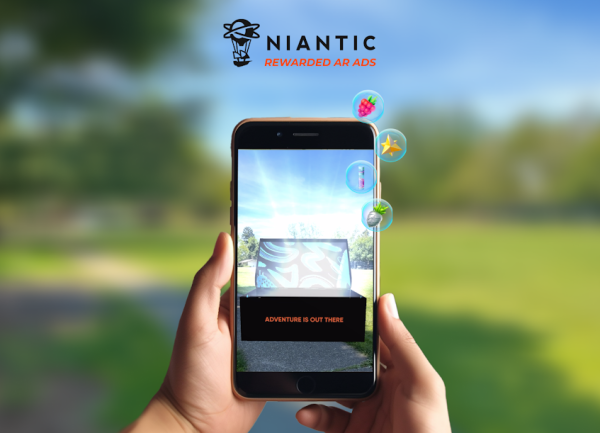 The launch is coming at an important juncture in the evolution of spatial computing and Augmented Reality experiences. With Augmented Reality going mainstream thanks to new hardware developments such as Apple's recently unveiled Vision Pro headset, a lot of brands and consumers are increasingly showing greater interest in immersive experiences as well as in the emerging Augmented Reality advertising category. By 2024, it is expected that there will be 1.7 billion global mobile Augmented Reality users.
Niantic wants to tap into this growth with its Rewarded AR ads, its revolutionary new advertising product. Rewarded AR ads leverage smartphone cameras to immerse players into branded content in the surrounding real world.
These Augmented Reality ads are powered by 8th Wall, Niantic's AR development platform which has already been used to create thousands of WebAR marketing campaigns for leading brands.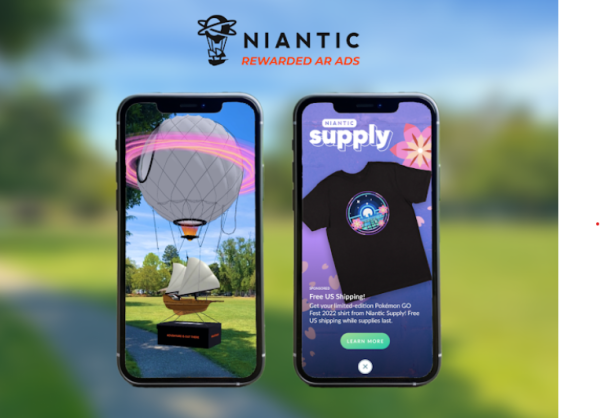 The Rewarded AR ad format is geared at catching potential customers in the real world rather than in the virtual environment.
Niantic is already providing Rewarded AR ads in its real-world games such as Pokémon GO. These experiences involve players engaging with interactive experiences in the ad units as they move out in the real world to unlock rewards inside the game. This delivers better reach for players in key physical locations and delivers branded AR experiences that offer better results in the funnel.
Rewarded AR ads aim to increase brand impact by employing immersive product storytelling. They also help in the purchasing decision making via Augmented Reality visualizations and boost conversions and sales by driving foot traffic to brick-and-mortar retail stores.
Niantic has also built partnerships with key development agencies to create a fully managed creative production process for brands and help streamline the Augmented Reality ad development process.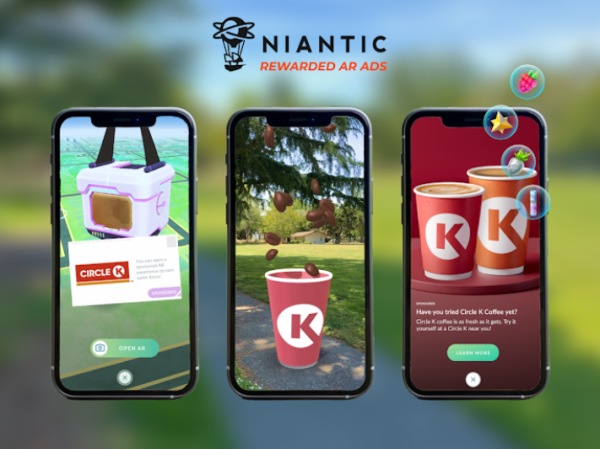 Niantic says early campaigns have already registered impressive performance. Convenience retailer Circle K, for instance, successfully ran Niantic's Rewarded AR ads aiming to increase brand awareness and product consideration for its new coffee offering.
Pokémon GO players were shown a Rewarded AR ad as a floating balloon in-game. When the player tapped on the ad and opened their mobile camera, they interacted with a 3D Circle K coffee cup which they could place in the space in front of them.
After their interaction with the product visualization, which is larger than life, the ad asks the player if they wish to get a real coffee cup at a nearby Circle K outlet. Circle K's Rewarded AR ad campaign yielded an average engagement rate of 76% as well as an average completion rate of 96%. This is an early example of the Rewarded AR ad campaign which combines the AR ad format with the real world outside. The ad format aims to drive more foot traffic to neighboring stores and increase sales and conversion rates.
Niantic's immersive product storytelling has been designed to support and trigger purchase decisions via AR visualizations. It is technically supported by 8th Wall, Niantic's Augmented Reality development platform.
This novel advertising format has already been implemented on the map in the iOS and Android versions of Pokémon GO and unlocks the rewards in the title.
Niantic showcased its "Rewarded AR" advertising at the Cannes Lions International Festival of Creativity. Niantic says it has already gone into partnerships with a number of key agencies to ensure the efficient development and implementation of the format.
According to a 2023 user survey, approximately 80% of the respondents surveyed stated that Augmented Reality ads were a good idea. Players of games like Peridot and Pokémon GO may, thus, not find the ads too intrusive as they do the traditional ad formats.