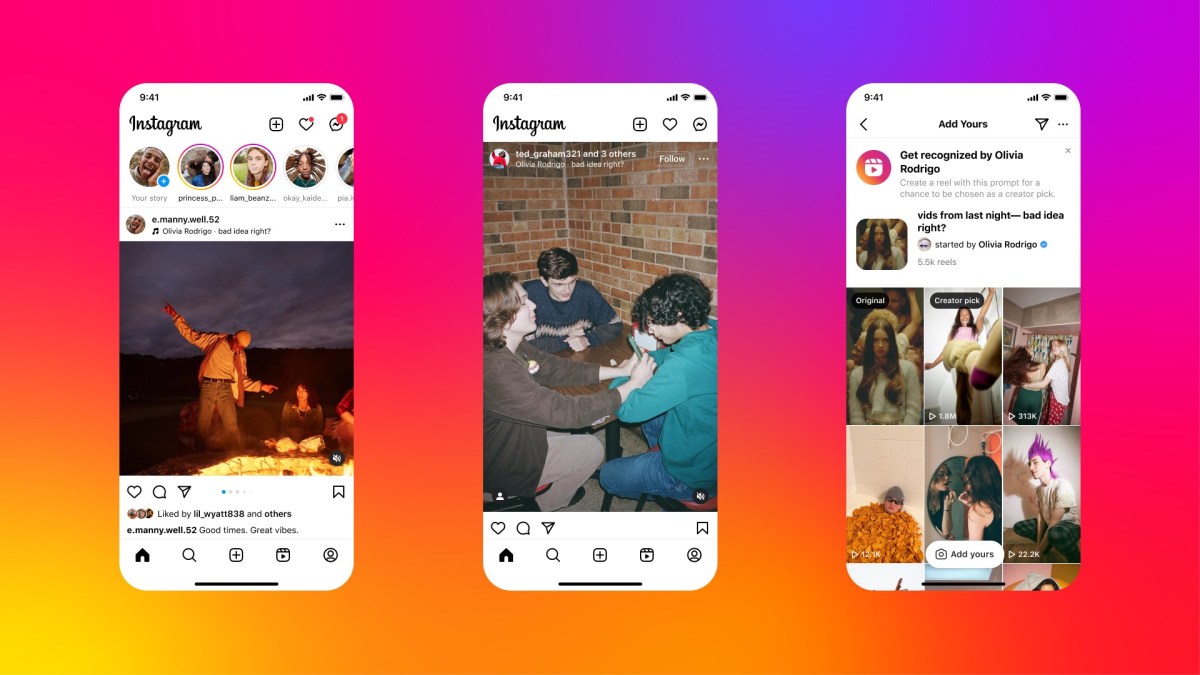 Instagram will now let you add music to photo carousels
Does a photo still remain a photo when you add a music track to it? Hard to tell. Instagram said today that it will allow users to add music to their photo carousels in order to let them show off their musical taste.
The company has partnered with popstar Olivia Rodrigo, who unlived this feature on her account with a photo carousel along with her new single "bad idea right?"
The new feature follows another music-related offering in June when the social network rolled out a way to let people share a clip of a track they are listening to through Instagram Notes.
Instagram is also today launching a way for more people to collaborate on a post or a reel. The company said that users can now invite up to three friends as co-authors. It added that the post or the reel with multiple. collaborators will reach each of their audiences. The social network first launched the "Collabs" feature in 2021 after a small-scale global test.
In addition, the social network updated its "Add Yours" sticker feature first launched in 2021 to now prompt users to participate in a challenge or a hashtag.
With this, creators can highlight some of the Reels from their fans. Other users will be able to see those Reels — highlighted with a "Creator pick" tag — when they tap on the creator's "Add Yours" stickers. Users will also see a text on top of the "Add Yours" page that reads: "Create a reel with this prompt for a chance to be chosen as a creator pick."
Creators can pick up to 10 Reels related to that specific sticker, the company notes. Users whose posts are picked by creators will get a notification as well.
Meta has been trying different things for making people engage with Reels more often. Reels have hit 200 billion daily plays and have crossed the revenue run rate of $10 billion, Mark Zuckerberg said last month during the company's Q2 2023 earnings call.
The company is trying to change media consumption on Instagram as well. Last year, the social network started focusing more on video. In June, it declared "Video posts are now shared as Reels." After backlash from users like Kim Kardashian and Kylie Jenner, in a video Reel, Instagram's head Adam Mosseri said that "We're going to continue to support photos. It's part of our heritage."
However, Instagram has been moving away from its "photo-sharing app" image for a long time. The latest move to include music with photos is another way for the company to experiment with multimedia posts.