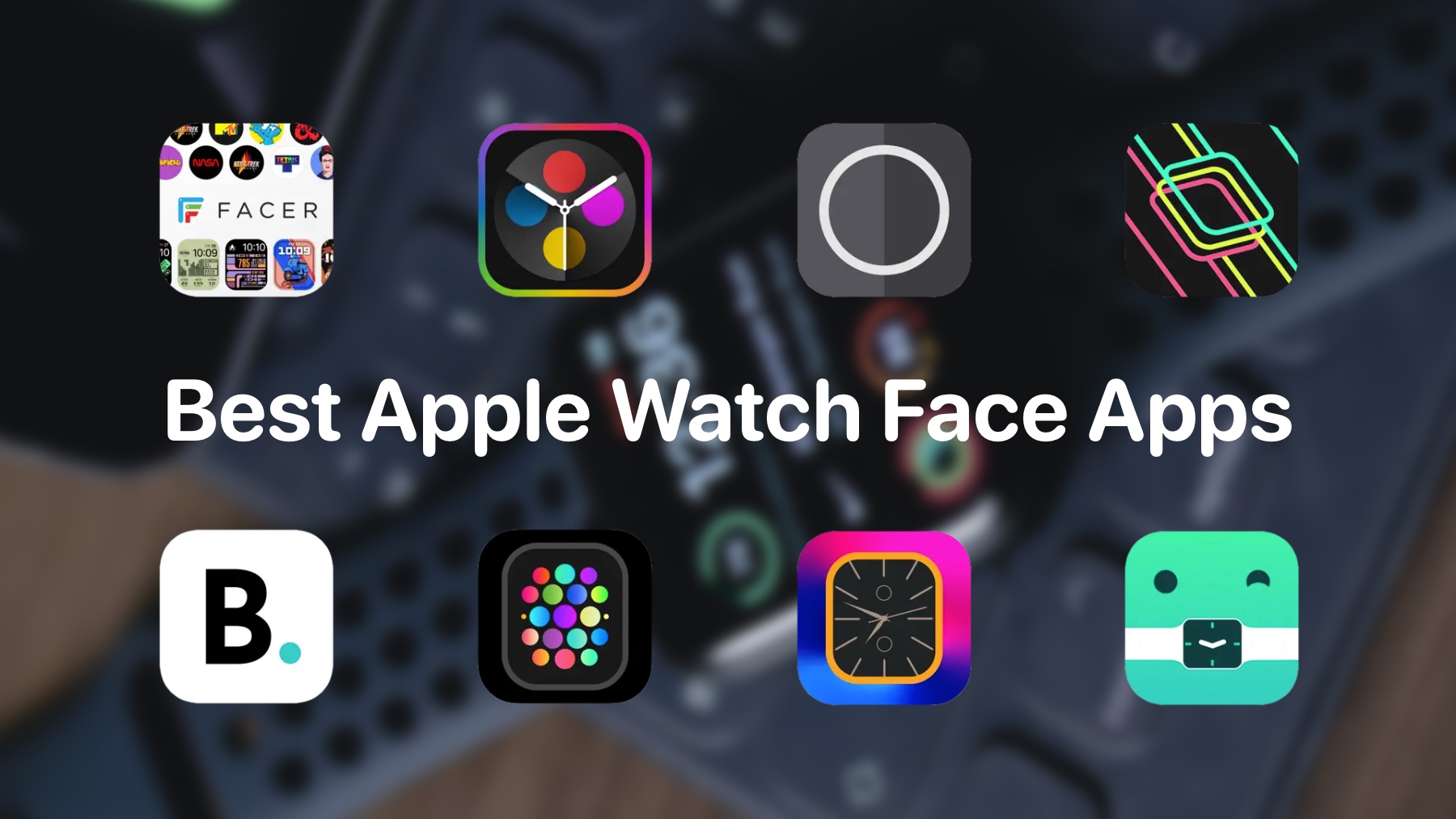 Best Watch Face Apps For Apple Watch Users
In this article, we discuss the best watch face apps for Apple Watch. With these apps, create working Apple Watch faces and add a dash of personality to your wrist companion.
Let's talk about something we all glance at a thousand times a day – our watch faces. Now, don't get us wrong. Apple's default watch faces are cool and all, but why settle for "cool" when you can have "awe-inspiring"? 
Imagine a watch face that doesn't just tell time but also tells your story. Whether you're a fitness guru, an art lover, or just someone who likes a touch of personalization, there's a watch face out there with your name on it.
These apps allow you to give your Apple Watch a unique look with custom Apple Watch faces.
Create Your Own Watch Faces Like a Pro
Watch faces apps aren't just about looks. They can also pack in useful information, shortcuts, and features that make your Apple Watch even handier. 
From tracking your workouts to showing off your favorite art pieces, these watch faces are more than just pretty faces.
Let's dive in and create watch faces that'll turn heads and make your wrist the center of attention using only the best watch face apps for Apple Watch.
1. Facer
Looking for an app that offers a plethora of watch faces? Look no further. The Apple watch faces app boasts a massive collection of faces, ranging from classic to quirky. You'll never run out of options to match your mood and style.
With CREATE MODE, exclusively in the Facer app, you can tweak complications to suit your style, ensuring that your watch face is a true reflection of your personality. 
But Facer doesn't stop at aesthetics, it's also a functional powerhouse. Connect it to HealthKit, and you'll have access to your Steps and Heart Rate data right on your wrist, seamlessly integrated into compatible designs. 
However, do you know what makes it one of the best watch face apps for Apple Watch? The watch faces on this app are curated by top brands and talented watch faces and background photo designers. Thus, you're guaranteed to find the most beautiful and dynamic watch faces available. 
Download Facer now.
2. Buddywatch
Want to rock the same watch face as your best buddy? Buddywatch is all about community. Share and discover watch faces and custom Apple Watch face makers all around you. 
First off, Buddywatch makes it a breeze to find and download watch faces that perfectly match your style. No more scrolling endlessly through the App Store. Buddywatch helps you discover the watch faces that truly speak to you.
And the cool part? You can save your favorite watch faces to your profile, so they're always just a tap away. With categories and compatibility tags, you can quickly search for new watch faces that suit your mood or activity.
But here's where it gets even cooler: by linking your watches, Buddywatch can give you more accurate recommendations. It's all about making sure you're getting watch faces that truly suit your device. This is why we consider it one of the best watch face apps for Apple Watch.
Download Buddywatch now.
3. Watch Facely
Watch Facely offers clean, elegant watch faces with essential information like time, date, and activity rings. This watch faces albums app is your one-stop solution for discovering the best custom watch faces for your Apple Watch.
From eye-catching neon to dynamic live faces, from sleek brand and team designs to timeless classic and vintage styles, and even the free-spirited boho vibes, it's got it all. 
But here's the twist that sets Watchfacely apart, making it one of the best watch face apps for Apple Watch: the ability to create a QR code for your watch face. 
This nifty feature lets you share your social media profiles, wifi access, email, or contact information with a simple scan. Stay connected with friends and family effortlessly and showcase your unique style to the world – it's a conversation starter like no other.
Download Watch Facely now.
4. Watch Faces Albums 
For those who like to organize, Watch Faces Albums lets you group your favorite watch faces into neat collections. It's like creating a personal gallery right on your wrist that lets you create your own watch faces without a hitch.
One of the best watch face apps for Apple Watch, it stands out for its high level of customization options. Here, you have the power to create your own unique watch face that perfectly matches your style and personality. It offers a vast collection of watch faces, all conveniently sourced from the internet or authorized by their respective owners. 
To make your experience even better, Watch Face Albums allows you to preview every watch face and wallpaper on your phone. This means you can see exactly how your watch will look before making any changes.
Lastly, you can choose to download entire albums and sync them to your Apple Watch or go for a single watch face that catches your eye.
Download Watch Faces Albums now.
5. Watch Faces Gallery+
With Watch Faces Gallery+, you can sport famous artworks as your watch face. Van Gogh or Monet? The choice is yours.
This watch faces app opens the door to classic portraits, lively animated faces, or personalized photos. But here's the kicker – it's not just about choosing from a pre-made collection. This app offers an awesome Watch Faces Creator, complete with graphics, stickers, and a text editor.
What makes Watch Faces Gallery+ one of the best watch face apps for Apple Watch is its commitment to freshness. With weekly content updates, you'll never run out of exciting options. 
And speaking of options, this app boasts an impressive array of categories. From abstract to animals, art to technology, there's something for everyone. Whether you're feeling festive for Christmas or want to show your pride, they've got it all.
Download Watch Faces Gallery+ now.
6. Watch Faces
Sometimes, you just want a straightforward digital face with extra features. Watch Faces offers precisely that, with a range of customizable options to create working Apple Watch faces.
Dive into a world of over 100 handcrafted Watch Face Designs designed to cater to your every mood and occasion. Whether you're aiming for timeless elegance, a modern vibe, or a touch of fun, this app has a vast collection that guarantees the perfect look for any moment.
One of the best watch face apps for Apple Watch, it empowers you to become a watch face designer yourself. With user-friendly design tools, you can let your creativity soar and craft a watch face that mirrors your individual style. 
From selecting background colors to customizing watch hands and complications, every detail is under your control.
Download Watch Faces now.
7. Watch Faces: Custom Maker Live
Feeling creative? This Apple Watch face app lets you design your own watch face from scratch. It's like having a mini design studio on your wrist. So, here's the scoop: it offers a whopping 2000+ wallpapers for absolutely free. Enough to make it one of the best watch face apps for Apple Watch, isn't it?
Getting started is a breeze. Just scroll through the list of watch faces, pick your favorite, and follow the straightforward setup instructions. It's as easy as 1-2-3, and you'll be rocking your new look in no time.
But wait, there's more. If you're looking for something extra exclusive, you can opt for a specialized category. And the best part? It's available for a tiny one-time payment.
One little thing to remember, though – make sure your Apple Watch is paired with the device where you've installed this app. It's the key to unlocking the full potential of your new watch faces.
Download Watch Faces: Custom Maker Live now.
8. Watch Faces Gallery & Creator
If you're torn between pre-made and DIY watch faces, this app strikes a balance. Browse a gallery of ready-made faces, or dive into customization options created by custom Apple Watch face makers.
First off, let's talk variety. You'll have access to a whopping 16,000+ watch faces – all in one place. Whether you're into classic looks, bold colors, or funky designs, this app's got you covered. 
What sets this app apart is its commitment to originality. The dedicated team of designers keeps their fingers on the pulse of trends and user requests. They don't just follow the crowd; they lead it by creating fresh and innovative designs. 
It's considered one of the best watch face apps for Apple Watch for the Cool Watch Face Editor feature. You can add your own photos, choose from a range of templates, tweak the time style, slap on stickers, apply filters, draw, add text in various fonts, and even throw in different extensions. It's like having a mini design studio right on your wrist.
Download Watch Faces Gallery & Creator now.
Ditch Boring Watch Faces
With the right watch faces albums app, you can make it an extension of your personality, your interests, and your lifestyle. 
Whether you're a trendsetter, a fitness enthusiast, or an art lover, there's a watch face out there waiting for you to discover. Download one of the best watch face apps for Apple Watch mentioned above and let your wrist be the canvas for your creativity. 
It's time to customize and conquer – one stylish watch face at a time.