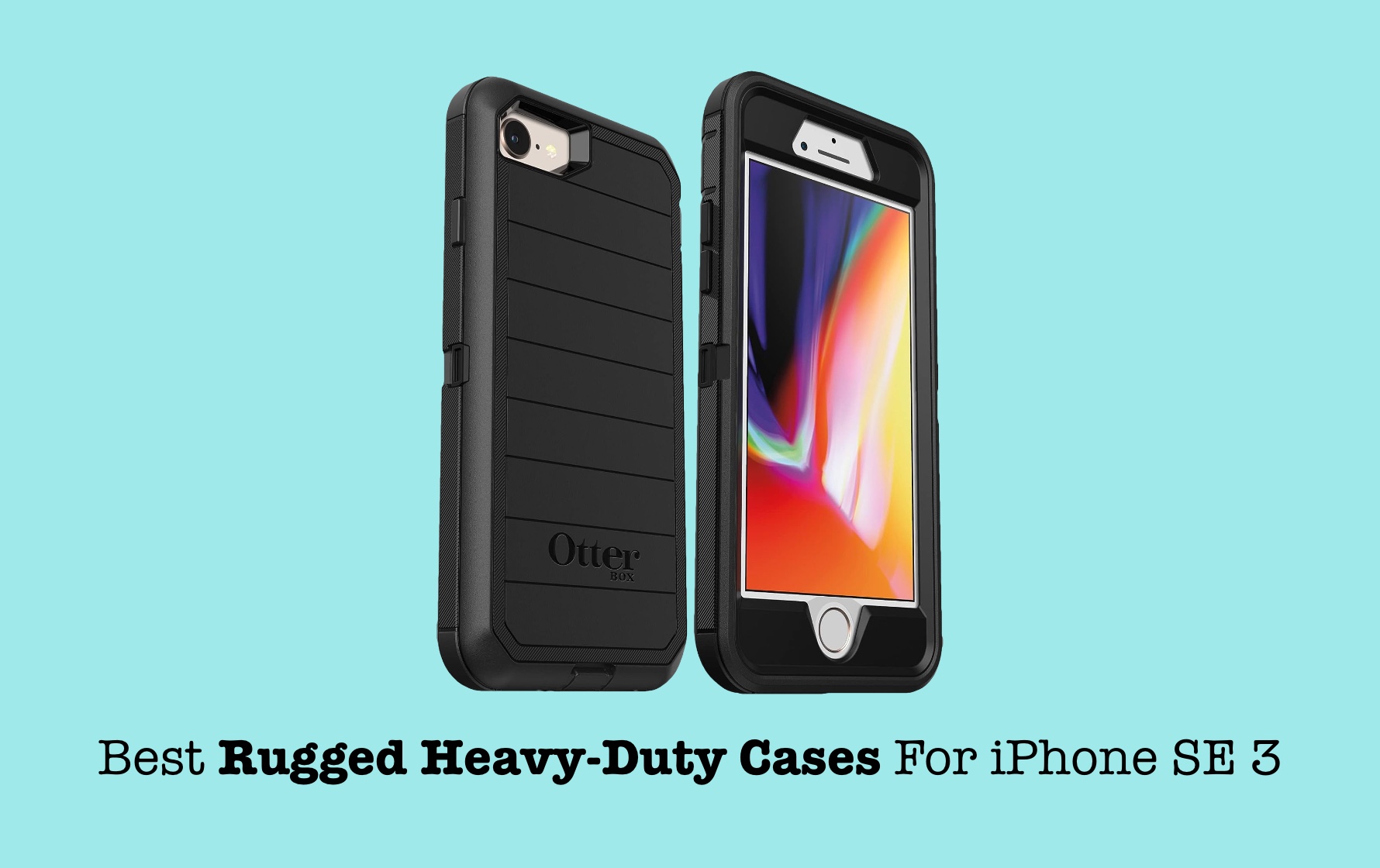 Best Rugged Heavy-Duty Cases For iPhone SE 3
If you're looking for the best iPhone SE 3 rugged heavy-duty cases, then you are in the right place. In this post we have featured some of the best rugged cases for iPhone SE 3 that protect your iPhone from all sides.
Ready to take your trusty gadget on some wild adventures? Whether you're a clumsy soul or simply enjoy living life on the edge (literally), one thing's for sure: you need a case that can handle your level of enthusiasm. We've all been there – that heart-stopping moment when your phone slips from your grip like a soap bar in a prison break.
But fear not because we've scoured the rugged case market to bring you a lineup of the best heavy-duty cases that'll turn your iPhone SE 3 into an unstoppable tank without sacrificing an ounce of style.
iPhone SE rugged armor cases in 2023
From mountain hikes to clumsy coffee spills, these rugged cases for iPhone SE 3 have got your back… and your front, and your sides!
Let's dive into our top picks and prepare your iPhone for whatever life throws.
1. OtterBox Defender Series Rugged Case for iPhone SE
The Defender Series Edition for iPhone represents a new era of iconic protection. With the incorporation of OtterArmor Microbial Defense, the case is fortified against numerous common germs, while its premium rugged design boasts sleek contours that provide a comfortable and secure hold.
The combination of streamlined aesthetics and robust gripping capability ensures comprehensive coverage for optimal form and practical functionality. Additionally, integrated port covers serve as barriers against dust and debris, while a built-in screen protector maintains the impeccable clarity of your brilliant display.
Notably, OtterArmor Microbial Defense safeguards your OtterBox case, effectively shielding it from many prevalent germs. It's important to clarify that while this defense mechanism protects the case, it does not extend its protection to you, the screen, or any printed graphics.
Buy OtterBox Defender Series Rugged Case for iPhone SE for $38.97 here.
2. MXX iPhone SE 2022 / SE 2020 Heavy-Duty Protective Case
This Military grade case for iPhone SE 2022 boasts a unique detachable design incorporating four layers of robust protection. This includes shockproof, dust protection, scratch protection elements, and a responsive touchable screen protector. This advanced construction makes the case resilient against scratches, bumps, and shocks.
Experience unhindered device functionality with our perfectly accurate cutouts. These provide effortless access to all functional keys and ports on your Apple iPhone SE 2020, ensuring you can use your device seamlessly without compromising protection.
The case is also equipped with a 360-degree rotating belt clip, making attachment and detachment a simple process when wearing it on your belt. This feature enhances convenience while keeping your device secure at all times.
Buy MXX iPhone SE 2022 / SE 2020 Heavy Duty Protective Case for $16.89 here.
3. SUPCASE Unicorn Beetle Pro Series Case for iPhone SE
Recognized as the reigning champion of the annual CNET drop test awards, this case reigns as the epitome of toughness in the industry, boasting a sleek profile despite its immense strength. From plummeting down mountains to enduring gunshots and surviving wipeouts at speeds exceeding 55 MPH, the UB Pro has emerged unscathed from some of the harshest trials.
Crafted with 360° of flexible TPU polycarbonate, accompanied by an integrated screen protector, it guarantees comprehensive safeguarding against not only physical impacts but also the intrusion of dust, dirt, and moisture. This amalgamation of durability and functionality culminates in the ultimate mobile defense.
Moreover, including a kickstand allows hands-free viewing in both landscape and portrait orientations, available at two distinct angles. Additionally, the case incorporates a detachable swiveling belt clip holster, enabling effortless and pocket-free carrying while ensuring ready accessibility.
Buy SUPCASE Unicorn Beetle Pro Series Case for iPhone SE for $19.99 here.
4. NTG Shockproof Designed for iPhone SE 2022 Case
Crafted with an ultra-thin and sleek design, this case effortlessly slides into pockets, ensuring a pocket-friendly solution.
Regarding iPhone SE protection, rest assured with Certified MIL-STD drop-tested cases. The strategically cushioned corners defend against unforeseen drops, impacts, dust, and abrasions.
Formed from a blend of flexible TPU and robust PC, complemented by four cushioned corner bumpers and raised lips camera protection bumper, this iPhone SE case is a testament to its capacity to endure shocks and resist scratches.
Buy NTG Shockproof Designed for iPhone SE 2022 Case for $9.99 here.
5. URBAN ARMOR GEAR UAG Designed for iPhone SE 
Such feather-light composite construction heavy-duty cases for iPhone SE 2022 showcase a patented hard outer armor shell with torsion screw detailing and an impact-resistant soft core for exceptional protection.
This case also boasts a soft raised screen surround bezel, meticulously designed to safeguard the screen and lens. Additionally, scratch-resistant skid pads and precisely chiseled corners enhance defense against drops and bumps.
Furthermore, the case has ultra-responsive oversized tactile buttons that offer a satisfying and precise click-feel, improving overall functionality. Unobstructed access to the touchscreen and ports further adds to the user-friendly design.
Buy URBAN ARMOR GEAR UAG Designed for iPhone SE for $33.95 here.
6. Regsun for iPhone SE 2020 Case
The phone case boasts a multi-layered defense system with an inner shell, a durable outer cover, and a touchscreen protector. This comprehensive design is engineered to counter drops, scratches, bumps, and shocks effectively.
Its ingenious detachable construction offers a unique blend of 3-layer protection: safeguarding against shocks, dust, and scratches. The package also includes a touchscreen protector that can endure the rigors of daily use, shrugging off scratches, bumps, and even shocks from a height of up to 14 feet when dropped on flat ground.
This case goes above and beyond to shield your phone from the perils of life, combining drop protection, scratch resistance, and dust defense to keep your device pristine through various adventures. In this case, your new phone becomes virtually invulnerable to falls.
Buy Regsun for iPhone SE 2020 Case for $13.99 here.
7. Spigen Rugged Armor Designed for iPhone SE 2020 Case
Looking for a single-layer protection solution that combines both style and durability? Introducing the Rugged Armor – a uniquely crafted case featuring a sleek black TPU shell accented with textured carbon fiber details. The redesigned Rugged Armor case now includes a cleverly designed opening that showcases Apple's iconic logo, all while enhancing button responsiveness.
Inside the case, a spiderweb pattern lining and Air Cushion Technology are incorporated into every corner. This advanced technology ensures exceptional shock absorption, safeguarding your device from impacts. The Rugged Armor case provides reliable protection and maintains a minimalist and stylish appearance.
Buy Spigen Rugged Armor Designed for iPhone SE 2020 Case for $13.99 here.
To Conclude
Whether you're an adventurer seeking outdoor resilience or simply require enhanced durability for daily use, the above-listed cases ensure your device remains safeguarded against the rigors of life. With their advanced features, reliable construction, and precise compatibility, these iPhone SE 3 rugged cases stand as an indispensable accessory for maximizing the longevity and performance of your iPhone SE 3.