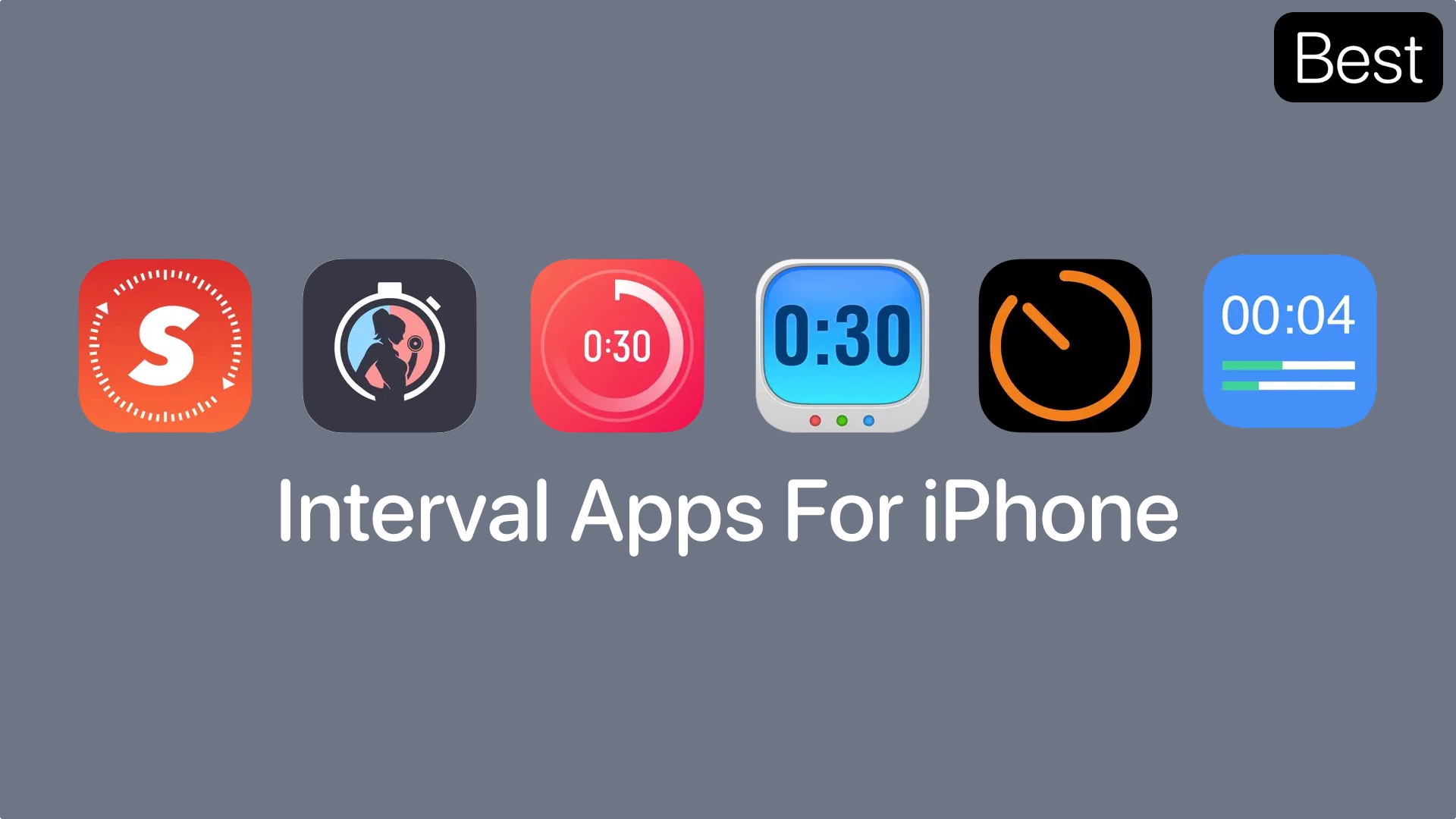 Best Interval Timer Apps For iPhone In 2023
In this list you will find the best interval timer apps for iPhone. These apps help you in timing your workout rests, rounds, and exercises.
If you're anything like us, you know that squeezing every ounce of productivity and motivation out of each day is a goal worth pursuing.
Whether you're chasing your personal best on the treadmill, perfecting your HIIT routine, or simply looking to supercharge your study sessions, having the right interval timer app can be the secret sauce to your success.
So, get ready to bid farewell to the snooze button and say hello to a more organized and efficient you as we dive into the coolest and best interval timer apps for iPhone the App Store offers in 2023.
The Best Interval Timer Apps for iPhone in 2023
We've scoured the App Store to bring you the best picks for interval timer apps that'll have you sweating, stretching, and smashing your goals with pinpoint precision.
So without further ado, Let's dive into the wonderful world of the best iPhone interval timer apps in 2023!
1. Interval Timer – HIIT Workouts
Whether you're engaged in an invigorating run, immersed in other tasks, or your device is securely locked, this dependable application grants you the ability to set precise overall workout durations, as well as define intervals of high and low intensity and rest periods between sets.
With a keen eye on personalization, the app offers a multitude of customizable features including sets configuration, high and low-intensity intervals, and tailored rest periods. Enhanced by a crisp Retina display, compatibility with iOS4, and seamless multitasking capabilities, the app remains operational even when your screen is locked.
Enhancing your workout experience further, the app seamlessly integrates with your music library, allowing you to enjoy your favorite tunes or playlists during your training sessions. Social media enthusiasts will appreciate the option to effortlessly share their workout achievements on platforms like Facebook and Twitter.
This comprehensive interval timer is your ultimate tool to achieve your fitness goals, combining functionality, convenience, and versatility in one remarkable package.
Install Interval Timer – HIIT Workouts from the App Store now!
2. Interval Timer – HIIT Timer 
An elegant and intuitive interval timer solution.
Easily establish personalized intervals for workouts, rest periods, rounds, and more by simply dragging. Initiate the timer with a quick tap.
The Interval Timer seamlessly operates alongside your music and other applications, allowing you to enjoy your favorite tunes during exercise. Receive vocal or beep cues for each workout phase.
Even when you exit the app, audio guidance remains accessible, enabling you to effortlessly follow online workout routines.
Bid farewell to manual workout logging. Delve into comprehensive history and statistics pages to monitor your advancement. Effortlessly repeat previous workouts from your history, eliminating the need for reconfiguration.
Install Interval Timer – HIIT Timer from the App Store now.
3. Simple Interval Timer
The Simple Interval Timer (SIT) is a versatile tool suitable for a wide range of interval training activities, including running, cycling, HIIT sessions (including the Tabata method), and stretching, among others.
SIT's user-friendly interface conveniently recalls your five most recent configurations, accessible by swiping left across the Settings screen to transition between setups effortlessly.
The app is considered one of the best interval timer apps for Apple Watch as SIT Watch mirrors the simplicity of its iOS counterpart while extending its capabilities. It replicates the app's functionality and incorporates heart rate monitoring during workout sessions. All heart rate data collected is seamlessly integrated into Apple's Health app for comprehensive fitness tracking.
Install Simple Interval Timer from the App Store now.
4. Gym Timer-Timer for rest time
Crafted with inspiration from the streamlined functionality of the Apple Watch, this app empowers you with unparalleled mobility within the gym environment, eliminating the burden of carrying your smartphone. Everything you need is conveniently accessible on your wrist.
Gym Timer simplifies your routine. Merely input the desired number of sets and the rest duration between each set. Then, with a simple tap, initiate the timer at the culmination of each set.
As the moment to resume your training approaches, Gym Timer will promptly alert you, ensuring you remain focused and on track.
Install Gym Timer-Timer for rest time from the App Store now.
5. Interval Timer ++
A single touch is all it takes to configure your Workout, Rest, and Repeat intervals. Seamlessly compatible with both iPhone and Apple Watch, this app boasts a vibrant and engaging design that adds a splash of visual delight to your rigorous training sessions.
Access multiple timers effortlessly, ensuring smooth transitions between different phases of your workout. Enjoy the flexibility to pause and resume your workout at your convenience, and if any interruptions occur, the reset feature allows you to seamlessly recalibrate.
Navigate your workout journey with ease through our intuitive calendar view, providing a comprehensive snapshot of your work, rest, and repeat sessions. Your favorite background music sets the tone for your exercise, while the foreground Interval Timer keeps you precisely on track.
Elevate your workout experience with this cutting-edge workout interval timer app, designed to empower and energize your fitness routine.
Install Interval Timer ++  from the App Store now.
6. Seconds Interval Timer
Achieve optimal training outcomes by designing your ideal HIIT, Tabata, or Circuit workout timer. Elevate your fitness commitment with Seconds Interval Timer, the ultimate choice for dedicated fitness enthusiasts.
Featuring a vibrant full-screen display, its clarity remains unrivaled even at a distance. Whether in landscape or portrait mode, the app offers tailored templates for HIIT, Tabata, and Circuit Training routines. For unparalleled precision, you can merge timers, granting you comprehensive command over your workout regimen.
Notably, the timer vocalizes your interval names and can issue alerts for impending intervals. Moreover, it harmonizes the rhythm of your music with the intensity of your HIIT workout, creating a synchronized and invigorating experience.
Install Seconds Interval Timer from the App Store now.
To Conclude
With innovative features, user-friendly interfaces, and the ability to customize intervals to your liking, these Interval timer HIIT apps empower you to achieve your goals and make the most of every second.
As technology continues to evolve, these interval timer apps exemplify the seamless integration of functionality and convenience in our daily lives, promising a future of heightened efficiency and enhanced well-being.
Embrace any of these best interval timer apps, and embark on a journey of optimized intervals and elevated achievements.