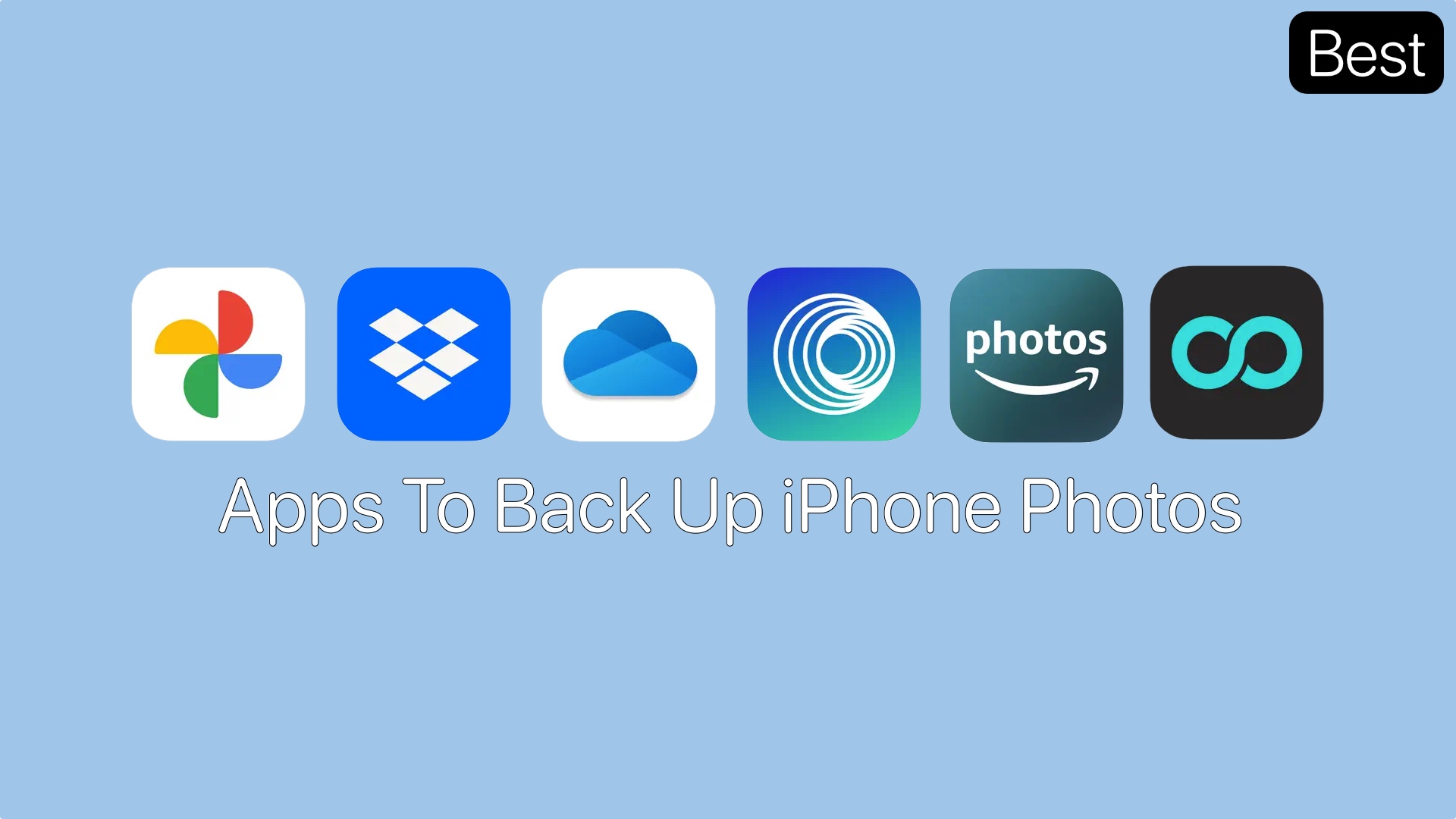 Best Apps To Backup Your iPhone Photos Online
In this article, we have listed the best apps to back up iPhone photos that can be your digital lifesavers, ensuring that your photos stay protected and accessible, no matter what.
Are you tired of getting that dreaded "Storage Almost Full" warning on your iPhone? Frustrated with having to delete cherished photos to make space for new ones? 
We've all been there, scrolling through our camera roll, trying to decide which memories to sacrifice to the digital gods of storage space. But fear not. We're here to rescue you from this storage nightmare. 
With the best apps to back up iPhone photos, your precious memories are safely stored in the cloud, ready to be accessed whenever you want, without eating up your precious phone space. 
Discover the Ultimate iPhone Backup App Free Apps
With various options available, you might ponder, "Where can I store my iPhone photos for free and conveniently?" To make things easier for you, we've got some fantastic options lined up for you. Let's make storage woes a thing of the past and safeguard those special moments together.
1. Google Photos 
Google Photos is a game-changer when it comes to managing your precious memories. With this app, you get a whopping 15 GB of cloud storage absolutely free. That means you can automatically back up your photos and videos without worrying about running out of space on your iPhone.
With this free app to back up iPhone photos, you can search for your photos by people, places, and even objects without the need for manual tagging. And as for privacy, rest assured. It doesn't sell your photos, videos, or personal information to anyone, and your precious memories remain secure and private.
One of the best apps to back up iPhone photos, it boasts advanced editing tools that let you transform your photos with ease. Apply content-aware filters, adjust lighting, and more with just a few taps.
Now, if you ever need more storage for your photos and videos, Google Drive, and Gmail, you can upgrade your Google Account storage, starting at just $1.99 per month for 100 GB. 
Download Google Photos now.
2. Microsoft OneDrive 
If you're already using Microsoft services, this one's a no-brainer. This iPhone photo storage app with free storage offers seamless integration with your Windows PC and, of course, your iPhone. 
The reason behind its fame as one of the best apps to backup iPhone photos is its user-friendly app that's packed with features that simplify the way you manage your digital life. Starting with a generous 5 GB of free cloud storage, OneDrive offers automatic photo and video backup as soon as you enable Camera Upload. 
You can effortlessly share files, photos, videos, and even albums with friends and family. Get notified when someone edits a shared document and set up password-protected or expiring sharing links for added security. 
You can upgrade to a Microsoft 365 Personal or Family subscription, which gets you a whopping 1 TB of storage. Or you can purchase additional cloud storage separately with a Microsoft 365 Basic subscription with enough space for 32,000 photos or 132,000 documents starting at $1.99/m.
Download Microsoft OneDrive now.
3. Dropbox: Cloud Files Storage
Dropbox is your go-to solution for iPhone backup apps free of cost, and it's packed with features that make file management a breeze. Whether you're safeguarding your photos, sharing important documents, or keeping your files organized, Dropbox has got you covered.
With Dropbox, accessing your files is a cinch, even when you're offline. It supports over 175 file types, so you can preview them without the need for special software. When you sign up you get a whopping 2 TB (2,000 GB) of storage space. And if you're worried about making a mistake or losing files, fear not. Dropbox Rewind allows you to roll back any file, folder, or entire account for up to 30 days.
For existing Plus customers looking for even more space and features, there's the option to upgrade to Dropbox Professional. With 3 TB (3,000 GB) of storage, you can store everything from work projects to personal photos and still have space to spare. Thus making it one of the best apps to back up iPhone photos.
Download Dropbox now.
4. Degoo: Online Cloud Storage
Ever heard of Degoo? Well, it's a hidden gem when it comes to online photo storage. You get a whopping 20GB of free space, and it's super easy to use. 
One of the best apps to back up iPhone photos, its robust security is its best feature. It uses military-grade encryption to protect all your iPhone photos and videos, so your data is kept safe and private, giving you peace of mind.
Degoo's reliability is another key feature. It stores triple copies of each file to ensure that your data is always accessible when you need it. But what truly makes it one of the best photo storage apps for iPhone is the automatic backup feature.
Moreover, if the 20 GB of free storage isn't quite enough for your needs, the Degoo Ultimate Account provides even more storage at a cost of $86.99. So, if you're looking for a reliable, secure, and user-friendly cloud storage solution with the option to expand your storage capacity, Degoo has you covered.
Download Degoo now.
5. Amazon Photos
Amazon Photos iPhone photo storage app with free storage offers 5GB of full-resolution photo and video storage for all its users. But if you're a Prime member you get the golden ticket: unlimited photo storage and an additional 5GB for videos.
The app keeps your photos and videos in their full-resolution glory. No compression means your prints look as sharp as when you first captured them. 
The best app to back up iPhone photos, it doesn't just store your photos; it brings them to life. "This Day" allows you to reminisce by viewing and sharing photos from the same date in previous years. "Memories" creates curated slideshows set to music, helping you relive the good times.
And if you need more storage than the free tier provides, Amazon Photos offers flexible monthly and annual subscription plans, starting at just $1.99 per month for 100GB. Need even more space? There are options for 1TB and 2TB plans available as well. So, you can choose the storage that suits your needs without breaking the bank.
Download Amazon Photos now.
6. Photobucket
Photobucket free app to back up iPhone photos has been around for ages and is still a reliable option. It's all about convenience, ensuring your photos are at your fingertips, no matter where you are.
The "Photobucket On-the-Go" feature allows you to manage, organize, browse, and share your photos with anyone, anywhere. Plus, you can enhance your photos with filters, text, stickers, and more, all within the app.
Now, if you're looking to step up your game and upgrade, Photobucket has some tempting in-app purchase plans. These plans offer increased cloud-based storage to ensure your images are always safe and sound. They also include 3rd Party Image Hosting for Intermediate and Expert Plans, making it a breeze to share your images on your favorite websites.
Now, let's talk numbers. The in-app purchases have various options and price points to suit your needs starting at $5.99 and going up to $86.99.
Download Photobucket now.
Never Lose Your Memories Again!
In a world where our lives are beautifully captured in pixels and megabytes, it's crucial to have a plan to protect those memories. We've explored some of the best apps to back up iPhone photos, and they come bearing the gift of endless storage, accessibility, and peace of mind.
So, don't let "Storage Almost Full" haunt your iPhone dreams any longer. Take action, pick the app that suits your needs, and start backing up those photos. Whether it's unlimited storage, seamless integration, or just a simple way to free up space on your iPhone, these are the best photo storage apps for iPhone.