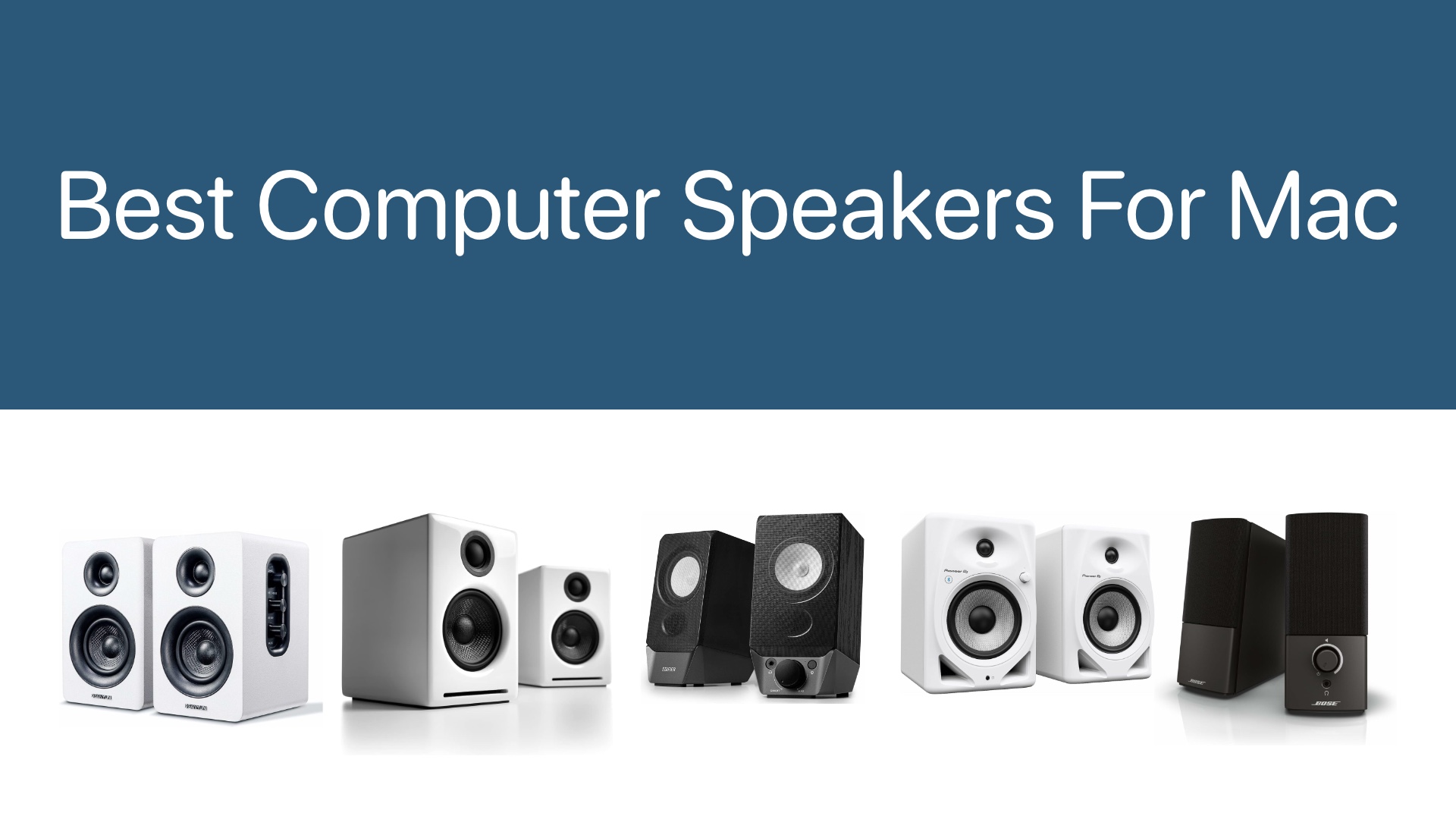 8 Best Computer Speakers For Your Mac In 2023
In this roundup, we have featured some of the best computer speakers that you can buy for your Mac. These amazing speakers deliver a crisp sound that is so much better and louder than your Mac's built-in speakers.
Are you tired of listening to your favorite tunes or binge-watching Netflix shows on your Mac with subpar audio quality? Well, you're not alone! Finding the best computer speakers for Mac to elevate your audio experience can be quite the quest.
But fear not, because, in 2023, we've got you covered! Whether you're a music enthusiast, a movie buff, or just someone who wants to enhance their overall Mac experience, we've rounded up the best Mac speakers in 2023 that will rock your world and make your Mac sound better than ever.
Say goodbye to tinny, lackluster audio, and get ready to immerse yourself in a world of crisp, clear, and booming sound. Let's dive into the audio adventure of the year!
1. Pioneer DJ DM-50D-BT-W 5-inch Desktop Active Monitor Speaker
Equipped with a built-in amplifier and a 5-inch woofer, the Pioneer DJ DM-50D ensures crystal-clear, well-balanced sound reproduction. What sets it apart is the seamless transition between DJ mode and Production mode, all at the flip of a switch. This versatility guarantees you get the optimal sound performance for any task at hand.
Connectivity is a breeze with RCA and mini-jack terminals, accommodating a wide range of gear. The front panel boasts a convenient headphone socket and a level knob for effortless mix control. Additionally, Bluetooth connectivity offers the flexibility to effortlessly connect your devices to the speaker.
Whether you're spinning tracks at a lively party or crafting your next chart-topping hit in the studio, the Pioneer DJ DM-50D 5-inch desktop monitor system stands as the ultimate choice for exceptional sound, versatility, and convenience. Elevate your audio experience with these best speakers for Mac mini today.
Buy Pioneer DJ DM-50D-BT-W 5-inch Desktop Active Monitor Speaker for $219.00 here.
2. Audioengine A2+ Wireless Bluetooth Computer Speakers 
Boasting a formidable 60 Watts of power, the A2+ Wireless Computer Speakers provide unparalleled high-fidelity true stereo sound, ensuring compatibility with any app or device. This two-speaker home surround sound system offers versatile connectivity options, including USB and analog AUX inputs, as well as a subwoofer output. Equipped with 2.75″ custom aramid fiber woofers and 0.75″ silk dome tweeters encased in meticulously crafted cabinets, these speakers deliver precision-tuned audio.
Despite their compact size, these best Mac speakers make a significant impact with their room-filling bass, a plethora of connection choices, and a sleek, aesthetically pleasing design that seamlessly complements any desktop. Whether you're a Mac or PC gamer, these speakers are the ideal choice, offering a hassle-free experience without the need for additional software installation.
Buy Audioengine A2+ Wireless Bluetooth Computer Speakers for $269.00 here.
3. JBL Professional 305P MkII Next-Generation 5-Inch 2-Way Powered Studio Monitor
Expanding upon JBL's rich legacy of delivering exceptional sound performance, the 3 Series Mk II marks a significant enhancement of the already impressive LSR3 series. These compact yet highly professional powered studio monitors continue to embrace the LSR3 series' hallmark image control waveguide, ensuring an unparalleled level of detail and imaging. Additionally, they maintain the broad sweet spot, guaranteeing optimal sound quality even when you're positioned off-axis.
The Mk II series introduces several notable improvements, including updated high-frequency (HF) and low-frequency (LF) transducers. These enhancements result in optimized damping, leading to superior transient response and enhanced linearity. As a result, you can experience impressively deep bass with significantly reduced harmonic distortion.
Furthermore, these upgrades incorporate new boundary equalization (EQ) features, which serve to restore a neutral LF response in situations where the speakers are placed on a work surface or near adjacent walls. This ensures that you'll consistently enjoy an accurate and balanced sound output, regardless of your studio setup.
Buy JBL Professional 305P MkII Next-Generation 5-Inch 2-Way Powered Studio Monitor for $129.00 here.
4. Saiyin Computer Speakers
The Saiyin computer speakers boast a distinctive acoustic design, ingeniously melding the benefits of a horn and a silk dome tweeter. This innovative approach yields a spacious and seamlessly smooth sound profile, elevating your auditory experience. Whether it's the delicate rustle of falling leaves, the gentle patter of water droplets, or the nuanced footfalls in gaming, these speakers render every detail with crystal clarity.
At the core of this immersive sonic experience are the dual 3.5-inch woofers, pivotal in creating a captivating musical ambiance. These best dual speakers for Mac amplify the sensation of impact in FPS gaming, delivering powerful bass that infuses your music with fervor and allure.
As an added bonus, when you invest in Saiyin computer speakers, you receive a complimentary 24-bit/96kHz external sound card. This sound card minimizes signal loss during the conversion from digital to analog audio, a critical enhancement that ensures premium sound quality whether you're using computer speakers or your headset.
Buy Saiyin Computer Speakers for $69.99 here.
5. PreSonus Eris E5 BT-5.25″ Near Field Studio Monitors with Bluetooth
These best speakers for MacBook deliver a robust audio experience, boasting 50 watts of Class-D power for each speaker. This substantial power output ensures you can crank up the volume to your heart's content without compromising the finely-tuned tonal balance and crystal-clear audio clarity that audiophiles and creators demand.
Enhancing the audio experience further, the Eris-series speakers feature 5.25-inch woven composite drivers that excel in reproducing bass frequencies with precision and smoothness. This results in a more impactful and accurate bass response that truly immerses you in your content.
For superior stereo imaging and an expansive sweet spot, these speakers are equipped with 1-inch (25 mm) ultra-low mass silk-dome high-frequency transducers. This technology ensures that you enjoy impeccable stereo separation and a detailed soundstage, making your listening or mixing experience truly immersive.
In a world that values wireless connectivity, these speakers don't disappoint. They come equipped with Bluetooth 5.0 wireless stereo connectivity, allowing you to effortlessly stream audio from your smart devices and enjoy a cord-free setup that seamlessly integrates with your modern lifestyle.
Buy PreSonus Eris E5 BT-5.25″ Near Field Studio Monitors with Bluetooth for $164.99 here.
6. Sanyun SW208 3″ Active Bluetooth 5.0 Bookshelf Speakers
Crafted with meticulous attention to detail, the SW208 features a premium wood structure with an exquisite finish, resulting in an elegant and contemporary appearance that complements any decor.
Beneath the surface, Sanyun Company's proprietary technology shines. The speaker unit boasts a carbon fiber construction paired with multi-layer voice coil technology. This combination delivers a remarkable audio performance characterized by warm and rich midrange frequencies, deep and commanding bass, and crystal-clear, bright highs. Furthermore, these best speakers for Mac wireless units exhibit exceptional durability and stability, capable of performing flawlessly in any environment.
With Bluetooth 5.0 connectivity, you can enjoy a stable and seamless audio transmission experience. For those who demand the utmost audio fidelity, the built-in 24-bit DAC can directly extract digital audio signals via a USB connection, minimizing signal loss during the conversion from digital to analog. This ensures that the original audio source is faithfully reproduced, delivering an unparalleled auditory experience. Elevate your audio game with the SW208 bookshelf speakers – where craftsmanship meets cutting-edge technology for the ultimate sound performance.
Buy Sanyun SW208 3″ Active Bluetooth 5.0 Bookshelf Speakers for $69.99 here.
7. Bose Companion 2 Series III Multimedia Speakers
Unlock a universe of entertainment on your computer, all finely tuned by Bose engineers to ensure every detail reaches your ears through just two compact, elegantly designed speakers. With cutting-edge digital signal processing, you'll experience crystal-clear, rich sound at any volume level. Your favorite music, videos, and streaming content will come alive in a way you've never heard before.
Everything you need is conveniently included in the box, ensuring you can start enjoying superior sound in just minutes. Volume control and a headphone jack are conveniently placed on the right speaker, putting you in control of your audio experience. Plus, with an auxiliary input, you can extend Bose's exceptional performance to other audio sources, such as your iPhone or iPad.
Buy Bose Companion 2 Series III Multimedia Speakers for $149 here.
8. Edifier R19BT USB Powered Computer Speaker System with Bluetooth
Experience pristine audio quality through the 2.75-inch full-range speaker unit. Its elegant pearl-white finish, coupled with a bullet-shaped dust cap, not only elevates your auditory experience but also adds a touch of sophistication to your workspace on every occasion.
Bluetooth 5.3 ushers in a new era of connectivity, providing swifter connections and unwavering audio transmission. This cutting-edge technology significantly minimizes delays and interference, ensuring seamless and hassle-free pairing with a wide array of Bluetooth-enabled devices.
Embrace the future of audio connectivity with the integrated sound card, simplifying your PC connection through a single USB cable. Bid farewell to the clutter of multiple wires and embrace a more organized and streamlined workstation setup with these best speakers for Mac Studio.
Buy Edifier R19BT USB Powered Computer Speaker System with Bluetooth for $49.99 here.