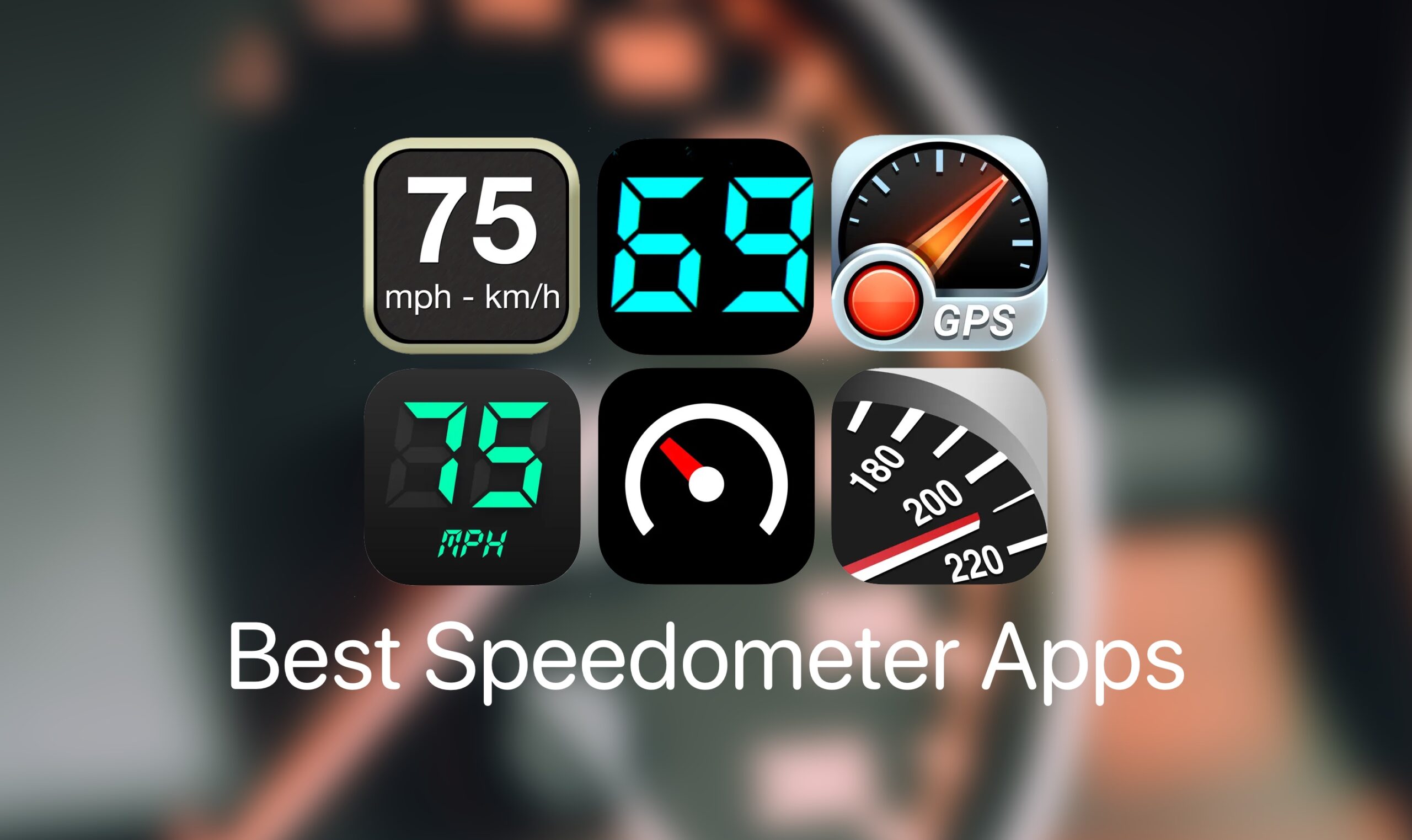 Best iPhone Speedometer Apps With Accurate Speeds
Are you tired of constantly glancing at your car's dashboard to check your speed while driving? Or maybe you're an avid cyclist or runner who wants to keep track of your pace without investing in expensive gadgets? Well, you're in luck because the world of smartphone apps has a solution for you!
In this article, we'll dive into the world of speedometer apps that display large speed readings but also come with some nifty additional features. Say goodbye to the old-school speedometer and hello to the convenience of your trusty iPhone.
You can use these speedometer apps for iPhone and iPad while bicycling, on motorbike, and more.
Let's rev up and explore the best speedometer apps for iPhone that'll make sure you're always in the driver's seat when it comes to precision and performance.
Best Speedometer Apps for iPhone and iPad
Here are some of the best speedometer apps that take advantage of GPS to determine the speed you are moving.
1. Speedometer Simple
This app harnesses the power of your phone's GPS to provide you with accurate speed readings. You'll always know how fast you're going, whether you prefer to see it in miles per hour, kilometers per hour, or knots. Plus, if you want to add a bit of extra information to your screen, you can opt to display the city name and even a compass.
But that's not all – Speedometer Simple doesn't just tell you how fast you're going. It also keeps track of the distance you've traveled, so you'll have that information at your fingertips as well. And if you're curious about your average and maximum speeds, you can easily check those in a separate screen.
So, if you're looking for a straightforward, user-friendly speedometer app that does more than just tell you your speed, give Speedometer Simple a try. It's the ideal travel companion for any journey.
Install Speedometer Simple from the App Store now
2. GPS Speedometer: Speed Tracker 
This nifty free speedometer app gives you real-time trip stats, like your average and maximum speeds, the distance you've covered, and the time you've spent on the move versus stopped. Everything you need to know about your journey is neatly organized in one place. And guess what? You can switch between different units of measurement, whether you prefer miles per hour, kilometers per hour, or knots.
But here's the kicker – it's smart enough to know when you're cruising or at a standstill, and it calculates your average speed accordingly. Plus, if you're into keeping records, it can generate a trip report that breaks down your travel and stoppage times.
Now, here's the showstopper – the head-up display (HUD) feature. It's like something out of a sci-fi movie. Just toggle on HUD mode, prop your iPhone on your dashboard, and voilà! The specially designed HUD interface beams the most accurate speed right onto your windshield, making you feel like you're in the future. How cool is that?
Install GPS Speedometer: Speed from the App Store now
3. Speedometer»
Introducing the iPhone speedometer accurate – your trusty companion for keeping track of your speed on the road, whether you're cruising in miles per hour (mph), kilometers per hour (km/h), or even navigating the high seas in knots.
Picture this: a sleek, user-friendly interface that boasts a dazzling Retina Display. Your speed is right there in front of you, displayed with huge, easy-to-read indicators. No squinting or guessing involved!
And here's a pro tip for you speed aficionados: the less transparent the indicator, the better the accuracy. It's all about getting the most precise reading possible. After all, when you're on the road or out on the water, accuracy matters.
Install Speedometer» from the App Store now
4. GPS Speedometer and Odometer
Looking for a handy way to track your speed and distance while on the move? Well, look no further than the GPS Speedometer and Odometer app! This nifty tool is your go-to solution for measuring speed and distance, whether you're driving a car, biking, walking, running, sailing on a boat, taking the bus or train, cycling, or even flying in an airplane.
What can it do, you ask? Quite a lot! This app not only displays your current speed but also provides you with essential information like your average speed, maximum speed, distance traveled, odometer reading, stopwatch functionality, clock, movement time, idle time, pause time, latitude, longitude, altitude, GPS connectivity status, and the direction of your movement. It's a comprehensive companion for any journey.
But that's not all; this app also includes a pedometer feature to help you count your steps, monitor calorie burn, track miles covered, and record elapsed time. All your data is neatly saved in a list, making it super convenient to review your records with just a single click.
Install GPS Speedometer and Odometer from the App Store now!
5. Speed Tracker: GPS Speedometer 
Speed Tracker offers a seamless blend of GPS speedometer and trip computer features, all within a single, sleek application.
Once you fire up the app, you'll have everything you need to collect valuable trip statistics at your fingertips. It effortlessly records essential data like your speed, time, distance, heading, elevation, and more.
One standout feature you'll love is the Head-up Display (HUD). Simply enable it and place your iPhone or iPad on your dashboard. The HUD interface is thoughtfully designed to project the most accurate speed directly onto your windshield for a futuristic driving experience.
Feeling unsure about your route? Don't worry; the built-in GPS tracker ensures you stay on course. You can easily switch to navigation mode and see your current position on the map, complete with the path you've already traveled, all presented in Satellite or Hybrid view.
Install Speed Tracker: GPS Speedometer from the App Store now!
6. Speedometer Speed Box App
Speed Box Free is your go-to speedometer, odometer, and compass app for your iPhone, and it won't cost you a dime. With this app, you can effortlessly keep tabs on your speed and distance right from your iPhone.
It offers a versatile display with options to switch between MPH, KM/H, and KNOTS, featuring three beautifully designed speedometers, including a digital one. You can even set a custom distance value by simply tapping on it. Plus, this one of the best speedometer apps with accurate speeds works seamlessly in both portrait and landscape mode, making it suitable for both iPhone and iPad users.
But that's not all – there's a "Pro Pack" upgrade available for more advanced features. With the Pro Pack, you gain access to 10 unique designs, a handy Map View, a compass display, and essential data like maximum speed, average speed, and current altitude. You can also track your top speed, monitor changes in altitude, and even adjust the maximum speed on the analog speedometers. Plus, it includes a speed warning feature to help you avoid those unwanted speeding tickets, and it automatically resets your distance for day trips. It's a comprehensive tool to enhance your driving experience.
Install Speedometer Speed Box App from the App Store now!
To Conclude
In conclusion, the world of speedometer apps for iPhones offers a plethora of options, each with its own unique features and benefits.
From GPS-based accuracy to sleek user interfaces, these iPhone speedometer apps have proven their worth in providing accurate speed readings and additional useful features. With the power of modern technology at our fingertips, these apps not only enhance our driving experience but also contribute to safer roads.
So, choose the one that best suits your needs, and enjoy a smooth and informed journey ahead.