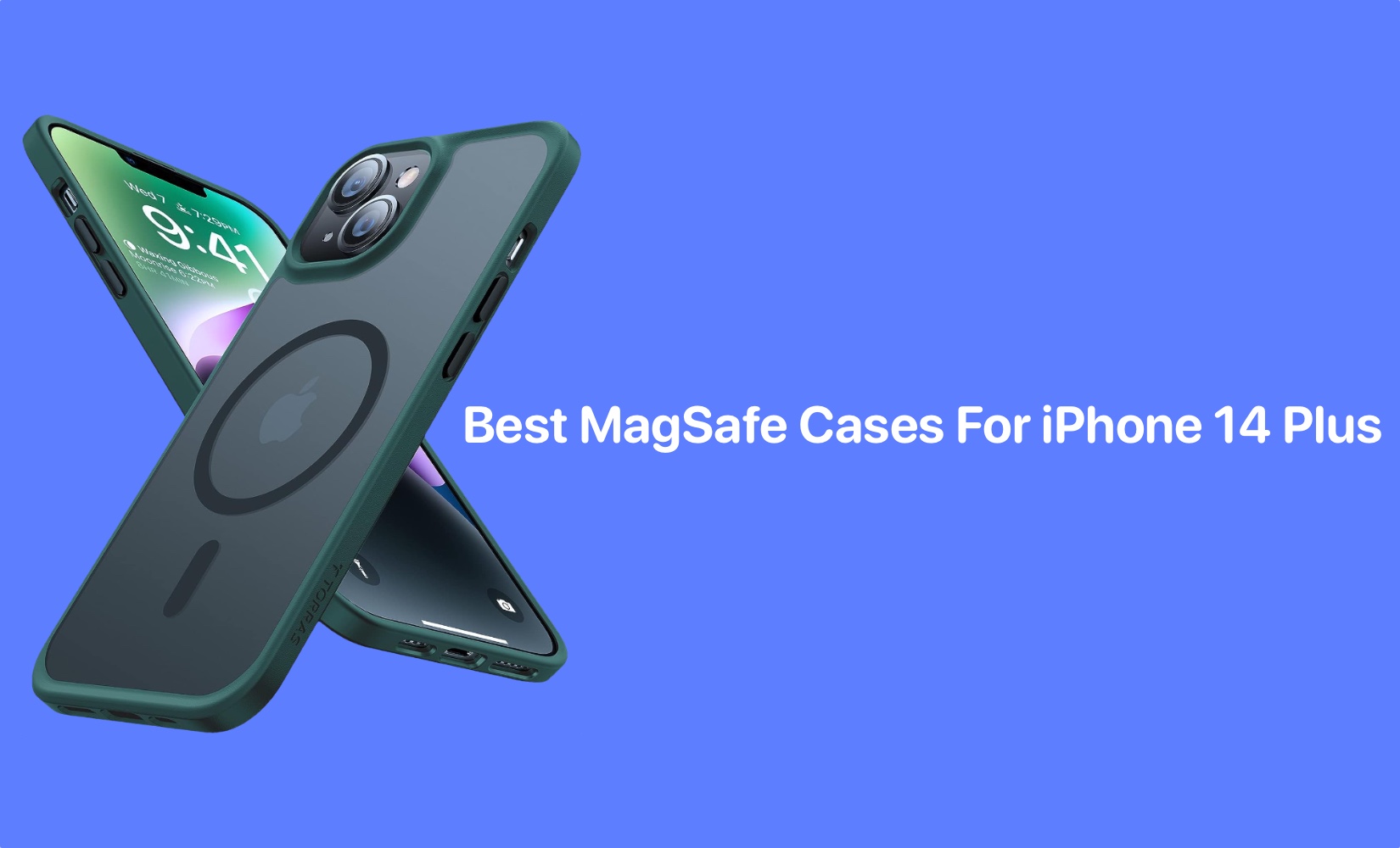 7 Best MagSafe Cases For iPhone 14 Plus In 2023
In this article, you will find the best MagSafe cases for iPhone 14 Plus. These 6.8-inch iPhone cases are designed to provide maximum protection to your iPhone while also letting you use MagSafe accessories without any issues.
Hey there, fearless iPhone 14 Plus owners of 2023! We know you treat your phone like it's the crown jewel of your tech kingdom, and with the power of MagSafe, it's practically your phone's royal scepter.
But let's face it, even the most majestic of phones could use a little armor against the daily chaos of life.
Whether you're clumsier than a penguin on roller skates or want to keep your device safe from the world's mysterious gravitational forces, we've rounded up the best 6.8-inch iPhone 14 Plus MagSafe cases that will have your iPhone 14 Plus covered, protected, and possibly feeling like the rockstar of the smartphone world.
Best MagSafe Compatible Cases For iPhone 14 Plus
Here are some of the MagSafe-compatible cases for iPhone 14 Plus that you can buy right now. These awesome cases provide all-around protection to your device while also allowing you to use MagSafe accessories.
1. Apple iPhone 14 Plus Silicone Case with MagSafe
Crafted by Apple to impeccably complement the iPhone 14 Plus, the Silicone Case with MagSafe presents an enchanting solution for safeguarding your precious device.
The exterior boasts a luxurious silicone finish with a velvety, soft-touch texture that offers a gratifying sensation when held. Inside, a gentle microfiber lining adds an additional layer of protection to surround your iPhone.
Equipped with integrated magnets precisely attuned to the contours of the iPhone 14 Plus, this case delivers a wondrous attachment experience, accompanied by expedited wireless charging each and every time. Charging becomes effortless, just keep the case on your iPhone and affix your MagSafe charger, or place it on your Qi-certified charging pad.
Buy Apple iPhone 14 Plus Silicone Case with MagSafe for $23.76 here.
2. CASEKOO Strong Magnetic Clear for iPhone 14 Plus Case
Fashioned from premium Bayer ultra-clear TPU and PC materials, this 14 Plus case offers the dual advantage of allowing you to revel in your phone's innate beauty while also resisting the accumulation of oil during use. Its "never yellow" attribute is attributed to the anti-yellow coating, which is adept at combating up to 99.9% of yellowing caused by UV rays and perspiration.
Elevated bezels discreetly raise the screen and camera of your iPhone 13 Pro within this case, preventing unsightly scratches from daily contact with flat surfaces.
Despite adding a mere 0.04 inches to your device's profile, this iPhone 14 Plus case effortlessly slips into your pocket while maintaining a sleek and stylish appearance in hand. The engineered TPU frame offers a secure and slip-free grip, meticulously designed to facilitate tasks like texting, gaming, and capturing selfies.
Buy CASEKOO Strong Magnetic Clear for iPhone 14 Plus Case for $17.99 here.
3. TORRAS 𝗡𝗘𝗪 Magnetic for iPhone 14 Plus Case
Crafted with meticulous attention, this is one of the best MagSafe cases for iPhone 14 Plus. It blends a 4-ply cushioning TPU bumper and robust polycarbonate, bolstered by the exclusive X-Shock 3.0 Technology adorning each of its four corners. With 360° Shockproof Airbags nested within, the case is certified to withstand drops from heights of up to 10 feet, ensuring superior phone security. The meticulously designed 1.5mm screen lips, 1.2mm camera bezels, and patented Camera Airbags combine forces to shield your precious device against dirt, scratches, and falls.
Efficiency meets elegance in the minimalist design of the iPhone 14 Plus case, meticulously engineered to deliver maximal protection. This achievement is owed to our proprietary Airbag Tech and ergonomic construction. The upgraded Nano Oleophobic Coating is both anti-fingerprint and anti-scratch, imparting a velvety-smooth and silky touch. Meanwhile, the advanced Sliproof soft side bumper offers a comfortable and confidence-inspiring grip.
Buy TORRAS 𝗡𝗘𝗪 Magnetic for iPhone 14 Plus Case for $21.99 here.
4. JETech Magnetic Case for iPhone 14 Plus 6.7-Inch
Experience the swiftness and simplicity of wireless charging like never before with the perfectly aligned magnets. Whether you're ready to power up, just keep the case on and snap it onto your MagSafe-compatible charger or effortlessly rest it on your Qi-certified charging pad.
Effortlessly secure your device with magnetic precision. Once attached, it stays securely in place without any slippage. This seamless compatibility extends to all MagSafe accessories, including wallets, ring holders, and power banks.
Crafted from a flexible TPU frame and an anti-scratch PC back, this case offers robust defense against even the harshest shocks and drops. Further bolstering your device's security, raised lips are strategically placed around the screen and camera lens.
Buy JETech Magnetic Case for iPhone 14 Plus 6.7-Inch for $18.99 here.
5. Spigen Tough Armor (MagFit) Case
Discover the epitome of cutting-edge design with our Magnet Integrated Case, meticulously engineered to seamlessly align with MagSafe technology. This case transcends conventional protection, harnessing the power of Extreme Protection Tech to deliver unparalleled shock absorption and an impenetrable shield for your device.
Engage with your device effortlessly through tactile buttons designed to provide persistent feedback with every press. The ingeniously crafted Air Cushion Technology further enhances the shock-absorbing capabilities of the case, ensuring that your device remains safeguarded even in the face of unexpected impacts.
Elevate your device protection game with the Magnet Integrated Case, where innovation meets sophistication to redefine your experience.
Buy Spigen Tough Armor (MagFit) Case for $29.99 here.
6. OtterBox iPhone 14 Plus Symmetry Series+ Case
Engineered to exceed expectations, the case has successfully undergone rigorous testing, withstanding an impressive 3 times the number of drops required by the military standard (MIL-STD-810G 516.6). Moreover, thanks to its strategically built-in magnets, it seamlessly integrates with wireless and MagSafe charging pads.
This case is not just about protection; it's about enhancing your device's functionality and aesthetics. Engineered with raised edges, it offers unparalleled defense for your camera and screen, preventing any unintended contact with surfaces. Additionally, the case is designed for effortless installation and removal, providing you with the freedom to switch styles at a moment's notice.
Buy OtterBox iPhone 14 Plus Symmetry Series+ Case for $25.94 here.
7. Simtect for iPhone 14 Plus Case 
Crafted exclusively for the iPhone 14 Plus, the 14 Plus case boasts impeccable compatibility with both Magsafe chargers and other Qi wireless charging devices. This guarantees optimal and efficient charging through the case, ensuring your device stays powered without compromise.
Incorporating 38 meticulously integrated, high-powered magnets, this iPhone Mag-Safe 14 Plus cover exhibits an extraordinary maximum suction force of 15N, surpassing the official 25% adsorption force. This heightened magnetism allows the case to stay firmly attached while accommodating all your iPhone activities seamlessly.
The ingenuity of the iPhone 14 Plus Mag-Safe case extends to its innovative 360-degree air bumper and airbag system, meticulously designed to absorb shocks from any angle. This sophisticated mechanism acts as a protective shield, effectively preventing any impact from reaching your precious iPhone. Rigorously tested in over 5000 12-foot drop trials, this case guarantees unparalleled impact resistance, safeguarding your iPhone 14 Plus throughout its lifespan.
Buy Simtect for iPhone 14 Plus Case for $23.99 here.
To Conclude
These best MagSafe compatible cases for iPhone 14 Plus not only safeguard your device but also enhance its capabilities, making them essential companions for the modern iPhone enthusiast. As MagSafe continues to advance, these cases exemplify the pinnacle of design, offering a glimpse into the exciting possibilities that lie ahead for iPhone accessories in the years to come.
So, choose any of the above-mentioned magnetic cases for iPhone 14 Plus from the list today and get ready to meet your phone's new entourage of style, defense, and a touch of "I didn't know a case could do that!"