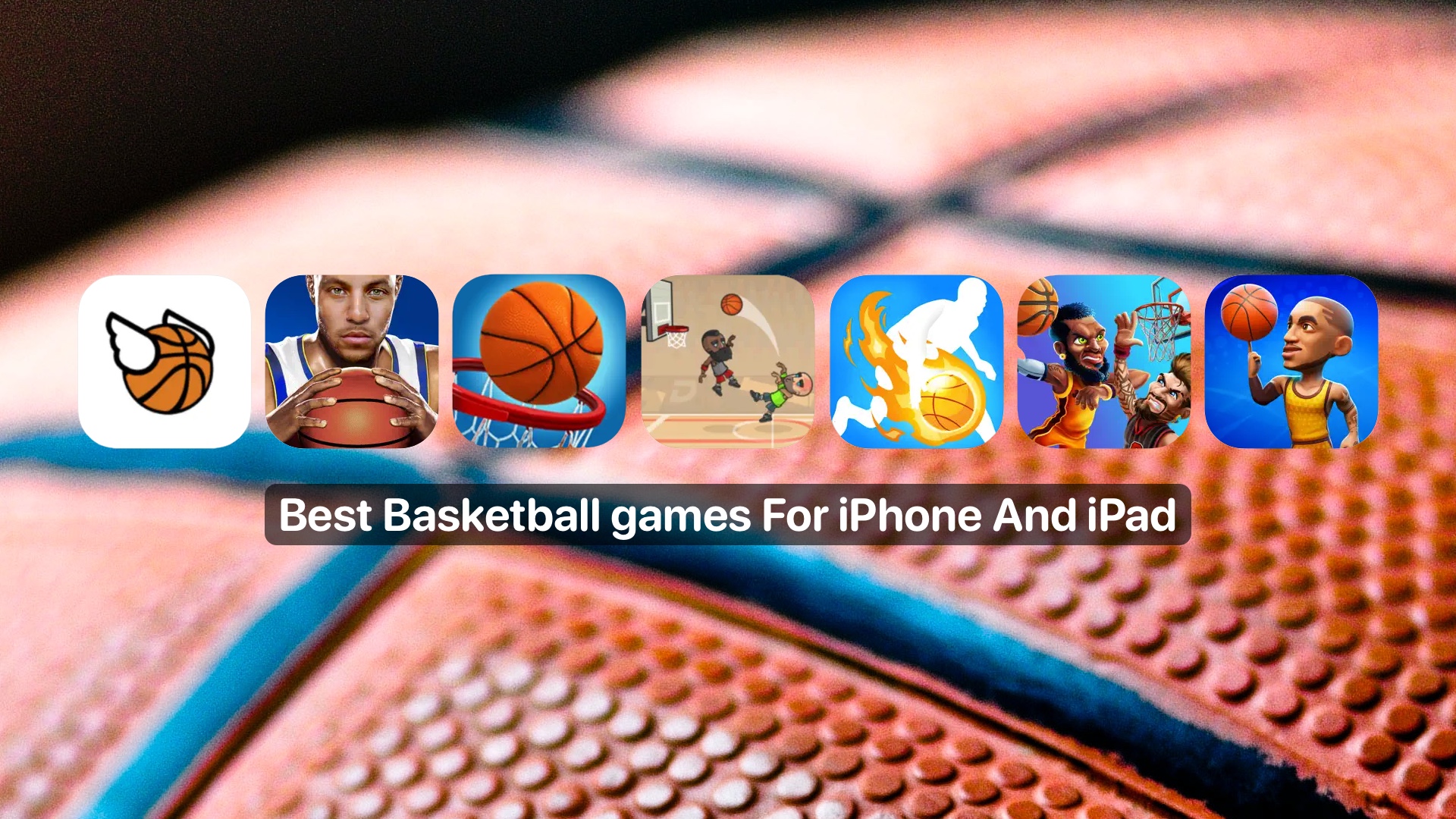 Best Basketball Games For iPhone and iPad
In this blog, we're diving headfirst into the world of the best basket games for iPhone. Get ready to shoot some virtual hoops, improve your skills, and enjoy the thrill of the game wherever you are.
We all know life gets busy, and sometimes, you just can't make it to the court. That's where your trusty iPhone or iPad swoops in to save the day. 
Whether you're a die-hard baller or just looking for a quick dose of fun, having the best basket games for iPhone is an absolute slam dunk.
Score Big with the Best iOS Basketball Games
No more boredom during downtime; no more longing for the court. It's time to tap into the power of gaming and unleash your inner baller whenever and wherever you want.
From quick matches to challenging tournaments, these free basket games for iPhone are more than just fun. They're your ticket to mastering tricky moves, strategizing like a pro, and engaging with fellow basketball enthusiasts from across the globe.
1. Basketball Stars
Looking for a one-on-one showdown? The best basket games for iPhone, it lets you go head-to-head with players from around the world in fast-paced duels. 
From the get-go, this iPad basketball game plunges you into the heart of the action. You're in control as you dribble, shoot, score, and WIN your way through a 3D real-time sports game that's nothing short of exhilarating. The challenge? Forge your basketball career and show off your skills in the most authentic way possible.
The gameplay is where Basketball Stars truly shines. 
You're not just playing against the computer; you're facing off against real opponents in fast-paced 1v1 matches. It's all about showcasing your moves, fakes, and juke-outs to outwit your adversary and sink those critical baskets. On defense, it's all about timing your leaps, stealing the ball, and blocking shots – all in REAL-TIME.
Download Basketball Stars now.
2. Flappy Dunk
Who knew basketball could be so addictive in 2D? Combine the thrill of shooting hoops with the challenge of flapping through obstacles in the best hoops games for iPhone. 
So, what sets Flappy Dunk apart? Well, imagine a game where you don't just shoot hoops but tap your way through them. That's right, you tap to make your ball jump and aim for as many hoops as humanly possible. It's like basketball crossed with a classic tap-to-jump game, and the result is a gaming experience that's both addictive and exciting.
But that's not all. One of the best basket games for iPhone, it spices things up even more by offering a wide range of skins for your basketball. Want to shoot hoops with a flaming basketball or one that's covered in emojis? You got it! 
Plus, there are crazy challenges to conquer, adding that extra layer of excitement to the game.
Download Flappy Dunk now.
3. Basketball Battle
Step into the court and engage in epic 1v1 basketball battles playing this fun basketball game for iPhone. Customize your player, master tricky moves, and outscore your opponent in this intense showdown.
One of the best basket games for iPhone, Fun Hoops is your ticket to slam-dunking action with friends and rivals alike. This mobile sports game offers an accessible 1 on 1 streetball experience, perfect for both seasoned pros and newcomers. No need to worry about complicated controls; you can jump right in and start blocking shots and, of course, dunking on your pals.
What sets Basketball Battle apart is its easy yet powerful control scheme. And if you manage to net three buckets in a row, you'll catch on fire and take your game to a whole new level.
Download Basketball Battle now.
4. All Star Basketball
Get ready for some serious three-pointers. All Star Basketball offers stunning graphics and a range of game modes to keep you entertained. This free basket game for iPhone boasts some of the most realistic 3D graphics you'll find on mobile. 
It's like having a miniature NBA court right in your pocket. And the best part? You get to fully customize your 3D avatar, decked out in NBA-style gear, from jerseys to shoes, and even finger tape. It's all about personalizing your player, making them truly your own.
The best basket game for iPhone, All Star Basketball brings the heat with an array of power-ups that take your game to a whole new level. The visual effects, physics, and gameplay will blow you away, elevating your gameplay like never before.
Download All Star Basketball now.
5. Basketball Arena
Build your dream team, strategize, and dominate the competition in this exciting sports arena. One of the best iOS basketball games, it brings an electrifying multiplayer experience right to your fingertips. 
You'll have the chance to go for those epic slam dunks and sink long-range 3-pointers. But what makes Basketball Arena truly exciting are the superpowers at your disposal. Strategically use them to outwit your opponents and secure those hard-earned wins, all while aiming to fill the ball basket and claim your well-deserved rewards.
Plus, with each victory, your fanbase grows, bringing you more supporters who cheer you on to victory. And as your skills improve, you'll find yourself competing in upgraded courts, chasing glory, and coveting even better prizes. Thus making it one of the best basket games for iPhone.
Download Basketball Arena now.
6. Mini Basketball
For those looking for a more relaxed experience, Mini Basketball offers a laid-back game of hoops. Shoot some casual baskets and unwind wherever you are playing this iPad basketball game.
One of the best basket games for iPhone, Mini Basketball isn't just about quick thrills. It allows you to build, upgrade, and customize your dream team. Win players, from common to epic, and turn your squad into the most formidable force on the court. 
With over 100 customizable options, you can give your team a unique identity with personalized logos, jerseys, sneakers, and more. Even the ball you play with, mascots, cheerleaders, and dunk styles are all in your hands.
As you progress through Mini Basketball, you'll conquer different tiers and tournaments. The arenas and courts evolve, becoming grander and more impressive.
Download Mini Basketball now.
7. Dribble Hoops
Dribble Hoops challenges your ball-handling skills with a unique gameplay mechanic. This game is your chance to experience the court from a first-person perspective and trust us, it's the basketball gaming experience you've been yearning for.
The best hoops games for iPhone, it's super simple to play. Just drag your finger to move, release to jump, and tap to shoot. The magic happens when you tap inside the dunking zone – that's when you pull off those epic slams. 
And if you're feeling extra ambitious, aim for the right spot to unleash a Power Dunk. The more you score, the higher you level up your skills, making it one of the best basket games for iPhone.
You can master all the skills at your own pace. But here's the twist – the AI in this game evolves over time, so get ready for a real challenge as you progress. Oh, and don't forget to explore the bonus levels! There's a whole bunch of them for you to have even more fun.
Download Dribble Hoops now.
Epic Basketball Battles Await
The world of fun basketball games for iPhone is waiting for you to conquer. Whether you're a casual player or a competitive spirit, these games bring the thrill of the court straight to your fingertips.
No more dull moments – now you can turn any break into a dunking extravaganza, a chance to showcase your skills and maybe even discover new ones. 
These games are all about staying connected with your passion for basketball and keeping that competitive spirit alive, no matter where you are. The ball's in your court now – go ahead, download the best basket games for iPhone, and let the basketball madness begin.