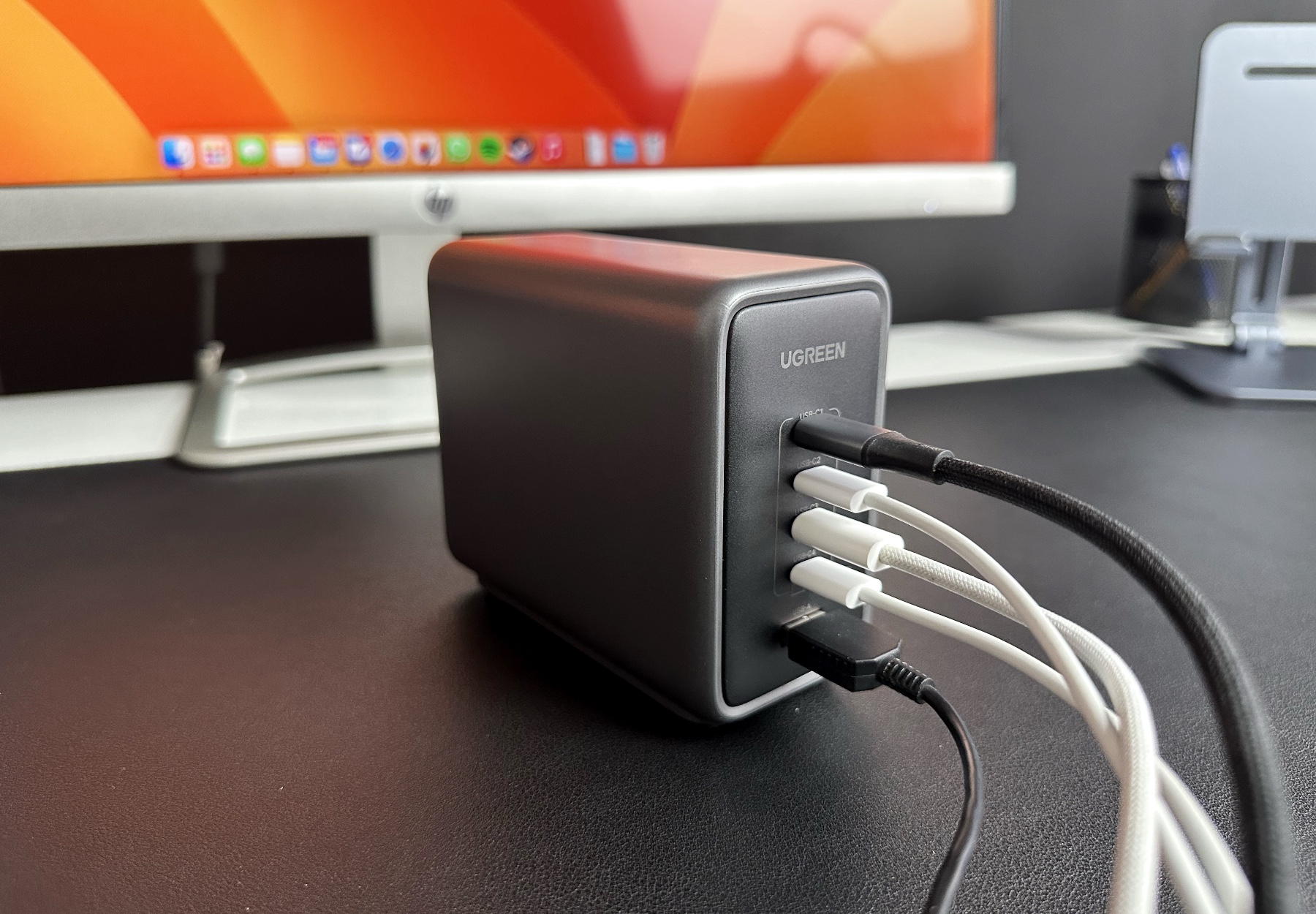 Ugreen Nexode 300W Fast Charger Is The Ultimate Charger For Your Apple Devices (Review)
In this detailed review, we will be taking a close look at the Ugreen 300W 5-Port PD GaN charger. This multi-port charger comes with 5 charging ports and is capable of fast charging all of your devices simultaneously.
This is the perfect charger for someone who is a dedicated Apple user. You can use this charger to charge your MacBook, iPad, iPhone, Apple Watch, and AirTag – all at the same time.
What makes the new Ugreen Nexcode 300W 5-Port PD GaN Fast Charger unique and special is its 300W output capacity. This is a massively capable charger that can fast charge multiple devices. For context, the 16-inch MacBook Pro comes with a 140W charger while an iPad Air ships with a 20W charging brick.
The 5-port design of this charger enables users to get rid of all other charging bricks as you can charge up to 5 devices at the same time, without compromising on the charging speeds.
With Ugreen Nexode 300W Fast Charger you get access to 4 USB-C ports and 1 USB-A port.
Here's the power output capacity for each port.
1st USB-C port: 140W
2nd USB-C port: 100W
3rd USB-C port: 100W
4th USB-C port: 45W
USB-A port: 22.5W
The first port that can output up to 140W is amazingly powerful. You can use this PD port in order to charge your 16-inch MacBook Pro at full speed. In fact, this port is so powerful that it can charge the larger MacBook Pro from 0% to 100% in just 1.5 hours. All while also charging other devices from its other ports.
Thanks to this you can remove other charging bricks from your wall and replace them with this single charging solution.
Ugreen Nexode 300W 5-Port GaN Fast Charger features a beautiful design. It comes with a two-tone design in which you get a black front with 5 ports and a dark grey body.
This charger is made with GaN technology, which offers high efficiency and less heat. It is due to this technology that the charger is so small in size compared to the charging output it is capable of offering.
With GaN and SiC chips this charger is able to offer better heat dissipation as well. Combine that with the Thermal Guard system, and you get a safe charger that takes 6000 temperature readings per minute and monitors temperature changes in real-time.
In the box, you get a power adapter that enables you to connect the charger to a wall outlet. You also get a high-speed USB-C to USB-C cable, which can charge your devices at up to 240W speeds.
Highlights of the Ugreen Nexode 300W 5-Port PD GaN Fast Charger:
High Capacity 300W Output
140W PD 3.1 Charging Port
Ability to charge 5 devices at the same time
4 USB-C ports with fast charging support
1 USB-A port to charge older devices
1.5 m USB-C Fast Charging Cable
GaN and SiC chips for higher efficiency and heat management
With the Ugreen Nexode 300W charger, you get PD 3.1 charging protocol support, which allows high-speed charging and a wider range of voltage applicability. This makes the charger compatible with a wide range of devices.
Experience with Ugreen Nexode 300W
Even though the Ugreen Nexcode 300W 5-Port PD GaN Fast Charger is launching today, I have had the privilege of using it for a few weeks, and I am ready to share my experience. First of all the impressive 300W charging output of this charger means I can get rid of the 3 charging bricks from my office desk setup.
After getting this charger I removed my 140W MacBook Pro charger, 20W iPad charger, and an Apple Watch charger from my power outlet, as this charger alone was able to fulfill my charging needs. In addition to that I connect my iPhone's MagSafe charger to this charging brick as well so there's no clutter of charging bricks on the wall outlet.
As for the charging speeds, the Ugreen Nexode 300W charger provides super fast charging speeds. I was able to charge my 16-inch MacBook Pro, iPad Air, iPhone, and other devices at full speeds at the same time, with no compromises. This is an impressive feat that has to be appreciated.
The Ugreen Nexode 300W just like all other Ugreen products provides great value for money, is beautifully designed, and serves a practical purpose that makes it worth getting for anyone who is in the market for a charger.
If you are someone who needs to power a bunch of gadgets and doesn't want to waste time waiting for your devices to charge, then getting this charger is a no-brainer.
You can buy the Ugreen Nexode 300W Fast Charger for £199 from the official Amazon store. Ugreen is running a limited-time offer starting from August 28 until September 10, in which you can get the Ugreen Nexode 300W Fast Charger at a discounted price.