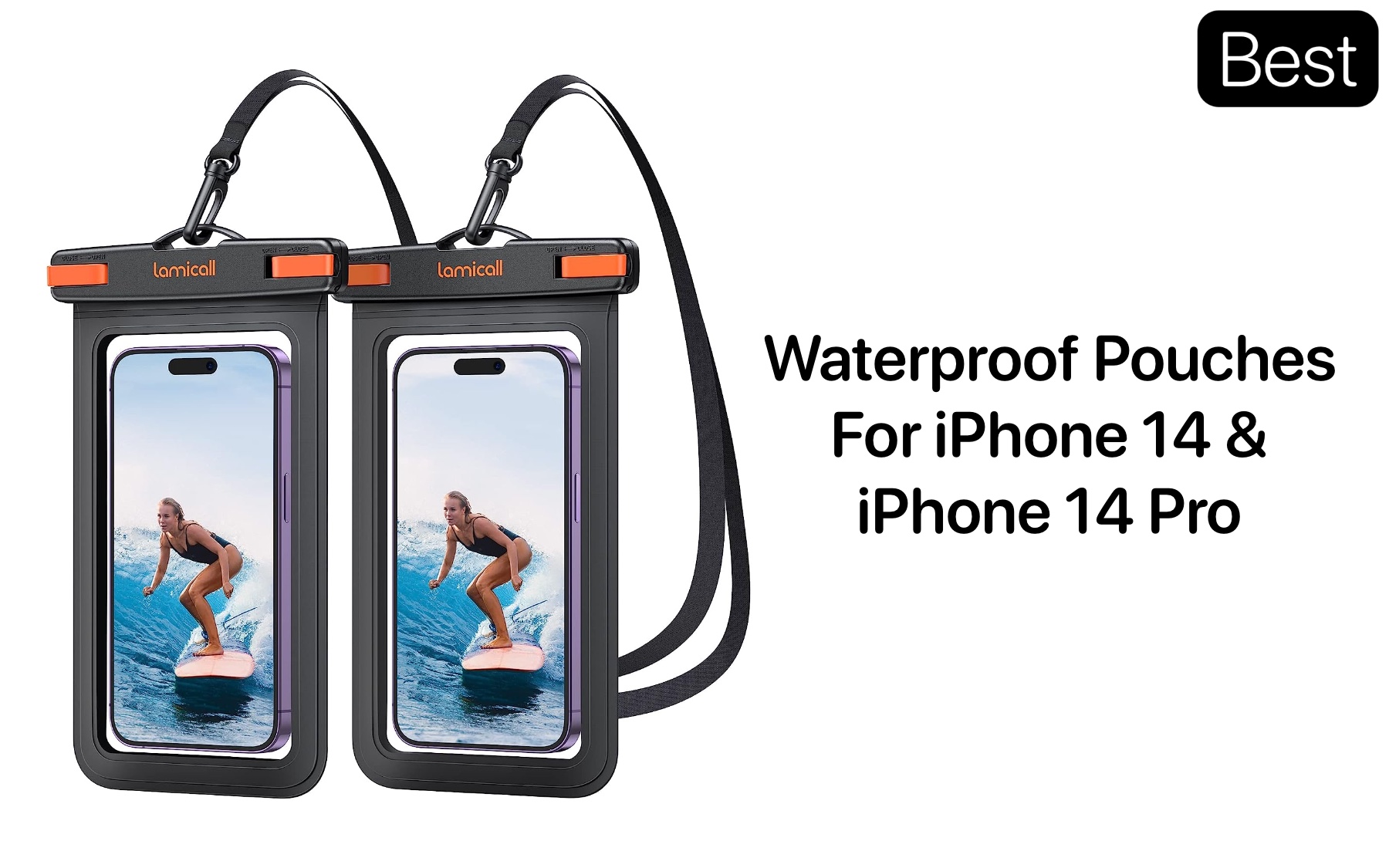 Best Waterproof Pouches For iPhone 14 And iPhone 14 Pro
In this post you will find some of the best waterproof pouches for iPhone 14, iPhone 14 Pro, iPhone 14 Pro Max, iPhone 14 Plus. These pouches keep your iPhone safe from water and even allow you to take underwater photos.
Attention, fellow iPhone 14 and iPhone 14 Pro owners! Are you tired of treating your precious gadgets like fragile Fabergé eggs whenever you venture near water? Well, fear no more because we've got your back! 
Whether you're planning an underwater photo shoot or want to enjoy some tunes poolside without fretting about water damage, these trusty pouches have got you covered – quite literally! 
So, grab your snorkel, and let's splash into the best waterproof pouches that'll make your iPhone as aquatic as a sassy mermaid. 
Let's keep those iPhones high and dry and find out which one is the best waterproof phone pouch of 2023!
Best Water Proof Cases for iPhone 14 and 14 Pro
Say goodbye to water-induced panic and pesky damages, and say hello to worry-free fun with these top-notch waterproof cases. Let's dive into the world of ultimate protection and style for your iPhone 14 series!
1. Hiearcool Universal Waterproof Case
Certified IPX8 waterproof with Hiearcool's innovative triple-layer lock-down technology, this case offers unrivaled protection against water, snow, dust, and sand, ensuring your device stays completely dry in any environment.
This waterproof iPhone pouch is designed with practicality in mind and boasts a generous 8.3-inch size, accommodating most cell phones with or without a case. This dual-layered defense system provides the utmost security for your phone.
Crafted from upgraded TPU material, the Hiearcool waterproof phone pouch delivers excellent response sensitivity, allowing seamless usage of your phone's features, including face ID unlock and calling. Thanks to its high transmittance transparency technology, you can capture those unforgettable underwater moments with stunning clarity.
For added convenience, the case has a detachable lanyard, which can be adjusted from 13.8 to 21 inches. It offers versatile options for wearing it around your neck or crossing your body. 
Buy Hiearcool Universal Waterproof Case for $12.99 here.
2. Pelican 2 Pack Marine – IP68 Waterproof Phone Pouch
This professional floating waterproof pouch, certified with IP68, offers the ultimate protection for your phone in water activities such as swimming, beach outings, kayaking, fishing, surfing, and more. Whether on a cruise, on vacation, or exploring water parks, this pouch is a must-have travel essential.
Crafted with high-quality soft TPU material, the Pelican Marine Series waterproof case features an innovative design that grants easy access to side buttons, ensuring you can use your phone effortlessly. The clear window on the front allows for a delicate touch and quick response, enabling you to view videos and check emails without any hindrance.
Moreover, this phone pouch comes equipped with a detachable cell phone lanyard, providing convenient access to your phone or ID while you enjoy your thrilling adventures. The Secure Lock Mechanism ensures a tight seal, protecting your phone even underwater.
Buy Pelican 2 Pack Marine – IP68 Waterproof Phone Pouch for $29.99 here.
3. TORRAS Icecube IPX8 Waterproof Phone Pouch
With the TORRAS Icecube IPX8 Waterproof Pouch, immerse yourself in a world of possibilities where you can preserve your cherished memories in the underwater realm without compromise.
This pouch is built with advanced materials, techniques, and attention to detail, which offers ten times more protection than previous versions. Employing the latest nanometer hot-press tech, it achieves unmatched precision and seamlessness. The improved locking mechanism and double-sealing opening ensure an airtight and waterproof seal. Gone are the days of worrying about water damage as the 95A TPU material replaces fragile PVC and standard TPU, providing superior waterproofing, wear resistance, and pressure resistance, offering your phone 100% protection.
Featuring a unique design on both sides, this cell phone waterproof pouch offers seamless touchscreen performance underwater and on land. The adjustable lanyard adds versatility and style, allowing you to wear it diagonally across your body. 
Buy TORRAS Icecube IPX8 Waterproof Phone Pouch for $18.99 here.
4. Universal Waterproof Phone Pouch
One of the standout features of this iPhone waterproof pouch is its transparent windows on both sides, ensuring high clarity and sharpness for your phone's screen. Even in harsh environments, the pouch allows full touch screen functionality, enabling you to take photos, record videos, reply to messages, handle work emails, and share information effortlessly. 
Crafted with high-frequency hot press technology, the pouch boasts excellent sealing capabilities, keeping your phone dry and always protected. The detachable hanging belt with a clever head rotation feature prevents tangling and ensures a secure fit. The tight and easy-to-adjust design of the hanging band adds to the convenience and comfort of using this phone pouch.
Operating the waterproof phone pouch is a breeze, and closing the pouch is effortless. Trust this reliable companion to keep your phone safe and secure during your adventures. Durable and easily portable, this phone water protector pouch is built to last and is always ready to accompany you on your journeys.
Buy Universal Waterproof Phone Pouch for $8.99 here.
5. ANLEDDA 2 Pack Waterproof Phone Pouch
Crafted from high-quality transparent PVC with a sensitive touch, this waterproof cell phone pouch ensures smooth touchscreen operation. The inner pocket within the waterproof dry bag securely holds your phone, allowing seamless touchscreen functionality. You can easily send messages, make calls, watch videos, use face recognition, and capture photos while keeping your device dry.
The convenience of the ANLEDDA waterproof phone holder is further enhanced with its detachable and adjustable lanyard. Wear it around your neck, as a crossbody, or shoulder bag, based on your preference. The pouch also features two robust clasps made from scratch and wear-resistant ABS materials, providing added security and peace of mind.
Through rigorous testing, the ANLEDDA iPhone 14 Pro waterproof pouch has undergone around 1000 tests, demonstrating no leakage or water damage even at 30M (100 Ft) deep underwater. 
Buy ANLEDDA 2 Pack Waterproof Phone Pouch for $15.99 here.
6. Lamicall Waterproof Phone Pouch Case
Engineered with precision, Lamicall Waterproof Phone Pouch Case boasts the highest waterproof rating (IPX8). It can withstand depths of up to 100 feet, making it the ideal companion for water-based activities.
The improved locking clip, designed with an ergonomic curved side, enhances the user experience by facilitating easier locking and opening of the pouch. Additionally, for added convenience, it comes equipped with a sturdy heavy-duty lanyard, measuring 18.7 inches long and boasting a remarkable load capacity of up to 44 lbs—four times stronger than standard lanyards.
Crafted from exceptional soft PVC material, this iPhone 14 Pro Max waterproof pouch ensures a smooth touch on your screen, granting easy access to various functions like touch screen, camera, and calls. The high transparency (99% light transmittance) allows for a crystal-clear display of your mobile phone screen and enables the camera to function normally. Notably, the waterproof case preserves Face ID functionality, video calls, and seamless photo and video capturing, even underwater, empowering you to capture precious moments without limitations. 
Buy Lamicall Waterproof Phone Pouch Case for $10.99 here.
7. Wellhouse Universal Waterproof Phone Pouch
This iPhone 14 waterproof pouch features a high-quality TPU material bag body and an ABS-reinforced lock clip, combining the benefits of the new process injection molding technology. As a result, the case is certified for excellent underwater protection up to 30 meters/100 feet (IPX8 rating). A whistle on the top of the clip also provides an emergency signaling option for added peace of mind.
Designed to offer security and comfort, the soft rubber pouch body provides full phone protection with a pleasant Q-elastic feel. The TPU ultra-transparent material ensures smooth touchscreen operation without interfering with Face ID, video calls, or capturing photos and videos. Preserve your beautiful moments even underwater without worries.
Compared to traditional two-piece film hot-pressed waterproof bags, this three-dimensional design stands out with its compact size, large capacity, and user-friendly handling, avoiding any potential scratching of hands during usage.
Buy Wellhouse Universal Waterproof Phone Pouch for $11.99 here.
Get Ready for Your Next Water Adventure!
Investing in a high-quality waterproof pouch for your iPhone 14 and iPhone 14 Pro is a wise decision that ensures the utmost protection for your valuable devices. The reviewed pouches offer a perfect blend of functionality, reliability, and style, making them the best choices on the market. 
Whether heading to the beach, exploring the great outdoors, or simply wanting added peace of mind in everyday life, these pouches will keep your devices safe from water damage.