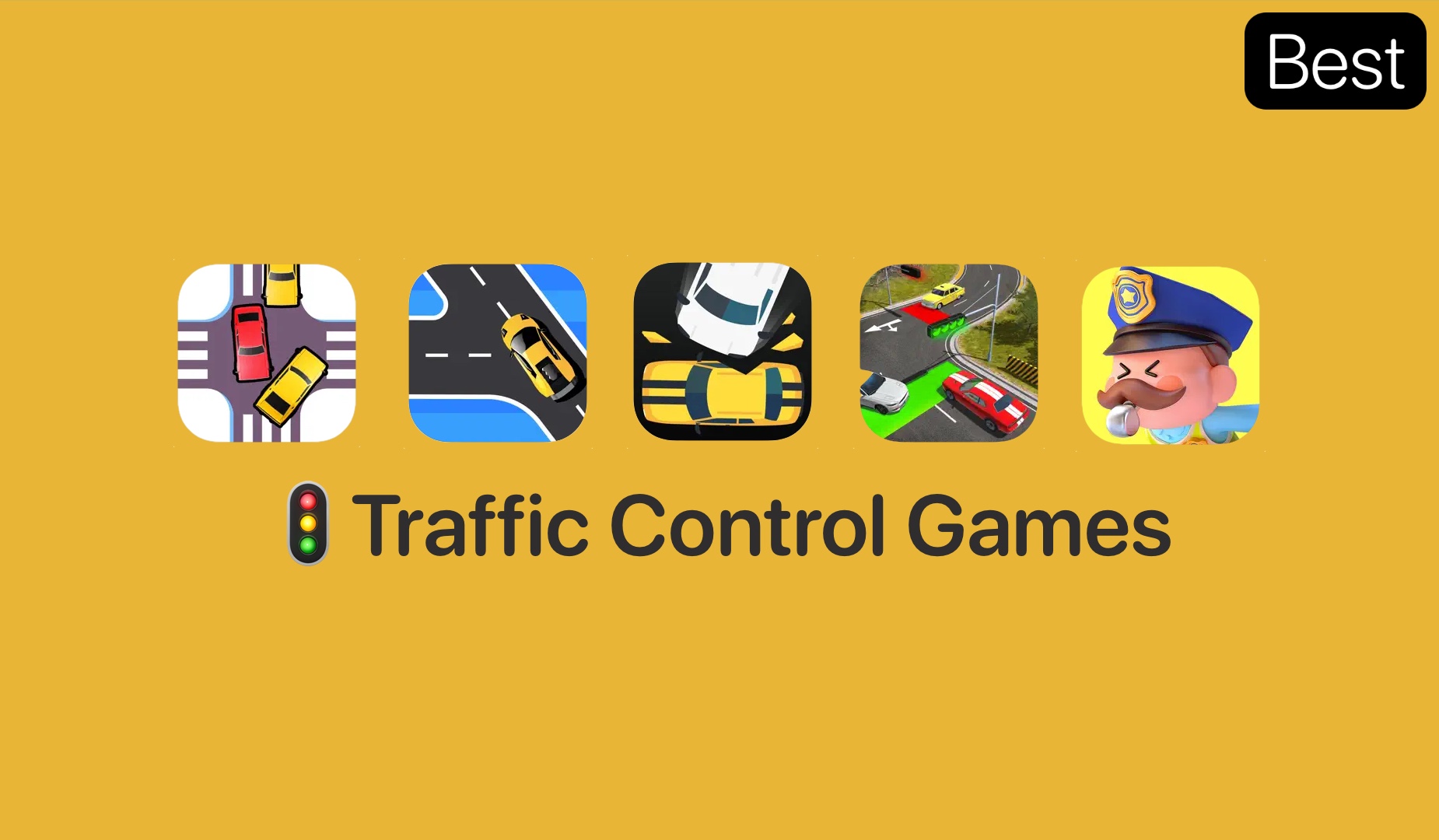 Best Traffic Control Games For iPhone And iPad
In this article, we're diving headfirst into the wild world of the best traffic control games! Buckle up, fellow gamers, because it's time to unleash the inner road ruler within us.
So, are you ready to navigate through bustling intersections like a boss? Can you handle the adrenaline rush of preventing crazy crashes and keeping those cars in line? 
Well, get your fingers ready, because these traffic games for iPhone are about to put your skills to the test. Swipe, tap, and direct traffic like a maestro while you bask in the glory of becoming the ultimate road whisperer.
From Gridlock to Glory:
Control the Traffic Games for iOS!
These control the traffic games aren't just about steering cars and beating the backlog; they're about igniting the thrill of strategy, timing, and quick thinking. You'll feel like a genuine traffic guru by the time you conquer these games.
So, rev up your engines, gamers, and get ready to embark on a journey filled with twists, turns, and endless entertainment. Join us as we take on the traffic tamer's challenge. It's time to download, play, and conquer the best traffic control games out there. 
Happy gaming, and remember, the roads are yours to control!
1. Mr. TRAFFIC
Enter the world of Mr. TRAFFIC, where you take charge of busy intersections and prevent crashes. It's a high-octane challenge, and you're the ultimate traffic maestro.
With this traffic game for iPhone, you're in the driver's seat, quite literally! All you have to do is tap those cars and watch them zoom ahead. It's like creating your own traffic symphony – but without the violins and stuff. 
But hey, it's not just about tapping away like crazy! You gotta avoid those crashes if you want to hit that sweet high score. Trust us, you'll feel like a traffic virtuoso once you nail it.
One of the best traffic control games, it does not forget about style. With thousands of uniform combinations waiting to be unlocked, you can pimp out those cars in the snazziest, quirkiest, and most eye-catching ways imaginable. Who knew traffic control could be so fashion-forward?
Download Mr. TRAFFIC now.
2. Crazy Traffic Control
Get ready for a wild ride with Crazy Traffic Control. Can you handle the frenzy as you guide cars, trucks, and more? Stay sharp, or it's bumper-to-bumper bedlam.
With a simple tap, you'll change the lights and become the traffic czar, keeping those cars from crashing into each other.
But wait, there's more to this control the traffic game! Brace yourselves for crazier intersections with each level you conquer. It's like a never-ending rollercoaster of traffic madness, and you're the fearless conductor.
And guess what? As you take on this epic journey of traffic control domination, you'll unlock new car types, intersections, and even trains.
Crazy Traffic Control isn't just any ordinary game. It's the best traffic control game with a unique blend of fast-paced action and mind-bending puzzles. You'll need to be super observant and ready to outsmart every upcoming challenge that comes your way.
Download Crazy Traffic Control now.
3. Traffic Run!
In Traffic Run!, you'll navigate through diverse landscapes while avoiding obstacles. 
How far can you go without causing a pileup? Show off your skills and rule the roads with the ultimate avoid accident game for iPhone, where you tap your way to victory.
This app is all about living life in the fast lane, crossing streets with the precision of a pro driver, and making it to the goal without any pesky fender-benders.
With Traffic Run!, controlling the game is as easy as pie – just a simple tap is all it takes to navigate through the chaos. But don't let the simplicity fool you, my friend, because this game packs a punch. 
It's so addictively fun that you'll find yourself glued to the screen, swiping away to conquer level after level, making it one of the best traffic control games. Put your skills to the test and show off your traffic-taming prowess.
Download Traffic Run! now.
4. Tiny Cars: Fast Game
Don't be fooled by their size – these Tiny Cars pack a punch. Control pint-sized vehicles through challenging tracks, and don't forget to collect those power-ups in this traffic game for iPhone.
So, how will you tackle this monumental task? Simple! Just tap on those unruly cars to make them stop dead in their tracks and avoid those pesky crashes. 
But that's not all – with another tap, they'll be zooming by like nobody's business! And every time a car or truck obeys your commands and passes safely, you earn some serious cash.
But hold on tight, because it's not all smooth sailing in one of the best traffic control games. You'll encounter tricky obstacles and challenging situations that will test your nerves. Remember, patience is your superpower here.
One more thing – never forget your training, officer. You've got the skills, the flair, and the confidence to tame these streets and bring order to the chaos.
Download Tiny Cars now.
5. Traffic Jam Fever
Traffic Jam Fever puts you in the hot seat as you tackle rush-hour gridlocks. Clear the chaos with quick thinking and unlock new cities to conquer with this control the traffic game.
One of the best traffic control games, it'll have you itching to hit the roads and clear those pesky gridlocks in no time. The ultimate traffic control game, it's all about steering your way to success and beating the backlog.
Now, you might be wondering, "How many vehicles can I pass, and what's the catch?" Well, let us tell you – the sky's the limit. Traffic Jam Fever dares you to challenge yourself and pass as many vehicles as your skills can handle. 
Plus, you get to be the mastermind of the roadways. 
Draw new roads and let more vehicles pass without creating a traffic nightmare. It's like being a traffic engineer with a twist of gaming excitement. 
Download Traffic Jam Fever now.
Ready to Control the Road?
Remember, it's not just about tapping and swiping – it's about channeling your inner traffic guru and ruling the roads with finesse. 
Now, you're armed with the knowledge of the best traffic control games out there. Download them, play them, and let the games unleash your inner road ruler.
It's time to steer your way to victory and conquer the traffic tamer's realm with these avoid accident games for iPhone.
Happy gaming, folks – may your roads be clear, your crashes avoided, and your enjoyment off the charts! It's time to hit the virtual streets and embrace the joy of controlling the chaos. 
Until next time, keep swiping, keep strategizing, and keep winning!