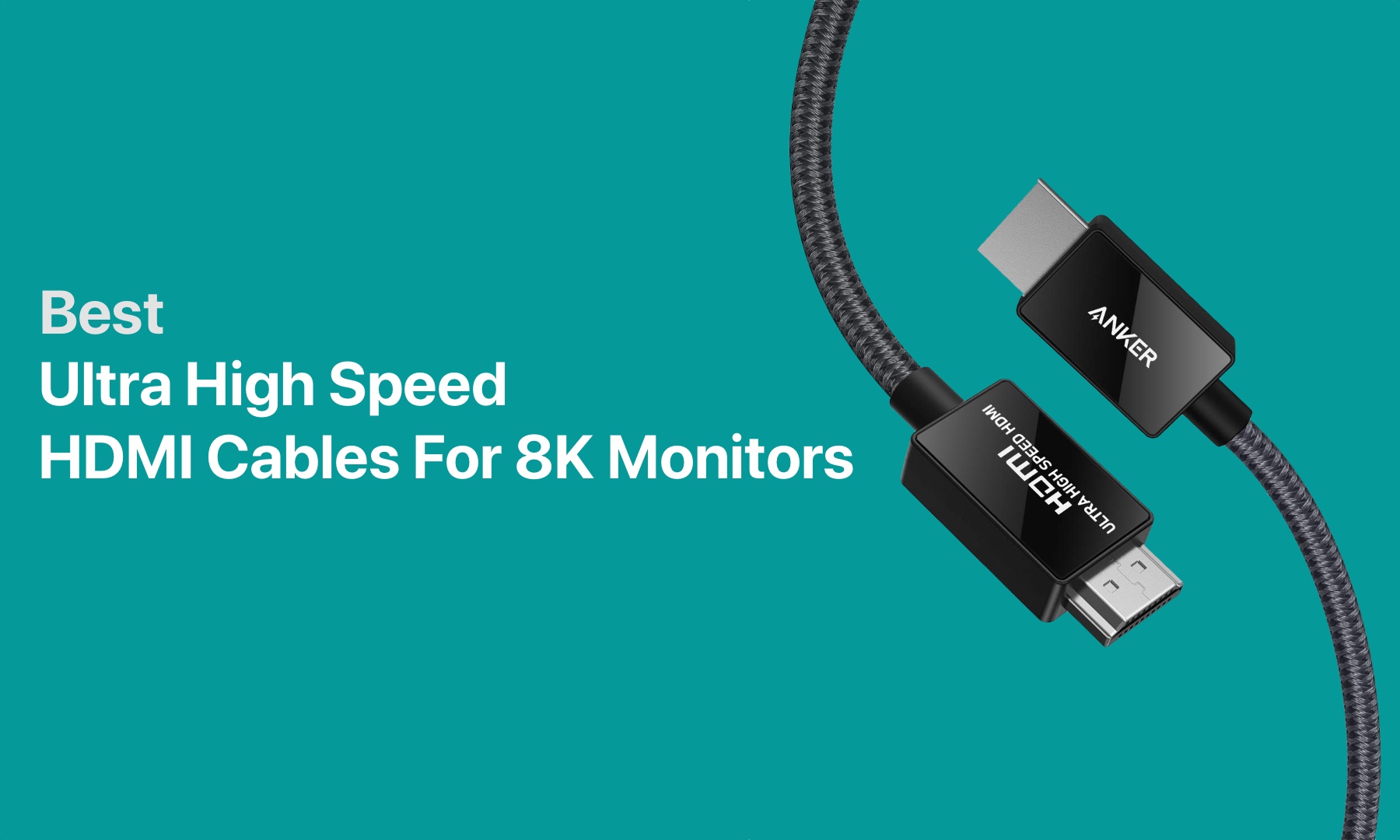 Best Ultra High-Speed HDMI Cables With 8K Monitor Support
In an era where visual content is rapidly evolving and pushing the boundaries of clarity and resolution, the demand for impeccable audiovisual experiences has reached new heights. As the world embraces the stunning realism of 8K resolution, the role of 8K HDMI cables for Mac becomes more crucial.
These cables serve as the lifelines connecting our cutting-edge devices to the immersive world of ultra-high-definition entertainment.
In this article, we delve into the realm of the best ultra high-speed HDMI cables with 8K, exploring the top contenders that transmit pixel-perfect images and deliver seamless audio and ensure future-proof compatibility.
Go an 8K monitor? Check out our guide on how to connect 8K monitor to Mac.
Best Ultra High-Speed HDMI cable 48gbps for Mac
Whether you're a dedicated gamer, a cinephile, or a professional in the creative industry, choosing the right HDMI cable can make all the difference in your visual experience. Join us as we navigate the top contenders to help you make an informed decision and unlock the full potential of your 8K-enabled devices.
1. Highwings 8K 10K HDMI 2.1 Cable
Embracing the HDMI 2.1 standard, the Highwings 8K HDMI Cable redefines transmission speed, boasting an astonishing leap from 18Gbps to 48Gbps (6GB/s). Bid farewell to stutter or dropped frames during video playback. With built-in eARC support, advanced audio signal control becomes effortlessly achievable.
Unleashing the potential beyond 4K@60HZ, this versatile 8K ultra high-speed HDMI 2.1 cable breaks barriers to deliver pristine 8K image quality. It seamlessly achieves a super smooth 4K@120HZ experience. Enter the realm of gaming excellence with the latest game mode that harnesses variable refresh rates, maximizing your graphics card and CPU performance while meticulously rendering images.
All in all, crafted with Highwings' signature classic style, this 8K HDMI Cable stands as a testament to innovation. Equipped with an advanced smart chip, it reaches unprecedented heights in performance.
Buy Highwings 8K 10K HDMI 2.1 Cable for $9.99 here.
2. Snowkids 8K HDMI Cable 2.1 
Prepare for the future of entertainment with the Snowkids 8K@60Hz HDMI Cable. Compatibility extends to 8K@60HZ, 4K@120HZ, 4K@100Hz, and beyond. Leveraging 8K HDMI's dynamic HDR, 12 Bit color processing, and an impressive 48Gbps bandwidth, this cable delivers an unparalleled Ultra High Definition cinematic experience, complete with captivating 3D visuals boasting enhanced depth, brilliance, detail, contrast, and a broader color gamut. Furthermore, when using an HDCP2.2 video source, seamless support for HDCP2.2 is assured.
For gamers, the cable's prowess shines with its ability to achieve an impeccably smooth 4K@120HZ picture. With variable refresh rates, the cutting-edge game mode optimizes graphics card and CPU performance, refining image rendering accuracy. Variable Refresh Rate and Quick Media Switching collaborate to minimize lag, motion blur, and frame tearing, culminating in a gaming and real-time interactive virtual reality experience free from disturbances.
Buy Snowkids 8K HDMI Cable 2.1 for $10.99 here.
3. Anker 8K@60Hz HDMI Cable
Experience the pinnacle of connectivity with this high-performance cable boasting a bandwidth of 48 Gbps. Seamlessly supporting stunning visuals, it effortlessly accommodates 8K@60Hz and 4K@120Hz resolutions, guaranteeing your HDMI demands are future-proofed for years to come.
Crafted with premium gold connector pins, screen flickering becomes a thing of the past, ensuring uninterrupted visual experiences. Furthermore, its high-density EMI shielding shields against interference, safeguarding your wireless devices from disruptions.
This cable seamlessly integrates with the PlayStation 5 and Xbox Series X/S and any HDMI 2.1 compatible device supporting 4K@120Hz. Embracing a wide spectrum of devices, from Sony 8K UHD TVs to Apple TV and Roku Ultra, it remains fully backward compatible with HDMI 2.0b/2.0a/2.0/1.4/1.3/1.2/1.1.
Incorporating carbon steel connectors, gold pins, and a durable double-braided nylon finish, this cable's design ensures it can be plugged and unplugged 10,000 times, ensuring longevity and reliability.
Buy Anker 8K@60Hz HDMI Cable for $17.99 here.
4. Ubluker 10k 8k 4k HDMI 2.1 Cable 10FT
The Ultra High-Speed HDMI Cable provides an exceptional viewing experience by accommodating a wide range of high resolutions and faster refresh rates, including 8K60Hz and 4K120Hz, ensuring immersive and smooth viewing of fast-action details. It even supports resolutions up to 10K for commercial AV, industrial, and specialized applications.
With dynamic HDR support, each moment in a video is displayed with optimal depth, detail, brightness, contrast, and expanded color gamuts. This enhancement is applied on a scene-by-scene or even frame-by-frame basis.
This cable is designed to handle future demands, boasting a 48G bandwidth to support uncompressed CTS 2.1 Version features. Moreover, it emits very low levels of EMI and maintains backward compatibility with earlier HDMI Specification versions, making it suitable for use with existing HDMI devices.
Enhanced Audio Return Channel (eARC) technology simplifies connectivity and elevates user convenience, ensuring seamless compatibility between audio devices and upcoming CTS 2.1 Version products. This innovation also paves the way for the support of cutting-edge audio formats and the highest audio quality standards.
Buy Ubluker 10k 8k 4k HDMI 2.1 Cable 10FT for $13.90 here.
5. Monoprice 8K Certified Braided Ultra High-Speed HDMI 2.1
Similar to the other cables mentioned in this list, this cable boasts a bandwidth of up to 48Gbps. This impressive bandwidth capability enables it to handle high-demanding content and advanced features, including Dynamic HDR, Dolby Vision, Dolby Atmos, and DTS:X.
Dynamic HDR ensures that each video frame has optimal depth, detail, brightness, contrast, and a wider range of colors. This optimization occurs on a per-scene or even per-frame basis, resulting in an exceptional viewing experience.
Furthermore, this cable supports uncompressed video resolutions of up to 8K@60Hz, even accommodating 4K@120Hz. For those seeking even higher resolutions, it can manage resolutions of up to 10K@120Hz through the visually lossless VESA Display Stream Compression (DSC) 1.2a technology.
Including eARC (enhanced Audio Return Channel) simplifies connectivity and is specifically designed for compatibility with object-based audio formats such as Dolby Atmos and DTS: X. This ensures seamless interaction between audio devices and upcoming HDMI 2.1 devices.
Buy Monoprice 8K Certified Braided Ultra High-Speed HDMI 2.1 for $21.98 here.
6. UGREEN 8K HDMI Cable 2.1
Elevate your multimedia experience with the cutting-edge UGREEN HDMI 2.1 cable, embracing the latest technology advancement. Boasting an impressive 48Gbps bandwidth, a substantial 2.6 times faster than HDMI 2.0, it guarantees seamless connectivity. Even as it pushes the boundaries, this cable retains backward compatibility with earlier versions, ensuring seamless integration with all your devices.
Tailored to meet the demands of gaming enthusiasts, our 8K HDMI cable redefines your gaming encounters. Immerse yourself in a super smooth 4K@240Hz picture through Quick Frame Transport/Quick Media Switching and Auto Low Latency Mode. Bid farewell to disruptions and tearing with the Variable Refresh Rate, paving the way for uninterrupted, precision gaming.
Engineered with endurance in mind, this HDMI to HDMI cable features a robust design encompassing a supple cotton braid and oxygen-free bare copper wiring. With a remarkable ability to withstand over 25,000 flex cycles, its durability is unwavering. Triple-shielding guarantees peak performance and an ultra-low signal-to-noise ratio (SNR), ensuring pristine signal quality.
Buy UGREEN 8K HDMI Cable 2.1 for $9.99 here.
7. Belkin Ultra HD HDMI 2.1 Cable 6.6FT/2M
Unlocking the potential of each pixel and delivering an unparalleled spectrum of brightness, contrast, and color, the Ultra HD HDMI 2.1 Cable revolutionizes your entertainment experience when streaming from platforms like Netflix, Apple TV, Fire TV, and more.
With this cable, prepare to elevate your gaming to new heights, providing the optimal bandwidth and speeds necessary for high-resolution gaming. With support for gaming in 4K @120Hz, 8K @60Hz, or even 10k, your favorite games will be showcased in an entirely new light.
The Belkin Ultra HD HDMI 2.1 Cable ensures peak performance for a range of devices, including the Sony PlayStation 5 (PS5), Microsoft Xbox 1, Xbox Series X, Apple TV 4K, 4K HDR, HDR10, Dolby Vision, as well as laptops, PCs, and MacBooks.
Engineered with robust 2-layer shielding, this cable safeguards delicate wiring, minimizing the risk of damage and protecting against electric shocks. Moreover, its 6.6ft/2M length is perfectly suited for seamlessly connecting your laptop or streaming device to your Ultra HD High-Speed HDMI setup.
Buy Belkin Ultra HD HDMI 2.1 Cable 6.6FT/2M for $21.99 here.
To Conclude
As you embark on your journey into the world of 8K entertainment, rest assured that these HDMI cables for 8K Display will not only deliver superior performance but also future-proof your setup for the innovations yet to come.
Investing in one of these top-tier cables is an investment in uncompromised quality and seamless connectivity, elevating your home entertainment to new heights.