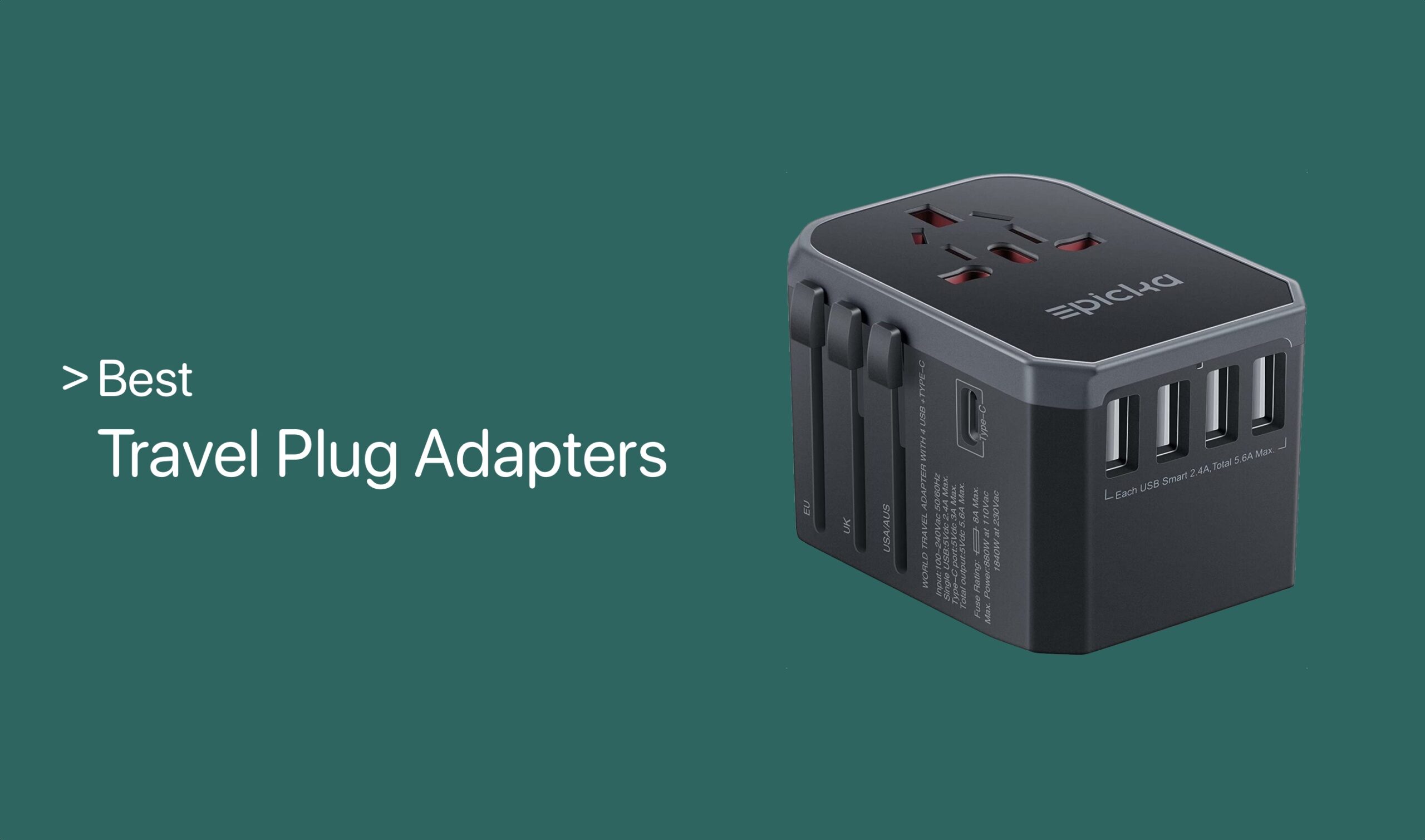 Best Travel Plug Adapters To Buy To Charge Multiple Devices
In this buying guide, we have featured some of the best travel plug adapters that allow users to charge multiple devices at once no matter which country they have traveled to.
We've all been there – you've finally reached your dream destination, ready to capture every breathtaking moment on your camera, keep up with your social media game, and maybe even catch up on some work while sipping that exotic coconut concoction. But hold on a second, because your devices are about to pull a low-battery vanishing act on you.
Fear not, for the superhero of the travel world is here to save the day: the trusty universal travel adapter! Say goodbye to that frantic search for a charging station and hello to a world where all your gadgets can juice up simultaneously.
In this electrifying article, we're going to shock you (pun intended) with a list of the best travel adapters that'll keep your devices charged and your travel spirits high.
Let's dive into the world of endless power possibilities!
Best Travel Plug Adapters To Buy
Here are the best travel plug adapters that enable you to charge your iPhone, iPad, and other devices at once no matter which country you are in.
1. TESSAN International Plug Adapter
Check out the 3 USB-C and 2 USB-A ports – these are the real travel must-haves. The 3 USB-C ports can deliver a powerful 3.0A/15W charge, while the 2 USB-A ports can handle up to 2.4A/12W. Perfect for your laptop, smartphone, tablet, camera, and all your electronic buddies. Altogether, these USB ports are dishing out a max of 5.6A/28W, ensuring your devices stay juiced up.
The company has added a universal AC outlet that can transform itself to accommodate plugs from the US, EU, UK, and AU. It's a friendly socket that plays well with different countries' electronics, supporting up to 2500 watts at a max of 250 volts and 10 amps.
This adapter won't hog up space in your luggage or backpack. It's tough too, with a polycarbonate shell and thermal protection to keep it going strong. Plus, safety's a top priority with built-in double 10A fuses and a clever safety shutter design.
Buy the TESSAN International Plug Adapter for $22.99 here.
2. EPICKA Universal Travel Adapter One International Wall Charger
This adapter lets you charge up to 6 devices all at once, and we're talking lightning speed here. There are 4 USB-A ports clocking in at a solid 2.4A, plus a sleek USB-C port pumping out a cool 3A. And if that's not enough, there's an AC socket thrown in the mix for good measure. iPhones, laptops, tablets, power banks, cameras, headsets – you name it, it'll charge it.
Safety first, though! This travel adapter comes with a bunch of features to put your mind at ease. There's an 8A fuse tucked inside, some handy safety shutters, and even a plug lock system. Plus, it's got the thumbs up from RoHS, CE, and FCC, so you can bet your jet-setting behind that it's safe and reliable.
Now, a quick heads-up: while this universal power wizard can't perform voltage magic, it's not your go-to for high-power stuff like hair dryers, curling irons, and straighteners. But fear not, it's a champ at handling devices up to 880W at 110V or 1920W at 240V.
Buy EPICKA Universal Travel Adapter One International Wall Charger for $22.99 here.
3. JMFONE Universal Power Adapter
Get ready to upgrade your travel game with our super smart travel adapter. This nifty gadget comes with a bunch of plugs to cover more than 160 countries.
Say goodbye to bulky adapters because ours is compact and lightweight, tailor-made for globetrotters like you. It's not just a travel buddy, but a charging wizard too! With four USB slots and four AC sockets, you can charge up to five devices all at once. The best part? This smart chip-equipped adapter knows just how to juice up all your gadgets.
No more worries about voltage mishaps – this adapter handles AC 100V-250V like a pro, delivering up to 6.3A output. Those four USB slots dish out 2400mA at 5V, totaling 3.4A, while the four AC sockets can handle 630W at 100V and a cool 1500W at 240V. This universal travel adapter means serious business when it comes to charging your precious tech.
Buy JMFONE Universal Power Adapter for $15.91 here.
4. MINGTONG Travel Adapter
With four nifty international plug adapters, it's your passport to powering up in over 150 countries. You've got the whole world covered with those handy US/EU/UK/AU plugs.
This Charger Adapter Plug is the power outlet whisperer. It works its magic to fit your plugs but doesn't mess with the electric current or voltage – that's its one job. Safety's its game too, boasting built-in fuse protection, safety shutters that play it cool, and a slick LED power indicator. Two USB ports are in the mix, ready to juice up your iPhone, iPad, Samsung Tab, iPod, smartphones, 5V tablets, Bluetooth speakers, and that trusty headset of yours.
Got some digits for you too: it's got that sweet rated power of 110V~/650W and 220V~/1300W. As for output, it's got a versatile range from 100V to 240VAC at 50-60HZ, maxing out at 6A. But – and here's the fine print – it's your go-to for low-power champs when you're gallivanting.
Buy MINGTONG Travel Adapter for $14.99 here.
5. EPICKA Universal Travel Adapter
Imagine having a travel adapter that's as light as a feather, just 2.6 ounces! This little wonder isn't just about its weight though, it boasts a sleek design that slips effortlessly into your pocket. It's like the ultimate sidekick for your adventures across the globe.
This adapter is a true multitasker. It's got a USB-C, a USB-A port, and even an AC outlet in its arsenal. So, whether you're rocking the latest iPhone, a trusty Samsung, or any Android device, those two USB ports are built for 20W PD/QC fast charging.
The reason why this one of the best and most affordable travel adapters is on our list is that it is built from fire-resistant materials and it's been through the wringer of tests – RoHS, CE, FCC certified. Whether you're on a whirlwind tour or hunkering down for some remote work, this pocket-sized powerhouse is your go-to travel companion.
Buy EPICKA Universal Travel Adapter for $21.99 here.
6. UNILLQSS GaN International Travel Plug Adapter
Incorporating advanced GaN fast charging technology, the UNILLQSS International Plug Adapter takes charging convenience to the next level, offering compatibility with 4 distinct plug types that cater to over 200 countries and regions around the world. With PD20W support on its USB-C ports and QC18W support on its USB-A ports, this one of the best travel adapters with multiple plugs facilitates high-speed charging for multiple devices simultaneously.
Remarkably, this adapter can handle up to 2000W (250V ~ 8A, 2000W Max) of power capacity. Designed with portability in mind, the European Plug Adapter boasts a lightweight construction that easily fits into luggage and backpacks. Crafted from fireproof PC housing and selected phosphor bronze materials, this universal power adapter prioritizes safety. It incorporates an 8A ceramic explosion-proof fuse and a safety gate, guaranteeing comprehensive protection for both you and your valuable devices.
Buy UNILLQSS GaN International Travel Plug Adapter for $21.99 here.
7. RXSQUL Universal International Power Travel Plug Adapter
This versatile travel adapter and converter is designed to be your solution for hassle-free worldwide travel, covering more than 150 countries with its US/EU/AU/UK plug options. With 3 USB-A ports, each delivering a maximum output of 5V 2.4A, and a USB Type C port boasting a 3A/5V output, alongside a universal AC socket, you can juice up a total of 5 devices simultaneously, and at lightning speed, no less.
Safety is paramount when it comes to power, and this adapter takes that seriously. It's armed with a built-in 8.0A overload fuse and an extra 8.0A fuse for your peace of mind. The safety shutter design, along with the Plug Lock System, ensures that everything operates securely.
Buy RXSQUL Universal International Power Travel Plug Adapter for $19.99 here.
8. SAUNORCH Universal International Travel Power Adapter
Designed to cater to the demands of modern devices, the USB-C port is equipped with a 3A/5V output, enabling rapid charging for smartphones and tablets at a remarkable 3-amp rate. Moreover, the USB-C port's compatibility extends to the latest generation USB-C powered phones and tablets, ensuring that you stay connected wherever you go.
The SAUNORCH Universal Travel Adapter takes intelligence to the next level with its built-in Smart IC Chip. This innovative feature adeptly recognizes your devices and intuitively adjusts the current output, optimizing charging speeds. As a result, you can simultaneously charge multiple devices at an elevated pace, enhancing your charging experience.
Buy SAUNORCH Universal International Travel Power Adapter for $19.99 here.
To Conclude
In a world where staying connected is essential, having the right travel plug adapter can make all the difference in keeping your devices charged and ready for your adventures. The options for the best travel plug adapters mentioned above stand out as the best choices for powering multiple devices seamlessly across various outlets worldwide.