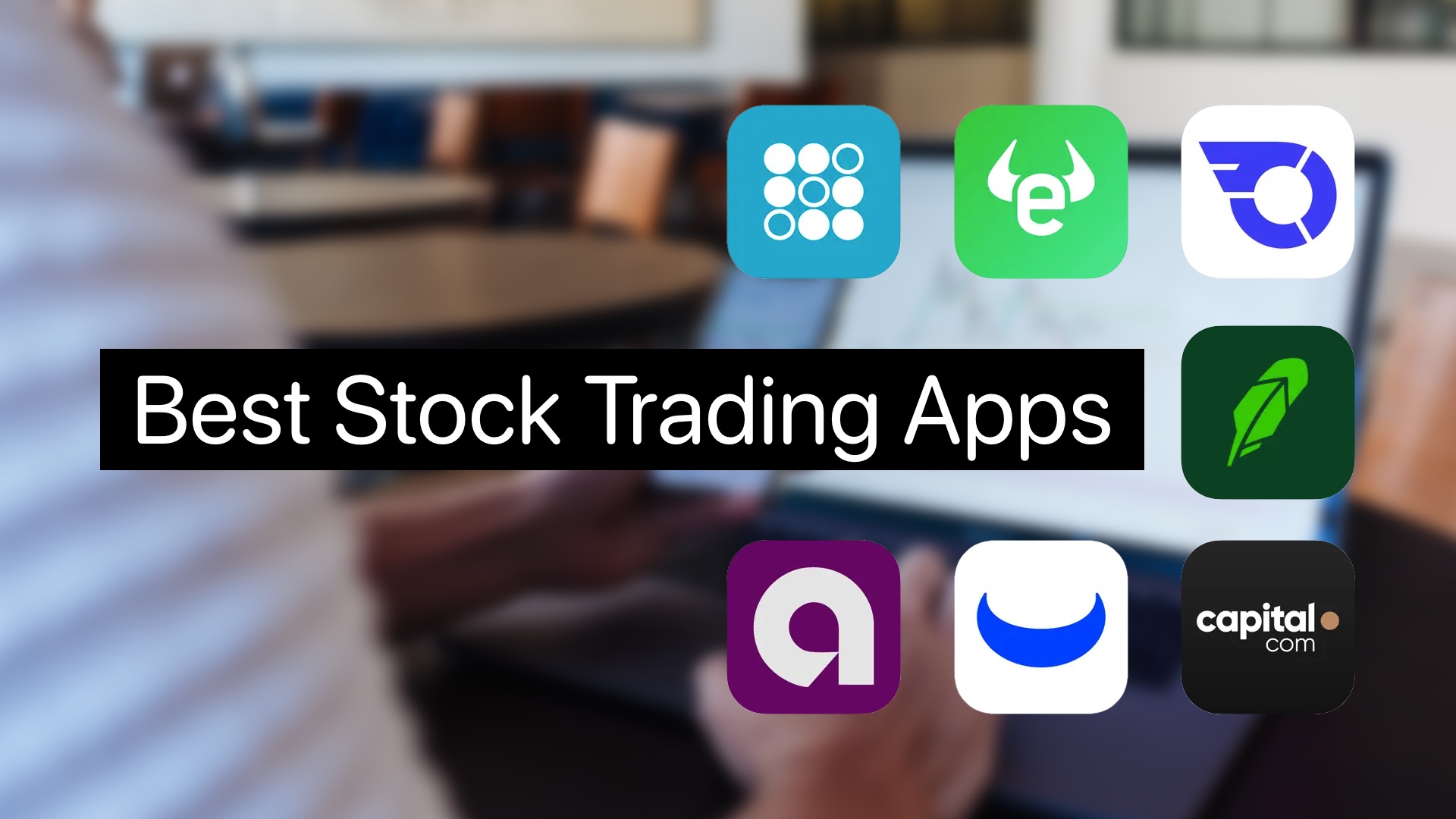 Best Trading Apps For iPhone And iPad
In this blog, we discuss the best trading apps for iPhone that can help you make informed investment decisions, seize opportunities, and build wealth.
Investing in stocks, cryptocurrencies, and other assets has evolved from being merely a smart financial choice into an absolute necessity in today's ever-changing economic landscape. 
The traditional notion of stashing away money in a savings account simply doesn't cut it anymore if you're looking to secure your financial future. That's where the necessity of investment comes into play.
But, keeping tabs on the ever-shifting skies of the financial markets can be a daunting task. That's where investing apps for iPhones come into play.
Maximize Profits with These Free Trading Apps for iPhone
Whether it's stocks, cryptocurrencies, real estate, or a combination of these assets, taking the plunge into the world of investments is a decision that can potentially transform your financial future. Doing so with the help of the best trading apps for iPhone can significantly amplify your chances of success.
1. eToro
eToro is a social stock trading app on iPhone that allows you to follow and copy the trades of experienced investors. It's perfect for those who want to learn from the pros while investing.
One of the best trading apps for iPhone, its ability to invest in the world's most popular US stocks and ETFs with zero commissions is its best feature. Unlike some other apps, eToro ensures transparency by letting you create a diversified portfolio without hidden costs. So, you can invest with confidence, knowing that you're not paying extra fees that can eat into your returns. 
For those interested in the crypto market, eToro is a trusted platform that allows you to buy bitcoin, ether, litecoin, and other top cryptocurrencies without deposit fees. The process is seamless, enabling you to deposit and withdraw funds to and from your bank account with ease.
Download eToro now.
2. InvestEngine 
InvestEngine is an excellent app to trade stocks on iPhone for long-term investors. It provides a range of portfolio options based on your risk tolerance. You can easily set up automated investments and watch your wealth grow over time, making it one of the best trading apps for iPhone.
One standout feature is the absence of buying and selling fees for hundreds of exchange-traded funds from esteemed brands like iShares and Vanguard. This fee transparency means you can invest without worrying about additional costs eating into your returns.
InvestEngine provides two primary investment options to cater to your preferences. If you're inclined to take the reins of your investments, the app offers commission-free DIY portfolios, putting you in control of your financial destiny. Alternatively, if you prefer a hands-off approach, you can opt for managed portfolios that are meticulously crafted and overseen by their team of experts, tailored to suit your unique goals.
Download InvestEngine now.
3. Robinhood
Robinhood revolutionized the trading industry by introducing commission-free investing apps for iPhone. It's great for beginners, offering a simple and intuitive platform.
What makes it one of the best trading apps for iPhone, is that whether you're into stocks, ETFs, or options, you can trade them all without worrying about those pesky commission fees. Plus, you can start investing with as little as a dollar or go big with a thousand bucks
Robinhood sweetens the deal with Robinhood Gold, offering you the chance to earn a substantial 4.9% interest on your uninvested cash, and providing bigger instant deposits, potentially up to $50,000. You can also dive deep into the market with Nasdaq Level II data and Morningstar research to stay ahead of the curve.
When it comes to investing in a more strategic manner, Robinhood's got your back too. Their advanced charts come with technical indicators like moving averages and RSI that can help you identify trends and fine-tune your investing strategies.
Download Robinhood now.
4. Capital.com 
Capital.com is a fantastic iPhone trading app known for its user-friendly interface. With its state-of-the-art technology, you can trade a variety of assets, from stocks to cryptocurrencies. Plus, it boasts an intuitive interface that welcomes both beginners and experienced traders. 
Real-time stock quotes and price alerts keep you in the loop, ensuring you never miss a crucial market movement. Stay updated with live data and set personalized alerts to keep tabs on your favorite assets.
When it comes to analyzing the markets, Capital.com offers an arsenal of tools, including technical indicators, advanced charts, and in-depth analysis options. Whether you're into chart patterns or want to perform in-depth technical analysis, this is the best trading app for iPhone.
Moreover, managing your risks is paramount in trading, and Capital.com understands that. It features a hedging mode and risk management tools to help you protect your investments. 
Download Capital.com now.
5. SoFi
SoFi is not just a free trading app for iPhone, it's a financial super app. Along with trading, it offers services like loans and savings accounts, making it a one-stop shop for managing your finances.
Thanks to its Global Stock Trading feature, you can access over 15,000 U.S. and Hong Kong stocks and ETFs without worrying about commission fees or hidden charges. Plus, the app supports multi-currency deposits and offers in-app FX conversion, ensuring your trades are as seamless as possible, all for just HK$30 per month.
What makes it one of the best trading apps for iPhone is its Robo Advisor – AUTO INVEST feature. Your money is automatically invested into a diversified portfolio using AI technology. Just complete a risk profile questionnaire, and the robo advisor customizes an investment portfolio tailored to your risk tolerance. 
Download SoFi now.
6. Ally
Ally is a versatile iPhone trading app that provides an array of financial services, including trading. It's known for its low fees and user-friendly interface. The app also offers educational resources to help you make informed decisions, making it one of the best trading apps for iPhone.
Ally offers a set of nifty tools to help you save smarter. You can create spending buckets to set aside money for recurring expenses, ensuring you're always on top of your finances. The app makes transferring money, paying bills, and even sending funds via Zelle to anyone with a U.S. bank account a breeze. Plus, depositing checks is as simple as snapping a photo with Ally eCheck Deposit.
When it comes to investing, Ally offers three distinct paths. For those looking for a hands-off approach, Robo Portfolios are your go-to. Want to be more hands-on? Opt for Self-Directed investing. For a more guided experience, Wealth Management provides ongoing advice and a 360° view of your finances.
Download Ally now.
7. Webull
Webull is a feature-rich stock trading app on iPhone that's perfect for active traders. It offers advanced charting tools, technical indicators, and extended trading hours. It's a go-to choice for those who want more control over their trades.
One of the best trading apps for iPhone, with Webull Cash Management, your uninvested cash earns a cool 5.0% APY and comes with FDIC insurance. No fees, no minimum balance requirements.
But, Webull isn't just about trading, it's about intelligent investing. They offer automated portfolio generation and management, powered by AI and expert guidance, tailored to your unique needs. You can invest in your favorite companies and ETFs with as little as $5. And if you want to align your strategy with market benchmarks, their dynamic recurring investment feature is a game-changer.
Download Webull now.
Trade Smarter
Imagine having the power to analyze market trends, execute trades, and monitor your investments in real-time, all from the palm of your hand. That's precisely what these apps to trade stocks on iPhone offer – a seamless, on-the-go experience that puts you firmly in control of your financial destiny.
From beating inflation and building wealth to diversifying your portfolio and preparing for emergencies, the benefits of investing are undeniable. And when you have the power to manage your investments on the go, with real-time information, user-friendly interfaces, and cost-efficiency, the possibilities are endless.
So, why do you need the best trading apps for iPhones? Because they bridge the gap between you and your financial goals.