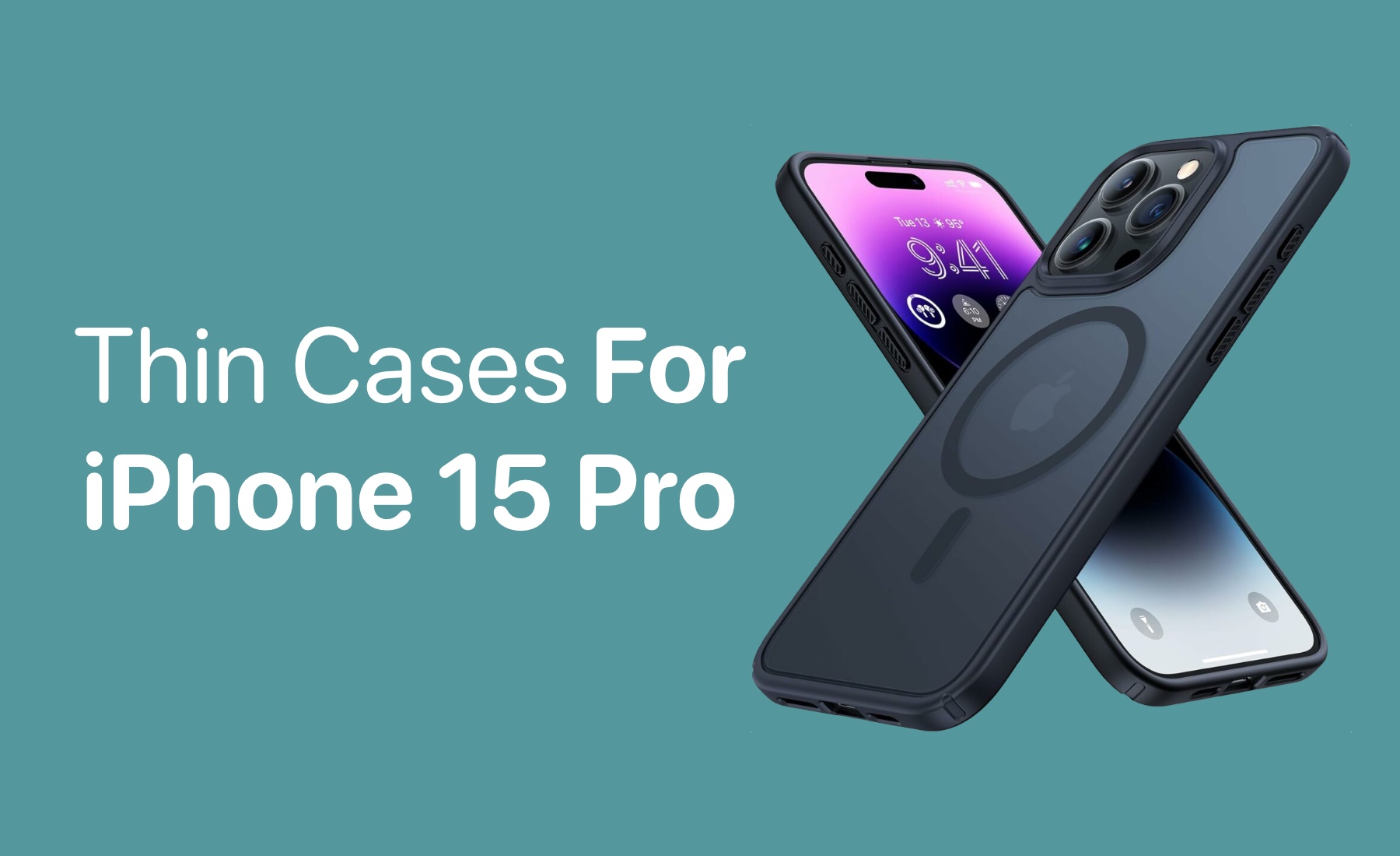 Best Thin Cases For iPhone 15 Pro In 2023
In this buying guide, you will find the best thin cases for iPhone 15 Pro that you can buy in 2023. These amazing cases give your iPhone all-around protection without adding any extra bulk to it.
Are you the proud owner of the iPhone 15 Pro, the shiny new gem in the smartphone world? Well, if you are, you've probably marveled at its sleek design and powerful features.
But here's the million-dollar question: how do you protect this precious piece of tech art without bulking it up like a bodybuilder on a protein shake binge? Fear not because, in the wild world of smartphone cases, we've scoured the market to find the best thin cases for iPhone 15 Pro.
So, grab your beverage of choice and settle in because we're about to embark on a journey through the world of ultra-protective, ultra-stylish, and ultra-thin cases for iPhone 15 Pro that'll keep your iPhone looking fly without adding unnecessary baggage!
Best Thin Cases For iPhone 15 Pro
Here are the best thin cases for iPhone 15 Pro that you can buy in 2023. These lightweight and minimalist iPhone 15 Pro cases protect your device while maintaining a thin profile.
1. Humixx Slim Protective Case
The Humixx iPhone 15 Pro case is packed with cutting-edge technology, including a Halbach magnetic ring structure comprising 38 N52 super-strong magnets. With an impressive magnetic strength of 18N, these magnets are securely locked in place, ensuring a perfect fit for wireless charging and keeping your phone securely attached even during violent shaking.
This case is MagSafe accessory compatible, working seamlessly with magnetic leather wallets/sleeves, the MagSafe Battery Pack, stand wireless chargers, credit card holders, and car mounts.
When it comes to protection, the Humixx case for iPhone 15 Pro is second to none. It features patented U-shaped shock-absorbing airbags inside and outside the four corners, a reinforced soft TPU bumper, and an impact-reducing backplane that can disperse 99% of impact forces. This case has even survived 12,000+ 14FT drop tests to meet military-grade drop standards (MIL-STD-810G 516.6), guaranteeing lasting safety and full-body protection for your phone.
Buy Humixx Slim Protective Case for $20.98 here.
2. TORRAS Slim Fit iPhone 15 Pro Case
If you're on the hunt for an ultra-thin phone case, this is the one. Stylish, sturdy, and top-notch in quality, it's a no-brainer choice. Its slim profile, measuring just 0.03 inches in thickness and weighing a mere 0.65 oz, is a game-changer. Thanks to its clever design and lightweight materials, you'll hardly even notice there's a case on your phone. No added bulk or weight, just pure simplicity for easy one-handed screen operation.
Crafted from premium PC material, this iPhone 15 Pro thin case boasts an unbreakable 4-layer structure, all developed through advanced prototyping under high temperatures and pressure. It's slim yet sturdy, with precision-engineered 1.2 mm lips around the camera and 1.0 mm bezels protecting the screen, preventing scratches, and ensuring reliable protection against daily wear and tear. This case truly combines form and function seamlessly.
Buy TORRAS Slim Fit iPhone 15 Pro Case for $19.99 here.
3. Smartish iPhone 15 Pro Slim Case
Ready for action whether it's facing up or down – no worries there! Thanks to those raised-bumper edges, your phone gets a little lift and protection. It's got textured sides for grip and a smooth back that slips into your pocket without a hitch. And guess what? It plays nice with MagSafe chargers and accessories, thanks to its built-in magnets.
And when it comes to durability, this baby means business. It has been put through a serious test – 50 drops from a height of 6 feet onto concrete, and it came out unscathed. So, who doesn't appreciate that extra cushion of confidence, right?
Buy Smartish iPhone 15 Pro Slim Case for $19.99 here.
4. PITAKA Case for iPhone 15 Pro
This sleek iPhone 15 Pro case is crafted from high-quality 600D aramid fiber, a material trusted in aerospace and military applications. What sets it apart from carbon fiber is that it won't mess with your phone's signal, plus it's non-conductive. So, it's not just stylish; it's also a reliable shield against daily wear and tear, like scratches and color fading.
What's more, it's as light as two half-dollar coins and as slim as a credit card. You'll barely notice it's there, but your iPhone 15 Pro will thank you for the added protection.
And let's talk about grip. This case has been designed with 3D Grip Technology that strikes the perfect balance between smoothness and non-slip security. The chamfered rim on the back not only looks cool and stylish but also ensures a comfortable hold in your hand.
Buy PITAKA Case for iPhone 15 Pro at a price of $59.99 here.
5. TOCOL 3 in 1 Magnetic Case
TOCOL Strong Magnetic iPhone 15 Pro Case has been designed to elevate your iPhone experience! This case boasts a built-in super N52 magnetic ring that aligns flawlessly with MagSafe chargers, delivering stronger, safer, and faster wireless charging. With an impressive 18N super-strong magnetic suction power (125% higher than the official factory standard), your phone stays securely attached, even during vigorous movements.
But that's not all – this Pro shockproof protective case goes the extra mile. Crafted with TPU cushioning and a four-layer structure, it's fortified with 360° airbags that can withstand drops from up to 15 feet. Plus, it features 1.4mm screen bezels and raised 0.88mm lips around the camera hole, providing comprehensive protection against impacts and scratches.
What sets this case apart is the innovative camera surround protection. Unlike other iPhone 15 Pro thin cases, the TOCOL case integrates camera protection seamlessly into the design. The camera frame is elevated by 0.8mm, shielding your precious lens from potential damage without compromising photo quality.
Buy TOCOL 3 in 1 Magnetic Case for $19.99 here.
6. CASEKOO Crystal Clear Case
The perfect blend of style and protection for your new phone. Crafted using top-notch Bayer TPU imported from Germany and cutting-edge AR technology, this case offers unmatched clarity, allowing your phone's unique color and design to shine through with nearly 100% light transmittance. Plus, the "Never Yellow" technology ensures long-lasting transparency.
Worried about scratches and drops? The ultra-slim iPhone 15 Pro case has got you covered with raised 2.5mm lens edges and 1.5mm screen edges, providing robust protection for your camera and screen. And don't overlook the clever 0.5mm raised corner lips on the back, which keep your phone stable when it's lying flat.
Despite its incredible protection, this case is incredibly slim, measuring just 0.04 inches thick and weighing only 0.98 ounces. It preserves your phone's native look and feel while offering a comfortable, non-slip texture on both sides for a secure grip and easy pocket storage. Elevate your iPhone 15 Pro experience with our transparent case – style and functionality in one sleek package.
Buy CASEKOO Crystal Clear Case for $17.99 here.
7. OTOFLY Silicone Slim Thin Phone Case
Crafted from premium liquid silicone and treated with a nano-coating, this case not only feels incredibly smooth in your hand but also resists those pesky smudges. Plus, it's built to withstand shocks, providing excellent protection for your precious phone.
Worried about accidental drops? No need to be! This minimalistic case for iPhone 15 Pro features 1.3 mm raised lips that shield your screen and camera from nasty cracks and surface scratches. And don't fret about your phone's delicate surface – the soft microfiber lining inside ensures it won't get scratched.
What's more, this case maintains an ultra-slim profile that beautifully complements your phone's original design. It won't add any bulk, so you can confidently hold your iPhone 15 Pro without feeling like you're lugging around a brick.
Buy OTOFLY Silicone Slim Thin Phone Case for $14.99 here.
8. SUPCASE Unicorn Beetle Mag Case
Last on our list of the best 6.1-inch iPhone 15 Pro thin cases is Supcase Unicorn Beetle Case. With its tough PC back and shock-absorbent TPU bumper, it's like a suit of armor for your device, ensuring top-notch protection.
Plus, the back cover is crystal clear and practically invincible against scratches. You won't have to worry about unsightly marks ruining the look of your phone.
And when you put your phone face down, those raised bezels step in to save the day. They keep your touchscreen and camera lens safe from any unwanted scrapes or scuffs.
Oh, and don't worry about any inconvenience. This case is designed with precision, so you can easily access all your phone's features, functions, and ports without a hitch. It's like a superhero costume tailored just for your smartphone!
Buy SUPCASE Unicorn Beetle Mag Case for $23.99 here.
To Conclude
The year 2023 has brought a myriad of options for iPhone 15 Pro thin cases, catering to both style and functionality. These lightweight cases for iPhone 15 Pro not only provide the much-needed protection for your valuable device but also showcase the latest trends in design and technology.
As we navigate through the ever-evolving world of smartphones, these iPhone 15 Pro thin cases 2023 stand as a testament to the dedication of manufacturers to creating products that seamlessly blend form and function.