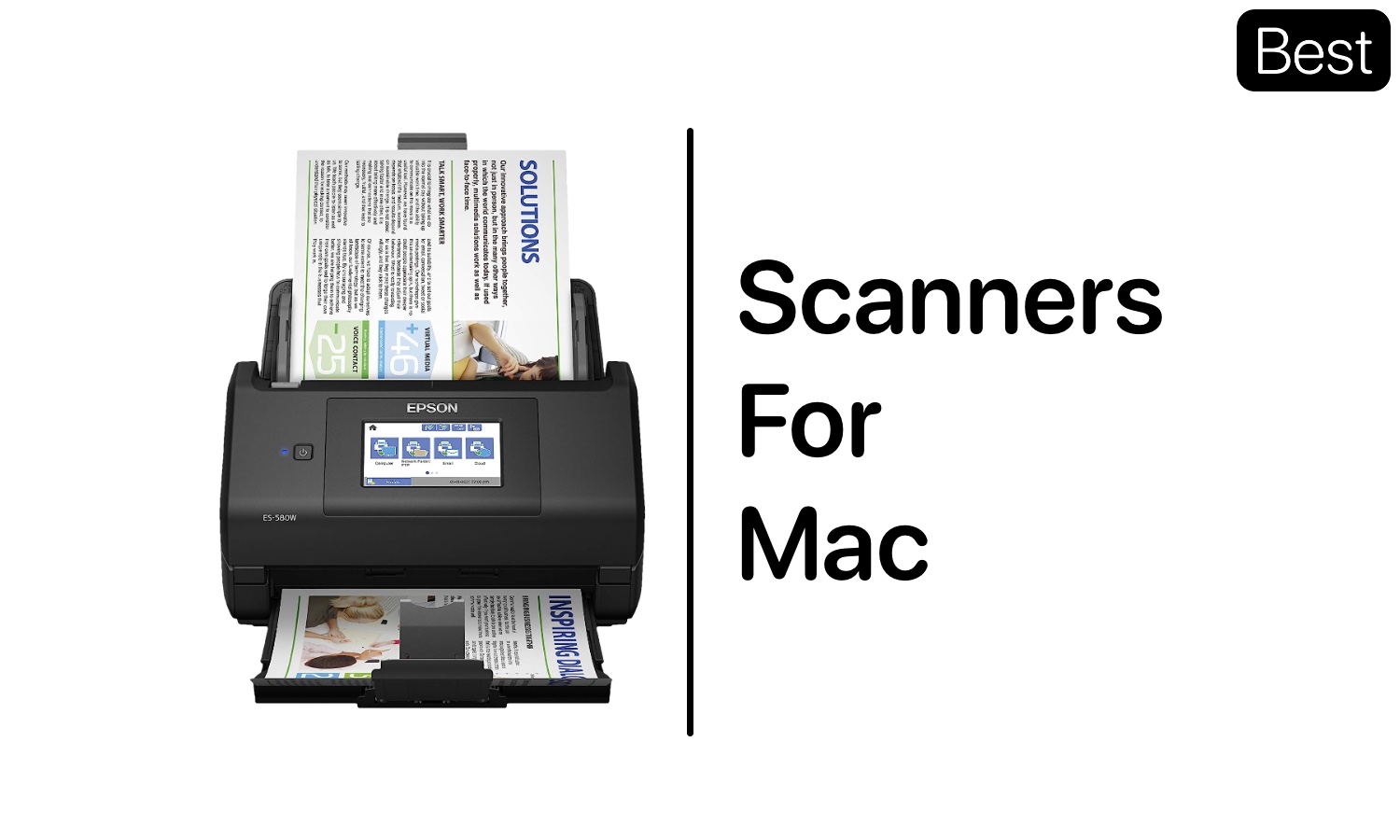 Best Scanners For Mac In 2023
In this article, we discuss the best scanners for Mac that will take your document digitization game to the next level.
Are you tired of the never-ending pile of paperwork on your desk? Want a quick and hassle-free way to digitize all those documents? 
Picture this: you can finally bid farewell to stacks of documents and say hello to a clutter-free workspace. Imagine effortlessly digitizing all your important paperwork, receipts, and photos with just a few clicks. 
Sounds like a dream, right? Well, with the best scanners for Mac by your side, that dream can become a reality.
Whether you're a busy professional juggling multiple projects or a student trying to stay organized, a reliable scanner for Mac can be a game-changer. 
It's like having a personal assistant that magically transforms your physical documents into digital files, making them easily searchable and accessible whenever you need them.
Best Portable Scanners for Mac
We've got the lowdown on the best scanners for Mac in 2023. 
So, if you're tired of the paper chase and ready to embrace the digital age, join us as we explore the top scanners. These little wonders will have you saying goodbye to clutter and hello to digital bliss in no time. 
Let's dive into the world of scanning wonders, specially tailored for your Mac.
1. Epson WorkForce ES-50 Mac Scanner
The Epson WorkForce ES-50 scanner for Mac is a compact and portable option perfect for those on the go. Despite its small size, it delivers impressive scanning speed and quality.
It's the fastest and lightest mobile single-sheet-fed document scanner in its class. This means you can breeze through your scanning tasks with exceptional speed. Incredibly, it can scan a single page in as fast as 5.5 seconds2. Bid adieu to long waiting times and hello to efficient scanning from the best scanner for Mac.
It can handle documents up to 8.5 x 72 inches, as well as ID cards and receipts. Another impressive feature is the included Nuance OCR software that allows you to create searchable PDFs and even editable Word and Excel files.
Buy the Epson WorkForce ES-50 Scanner from Amazon for $99.99.
2. Epson Workforce ES-580W Mac Scanner
If wireless connectivity is a priority for you, the Epson Workforce ES-580W is an excellent choice. The best scanner for Mac, it combines convenience, speed, and advanced features to elevate your scanning experience. 
With a large 4.3″ touchscreen and wireless connectivity, you can effortlessly scan to your smartphones, tablets, computers, and even online cloud storage accounts.
Say goodbye to the tedious scanning of paper stacks with this best document scanner for Mac. The robust 100-sheet Auto Document Feeder handles various paper types and sizes in one go, saving you time and effort.
As for speed, it can scan up to an impressive 35 ppm or 70 ppm using its Single-Step Technology. Plus, you can create searchable PDFs, convert scanned documents into editable Word and Excel files, and integrate with your preferred software solutions.
Buy the Epson Workforce ES-580W Scanner from Amazon for $389.99.
3. Canon imageFORMULA R30 Mac Scanner
The Canon imageFORMULA R30 Scanner offers reliable performance and an easy-to-use interface making it the best scanner for Mac among professionals.
Simply connect the scanner to your Mac using the provided USB cable, and you're ready to start scanning without the hassle of software installation. It reliably scans individual documents or mixed batches, including invoices, contracts, business cards, and more.
With its duplex scanning feature, you can easily scan both sides of a document simultaneously, with this best photo scanner for Mac. With a scanning speed of up to 25 pages per minute and a 60-sheet automatic feeder, you can breeze through your scanning tasks.
What's more, the Canon imageFORMULA R30 comes with built-in software that updates automatically, ensuring you have the latest features and improvements.
Buy the Canon imageFORMULA R30 Scanner from Amazon for $299.00.
4. ScanSnap iX1600 Mac Scanner
The best portable scanner for Mac, ScanSnap iX1600 boasts a large automatic document feeder and reliable scanning speed, making it perfect for high-volume scanning.
With its intuitive 4.3-inch touch screen, scanning and utilizing data becomes a breeze. You can navigate through the scanning process effortlessly, thanks to the user-friendly interface, making it the best scanner for Mac users who may not be tech-savvy.
It supports up to 30 customizable profiles, allowing you to tailor your scanning preferences. Whether you need different settings for various document types or specific workflows, you can easily create and save profiles on the touch screen. 
You can even personalize scanning icons using colors, icons, or letters for quick and easy identification.
Buy the ScanSnap iX1600 Scanner from Amazon for $402.
5. Brother DS-640 Mac Scanner
The Brother DS-640 Mac Scanner offers high-speed scanning and is highly portable, making it ideal for users with limited workspaces.
It can scan both color and black and white documents at a blazing speed of up to 16ppm. You won't have to worry about color scanning slowing you down either, as the color scan speed matches the black-and-white scan speed. 
When it comes to versatility, the DS-640 is the best scanner for Mac that works your way. It supports the Brother free iPrint&Scan desktop app, allowing you to scan to multiple "Scan-to" destinations such as your PC, network, cloud services, email, and OCR.
It automatically detects and adjusts colors, rotates images, prevents bleed-through, removes backgrounds, enhances text, and even has a color drop feature to enhance your scans.
Buy the Brother DS-640 Scanne from Amazon for $119.98.
6. Brother ADS-3300W Mac Scanner
For those seeking a scanner with extensive network connectivity options, the Brother ADS-3300W Scanner is the best-flatbed scanner for Mac worth considering. 
With single and dual-sided scanning speeds of up to 40ppm1, you can quickly digitize your documents without wasting valuable time. Additionally, this scanner has a generous capacity of up to 60 pages, ensuring that you can efficiently handle larger scanning tasks without constant interruptions.
One of the best scanners for Mac, it can effortlessly scan several document types and sizes, accommodating everything from receipts and business cards to legal-sized documents. 
Regarding security, the ADS-3300W features triple-layer security measures to help safeguard sensitive documents. Plus, you can scan directly to your computer or to a USB device. Thanks to its Hi-Speed USB 3.0 connectivity, saving and sharing your scanned files is incredibly convenient.
Buy the Brother ADS-3300W Scanner from Amazon for $359.99.
7. Epson Perfection V19 II Mac Scanner
If you need to digitize photos, slides, or negatives, the Epson Perfection V19 II Scanner is your go-to option. 
With its 4800 dpi optical resolution, this scanner ensures amazing image clarity and detail. Thus, making it the best scanner for Mac users seeking photo enlargements and capturing every intricate aspect of artwork or illustrations.
Its high resolution and built-in transparency unit ensure excellent scanning results for your visual memories. Plus, it's the cheapest document scanner on the list.
You can effortlessly scan a wide range of materials, from photos and artwork to books and documents. Thanks to the one-touch scanning feature, you can accomplish your scanning tasks in just a few simple steps, saving you time and effort.
Buy the Epson Perfection V19 II Scanner from Amazon for $89.99.
Conclusion
To wrap it up, using the best scanners for Mac opens up a world of possibilities for digitizing your documents, preserving memories, and enhancing your productivity.
Gone are the days of rummaging through piles of papers or spending hours manually inputting information. With the right scanner for Mac by your side, you can effortlessly digitize your documents, photos, and artwork with stunning clarity and detail. 
Imagine the freedom of having all your important files neatly organized and accessible at the click of a button. Bid farewell to the chaos of clutter, inefficiency, and wasted time and embrace a brand new era of productivity and organization.