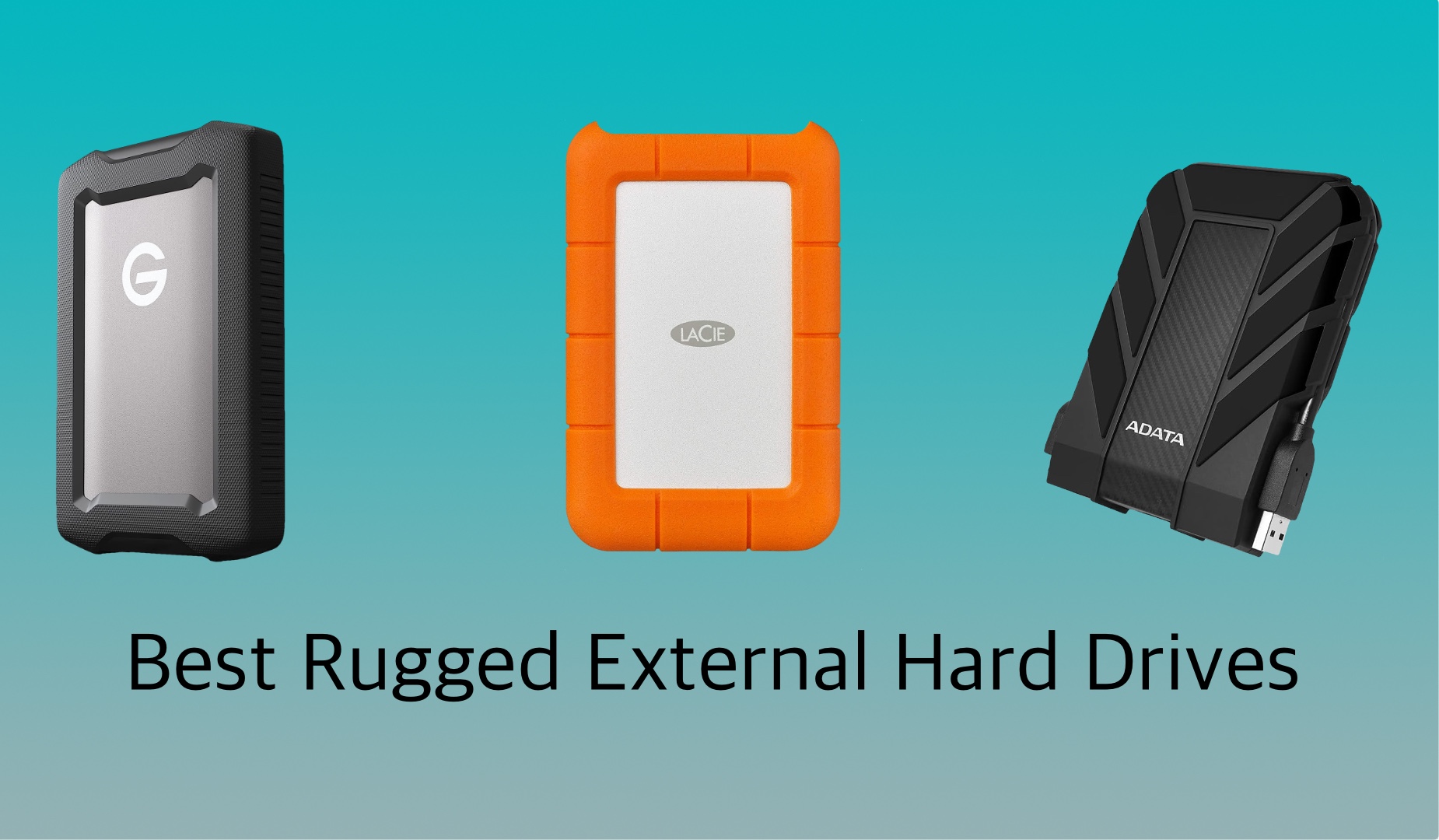 Best Rugged External Hard Disks For Mac Users In 2023
In this roundup, we're diving into the best rugged external hard drives that are a match made in tech heaven for your beloved Mac in 2023. So, buckle up because we're about to take you on a tour of durability, performance, and peace of mind!
Tired of playing hide-and-seek with your precious data every time your external hard disk takes a tumble? We feel you. In a world where our digital lives can be as bumpy as a rollercoaster ride, having a rugged external hard drive is like giving your data a suit of armor.
Whether you're a photographer, a filmmaker, a student, or just someone who's been burned by data loss one too many times, we've got your back.
Best Rugged External Hard Drives
Here are some of the best rugged external hard drives that you can buy for your Mac. These hard drives are rough and tough and can survive a drop or two without losing your data.
1. LaCie Rugged Mini 2TB External Hard Drive
Imagine having the ability to carry a whopping 2TB of data with you wherever you go, all neatly packed into the ultra-compact LaCie Rugged Mini portable hard drive. Not only does it let you effortlessly connect to computers using USB 3.0, but it also zips through data transfers at speeds reaching up to 130MB/s. And the best part? Thanks to its rugged design that can handle drops, crushes, and even rain, you can take it on any adventure without worry.
But that's not all – this incredible hard drive comes with a bonus treat. You'll get a complimentary one-month membership to the Adobe Creative Cloud All Apps Plan, granting you access to fantastic photo and video editing apps. And if you're in it for the long haul, the drive also comes with a reassuring two-year warranty, giving you peace of mind for the road ahead.
Buy LaCie Rugged Mini 2TB External Hard Drive for $96.65 here.
2. SP Silicon Power 2TB Rugged Portable External Hard Drive
What makes the Armor A60 stand out is its ultra-rugged rubber casing and internal suspension system. These features work together to provide an impeccable buffer effect and ensure strong protection against accidents like crushing, exposure to dust, and even water splashes.
You'll love the smart slot design for easy cable management and storage. The Armor A60 also boasts a unique surface texture that prevents slipping and shields the drive from unsightly fingerprints and annoying scratches.
And let's talk about speed – with its SuperSpeed USB 3.0 interface, the Armor A60 delivers lightning-fast performance. This means you can swiftly transfer massive files, whether high-definition videos, photos with incredible resolution, or a large pile of documents, all within seconds.
Buy SP Silicon Power 2TB Rugged Portable External Hard Drive for $68.97 here.
3. SanDisk Professional 5TB G-DRIVE ArmorATD
Looking for a snappy solution to back up and store your files? Check out this USB-C (5Gbps) drive – it's like the superhero of storage!
And guess what? It plays nice with USB 3.0 and USB Type-C, so it's ready to connect to your tech, no matter the port. But it's not just about brains; this drive's got brawn too. The exterior is encased in premium anodized aluminum, giving you a sense of strength every time you hold it.
Concerning protection, this best external HDD for Mac is like a fortress for your data. With triple-layer shock resistance, it's your files' bodyguard. Rain or dust? Not an issue – its IP54 rating keeps those nasties out. And did we mention it can withstand a 1000lb crush? Yep, this drive takes toughness to a whole new level.
Buy SanDisk Professional 5TB G-DRIVE ArmorATD for $169.99 here.
4. Silicon Power 2TB Rugged Portable External Hard Drive
Following U.S. military drop-test standards, the Armor A30 incorporates silicone material to fortify its most vulnerable corners. This robust construction extends from the internal framework to the external casing, providing an additional layer of defense against impacts and jolts.
The Armor A30 boasts a unique hexagonal pattern across its surface, enhancing its resistance to scratches and minor abrasions.
An ingenious slot design has been implemented to facilitate cables' easy carrying and organized storage. This feature allows you to coil cables around the drive effortlessly.
With its SuperSpeed USB 3.0 interface, the Armor A30 delivers remarkable speed performance for swift transfers of substantial files, including Full HD videos, high-resolution photos, and extensive document collections – all accomplished within seconds.
Buy Silicon Power 2TB Rugged Portable External Hard Drive for $70.99 here.
5. ADATA HD710 Pro 4TB USB 3.1 IP68
Catering to the needs of outdoor enthusiasts seeking rugged devices to document their escapades while ensuring data preservation, the HD710 PRO presents a distinct edge over alternative external hard drives. Encased in a blend of sturdiness and style, this device offers a compelling proposition at an appealing price point.
Pushing the envelope of external hard drive resilience, the HD710 Pro surpasses the benchmarks set by IP68 for dust and waterproof capabilities and excels in military-grade shock resistance. This feat is achieved through a three-tiered protective design—a critical feature for those actively engaged in adventurous pursuits.
With an extensive storage potential of up to 4TB, the HD710 Pro stands as the ultimate companion, safeguarding your precious content whether you're delving into deep-sea dives, traversing challenging hiking trails, pedaling along demanding bike routes, or simply embarking on a stroll.
Buy ADATA HD710 Pro 4TB USB 3.1 IP68 for $99.99 here.
6. Transcend 2TB USB 3.1 Gen 1 Rugged External Hard Drive
Featuring a convenient one-touch auto-backup button, the StoreJet 25M3 allows you to safeguard your data with a single press effortlessly. This button also facilitates easy reconnection of the hard drive to your PC without the hassle of unplugging and reinserting.
Transcend Elite is an advanced data management software that effectively organizes, secures, and updates your crucial files. Complementing this, RecoveRx serves as a data recovery utility, delving deep into your storage device to trace erased files, encompassing digital photos, documents, music, and videos.
Transcend's external hard drives are meticulously constructed to meet the highest standards and undergo rigorous testing, guaranteeing exceptional quality, performance, and dependability. These products safeguard your data and seamlessly complement your refined preferences.
Buy Transcend 2TB USB 3.1 Gen 1 Rugged External Hard Drive for $80 here.
7. G-Technology 5TB ArmorATD External Hard Drive
G-Technology's ArmorATD drive – a resilient, all-terrain drive designed to safeguard and preserve your invaluable footage, whether captured amidst the rugged wilderness or within the controlled environment of your studio. With the ArmorATD drive by your side, you can finally rely on a rugged storage solution that mirrors your unwavering reliability.
Manifesting rain, dust, and crush resistance rated at an astonishing 1000lbs, this rugged lineup encompasses an array of options, from portable high-capacity HDDs to professional-grade SSDs, meticulously tailored to harmonize with your distinct requirements.
This one of the most reliable external hard drives boasts shock resistance capabilities of up to 1.2 meters on a carpeted concrete floor for 1TB and 2TB capacities. Similarly, for capacities of 4TB and 5TB, the shock resistance extends to up to 1 meter on a carpeted concrete floor.
Buy G-Technology 5TB ArmorATD External Hard Drive for $239.00 here.
To Conclude
All these high-performance and the best rugged hard drives in 2023 combine robust construction with advanced data protection features, ensuring seamless compatibility with Mac systems while providing peace of mind for users on the go. Whether for professionals in demanding fields or individuals seeking extra durability for their data storage, these rugged external hard disks present top-tier choices that prioritize performance and resilience in adverse conditions.