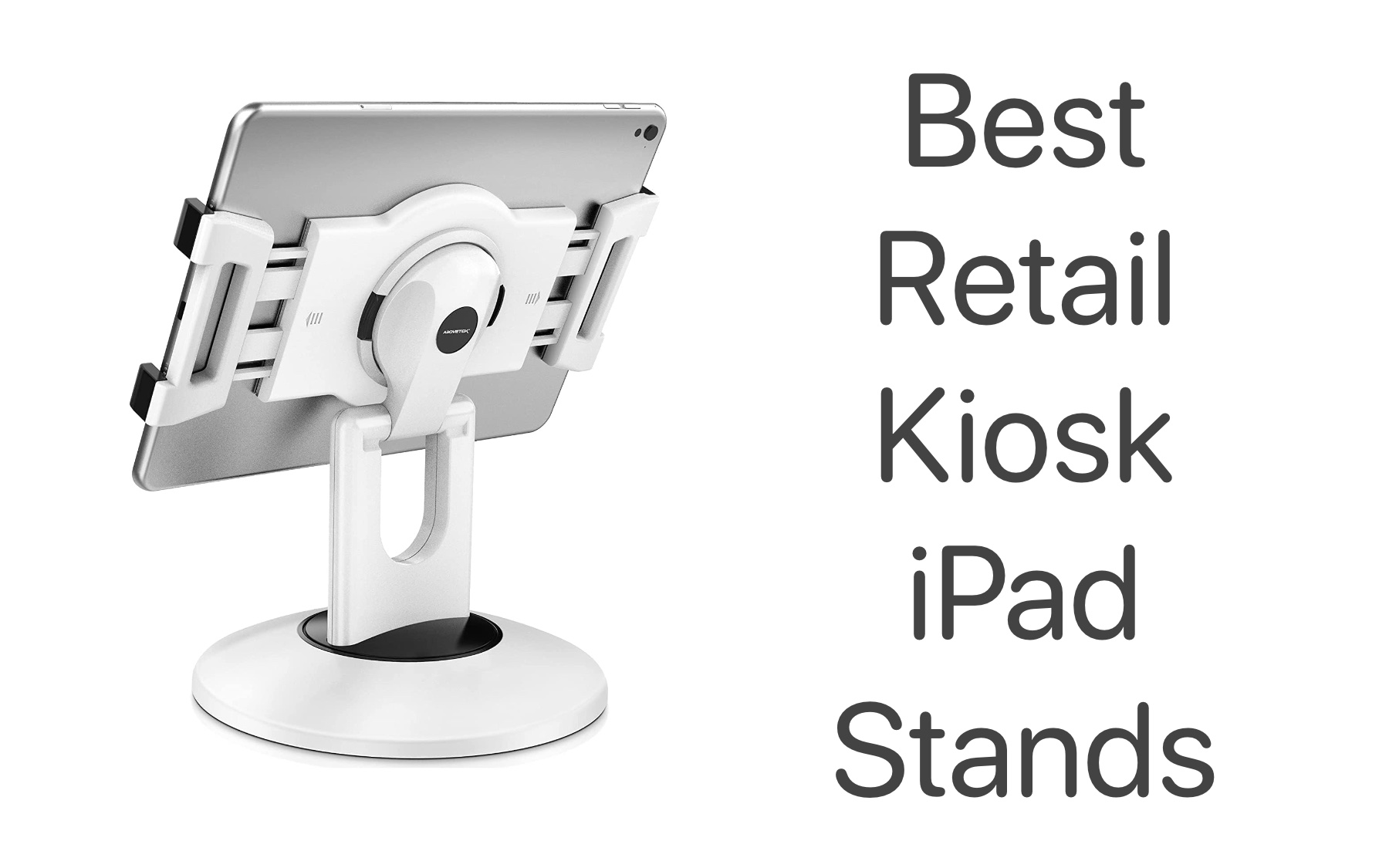 Best Retail Kiosk iPad Stands To Buy In 2023
In this buying guide we have highlighted some of the best retail kiosk iPad stands that money can buy in 2023. These Kiosk stands allow retailers and business owners to safely place an iPad on a sales or catalog kiosk.
In the age of smart everything, why not smarten up your shopping experience too? Say hello to the best retail kiosk iPad stands, the sleek companions that'll make your shopping trips smoother than a well-polished floor.
We've scoured the market for the coolest, sturdiest, and most stylish stands to grace your tablet, leaving your hands free to do what they do best: shop 'til you drop. But first, find out how and read this article!
Best Retail Kiosk iPad Stands
Here's the list of best retail kiosk iPad stands that you can buy right now.
1. AboveTEK Retail Kiosk iPad Stand
Imagine having the ultimate flexibility in adjusting your tablet display – it's like having a magician's toolkit for finding the perfect angle! With its 360° rotatable base and tablet bracket holder, along with a super-convenient folding arm, this gadget lets you tweak and twist your tablet for typing, showing off, or anything in between. No need to worry about missing any view – it's got you covered!
Switching things up has never been easier. Need to show the screen to a customer? Bam, just give it a quick spin – from the cashier's perspective to the shopper's view in a blink. And landscape to portrait mode? Yep, you can do that too, quicker than a snap.
This nifty contraption comes with two rubber-padded bracket holders – they're like the perfect hug for your tablet. Whether you've got a petite 6-incher or a larger 13-inch tablet, or any gadget with dimensions between 6.6 and 9.6 inches, this iPad retail kiosk stand is the perfect match.
Buy AboveTEK Retail Kiosk iPad Stand for $39.99 here.
2. AboveTEK Business Kiosk Aluminum Tablet iPad Stand
With a 360° rotatable iPad stand and a folding range of 220°, you get unparalleled adjustment options. This means you can easily switch between typing and showcasing modes without missing any viewing angles. Swiftly flip the display to cater to cashiers or shoppers, or switch between landscape and portrait modes in an instant.
Additionally, the AboveTEK iPad stand features user-friendly wire holes that grant easy access to charging ports for your smartphones and tablets while they're in use. This means your devices stay charged and ready at all times.
The sturdiness of the heavy base ensures a wobble-free structure and exceptional stability. Meanwhile, the tablet holder/arm offers smooth, light turning, boosting efficiency even in bustling settings. The rubber padding on both the bracket holder and the base provides robust protection for your device, ensuring a polished and professional presentation.
Buy AboveTEK Business Kiosk Aluminum Tablet iPad Stand for $33.99 here.
3. Mount-It! Anti-Theft iPad 8 Kiosk Stand
Experience the ultimate convenience with an easy-tilt iPad kiosk, which effortlessly switches between portrait and landscape modes. Use your iPad the way it's meant to be used, adjusting the screen orientation to perfectly suit any app you're working with.
Rest easy knowing that your iPad is safeguarded with a tamper-proof enclosure. This secure case ensures that power and volume buttons are accessible only through designated pin-hole access, while a removable home button blocker adds an extra layer of protection.
But that's not all – this portable iPad stand also boasts efficient cable management, making it a perfect fit for any countertop setup. And if stability and security are your concerns, you can easily bolt down the wide base for added peace of mind.
Buy Mount-It! Anti-Theft iPad 8 Kiosk Stand for $64.99 here.
4. Beelta Tablet Kiosk POS Stand
This best iPad stand for Shopify POS features a 360° swivel base in landscape mode, making it a breeze for your customers to conveniently sign for their orders. Not only does it offer smooth rotation, but it's also designed for security – tablets are held snugly in place when mounted with screws. Plus, it's Kensington lock compatible (lock not included) for that extra layer of protection.
Want flexibility? Stick the double-sided sticker beneath the swivel base for a stable swivel action. Or, if you prefer a fixed setup, use the provided screws to mount it to your table.
But that's not all – this stand isn't just a stand. It's your small business's ultimate sidekick. Partner it with a Square card reader and POS software, and you've got yourself a powerful replacement for your traditional cash register and checkout system. So, if you're a small business owner, this stand was tailor-made with you in mind!
Buy Beelta Tablet Kiosk POS Stand for $74.99 here.
5. AboveTEK Anti-Theft iPad Kiosk Stand 
This iPad kiosk stand boasts a reliable lock and key system, guaranteeing your tablet's safety and security in any retail or business scenario.
What sets this iPad kiosk stand apart is its flexibility. It can effortlessly rotate 360 degrees and tilt up to 75 degrees, ensuring the best possible viewing angles whether you're using the tablet in portrait or landscape mode.
For environments with bustling foot traffic, this anti-theft iPad stand comes with a heavy-duty design, featuring a solid metal base. This not only offers unmatched durability but also stability, granting you peace of mind, particularly in high-traffic areas. This way, your retail kiosk or tablet stand maintains a polished and professional appearance at all times.
Installing this locking iPad stand is a breeze thanks to its predrilled holes, making countertop setup quick and hassle-free. Plus, the stand includes a built-in cable management system, ensuring that your workspace remains tidy and organized – no tangled cords in sight.
Buy AboveTEK Anti-Theft iPad Kiosk Stand for $72.99 here.
6. Pyle Anti Theft Tablet Security Stand
The Pyle universal tablet stand goes beyond convention with its versatile countertop desk and table mount design. It can be effortlessly installed on a variety of flat surfaces such as desktops, countertops, tables, and counters. Everything you need for installation, including the required mounting hardware and brackets, is included.
Experience the convenience of a tablet stand that prioritizes flexibility. This anti-theft rotating display stand allows for a 90° rotation, enabling both portrait and landscape tablet orientations. With a smooth and effortless 75° tilt feature, you can easily adjust the tablet's angle. Additionally, the stand provides easy access to the front-facing camera, and you have the choice to enable or disable access to the home button.
The Pyle tablet stand offers a fully secured case that ensures your iPad is kept safe while allowing for quick removal when needed. For a tidy appearance, the iPad stand for business lets you conceal and guide the cable through it, maintaining an organized and streamlined look.
Buy Pyle Anti Theft Tablet Security Stand for $62.99 here.
To Conclude
With innovative features, sturdy designs, and seamless integration, these stands redefine the shopping experience and empower businesses to engage customers in a dynamic and interactive manner. Whether enhancing customer service, streamlining transactions, or showcasing products, the top iPad stands with 360 degree turn of 2023 stand as a testament to the evolution of technology in modern retail, promising a more efficient and captivating future for both retailers and consumers alike.