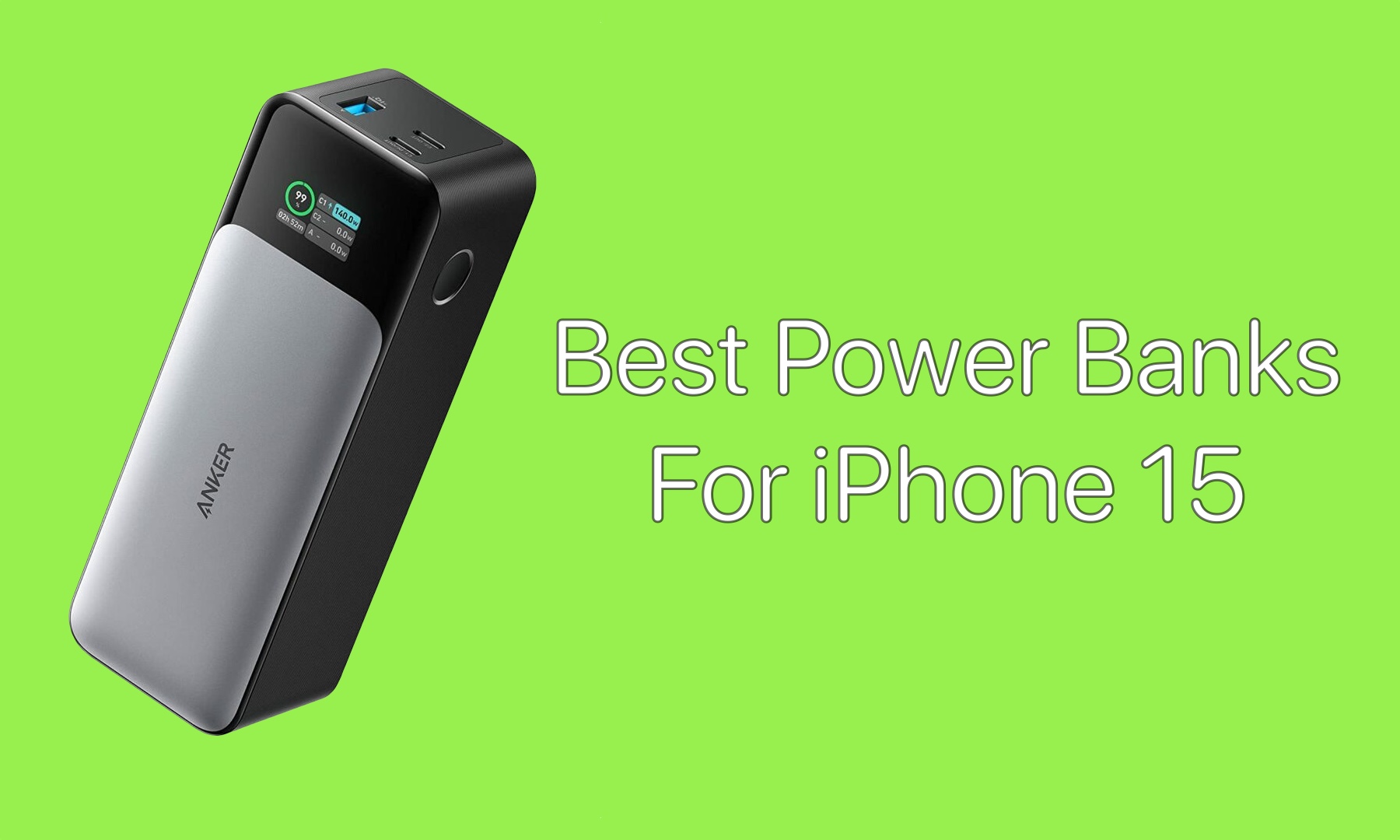 Best Power Banks For iPhone 15 In 2023
If you're reading this, chances are you're already rocking the latest and greatest iPhone 15, and we applaud your tech-savvy style. We all know that this powerhouse of a smartphone can do just about anything, but let's face it: it's got a thirst for power that rivals a marathon runner on a hot day.
That's where power banks come to the rescue! In 2023, the world of portable chargers has evolved, and we're here to guide you through the best power banks for iPhone 15, iPhone 15 Plus, iPhone 15 Pro, and iPhone 15 Pro Max.
Whether you're a social media mogul, a gaming guru, or just someone who can't resist binge-watching cat videos, we've got the lowdown on the best power banks that'll keep your iPhone juiced up and ready for action. So, let's dive in and make sure you never run out of battery in the middle of a Netflix cliffhanger again!
Best Power Banks For iPhone 15
Here are the best power banks that you can buy for your iPhone 15, iPhone 15 Pro, iPhone 15 Pro Max, and iPhone 15 Plus. These powerful and high-capacity power banks are perfect for all your travel needs.
1. Anker Power Bank
First off, this power bank has the latest Power Delivery 3.1 and bi-directional technology. What does that mean? Well, it means it can recharge itself super fast or give you a whopping 140W of power when you need it. So, whether you're in a hurry to juice up the charger or your devices, it's got you covered.
And the cherry on top? A smart digital display. It's like having a mini power station in your pocket. This display is user-friendly, showing you the power going in and out and even estimating how long it'll take for the charger to get back to full strength.
Speaking of strength, this beast comes with a 24,000mAh battery capacity. That's enough to charge your iPhone 15 Pro Max almost five times.
Buy Anker Power Bank for $149.95 here (ongoing $99 limited-time deal!).
2. UGREEN 145W Power Bank 
Imagine this: PD3.0, QC3.0, and a whopping 145W charging speed! That's right, it can fully juice up your iPhone 15 Pro Max in just 90 minutes. With its generous 25,000mAh battery, it can recharge laptops up to 1.3 times and mobile devices up to 5.6 times.
The best part? You won't be stuck waiting for ages to replenish the power bank itself. A mere 2 hours with a 65W PD charger, and it's good to go again. But here's the kicker – this bi-directional technology lets you fast charge your devices while simultaneously turbo-charging this portable powerhouse.
And don't worry about playing guessing games with your battery life. The LED digital display shows you exactly how much juice is left in the tank so you can stride out into the world with confidence.
Buy UGREEN 145W Power Bank for $149.99 here.
3. INIU Portable Charger
INUI offers the best USB-C power banks for iPhone 15 Pro Max, and this one is no exception! It is equipped with the latest global USB-C standard, serving as both input and output. This means you can quickly refill the charger, and it's a perfect fit for your newest iPhone.
INIU's 10000mAh power bank is the slimmest on the market, making it a breeze to slip into any pocket or bag. You'll enjoy a whole day's worth of charging power, enough to top up your iPhone 8 3.6 times. But here's the real game-changer: this portable charger isn't just for the big guys. It works seamlessly with smaller accessories like AirPods, Bluetooth headphones, fitness trackers, smartwatches, and more.
Buy the INIU Portable Charger for $17.99 here.
4. QiSa Power-Bank-Portable-Charger
With its Type-C port supporting PD30W fast output and input, your iPhone 15 Pro Max will be juiced up in no time. And that's not all – the USB-A port supports 22.5W QC4.0 fast charging output, while the micro USB supports 18W fast input.
What's more, this one of the best iPhone 15 Pro Max power banks comes with a built-in 5V3.1A Type-C output cable and an iPhone output cable—no more messy, tangled cables to deal with. You can charge multiple devices quickly and conveniently with these built-in cables, making it perfect for sharing with friends.
And speaking of capacity, this power bank packs a whopping 40000mAh of power. It uses lithium polymer cells, which not only make it more compact but also safer.
Buy QiSa Power-Bank-Portable-Charger for $29.99 here.
5. MOVE SPEED Laptop Power Bank 
With compatibility for "PD3.0" and "QC4+", this powerhouse delivers an ultra-fast charging experience, maxing out at a whopping 130W. Need to juice up your iPhone 15 Pro Max in a hurry? No problem! You can zap it up to 50% in just 35 minutes.
But here's the kicker: this external battery power bank isn't just about giving your gadgets a boost; it recharges itself at warp speed, too. Despite its hefty 25000mAh capacity, it can hit 100% in as little as 1.5 hours – that's 4 times faster charging for you!
This UL-certified portable battery bank is designed to be your trusty sidekick. Move Speed has carefully selected top-notch batteries and equipped them with the "SpeedLock" AI chipset, achieving the ultimate safety performance. It's a champ when it comes to safety, complying with the UN38.3 standard and featuring a "safety protection function" that's got you covered against nine potential mishaps like overcharging, over-discharging, overheating, and short circuits.
Buy MOVE SPEED Laptop Power Bank for $109.99 here.
6. GOODaaa Power Bank
This solar charger is a multitasking champ! It boasts 4 ports (including iOS and USB A inputs, USB C input/output) and delivers speedy 5V/3A charging to save you time. With 4 charging cables and wireless charging, you can juice up 6 devices at once – perfect for sharing with family and friends.
With a hefty 36000mAh premium Li-polymer battery, this solar power bank can recharge your gadgets multiple times over. Plus, it's super easy to recharge itself using an adapter or soaking up some solar rays. And don't worry about safety – it's got a smart protection IC chip to keep things running smoothly.
This solar battery pack is built to handle the great outdoors – it's waterproof, shockproof, and dust-proof. Plus, it has dual super bright LED lights, making it a must-have for outdoor adventures and those unexpected home emergencies.
Buy GOODaaa Power Bank for $39.99 here.
7. Anker Portable Charger
Next on our list of the best portable chargers for iPhone 15 Pro Max is Anker's portable charger.
Anker's got some nifty tech up its sleeve! They've cooked up a unique combo of PowerIQ and VoltageBoost to give your gadgets the perfect charge. Plus, if you've got those little low-power accessories, the trickle-charging mode is like a gentle spa day for them.
And hey, you can multitask like a champ with this bad boy. It's got two USB ports so that you can juice up two devices at once. But, just a heads-up, the USB-C port is a bit of a lone wolf; it won't charge other gadgets.
When it's time to refuel the PowerCore, you've got options. There's both a USB-C and a Micro USB input port. If you plug it into a 10W charger, it'll be back to full power in about 10.5 hours. But if you're using a 5W charger, be ready to wait around for roughly 20 hours.
Buy Anker Portable Charger for $49.99 here.
To Conclude
As we enter 2023, the market is teeming with many innovative and reliable power banks designed specifically for the iPhone 15 Pro Max.
These iPhone 15 Pro Max portable power banks have truly revolutionized our on-the-go charging experience. With advancements in technology, we can now enjoy faster charging speeds, higher capacity, and enhanced portability.
As we embark on another year of technological evolution, these 2023 power banks for iPhone 15 continue to demonstrate their indispensable role in keeping our devices powered up, ensuring that we stay connected and productive in our fast-paced lives.