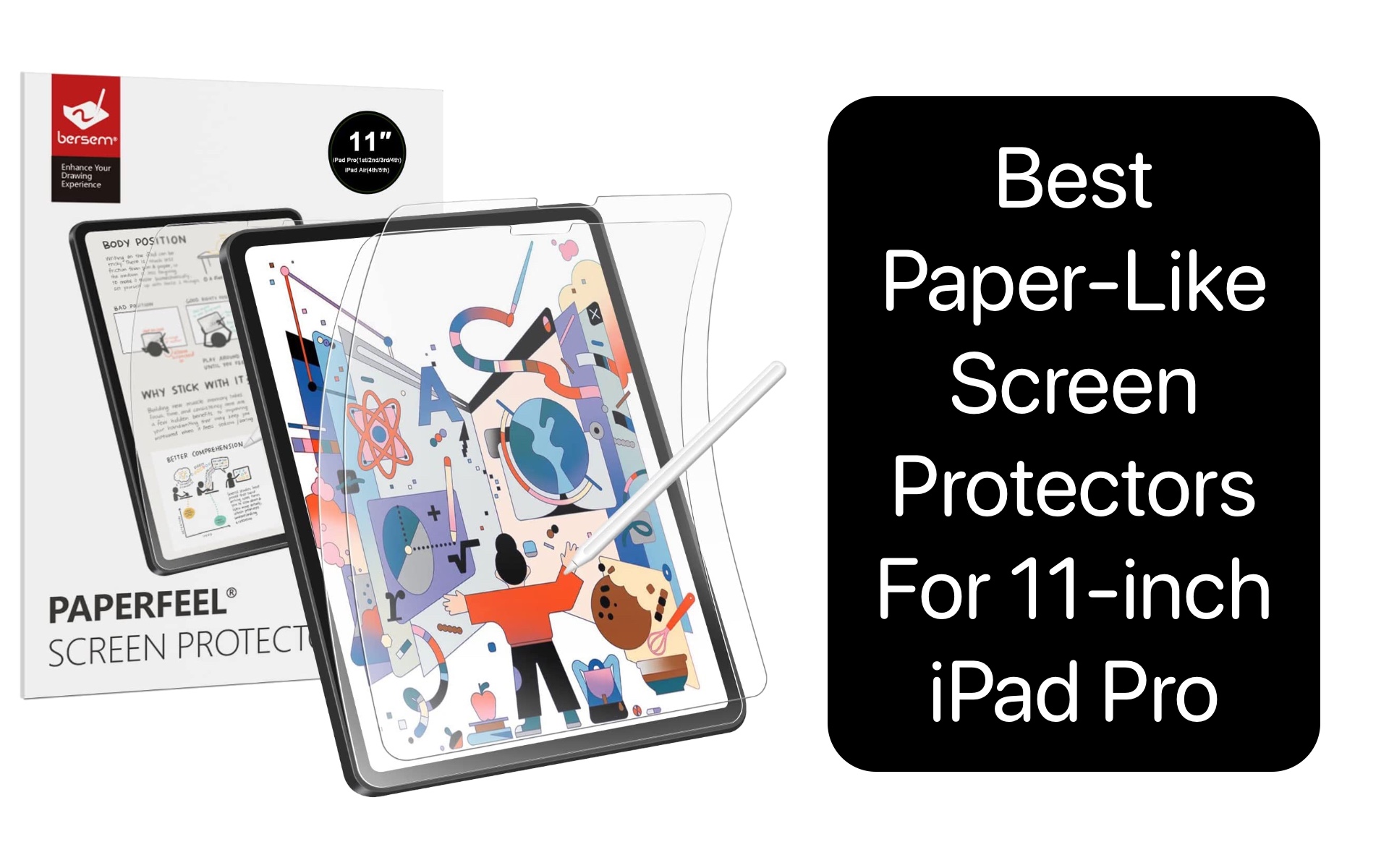 Best Paper-Like Screen Protectors For 11-Inch iPad Pro
Here you will find a list of the best paper-like screen protectors for 11-inch iPad Pro that you need to consider buying in 2023. A paper-like matte screen protector for iPad Pro gives your tablet's screen a paper-like feel, which feels great when you are using an Apple Pencil with your device.
Having a nice paper-like protector on the 11-inch iPad Pro's screen is essential for anyone who wants to get the most out of their Apple Pencil while also protecting the iPad Pro's screen.
Ensure you invest in a high-quality matte protector for iPad Pro 11-inch before ordering or purchasing your fancy new tablet so you won't have to replace it within days of purchase.
Paper-Like Screen Protectors for 11-Inch iPad Pro
To keep your new iPad safe, we've selected the best screen protector that feels like Paper for you. Both expensive and rugged protectors and affordable film-based protectors are included in the list to meet every budget.
1. PaperLike Matte Screen Protector
When drawing, writing, and painting on iPad, professionals use Paper-like screen protectors to improve precision and detail. Providing long drawing sessions, smooth lines, and perfect accuracy, this iPad screen protector has the natural feel and resistance of paper.
By adding friction to the iPad glass, Paper-like makes note-taking easier than ever for college students, business professionals, and productivity experts.
In addition to being designed for Apple Pencil 1 and 2, Paper-like is compatible with other Stylus Pens. With an expertly designed surface texture, you will get less wear and tear on your pencil tips by reducing natural erosion. You'll always recognize strokes between your iPad and Apple Pencil in this iPad screen protector because it's thin enough.
With Paper-like, you'll get reduced reflections and an anti-glare display without spoiling your view. The screen's colors will always be pixel-perfect with nanodots since light scatters at both incoming and outgoing angles; Paper-like doesn't interfere with Face ID authorization, either. It reduces scratches and fingerprints.
Buy PaperLike Matte Screen Protector for $39.99 here.
2. BERSEM Paperfeel Screen protector
The Paperfeel film is ultra-thin and maintains the same touch sensitivity as your iPad 11 Pro screen. With the new generation of products, you won't wear down the pencil nib when drawing and writing, and they have no colorful points and rainbow lines on the surface so that long-term use won't cause dizziness and eye discomfort. The color and definition of the original screen remain the same.
It doesn't cover the camera, ensuring all functions work properly. The Face ID on the iPad Pro 11 Inch Paperfeel film responds quickly and accurately.
The Paperfeel film can easily be installed on iPad Pro 11 inches if you follow the BERSEM installation method and video. 
Buy BERSEM Paperfeel Screen protector for $7.98 here.
3. KCT Paperfeel Screen Protector
The Paperfeel Screen Protector works well with Apple pencils and styluses. Ensure your pencil nib does not wear down while drawing and writing. Apart from that, the new generation of products uses special processing on the surface, creating a feeling similar to that of real paper, reducing dizziness and eye discomfort and protecting your screen from scratches. The screen protector will maintain the maximum clarity of the original color and definition of the screen.
The highest quality Japanese film material is used in this screen protector. The texture of the paper surface suppresses light reflection. Despite the bright sun, your screen serves as an ideal reading companion and journal.
The unique texture makes the screen easier to clean, effectively decreasing fingerprints and oil residues.
Ideal for people who use Apple Pencil or another active stylus to paint. This product has a perfect texture to eliminate natural erosion of the tip.
Buy KCT Paperfeel Screen Protector for $7.98 here.
4. XIRON Matte PET Film
Xiron matte PET film paper screen protector for iPad air 5/iPad air 4/iPad Pro 11 inch offers the same feel and touch you get by writing on paper.
The anti-glare feature suppresses light reflections, allowing you to quickly draw, sketch, and write under bright sunlight.
The 3H hardness and self-adhesive design make pushing out bubbles easy and protecting your daily scratches easy. Moreover, this ultra-thin paper screen protector keeps the iPad Pro 11″ sensitivity intact.
Buy XIRON Matte PET Film for $7.99 here.
5. ESR Paper-Feel Magnetic Screen Protector
Using a magnetic attachment, you can easily attach the screen protector to your screen to experience the authentic paper feel. After you're done, remove it so that you can enjoy watching videos or FaceTiming your family with a flawless display on your iPad.
You can make notes or mark up documents just like in an actual notebook with a pen or pencil. 
With its specially-treated surface, your tablet will become a digital canvas or notebook with high precision.
The ultra-thin surface ensures excellent resistance with less nib abrasion while maintaining smooth, complete lines with full control.
Buy ESR Paper-Feel Magnetic Screen Protector for $19.99 here.
6. Bellemond Japanese Paper Screen Protector
 Compared to leading brands, Bellemond's Paper Screen Protector performs better in every aspect. 
Specifically designed for Apple Pencil users, BELLEMOND's Paper screen protector is made of high-quality, Japanese-made PET material for those who like to write and draw pictures with the Apple Pencil. The ultimate iPad accessory!
When drawing on the touchscreen, the rough texture gives you more control than standard tempered glass.
A self-adhesive silicone skin and innovative "airless" design make it easy to remove air and bubbles after installation. You can quickly eliminate air bubbles using your finger or the provided card.
Buy Bellemond – 2 SET – Japanese Paper Screen Protector for $16.99 here.
7. Esanik 9H Tempered Papered Glass Screen Protector
With this generic stylus pencil, writing on your iPad feels as natural as writing on paper. If you like taking notes or practicing handwriting with an iPad, this is the perfect tool for you.
This matte tempered glass has the same technology as E-reader matte screens so that the screen won't glare even in bright sunlight, so you'll be able to read the book in an outdoor or low light setting without any distractions.
This screen protector is made of 9H hardness tempered glass, which protects your device from scratches caused by everyday use.
Its alignment frame aligns the screen protector to the correct position and attaches it to the screen automatically, adhering seamlessly and without bubbles. 
Buy Esanik 9H Tempered Papered Glass Screen Protector for $15.99 here.
To Conclude
Drawing on the iPad is a beautiful way to utilize the device. If you want to protect your investment and improve your digital art-making experience, getting the best iPad screen protector for drawing makes sense.
Hopefully, this article will help you decide which 11-inch iPad Pro paper protector you should choose.