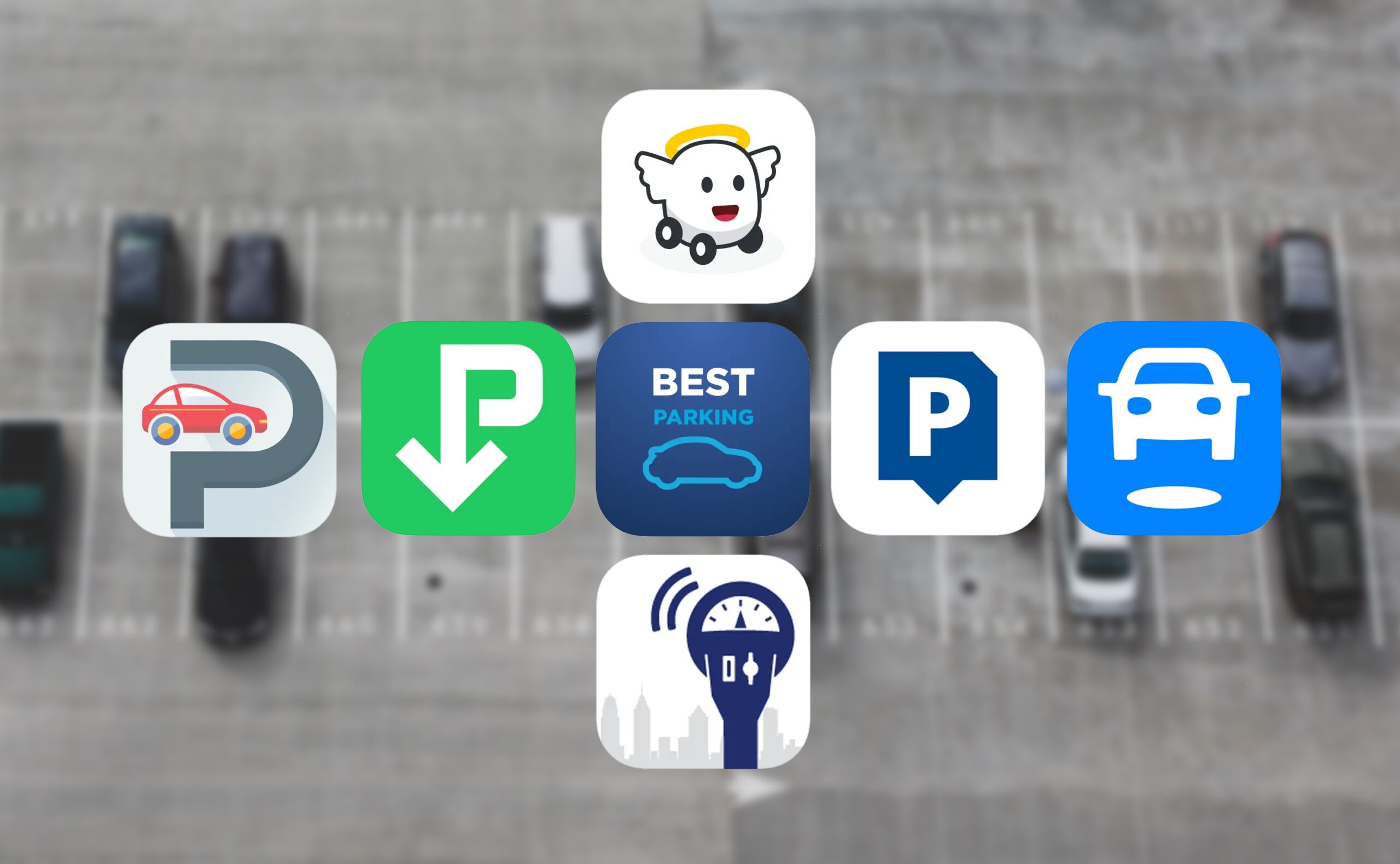 Best iPhone Apps to Find Nearby Parking
In this list, we'll explore the best apps for finding parking that allow you to reclaim your precious time and bid farewell to the stress that often accompanies urban parking.
Time is precious and stress is an unwelcome companion in our fast-paced lives. In our search for efficiency and peace of mind, the importance of streamlined solutions cannot be overstated. 
This is especially true when it comes to one of life's everyday challenges: finding parking in a bustling city. The hours wasted circling the streets, the anxiety of parking tickets, and the frustration of missed appointments can take a toll on our well-being.
Thankfully, modern technology has gifted us with a lifeline: apps to find parking on iPhone designed to simplify and expedite the parking process.
Discover Stress-Free Parking with the Best Apps for Finding Parking
The best apps to find nearby parking help us regain control of our time and sanity, transforming parking from a dreaded hassle into a breeze. Let's embark on this journey together and unlock the secrets to hassle-free parking.
1. Parking.com
Parking.com is a simple app to find parking on iPhone. Whether you're in need of city parking, commuter parking, special event parking, monthly parking, or even airport parking, this app has got you covered. 
One of the best apps for finding parking, you start by searching for parking by entering an address, a landmark name, or even just a neighborhood. Plus, you get to compare rates, ensuring you get the best deal possible.
Once you've found your ideal parking spot, you can reserve and pre-pay in advance, guaranteeing your spot without a hassle. The app even sweetens the deal by offering mobile coupons for select locations, so you can enjoy discount parking effortlessly.
You can also communicate with parking attendants by sending a text message. The app also keeps you in the loop with in-app alerts, reminding you when your parking time or parking coupons are about to expire.
Download Parking.com now.
2. iParkit Garage Parking
iParkit Garage Parking is your ticket to hassle-free parking in select cities across the United States. This iPhone parking app offers two convenient ways to secure your parking spot, ensuring you have a stress-free experience when navigating bustling downtown areas.
With the Express feature, you can simply drive to your desired location and park without the need for a reservation. This "grab-and-go" approach is perfect for those spontaneous trips or last-minute plans when you need a parking spot pronto.
iParkit also offers the option to prepay for parking in advance, allowing you to plan ahead and guarantee your parking space. This nifty feature can be a real game-changer during peak hours or busy events, thus making iParkit one of the best apps for finding parking.
Unlike some other apps, iParkit owns all the garages where it operates. This means they have direct control over the parking facilities, ensuring they meet high standards of quality and safety.
Download iParkit Garage Parking now.
3. meterUP Parking
The best app to find nearby parking, it also eliminates the need to feed coins into meters with meterUP Parking by allowing you to pay right from your iPhone. With meterUP, you can also extend your parking duration remotely, ensuring you won't have to dash back to the meter if your plans change. 
Plus, the app sends you alerts to let you know when your parking session is about to expire, saving you from parking fines.
For both on-street and off-street parking, you simply enter the zone number displayed on the nearby signs, select your desired parking duration, and confirm your information. Then, with a tap on the "Start Parking" button, your parking session begins. 
If you realize you need more time, no worries—you can easily extend it right from the app, even if you're running late. Its rich and useful features make this app one of the best apps for finding parking in Philadelphia and beyond.
Download meterUP Parking now.
4. SpotHero
SpotHero is one of the best apps for finding parking at discounted rates in your area.
With this US parking app for iPhone, you can access a vast network of garages, lots, and valets across major cities, ensuring you'll always find a parking spot nearby. Plus, when you book your parking spot in advance through SpotHero, you can score savings of up to a whopping 50%.
First, you simply enter the dates and times you require parking. Then, SpotHero provides you with a comprehensive list of parking garages and their rates near your destination.
SpotHero also integrates seamlessly with Apple CarPlay, making it even more convenient. You can create a business profile to separate your business and personal parking expenses, streamlining your accounting processes. And if you have a commuter benefits card, SpotHero lets you use pre-tax dollars to pay for daily parking near your workplace, saving you money in the process.
Download SpotHero now.
5. BestParking
If you're all about finding the best deals, BestParking is your go-to app to find parking on iPhone. It aggregates parking options from various providers, displaying the most cost-effective choices. 
BestParking is considered one of the best apps for finding parking letting you compare prices upfront at thousands of garages and lots. You'll see a range of options, each with its own pricing, amenities, and convenience factors. This means you have the power to choose the parking option that perfectly suits your needs and budget.
Navigation worries? BestParking links directly to your preferred navigation app, providing you with turn-by-turn driving directions to your chosen parking space. Plus, after securing your spot, the convenience doesn't end there.
BestParking provides you with a digital parking pass, making it a snap to enter your chosen garage or lot. In seconds, you're parked and ready to go about your day or start your journey stress-free.
Download BestParking now.
6. SpotAngels Parking & Gas
SpotAngels iPhone parking app not only helps you find parking, but it also alerts you to street cleaning and parking regulations in your area. Plus, it helps you save on gas by locating nearby gas stations.
One of the best apps for finding parking, SpotAngels helps you find free parking with the help of a community of millions of users. These users report open parking spots and snap pictures of parking signs, giving you access to real-time information on parking availability.
SpotAngels is your ticket to parking deals in more than 100 cities across the globe. With discounts available at over 5,000 garages and lots, you can book your spot in advance and enjoy significant savings compared to on-site prices. 
Moreover, it uses your car's Bluetooth to remember your parking location and notifies you when it's time to move your car for street cleaning or any other parking rules. Even if you don't have a car with Bluetooth capabilities, you can manually set your car's location.
Download SpotAngels now.
7. LAZ Parking
LAZ US parking app for iPhone offers parking facilities owned and operated by LAZ Parking in Atlanta, Boston, Los Angeles, or any other major city. It provides information on available parking spaces in LAZ-managed garages, making it a valuable tool for those in regions served by LAZ.
The app lets you customize your experience by adding your favorite parking locations, saving you time when you revisit them. Plus, you can easily manage your account by adding or editing credit card and vehicle details.
One of the best apps for finding parking, its ability to provide real-time pricing, including any discounts, directly from the parking operator is its best feature. Say goodbye to middlemen and get the best rates available, right at your fingertips. This ensures you're always getting the most value for your money.
But what sets LAZ Parking apart is its compatibility with various parking brokers and aggregators, such as SpotHero, ParkWhiz, and Parking Panda. This means you can choose the platform that suits you best while still enjoying the benefits of LAZ's extensive network.
Download LAZ Parking now.
No More Circling the Block
With the best apps for finding parking, transform the dreaded parking ordeal into a seamless experience. No more circling endlessly, no more worrying about overstaying your welcome at a meter, and certainly no more missed appointments or events due to parking woes.
Download any of the above-mentioned best apps to find nearby parking, and with a few taps, you can secure your parking spot in advance, locate nearby garages, and pay for parking without fumbling for change.