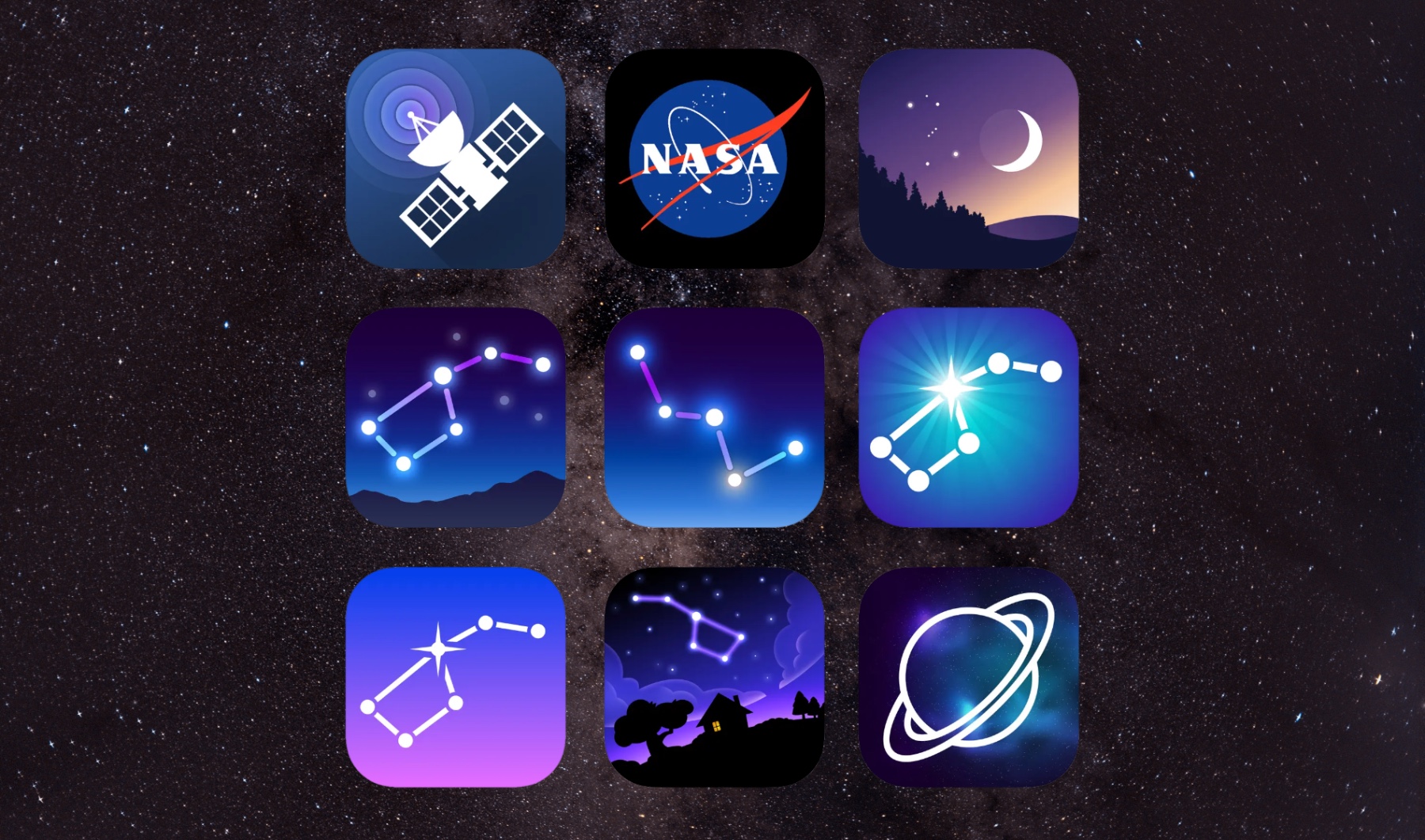 Best Astronomy And Stargazing Apps For iPhone And iPad
In this roundup, we have featured the best astronomy and stargazing apps for iPhone and iPad that you can download right now. These iPhone apps let you take advantage of AR and gaze at the night sky like never before.
Gazing up at the night sky has always been a timeless fascination, and thanks to the magic of technology, you can now explore the cosmos from the palm of your hand. Whether you're a seasoned stargazer or just a curious soul with an iPhone or iPad, you're in for a celestial treat.
This article will unveil the best astronomy and stargazing apps that'll turn your mobile device into a pocket-sized planetarium. So, grab your favorite blanket, head outside, and embark on a journey through the stars with some of the best astronomy apps for iPhone that are bound to make you feel like an astronaut in no time!
Best Stargazing and Astronomy Apps For iPhone
Here are nine best stargazing and astronomy apps for iPhone and iPad that you can download right now.
1. SkyView
No need to be a rocket scientist to find stars and constellations up there in the great cosmic expanse. Just grab SkyView®, the super nifty stargazing app that makes celestial navigation a piece of cake. It's like having your GPS for the stars.
With SkyView®, you have to point your phone up at the sky, and it'll do the rest. It's like magic! Whether it's the middle of the day or a pitch-black night, SkyView® has got your back. You can watch all 88 constellations gracefully fade in and out as you scan the heavens. Plus, it's your one-stop shop to locate every planet in our solar system, spot distant galaxies, and even catch those cool satellite fly-bys.
Want to know what's happening in the cosmic neighborhood? SkyView® has your back there too. It can tell you when the International Space Station (ISS) or Hubble telescope will be cruising by your location. You can even set up alerts for upcoming celestial events – no more missing those epic meteor showers or lunar eclipses!
Install SkyView from the App Store today!
2. Star Walk 2: The Night Sky Map
Star Walk 2 is like having a personal stargazing guide on your device, making it super easy to explore the night sky. No telescope is required!
Curious about what's happening up there tonight? Click on the "Visible Tonight" section in Star Walk 2, and you'll instantly know about all the extraordinary celestial events and objects visible in your area. Stay in the cosmic loop with the latest space and astronomy news in the "What's new" section.
Feeling a bit time-travel-y? Tap the clock-face icon at the upper-right corner of your screen, and you can jump to any date and time to see how the sky looked in the past or will look in the future. It's like your own time machine to the stars!
But that's not all! Star Walk 2 goes the extra mile by giving you a deeper understanding of constellations. You can marvel at 3D models of constellations, flip them around, and even read their captivating stories. It's like having a personal celestial storyteller in your pocket.
Install Star Walk 2: The Night Sky Map from the App Store today!
3. NASA
Join NASA on an exciting journey of discovery through their handy NASA app! This awesome app is your one-stop shop for the latest space goodies. You can check out fresh images, videos, mission scoop, news, cool feature stories, tweets, and even watch NASA TV and podcasts. But wait, there's more!
With the augmented reality feature, you can play around with interactive 3D models, find and gaze at the International Space Station, and track other NASA missions orbiting Earth and the brightest stars in the sky. Want more eye candy? Feast your eyes on over 20,000 images, and the collection keeps growing! Plus, never miss a beat with notifications for significant NASA happenings and hot-off-the-telescope images.
Stay in the loop with the latest launch intel, and for the ultimate space geek experience, keep an eye on the ISS and Earth-orbiting satellite trackers. Personalize your NASA journey by selecting your favorite images or missions for quick access. And if you're into widgets, they've got you covered with nifty NASA image and news widgets that can jazz up your Home Screen and Today View.
Install NASA from the App Store today!
4. Satellite Tracker by Star Walk
Check out the International Space Station soaring above you and discover where human-made satellites are hanging out now using SATELLITE TRACKER by STAR WALK!
Enjoy smooth and hassle-free real-time satellite tracking with this one of the best astronomy apps with AR!
Pick a satellite from the list and watch its current spot in the sky, all in real-time. You can even follow satellites as they zip around our Earth – think SpaceX's Starlinks, communication satellites, weather forecasters, and more!
On the main screen, watch the flyby timer ticking down to the next appearance of your chosen satellite over your location. Tap the down arrow to see a list of upcoming passes visible from where you are.
Install Satellite Tracker by Star Walk from the App Store today!
5. Star Walk: Find Stars & Planets 
Star Walk is like having a dazzling stargazing buddy on your mobile device. It's considered one of the top-rated astronomy apps for iPhone free download that makes you go, "Whoa!" as it tracks your every move and paints the night sky in real-time. With it, you can dive into the cosmos, discovering more than 200,000 celestial wonders, each with its juicy details.
Launching the app is like opening a portal to the stars. Just point your device to the heavens, and voilà! You'll spot stars, planets, satellites, and constellations in their true celestial spots right from your location. As you wave your device, the star map dances with your movements, keeping things real.
See that handy "Time machine" slider on the right? Slide it, and you can explore the night sky as it was in the past or will be in the future – time travel, anyone? And don't you dare miss out on celestial events because there's a nifty calendar to keep you in the cosmic loop.
Install Star Walk: Find Stars & Planets from the App Store today!
6. Sky Tonight – Star Gazer Guide
Sky Tonight, brought to you by the creators of Star Walk apps, is your go-to best free stargazing app for iPhone. It's all about customization to suit your stargazing cravings! Want to tweak how constellations look? No problem. Set up reminders for celestial events? You got it. Dive into interactive trajectories from your perspective, filter space objects by magnitude, and more – it's all in there!
What's cool? Instead of your standard celestial sphere trajectory, Sky Tonight shows you how objects move across your night sky. Just tap and drag along the observer's trajectory to change the time. And our search feature is super handy – easily find everything from stars to solar eclipses. Trending and Recent categories make it even smoother.
Never miss out on celestial happenings by setting event reminders. Mark your calendar with lunar phases, meteor showers, eclipses, and other cosmic shindigs. Wondering about stargazing conditions? We've got you covered with the Stargazing Index, which considers the Moon phase, light pollution, cloud cover, and visibility time.
Install Sky Tonight – Star Gazer Guide from the App Store today!
7. Sky Guide
Ever wondered if that bright dot is a star or Mars? Say goodbye to guesswork. Sky Guide's AR mode overlays celestial figures onto your actual sky, making stargazing a breeze. No more fumbling with paper star charts – now you can finally recognize those constellations.
Spot a mysterious light streaking across the night sky? Wonder no more! Sky Guide helps you track bright satellites and sends you timely notifications when the International Space Station passes over your location. It's like saying 'Goodbye, aliens' and 'Hello, astronauts!'
Take a cosmic journey through time with cinematic time controls. Find out where the Moon will be later for that perfect photo or to witness history's most spectacular comets.
Sky Guide is your go-to resource, whether you're hunting for Sagittarius, Saturn, or the next meteor shower. It is packed with rich graphics and information and is perfect for the most curious minds. Plus, stay in the cosmic loop with Sky Guide's personalized Calendar, featuring location-filtered events like solar and lunar eclipses.
Install Sky Guide from the App Store today!
8. Star Gazer: Sky Map& Astronomy
Gaze up at the night sky and dive into the wonders of the cosmos. Explore stars, planets, galaxies, and constellations right from your device. Unearth the secrets of celestial objects within our own Milky Way galaxy. Curious about Earth? This one of the best stargazing apps has answers to those burning questions, too! It's all about having a blast while stargazing and tracking their movements with your handy device.
Engage with planets and stars in mesmerizing 3D views and watch the night sky in AR on your iPhone simply by swiping your fingers across the screen. Get to know the names of stars, planets, constellations, satellites, and more, all through an intuitive interface. Stay updated on where they are and how they orbit with our Augmented Reality feature. It's like having a front-row seat to our solar system's show! Snap screenshots of your favorite cosmic sights with just a tap.
Get lost in fascinating articles about our solar system's planets and intriguing facts about black holes, galaxies, meteorites, comets, and anything else that tickles your space curiosity. Plus, uncover surprising tidbits about our home planet.
Install Star Gazer: Sky Map& Astronomy from the App Store today!
9. Stellarium Mobile – Star Map
Stellarium Mobile is your cosmic companion, the go-to planetarium app that brings the night sky to life right on your phone. With this one of the best astronomy apps for iPhone, you'll effortlessly spot stars, constellations, planets, comets, and satellites like the ISS in real-time. Just point your phone at the sky, and you've got your celestial guide!
Its user-friendly interface is a breeze to navigate, making it a top choice for adults and curious kids eager to explore the mysteries of the night sky. You can dive into an accurate night sky simulation for any date, time, or location and see how stargazers worldwide perceive constellations uniquely.
But that's not all! Stellarium Mobile also lets you track artificial satellites, catch breathtaking sunrises and sunsets with realistic atmosphere refraction, and even take a 3D tour of our solar system's major planets and their trusty satellites. Plus, a night mode (in soothing red) adjusts your eyes to the dark.
Install Stellarium Mobile – Star Map from the App Store today!
To Conclude
The incredible apps available for iPhone and iPad have revolutionized the world of astronomy and stargazing. All the above-mentioned free astronomy apps for iPhone provide a wealth of information, stunning visuals, and interactive tools that enhance your celestial experience.
From identifying constellations to tracking the International Space Station, these apps offer something for everyone, making it easier to connect with the wonders of the night sky. So, grab your device, head outside, and embark on a journey through the universe with the help of these top-notch AR and virtual star map apps for iPhone. Happy stargazing!