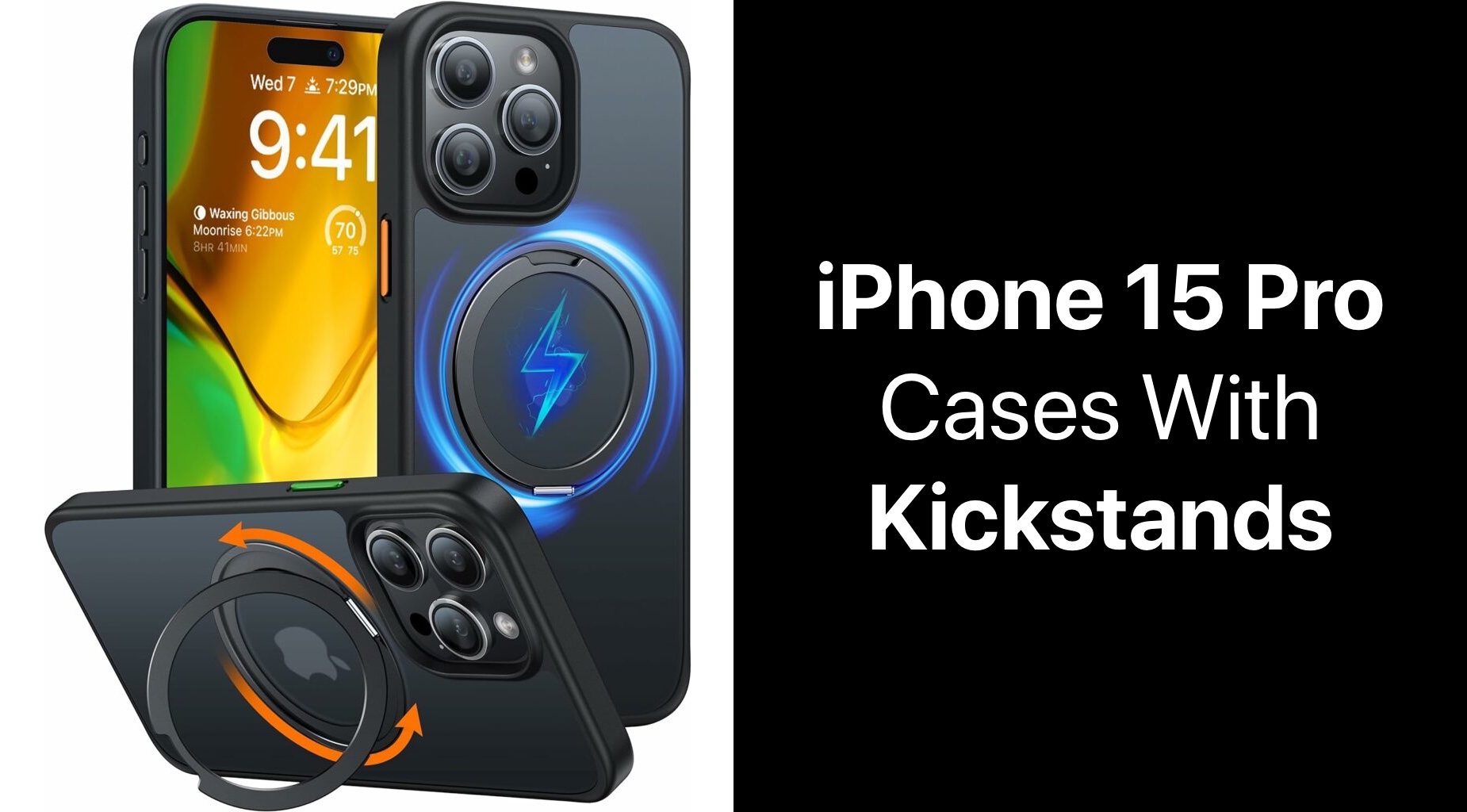 Best iPhone 15 Pro Cases With Built-In Kickstands
Are you ready to take your iPhone 15 Pro experience to the next level? We certainly are! In a world where our smartphones are our constant companions, it's essential to keep them both stylish and functional.
Here we have featured some of the best iPhone 15 Pro kickstand cases, that come with built-in kickstand that can significantly elevate your smartphone experience while also providing essential protection to your device.
That's where the best iPhone 15 Pro cases with kickstand come into play. These innovative accessories not only provide top-notch protection for your prized possession but also offer the convenience of hands-free viewing, video calls, and more.
Top-Notch Kickstand Cases for iPhone 15 Pro
No more propping your phone against random objects or awkwardly holding it while binge-watching your favorite shows. Join us as we explore the crème de la crème of iPhone 15 Pro kickstand cases that seamlessly blend fashion, functionality, and a dash of tech-savvy flair.
Get ready to meet your perfect iPhone 15 Pro companion – the case that stands out in more ways than one!
1. TORRAS Upgraded Magnetic & Stand Case
TORRAS Upgraded Magnetic & Stand Case kicks it up a notch in the phone protection game! This kickstand is the sleekest in the biz, sitting flush with the case. Whether your case is open or closed, that magnetic charging flow stays smooth. Flip into hands-free Facetime or binge-watch at 55° vertically or 65° horizontally – all while juicing up magnetically.
TORRAS Magnets are a game-changer. The brand has revamped them to sync perfectly with your phone's magnetometer, array, and charging coil. With 38 N52 magnets working in harmony, you get lightning-fast charging and solid connections with magnetic accessories – wallets, chargers, car mounts, you name it.
This case is crafted with cutting-edge TPE&TPU and boasts a velvety-like coating. It's not just comfortable to touch; it's downright luxurious. The translucent back shows off your phone's original beauty and stays aesthetically pleasing – no yellowing or discoloration over time.
Buy TORRAS Upgraded Magnetic & Stand Case for $23.99 ($29.99 before) here.
2. Spigen Magnetic Ultra Hybrid S 
Imagine having a smartphone case that's not just protective, but also incredibly stylish and functional. Infused with a mesmerizing blue resin, this case not only adds a touch of elegance to your device but also maintains its clarity over time. Crafted from a unique blend of PC (Polycarbonate) and TPU (Thermoplastic Polyurethane), this case is a true champion when it comes to durability.
Spigen Magnetic Ultra Hybrid S is also designed with your convenience in mind. The flush-fitting kickstand, powered by Active Stop Technology, is a game-changer. Need to catch up on your favorite show or make a video call? Just pop out the kickstand, and voila! No more makeshift stands or awkward angles.
And for all you tech enthusiasts out there, here's the cherry on top: this case is fully compatible with wireless charging and MagSafe accessories. No need to remove your case to charge your phone or snap on those nifty MagSafe accessories for added functionality.
Buy Spigen Magnetic Ultra Hybrid S for $24.99 here.
3. TORRAS 360°Rotatable Ring Case
TORRAS is the brand that's redefining iPhone protection and innovation once again with their latest case for the iPhone 15 Pro. This case is no exception. Imagine having a case that seamlessly combines a magnet and a kickstand, all while maintaining a sleek, slim profile that doesn't add any bulk to your phone.
TORRAS has incorporated a whopping 38 pieces of N52 super-strong magnets, their strongest yet, into this case. These magnets align flawlessly, offering a mesmerizing attachment experience and enabling faster wireless charging. These magnets are 5 times stronger than standard ones, boasting a remarkable strength of 19N. And yes, it's fully compatible with all your beloved MagSafe accessories.
The magnetic stand, a key feature, hides discreetly when not in use. It folds neatly within the case, providing a silky-smooth touch that feels incredible to the fingertips. This stand gives you the freedom to set your phone at any angle thanks to the 360° rotatable ring, made with aerospace-grade matte material that never loses its grip.
Buy the TORRAS 360°Rotatable Ring Case for $29.59 ($49.99 before) here.
4. Alphex Invisible Stand Magnetic Case
What sets this case apart is the exclusive Alphex aluminum magnetic ring. Teaming up with a sophisticated arrangement of 36 N52 triangle magnets, this case generates an impressive magnetic force of 2855.19gf. Translation? It's your ticket to seamless compatibility with a range of magnetic accessories – from car mounts to chargers and beyond.
The Alphex case has undergone over 4,500 12-foot drop tests without breaking a sweat, keeping your phone intact and secure. The secret? A double-cushioned structure that absorbs a staggering 98% of impact force during those accidental drops. Your camera and screen? Fully shielded.
Alphex has perfected the non-slip grip with an ergonomically designed concave-convex pattern. No more fumbling or dropping your phone due to slippery electroplating coatings – with Alphex, you've got a firm grip on style and substance.
Buy the Alphex Invisible Stand Magnetic Case for $28.79 ($39.99 before) here.
5. Mgnaooi Magnetic Case
The Mgnaooi Magnetic Case for iPhone 15 Pro is your all-in-one solution for style, functionality, and protection. Say goodbye to charging struggles with our MagSafe-compatible case. The N52 magnets inside not only offer a robust magnetic connection but also turbocharge your wireless charging experience, making it quicker and safer.
The innovative aluminum magnetic ring in this iPhone 15 Pro case with a built-in kickstand feature allows your phone to stand securely in portrait or landscape mode, and when folded, the back becomes completely invisible. Adjust the ring bracket anywhere between 0 to 120 degrees, tailoring it to your needs and enhancing the portability of your life.
The premium matte translucent cover provides a silky touch, and the anti-fingerprint back ensures a clean look even after encountering a marker. The rubber edges not only offer an ideal grip but also reduce the chance of your phone slipping out of your hands.
Buy the Mgnaooi Magnetic Case for $26.99 here.
6. LAUDTEC Silicone Kickstand Case 
LAUDTEC Silicone Kickstand Case has been tailor-made for your iPhone 15 Pro (6.1″). This case fits your device like a glove, hugging its body, buttons, and curves, ensuring a responsive touch and effortless access.
Inside, it's equipped with a microfiber cushion designed to keep your iPhone safe and sound. Plus, the 1mm raised bezel edges surrounding the screen and camera provide top-notch protection against drops, abrasion, and scratches.
This case boasts a built-in solid phone hand strap with a magnetic band that doubles as an iPhone 15 Pro kickstand. And yes, it also seamlessly attaches to car holder mounts, making it an excellent companion for your on-the-go lifestyle.
Buy LAUDTEC Silicone Kickstand Case for $12.79 ($15.99 before) here.
7. VICSEED Defensive Series
The VICSEED ALL-NEW Defensive Series Case is your iPhone 15 Pro's ultimate bodyguard. Wondering how it stands out? Well, it exceeds 2.47 times the Top-Class SGS-MIL drop protection test standards. The secret? A smart 3-Layer DEFENSIVE design: Rugged PC outer layer absorbs 30% of impact, the Soft TPU Inner-layer dissipates another 30%, and the Innermost Shockproof layer takes care of the remaining 39%. That's a whopping 99% protection, way beyond what a typical single-layer case can offer.
The VICSEED Protective iPhone 15 Pro Case comes with 36× Strongest N55 Magnets using the Vicseed Patent: Mag-VIC Halbach Array. That's 2.4 times the strength of the Official Case and a whopping 3.6 times that of a Normal case. Your MagSafe charger will auto-align and stay firmly in place, delivering lightning-fast charging. Plus, it's flawlessly compatible with ALL MagSafe accessories.
Buy VICSEED Defensive Series for $23.98 ($49.99 before) here.
8. Facbiny Case with Stand
FACBINY iPhone 15 Pro case boasts an innovative lens mount that's not only lightweight but also incredibly durable, thanks to its aviation-grade zinc alloy construction. The 9H HD glass provides anti-drop and anti-scratch protection, ensuring your camera stays safe while delivering crystal-clear photos.
The FACBINY iPhone 15 Pro case doesn't just prioritize functionality; it also offers a premium design. With its matte semi-transparent finish and metal buttons, it mimics the feel of a real iPhone. The silky, velvety texture is comfortable to the touch and resistant to fingerprints and scratches. Plus, cleaning is a breeze, thanks to the skin-friendly Nano Oleophobic Coating. It's the attention to detail and high-quality craftsmanship that truly sets this case apart and elevates your device to a whole new level.
Buy a Facbiny Case with Stand for $19.99 here.
To Conclude
In a world where versatility meets protection, the hunt for the perfect MagSafe iPhone 15 Pro cases with kickstand ends here. These cases not only cradle your device in fortress-like security but also bring an added dimension to your digital experience. As we bid adieu, envision a world where your iPhone effortlessly transforms into a mini-cinematic masterpiece or a productivity powerhouse with just a flick of a kickstand.
Disclosure: iOSHacker may receive a commission if you purchase products through our affiliate links. For more visit our privacy policy page.