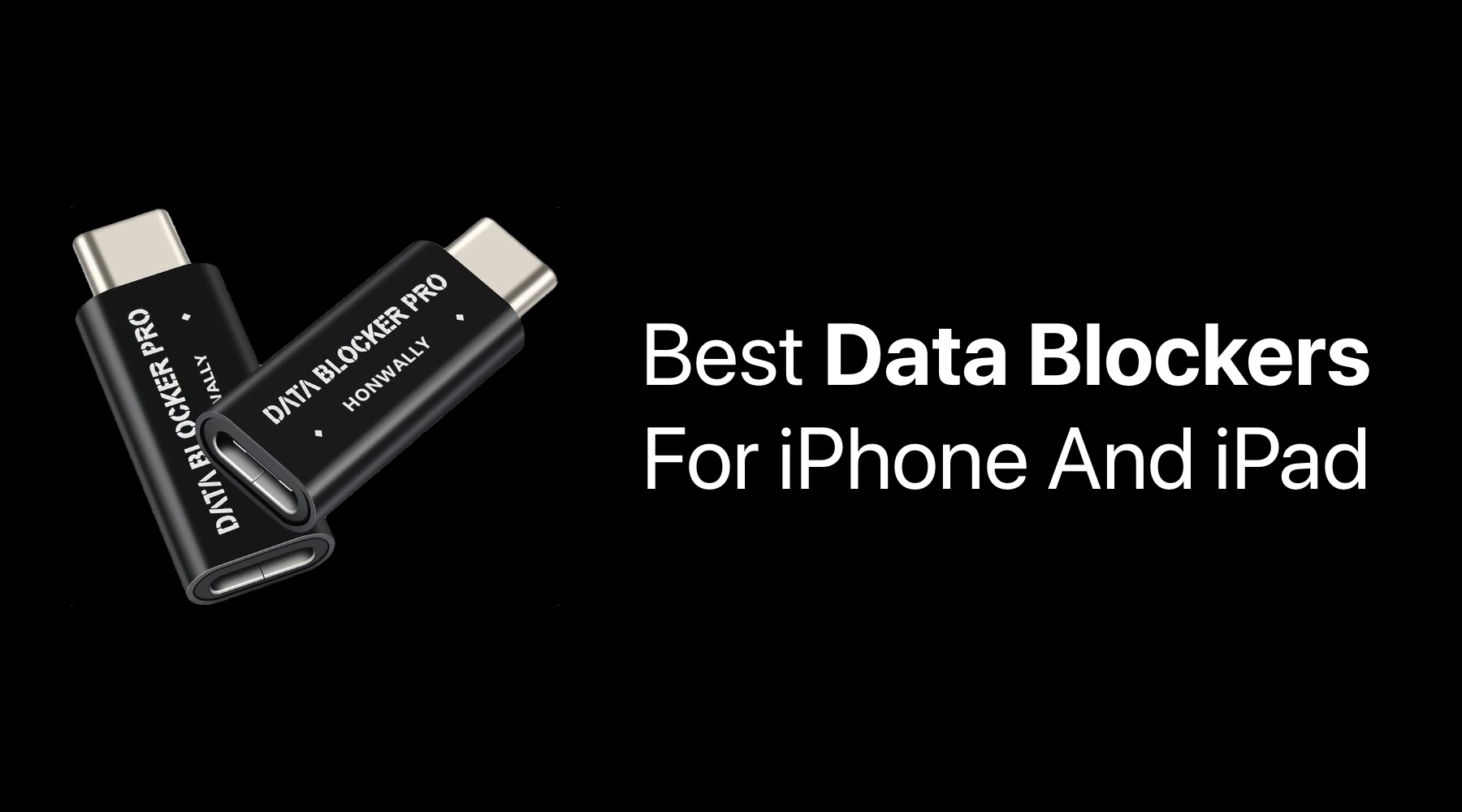 Best Data Blockers For Your iPhone And iPad
In a world where our personal data is more valuable than ever, finding the best data blockers for iPhones and iPads is essential for safeguarding your digital privacy.
Data blockers are like digital shields that protect your personal information when you plug your devices into public charging stations or connect them to unfamiliar USB ports. They prevent potential data theft or malware transfer by blocking the data transfer part of the USB connection while still allowing your device to charge.
So, you can juice up your phone or tablet without worrying about your data being snooped on or compromised by unknown sources. It's a handy tool for staying safe in today's tech-savvy world. These are essential for travelers and those who charge their devices in public places regularly.
Whether you're protecting your financial transactions, shielding your browsing habits, or just keeping your personal life private, the right data blocker can be your digital armor.
So, don't let your sensitive data fall into the wrong hands; invest in a top-notch iPhone and iPad data blocker USB-C and take control of your online world. With these little gadgets by your side, you can navigate the digital realm with confidence, knowing that your data is secure and your privacy intact.
1. JSAUX USB Data Blocker & USB C Data Blocker 
Are you constantly worried about your precious data being at risk when you charge your phone at public charging stations? Concerned about the possibility of spyware or hacking attacks while your device is plugged in? Fret not! The JSAUX USB Data Blocker is here to save the day.
This nifty little device is your shield against potential data leaks and malware threats. It's like having a guardian for your mobile device during charging. The USB Data Blocker ensures that only the charging function is active, physically blocking data transfer and syncing so your valuable information remains secure.
Plus, it supports charging up to 2.4A, so you don't have to compromise on charging speed. And the best part? It's incredibly compact and lightweight. You can slip it into your pocket, toss it in your bag, or even attach it to your keychain – it's that portable!
Buy the JSAUX USB Data Blocker & USB C Data Blocker for $9.87 here.
2. Honwally Fast Charging USB C to C Data Blocker
The Honwally Fast Charging USB C to C Data Blocker is your ultimate travel companion for worry-free charging in public places. Say goodbye to the fear of hacking or virus uploads through public USB sockets.
This one of the best USB-C data blockers for iPhone 15 is equipped with a fast charging IC, supporting speeds of up to 50V/5A. Unlike other blockers, it won't slow down your charging.
No more annoying pop-ups requesting data transfer while charging from a computer. This USB Data Blocker ensures seamless charging between different devices, putting an end to issues like your after-market charger not working with your iPhone, or iPad, or your Apple charger refusing to charge your Android tablet.
Buy Honwally Fast Charging USB C to C Data Blocker for $8.99 here.
3. OFFGRID USB Data Blocker Pro Type-C 
The OFFGRID USB Data Blocker Pro Type-C is your ultimate safeguard for charging your iDevices while keeping them immune to viruses and hackers. This powerful gadget works by effectively blocking all data exchange, ensuring your device remains secure. Plus, it turbocharges your device from any USB port.
Worried about connecting to untrusted USB ports? With the USB Data Blocker, you can kiss those fears goodbye. It prevents unauthorized data transfers, keeping your valuable information out of the hands of prying eyes.
This little powerhouse Type-C data blocker for iPhone also boasts lightning-fast charging capabilities. So, whether you're in a cafe, airport, or elsewhere, you can confidently plug in and power up, knowing your device and data is shielded from unwanted surveillance.
Buy OFFGRID USB Data Blocker Pro USB Type-C for $13 here.
4. Meenova USB C Data Blocker Pro
With a sleek and durable Meenova USB C Data Blocker Pro, you can turbocharge your smartphone up to 3 times faster than regular charging. It transforms the USB port on your computer or laptop into a high-speed charger, ensuring you can power up most smartphones twice as quickly and more than 3 times as fast for some models. Plus, it's not just for phones – you can also charge your iPad and other tablets at a blazing 5A50V (250W) speed.
The Meenova USB C Data Blocker Pro does more than just speed up your charging. It's also a security powerhouse, blocking data transfer when connected to untrusted charging sources keeping your device hack-proof.
Additionally, it's designed to make chargers and devices play nice with each other. Crafted from high-quality, durable aluminum, this sleek and compact device is built to last.
Buy Meenova USB C Data Blocker Pro for $12.99 here.
5. Generic USB C to C Data Blocker
Protect your device effortlessly with the Generic USB C to C Data Blocker – your go-to choice for safety. Simply plug it in, and it physically blocks data transfer, leaving only the charging function for your mobile device. It's a hacker-proof solution in a sleek Aluminum alloy metal design that's both stylish and durable.
Featuring an advanced 3rd Gen design chip, this USB-C to USB-C data blocker is compatible with various USB-C interface phones, ensuring top-notch security. Governments of the USA, Canada, UK, New Zealand, and countless corporations worldwide trust this device for a 100% guarantee against hacker attacks. It's the simplest way to keep your phone safe from data breaches. Stay secure effortlessly with the Generic USB C to C Data Blocker– because your safety comes first.
Buy Generic USB C to C Data Blocker for $8.99 here.
6. PortaPow USB-A to USB-C Data Blocker
Tired of those pesky pop-ups or the risk of potential hacking when charging your devices in public places like cars or airports? With PortaPow USB-A to USB-C Data Blocker, you can convert any USB-A charging socket into a smaller, more modern USB-C shape. This means you can use your trusty USB-C cable to charge your phone or other devices from those ubiquitous USB-A charging ports without a hitch.
Simply attach this data blocker between your USB cable and charger, and voilà! You've physically blocked data transfer and syncing. No more worries about unauthorized data access or uploading viruses. It's like a digital security shield for your devices.
And here's the kicker – PortaPow is now on its third-generation design, making it the only data blocker on the market that visually shows you it's blocking data. Plus, the brand has even thrown in a reusable bag for a zero-waste solution.
Buy PortaPow USB-A to USB-C Data Blocker for $6.49 here.
To Conclude
In a world where data privacy is more crucial than ever, choosing the best data blocker for your iPhone and iPad is a wise and proactive decision. These small but mighty devices offer a shield against prying eyes and potential threats, putting you back in control of your personal information.
So, take that final step in safeguarding your digital life, and let your iPhone and iPad work for you, not against you. With the right data blocker, you can confidently browse, charge, and connect, knowing that your data is protected and your privacy intact.
Don't wait; invest in your digital peace of mind today and unlock a safer, more secure future for your Apple devices.
Disclosure: iOSHacker may receive a commission if you purchase products through our affiliate links. For more visit our privacy policy page.