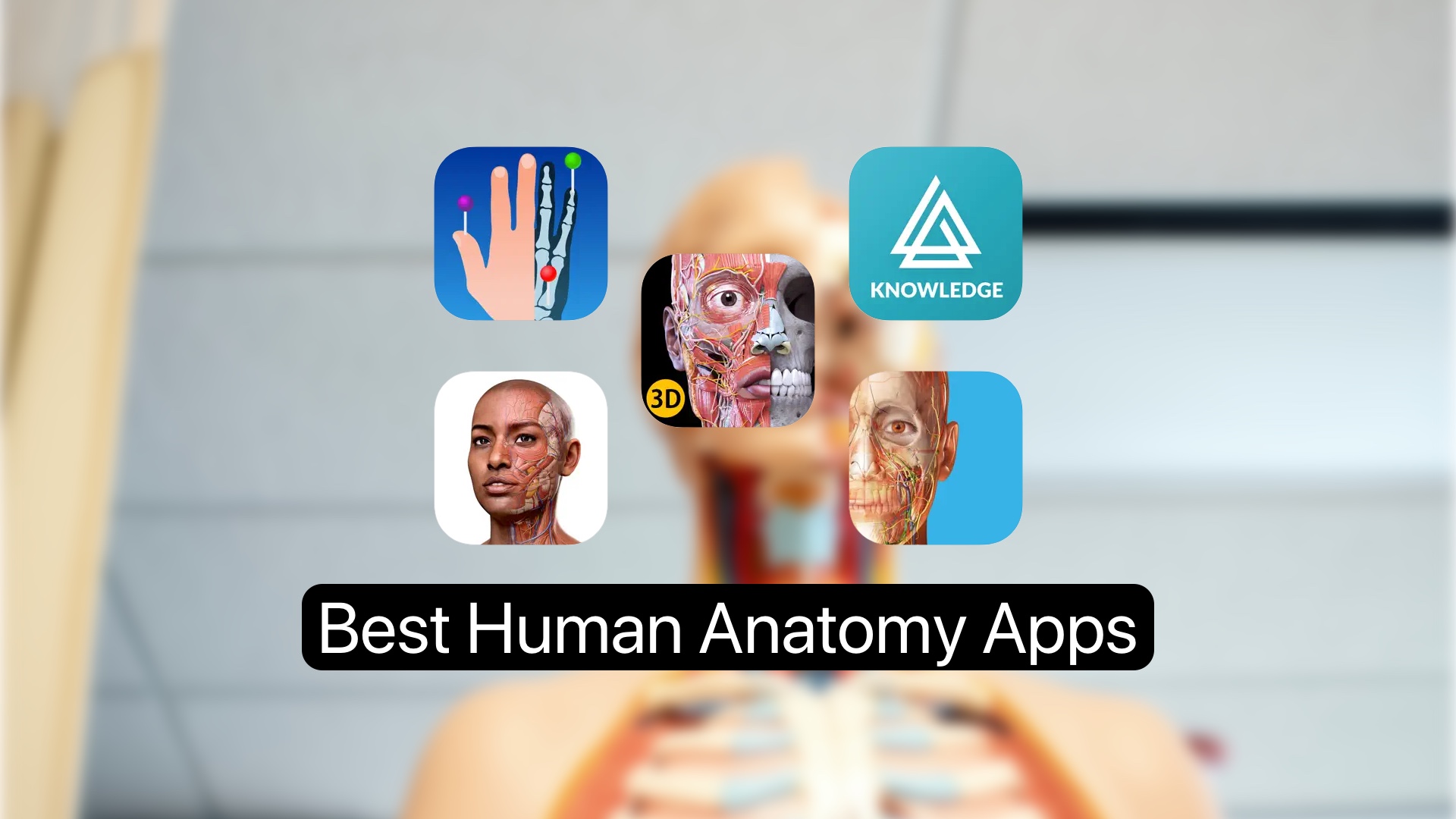 Best Human Anatomy Apps For iPhone And iPad
In this post, we have featured five of the best human anatomy apps for iPhone and iPad that you can download right now. These highly detailed apps are great for any medical practitioner, medical student, or anyone else who is interested in learning about human anatomy.
In an age where information is literally at our fingertips, the field of medical education has been revolutionized by the advent of mobile technology. With the rise of smartphones and tablets, aspiring medical professionals, students, and enthusiasts now have access to a wealth of resources that can enhance their understanding of human anatomy.
Whether you're a medical student aiming to ace your exams, a seasoned healthcare practitioner seeking a convenient reference tool, or simply a curious individual eager to explore the intricacies of the human body; this article is your guide to the "best human anatomy apps for iPhone and iPad."
Join us as we dive into the world of the best human anatomy apps for medical students that bring the wonders of human anatomy to life, offering interactive, immersive, and educational experiences like never before.
1. Human Anatomy Atlas 2023
Human Anatomy Atlas 2023 provides interactive 3D visuals that will make learning about the human body a breeze. You'll find complete male and female 3D models to help you dive deep into the intricacies of gross anatomy. Plus, you can compare them with cadavers and diagnostic images for a comprehensive view.
Explore 3D views of vital organs from various angles in this one of the best anatomy apps for medical practitioners. Delve into the details of the lungs, bronchi, and alveoli, or look closely at the kidneys, renal pyramids, and nephrons. This app allows you to zoom in on critical anatomical structures, making it easier than ever to grasp complex concepts.
But that's not all— muscle and bone models are dynamic and movable. This means you can interactively engage with the material, learning muscle actions, bone landmarks, attachments, innervations, and blood supply. Additionally, you'll gain insights into how fascia divides the muscles of the upper and lower limbs into distinct compartments.
Install Human Anatomy Atlas 2023 from the App Store today. The app costs $24.99.
2. Complete Anatomy 2023
Imagine having access to a learning platform that's not just flexible but also incredibly inclusive and personalized. This iPad anatomy app leverages the visual power of highly detailed 3D models to make the complex subject of anatomy much more approachable and understandable.
The app boasts the most detailed and comprehensive human anatomy models, featuring thousands of individual interactive structures. One standout feature is a fully 3D representation of a living, beating, and dissectible human heart – a fascinating educational tool!
But that's not all; this app also puts the power of customization in your hands. You can tailor your anatomy model to match your preferences and learning style, ensuring a personalized educational experience.
This platform offers an extensive atlas with over 700 screens, drawing from illustrations in Elsevier's renowned anatomy textbooks to further sweeten the deal. It covers various courses, including Female Anatomy presented by the expert Alice Roberts, Dissection courses, Human Anatomy, Point of Care Ultrasound, Clinical Correlates, and much more.
Install Complete Anatomy 2023 from the App Store today!
3. Anatomy 3D Atlas
What sets this app apart is its highly detailed 3D models. These models come with textures that can be as sharp as 4k resolution. You can easily focus on specific regions or use predefined views to delve into individual parts or groups of systems. It's an excellent tool for understanding the intricate relationships between different organs.
"Anatomy – 3D Atlas" caters to a broad audience, including medical students, doctors, physiotherapists, paramedics, nurses, athletic trainers, and anyone interested in deepening their knowledge of human anatomy.
In fact, it's the perfect complement to your traditional human anatomy textbooks. So, if you're looking for a way to make learning anatomy more engaging and interactive, this app is definitely worth checking out!
Install Anatomy 3D Atlas from the App Store today!
4. AMBOSS Medical Knowledge
Meet your ultimate study buddy: the AMBOSS Knowledge app. Whether you're hitting the books, prepping for exams, or caring for patients, we've got you covered. No Wi-Fi? No problem. Our app works offline, so you can use it in the hospital or on the fly.
Decode diagnostic images like a pro with image overlays and stay on point with evidence-based patient care tools, including flowcharts, checklists, drug dosing, calculators, and more. Make quick decisions with confidence and free up more time for your patients.
Ace those exams, from in-house to USMLE® Step and NBME® Shelf, with expertly crafted high-yield content that covers it all. Don't forget your Anki flashcards – connect them to the AMBOSS library for instant insights on medical terms and images. Now available on your mobile too.
Boost your test-taking skills with the AMBOSS Qbank app – a learning powerhouse. And the best part? Both AMBOSS apps play together seamlessly for a complete studying experience.
Install AMBOSS Medical Knowledge from the App Store today!
5. IMAIOS e-Anatomy
IMAIOS e-Anatomy is like a treasure trove of human anatomy knowledge, tailor-made for doctors, radiologists, med students, and techs in the radiology world. Imagine having access to a whopping 24,000+ medical and anatomical images for a sneak peek without shelling out a dime. And if you decide to dive deeper into the world of human anatomy, you can subscribe to a super-detailed atlas.
Think of e-Anatomy as the mobile version of the award-winning IMAIOS e-Anatomy online atlas. Thanks to your trusty mobile device or tablet, You can carry around the most comprehensive human anatomy reference in your pocket with this one of the best free human anatomy apps.
We're talking about a whopping 24,000+ images here, folks! You'll find a series of pictures from all angles, like axial, coronal, and sagittal views, plus cool stuff like radiography and angiography. The app even got dissection pics and snazzy anatomical charts and illustrations.
Install IMAIOS e-Anatomy from the App Store today!
To Conclude
So, there you have it – a rundown of the top-rated iPad and iPhone anatomy apps for your trusty iPhone and iPad. With their user-friendly interfaces, interactive features, and a treasure trove of anatomical knowledge at your fingertips, learning about the human body has never been this engaging and accessible. So go ahead, download your favorite app, and embark on your anatomical journey – your inner science geek will thank you!