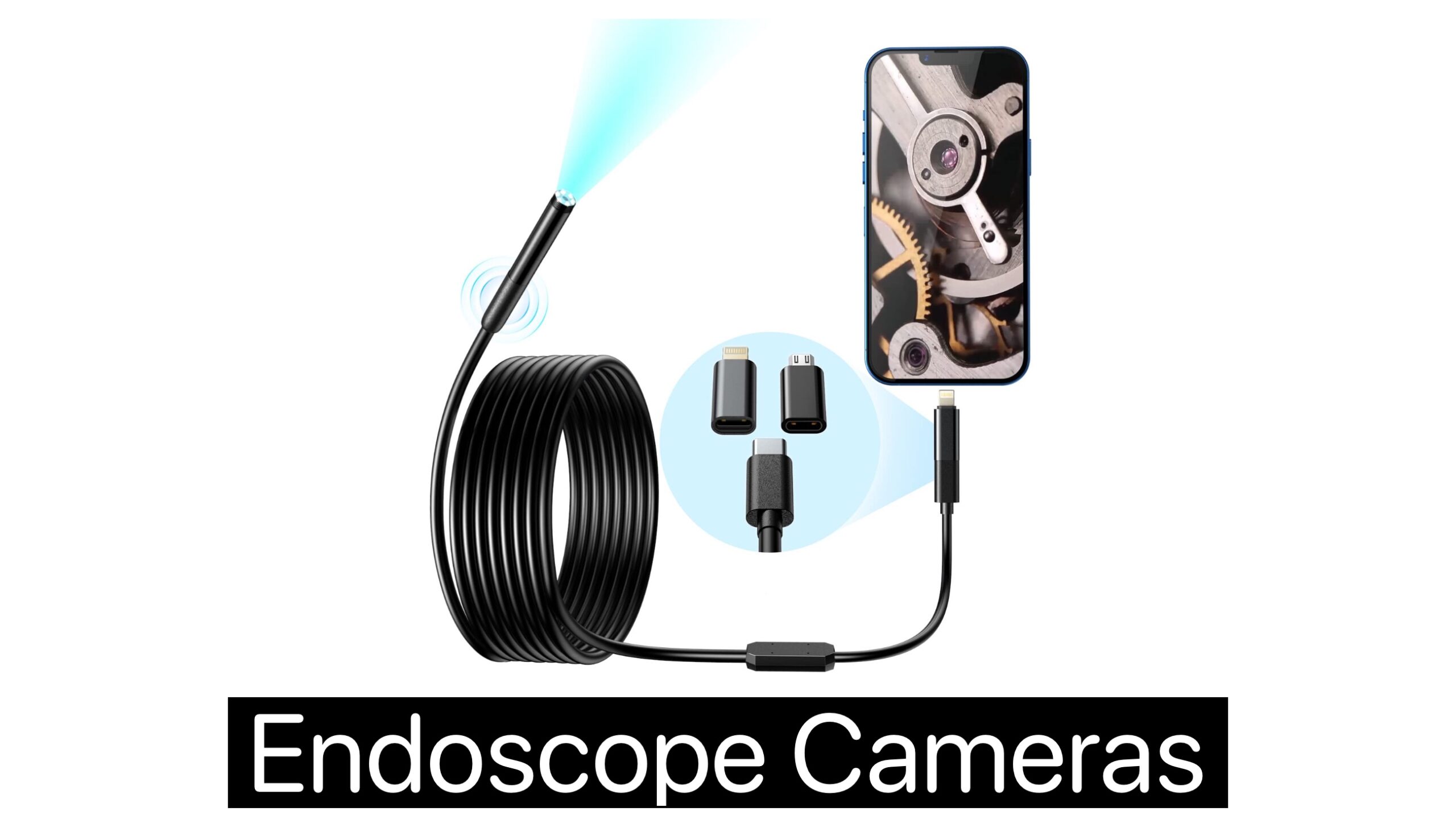 Best Endoscope Cameras For iPhone
Have you ever wished for a superpower that could let you peek into the hidden realms of the unseen? Well, while we can't grant you X-ray vision, we can introduce you to the next best thing— the world of endoscope cameras for iPhones.
Imagine turning your iPhone into a versatile tool capable of exploring the mysterious nooks and crannies that evade the naked eye. Whether you're a DIY enthusiast, a curious homeowner, or a professional in need of a closer look, the best endoscope camera for iPhone can be your trusted sidekick.
In this article, we'll dive into the depths of this cutting-edge technology, unraveling the best endoscope cameras for iPhone that seamlessly blend innovation with the convenience of your pocket-sized companion.
7 Best Endoscope Camera for iPhone
Say goodbye to hidden mysteries, and let's embark on a journey to discover the best in the realm of iPhone endoscope cameras.
1. Hoyoiun Endoscope Camera with Light
The Hoyoiun iPhone endoscope camera with light is your trusted companion for exploring the unseen! Armed with a cutting-edge hi-vision 2 million pixels camera, this borescope zeroes in on images with precision, delivering a crystal-clear HD view within the 2-10cm range. Its probe effortlessly navigates tricky spots, executing a 360-degree rotation to ensure you catch the perfect angle.
Designed to conquer challenging environments, the IP67 waterproof feature and 8 adjustable LED lights in the probe make this USB borescope a powerhouse in wet and dark conditions.
Bid farewell to the limitations of traditional borescopes – the upgraded semi-rigid cable allows easy access to narrow areas, solving the age-old problem of probes not reaching their intended spots or getting damaged in the process.
Flexibility is key, and the sewer camera cable proves just that. Bend and extend it as needed, making it suitable for a myriad of scenarios – from industrial machinery inspection to car repairs, inside pipe explorations, house mold inspections, and wiring escapades.
Buy Hoyoiun Endoscope Camera with Light for $27.99 here.
2. MugEasy Endoscope Camera
The MugEasy Endoscope Camera is your next ultimate sidekick for peeking into the unseen! Armed with a super hi-vision 2 million pixels camera, this borescope is all about capturing images with pinpoint accuracy. With a 1920×1440 HD resolution, it's not just an inspection tool; it's an experience.
Need to explore tight spots? No problem! The 7.9mm camera probe, complete with IP67 waterproofing, fearlessly navigates through wet and underwater challenges.
The MugEasy comes equipped with 8 adjustable LED lights, ready to brighten up any low-light situation. Plus, with a semi-rigid cable that bends at your command, reaching tricky nooks and crannies becomes a breeze.
Think industrial machinery, car repairs, or even checking out what's going on inside your pipes – this little marvel can do it all. And it's not just a camera; it's a recording maestro, letting you capture both photos and videos seamlessly.
Buy MugEasy Endoscope Camera for $23.75 here.
3. DEPSTECH Wireless Endoscope Camera
Say goodbye to limitations and hello to a world of possibilities with the DEPSTECH Wireless Endoscope Camera!
Imagine a cutting-edge 5.0MP endoscope armed with a third-generation chip, delivering a crystal-clear 2592×1944 resolution. The semi-rigid cable, featuring a copper core, ensures flexibility and durability in navigating tricky spots.
Shed light on the mysterious with 6 adjustable LED lights using Bluart tech, banishing darkness and preventing overexposure. The Camtele feature takes the focal distance from 3 inches to a comfortable 16 inches, making your inspection hassle-free.
This snake camera for iPhone is not just compatible; it's a compatibility champion! Whether you're rocking an iPad or iOS 9.0+this device has got your back. The 16.5ft snake cable is your secret weapon, bending and holding its shape to access confined spaces like a pro.
Buy DEPSTECH Wireless Endoscope Camera for $49.99 here.
4. NIDAGE Wireless Endoscope Camera
The NIDAGE Wireless Endoscope Camera is best for tackling tight spaces and inspecting those hard-to-reach areas effortlessly. With a slim 5.5mm diameter head, this digital endoscope outshines the older 8.5mm versions, effortlessly navigating smaller pipes and spaces. Take control with the semi-rigid cable, mirror, magnet, and hook, providing a complete view of the camera's surroundings, and making inspections a breeze.
Equipped with a 2.0MP 1080P HD camera, this wireless endoscope camera for iPhone delivers a top-notch experience, recording crystal-clear HD videos in AVI format and snapshot images in MJPEG format.
With this camera you can choose from three adjustable resolutions – 1920×1080, 1280×720, 640×480 – to suit your needs. The 6 adjustable LED lights ensure visibility in various environments, adapting to low-light, dark, damp, or wet conditions, with brightness at your fingertips.
The NIDAGE Wireless Endoscope Camera is a game-changer for automotive/diesel repair, industrial testing, pipeline inspection, outdoor assessments, and more. It's not just a tool; it's your shortcut to saving time and money.
Buy NIDAGE Wireless Endoscope Camera for $26.97 here.
5. FOXOLA Endoscope
The FOXOLA Endoscope can be your go-to gadget for a seamless inspection experience! Packed with innovation, this compact marvel seamlessly integrates an HD camera and Wi-Fi into a durable probe, making it small, portable, and ready for any adventure.
The new-generation Wi-Fi chip ensures a speedy transfer rate of 20FPS/s in the 2.4GHz frequency, allowing you to download the app and enjoy real-time image viewing on your phone.
Equipped with a Type-C power-supply interface and versatile adapters, FOXOLA is compatible with 99% of mobile devices on the market, ensuring easy power access. Its sealed design with special glue makes it anti-corrosion and wear-resistant, tackling even the toughest underwater environments with ease. The built-in 6 LED lights with adjustable brightness ensure top-notch image capture, even in dimly lit areas.
Whether you're tackling home appliance inspections, plumbing maintenance, or trying to retrieve small items out of reach, FOXOLA's got you covered. Plus, the equipped small hook adds an extra layer of convenience, making it a must-have tool for every home improvement enthusiast.
Buy FOXOLA Endoscope for $20 here.
6. laaguu Endoscope for iPhone 
The laaguu Endoscope for iPhone is a high-tech marvel that boasts a real HD camera with a crystal-clear resolution of 1920×1440, delivering a vivid viewing angle of 70°. What sets it apart? The best focal distance of 4~10cm ensures razor-sharp images and a one-button photo feature makes capturing those discoveries a breeze – just press "photo" on the endoscope, and voila!
This endoscope is not just about visuals; it's a versatile tool for tight spots. With a slim camera diameter of 0.32 inches (0.37 inches with accessories), it effortlessly navigates through hard-to-reach places at home or outdoors. Equipped with 8 adjustable LED lights, it illuminates dark environments for seamless exploration.
What's in the box? Besides the nifty endoscope, you'll find a user manual and a set of accessories – including hooks, magnets, side mirrors, and a protective cap – because we believe in giving you the tools you need for every scenario. Whether you're delving into HVAC systems, vent pipes, engines, or even sofa corners, this endoscope is your trusty sidekick.
Buy laaguu Endoscope for iPhone for $19.99 here.
7. T TAKMLY Endoscope for iPhone
Forget complicated setups; T TAKMLY Endoscope for iPhone effortlessly connects to your iPhone via the charging port, making it a breeze to dive into the unknown.
Equipped with a 2-megapixel HD borescope inspection camera, this gadget ensures you capture every detail in high resolution, whether it's a snapshot or a video recording. The focal distance sweet spot at 1.2-4.0 inches guarantees a sharp image, and the 70° viewing angle lets you explore with precision.
Navigate through dark and confined spaces with ease, thanks to the 8 adjustable LED lights at the probe's tip. Illuminate your inspection area exactly as needed, and if darkness isn't an issue, simply turn them off. Plus, the 16.4-foot semi-rigid cord adds flexibility without sacrificing durability. It's perfect for maneuvering through tricky spots like HVAC systems, vent pipes, engines, or even the depths of a bathtub drain.
Buy T TAKMLY Endoscope for iPhone for $23.99 here.
To Conclude
In a world where innovation is the heartbeat of technology, finding the best Wi-Fi enabled endoscope camera is like unlocking a secret portal to the hidden wonders of the unseen. As we bid farewell to this exploration, armed with pixels and precision, remember that the journey doesn't end here—it merely transforms. The best endoscope for your iPhone is not just a tool; it's an invitation to witness the extraordinary in the ordinary.
So, go ahead, dive into the microscopic realms, capture the unnoticed, and let your curiosity be the compass of your discoveries.
Disclosure: iOSHacker may receive a commission if you purchase products through our affiliate links. For more visit our privacy policy page.