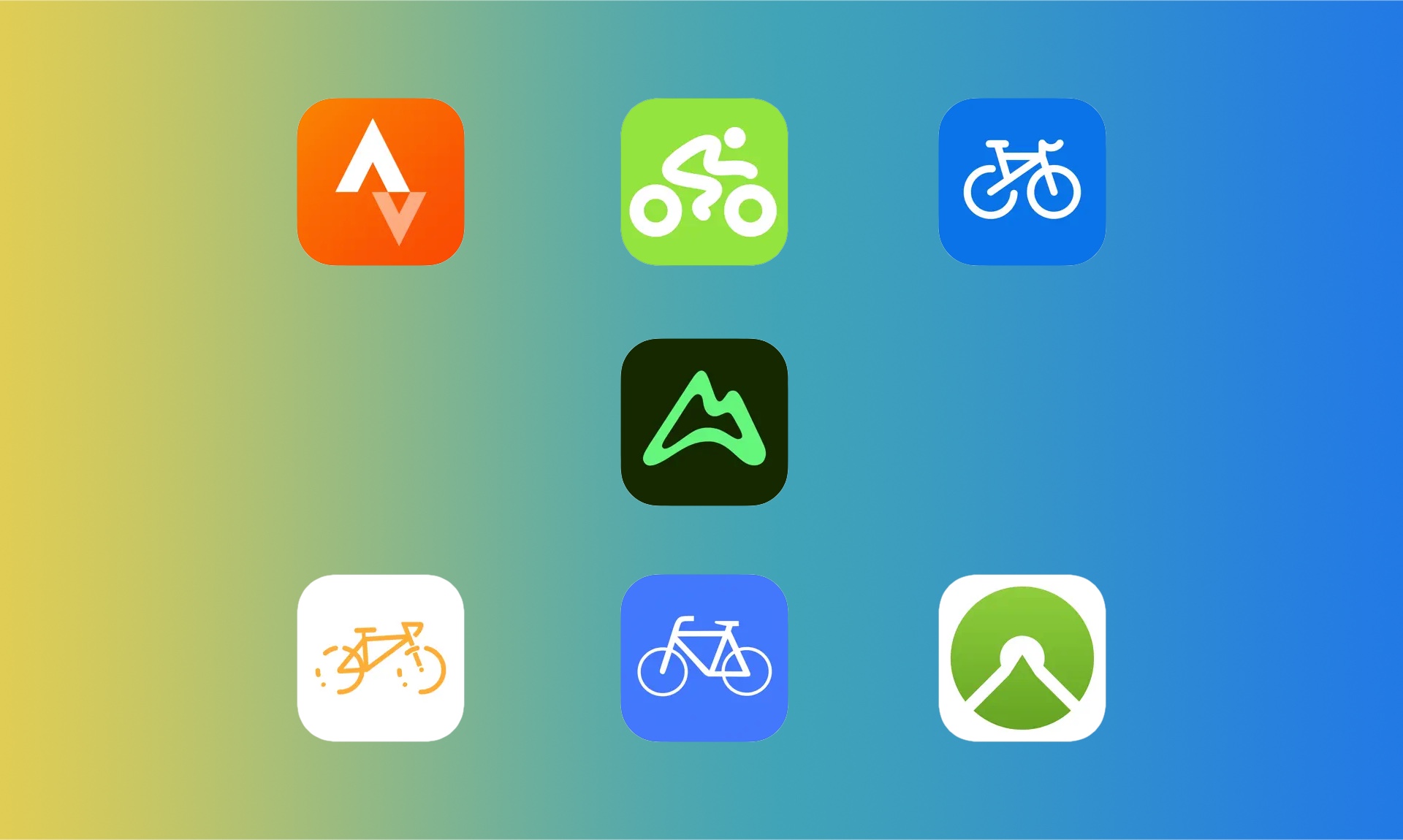 Best Cycling Apps For iPhone (Free & Tested)
In this post, we have listed the best cycling apps for your iPhone. These amazing apps offer the best routes, GPS features, and cycling maps that are essential for any cycling enthusiast in 2024.
Ever found yourself pedaling through the scenic routes, the wind in your hair, wondering if there's a way to elevate your cycling experience? Do you ever wish your iPhone could do more than just play your favorite tunes while you navigate the twists and turns of your cycling adventure?
Well, look no further! In the ever-expanding universe of the best apps for cyclists, we've taken the liberty of road-testing and curating a list of the best, all for our iPhone-toting comrades.
Whether you're a casual cruiser or a hardcore road warrior, these best free cycling apps for iPhone promise to seamlessly integrate with your cycling escapades, bringing a blend of convenience, motivation, and performance tracking.
All of the cycling apps listed here have been tested in different conditions and have proven to be useful, delivering reliable performance and features that enhance a user's cycling experience regardless of terrain, weather, or distance.
Best Free Cycling Apps for iPhone
Join us as we unveil the ultimate toolkit to pedal your way to a more enhanced and enjoyable cycling journey.
1. Bikemap: Bicycle Route & GPS 
Are you a cycling enthusiast who is always on the lookout for exciting new routes? Look no further than Bikemap – your go-to app for tracking, navigating, and planning your next cycling adventure. Whether you prefer a leisurely ride through the city, conquering mountain trails, or gearing up for a cycling marathon, this best free cycling app for iPhone has over 11 million routes worldwide to cater to every cyclist's taste.
Transform your phone into the ultimate bike companion – a cycling computer, GPS tracker, and route planner all in one. Keep tabs on your speed, distance, duration, elevation, and estimated time of arrival in real-time. Bikemap even syncs with HealthKit to track your overall cycling activity and progress over time.
Planning your next ride is a breeze with Bikemap's route planner. No matter if you ride an e-bike, mountain bike, road bike, or city bike, find the perfect route by filtering options like length, ascent, bicycle type, and surface. You can seamlessly sync the website's cycle route planner with this one of the best free cycling apps for iPhone for easy tracking and navigation during your ride.
Install Bikemap: Bicycle Route & GPS from the App Store now!
2. CycleMaps
CycleMaps is your ultimate companion for a pedal-powered adventure! This outdoor cycling app takes your cycling experience to a whole new level with features that will make every ride a breeze. The routing magic considers all the scenic bicycle paths and serene low-intensity roads, ensuring you enjoy the journey as much as the destination. And yes, you can now conquer those hills with confidence – just check out your route's elevation profile!
CycleMaps provides crystal-clear turn-by-turn instructions, neatly displayed without cluttering your map. We tell you the street name and the distance to your next turn, so you can focus on the ride, not the directions. Plus, the 'Freecycle' feature lets you track impromptu rides effortlessly and stores them as workouts in Apple Health.
You can save maps offline and relive the ride without burning your data. And if you're rocking an Apple Watch, cutting-edge route planning and navigation are now conveniently on your wrist – complete with haptic feedback. Be healthy, too; keep tabs on distance and calories burned with CycleMaps and Apple Health integration.
Install CycleMaps from the App Store now!
3. komoot – hike, bike & run
Ready to turn your outdoor activities into epic adventures? Meet Komoot – your go-to app for hiking, biking, and running. Imagine tapping into a treasure trove of community wisdom and recommendations to spice up your next journey. With Komoot's easy-to-use route planner, you can transform any outing into a thrilling escapade.
Tailor your route to match your activity, whether it's smooth asphalt for your road bike, singletracks for your mountain bike, serene cycling paths for touring, or natural trails for your hikes. Dive into the nitty-gritty details with real-time info on the surface, difficulty, distance, and elevation profile – everything you need for a seamless experience.
Explore the world of Highlights on the map, from breathtaking peaks to quirky sandwich shops. These community-suggested gems, marked as red dots, serve as your compass to must-visit spots. With this outdoor cycling app, you can share your own favorite locales, photos, and tips to inspire fellow outdoor enthusiasts and earn your stripes as a local expert.
Capture your experiences with GPS tracking, adding photos and tips to create a personalized adventure log. Whether for private reminiscing or community-sharing, your stories can spark inspiration and camaraderie. Follow friends and like-minded explorers to stay in the loop with their outdoor escapades.
Install komoot – hike, bike & run from the App Store now!
4. Strava: Run, Bike, Hike
Strava is like your fitness diary gone social – a place where your active adventures find a home and a cheering squad. Picture this: you record everything, from your morning run to an afternoon yoga session or a weekend hike. Strava's not just for runners; it's the ultimate hub for all movement enthusiasts.
Strava is not just an iPhone cycling app; it's a community. Connect with like-minded individuals, celebrate each other's victories, and build a support network that keeps you motivated. Plus, get smart about your training – dive into data insights, track your progress in the Training Log, and move towards your goals smarter and stronger.
Safety first, right? Share your real-time location with loved ones while you're out and about. And the best part? Strava plays well with others. Sync it up with your favorite apps and devices – Apple Watch, Fitbit, Garmin; you name it. You can also join millions in monthly challenges, earn digital badges, and keep the momentum going. Your Strava feed is a real-time inspiration board, filled with genuine efforts from people just like you – because the app developers believe in unfiltered motivation.
Install Strava: Run, Bike, Hike from the App Store now!
5. Bike GPS – Ride Tracker
Ready to take your biking adventures to the next level? Meet the Bike GPS – your new ride companion that's not just an app; it's your personal cycling buddy. And guess what? It's free and up for grabs on all iOS devices!
Picture this: cruising down scenic routes, feeling the wind in your hair, and now, with Bike GPS, you can capture every pedal stroke with ease. This cycling app with trail maps is like your cycling diary on steroids – it tracks your rides effortlessly, compiles detailed stats, and even lets you create distinct profiles for your different bikes. It's like having a virtual garage for your two-wheeled companions!
This best app for cyclists has been designed to be user-friendly and intuitive, ensuring that tracking your progress becomes a seamless part of your biking routine. So, why settle for an average ride when you can turn every outing into a data-packed adventure?
Install Bike GPS – Ride Tracker from the App Store now!
6. Bike Tracker: MTB Trails
Embark on the ultimate mountain biking adventure with Bike Tracker: MTB Trails! This app isn't just a ride tracker; it's your gateway to over 150,000 meticulously cataloged mountain bike trails sprawled across the USA, totaling an astonishing 170,000 miles. Imagine the excitement of exploring new trails with each ride!
Prepare to be wowed by our intricately detailed 3D maps that unveil the terrain's contours and elevations, giving you a sneak peek of the challenges that lie ahead. But here's the game-changer – Bike Tracker doesn't just offer static maps. The live interactive map in this best cycling navigation app guides you in real-time through every twist and turn, ensuring you never miss a beat on your biking journey.
Customize your ride experience with the innovative multiple widgets feature, focusing on the metrics that matter most to you. From GPS tracking and heart rate monitoring to seamless integration with Strava and Apple Health, Bike Tracker goes beyond the ordinary.
Install Bike Tracker: MTB Trails from the App Store now!
7. AllTrails: Hike, Bike & Run
More than just a fitness tracker, AllTrails is a community-driven app designed to make every adventure memorable. Dive into a treasure trove of over 400,000 trails worldwide, sorted by location, interest, and skill level. This best cycling navigation app goes beyond generic fitness tracking, offering custom route planning that caters to dog-friendly, kid-friendly, stroller-friendly, or wheelchair-friendly trails.
Whether you're a workout enthusiast, hiker, walker, mountain biker, trail runner, or casual cyclist, AllTrails has something for everyone. Plan your next escapade with in-depth trail information, reviews, and GPS driving directions. Stay on track confidently, either following your planned route or charting your own course. Connect with a vibrant community of outdoor enthusiasts to share experiences and discover new trails. Easily share your adventures on social media platforms like Facebook, Instagram, or WhatsApp, letting your friends join the excitement.
AllTrails believes that the outdoors is not just a place to explore; it's a part of who we are. So, let AllTrails be your guide to discovering the perfect trail that fits your nature, whether you're pushing limits or pushing a stroller.
Install AllTrails: Hike, Bike, & Run from the App Store now!
Happy Cycling!
As you embark on your cycling adventures armed with your trusty iPhone, these cycling apps with trail maps are your companions in the journey to pedal-powered greatness. From tracking your routes to connecting with fellow cyclists and embracing the thrill of virtual challenges, these apps transform your ride into an immersive experience.
As the wind rushes through your hair and the road unfolds before you, remember it's not just a ride; it's a story, and your iPhone, armed with these apps, is the storyteller.
So, gear up, hit the road, and let your cycling tale unfold with the perfect blend of technology and adrenaline.
Disclosure: iOSHacker may receive a commission if you purchase products through our affiliate links. For more visit our privacy policy page.